The ultimate fortress town, Ano Syros allows you to explore a world of Cycladic architecture and Venetian charm, punctuated by magical views of the South Aegean.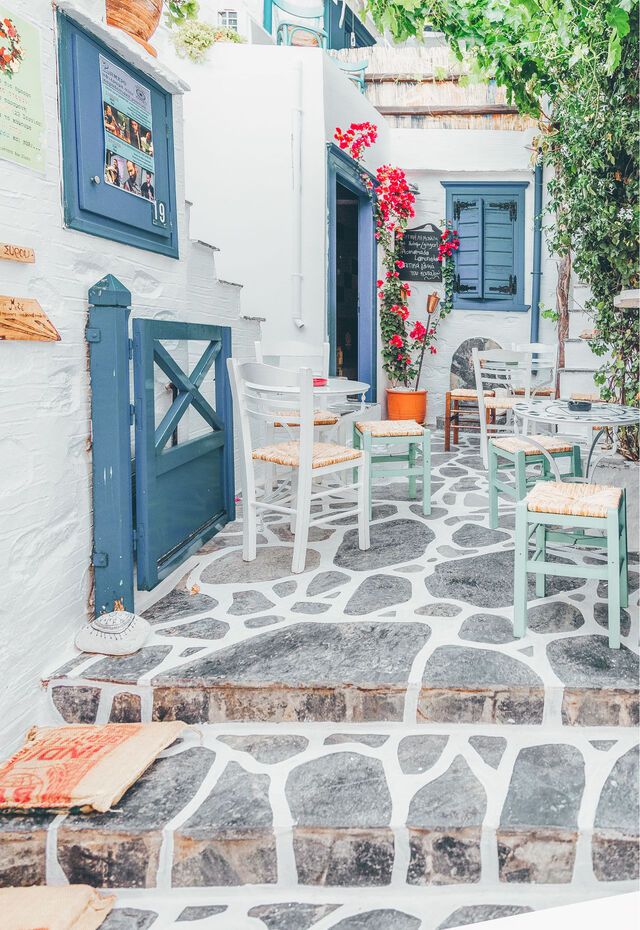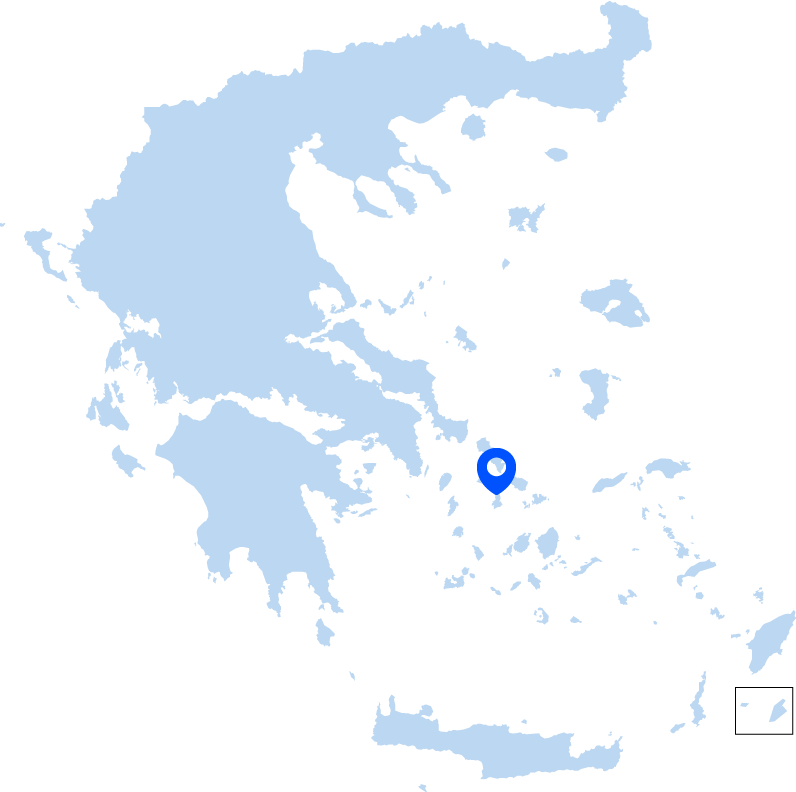 Duration
Full day
Season
All year round
OVERVIEW
You'll soon find out why Ano Syros looks the way it does. Winding streets so narrow there's barely a straight line to be seen… whitewashed and colourful houses squeezed in so tightly they appear virtually interwoven… and from the top of the many-stepped, amphitheatrically shaped settlement, views of the South Aegean that are simply extraordinary. It's because Ano Syros was once the ultimate fortress town, with gates that once sealed the town and allowed residents to ward off or flee from pirate raids.

The result is that visitors today can explore a most wonderfully preserved settlement. It's a completely different experience to the stately charm of the mansion houses of Syros' main town, Ermoupoli.

To meander through the cobblestone streets of Upper Syros (as the name translates) is to uncover the medieval and Catholic character introduced by the Venetians from the 13th century, within a setting that is also Cycladic. Still dominating the highest point of the town is the Catholic Cathedral of San Georgio. On clear days you can see the islands of Tinos, Delos, Paros and Naxos.

You can spend hours exploring bougainvillea-filled courtyards, tiny churches, quaint little tavernas and shops, and perfectly maintained balconies and front doors. And there are numerous historical stops you can make along the way.
And in case you were wondering how you'd find your way out of the maze of tiny alleyways? You just have to find the one with the white line. It's the main street. Nowadays, it seems, Ano Syros wants the outside world to find it.
DON'T MISS
The Cathedral of San Georgio
Taking pride of place at the top of Ano Syros, the Cathedral of San Georgio was built in 1834 but previous temples on this spot date to the 1200s. You'll tackle quite a few steps to get here but the views of the port and beyond are unsurpassed. The complex includes a temple, bell tower, baptistery and vestibule and the Historical Archive building.
The Piatsa
Don Stefanou Ioanni Street (better known as the Piatsa) is where you'll find most of the cafes, tavernas and shops. It's flat, so a perfect spot for a rest and a bite overlooking Ermoupoli or to buy a local gift or souvenir.
Markos Vamvakaris Museum
One of Greece's most beloved rebetiko folk singers, Markos Vamvakaris was born and bred within the walls of Ano Syros and now has a museum in his honour. His wistful lyrics captured a passion for his birthplace and introduced many Greeks to the island's charms. The museum features some of his personal belongings, photos, handwritten lyrics and clothing and features a half-hour documentary on his life.
Museum of Traditional Professions
Located by the piatsa, this museum gives an insight into the daily lives of locals in days gone by: the tools of carpenters and basket weavers, a beekeeper's smoker, a barber's scissors, sewing machines and more.
The Archives Of The Municipality Of Syros
Housing an impressive range of historical documents, letters, transcripts and original manuscripts, the island's archives tells a story not told through buildings and monuments.
Jesuit Monastery
Founded in 1744, the Jesuit Monastery contains an icon of the Virgin Mary brought from Rome and a library of 6,000 books, along with historical documents, manuscripts and parchments.
Agios Nikolaos Ano Syros (Of The Poor)
The oldest church on the island, with bones and graves dating from the 16th century that were found during renovations. Its name derives from when its revenues were distributed to the poor of Ermoupolis.
Book your trip
All your holiday planning needs in one place, letting you book direct and benefit from official online rates
GET PLANNING
The walk from Ermoupoli is around 1.5km. It is uphill but rewarding.
Alternatively, you can reach one of the gates by taxi or car and continue on foot.
Ano Syros can be visited at any time of year. You'll find most of the shops, restaurants and cultural sites open between April-October.
If you can, visit in April-May (incl. Easter) and September-October, when it is at its most charming and quiet.
Museums and cultural sites:
Markos Vamvakaris Exhibition: April-October: Tuesday-Sunday 10:00-15:00 & 18:00-22:00. November-March: Tuesday-Sunday 10:00-18:00. Entry €2.
Museum of Traditional Professions: Open daily during summer 14:00-22:00. Entry €2.
The Archives Of The Municipality Of Syros: Same location and opening hours as the Museum of Traditional Professions.
Jesuit Monastery & Agios Nikolaos Ano Syros: Opens upon request.
The Cathedral of San Georgio: Open till sunset

Autumn
Spring
Summer
Winter
The length of your walk is entirely up to you, but the attractions listed here can easily be done in a day.
Exploring Ano Syros is as much about ambling through alleyways and admiring the views as it is about learning about the area's rich history and culture so take your time.
You can explore the streets one day and return for dinner the next.