A big splash of culture, deep traditions, great food and a week of intense blues and greens await as you discover the best of Thessaloniki and Halkidiki.
Prepare to feel the incredible pulse of Thessaloniki before venturing into the three 'fingers' of the Halkidiki peninsula, discovering some of the best beaches of a region that has attracted a devoted following.

After two days spent exploring Greece's big-hearted city in the north, your itinerary involves two days in each of Kassandra and Sithonia, a day on the east coast and a day in central Halkidiki before returning to Thessaloniki or directly to its airport.

You could follow the itinerary to the letter, shorten it or extend your stay in some places. This part of Greece can be visited pretty much all year round, but the months either side of peak summer are best, when it's quieter but the swimming conditions are still great.
SHOW ROUTE ON MAP
DOWNLOAD AS PDF
Start point - End point
Thessaloniki - Halkidiki
Distance
624 km (388 miles)
Means of transport
Boat, Car, Foot
Highlights
The vibe of Thessaloniki, the museums, the beaches, sunset cocktails in Afytos village, the traditions of Parthenonas, the food, more beaches
DAY 1 OVERVIEW
Thessaloniki
Distance from airport: 17km
Car, Foot
2
Thessaloniki is a city that rewards you however many times you visit. By dedicating two days to exploring its highlights, you'll tap into everything that makes it special… the melting pot of cultures, history and creativity and the lively student, bar & bistro scene.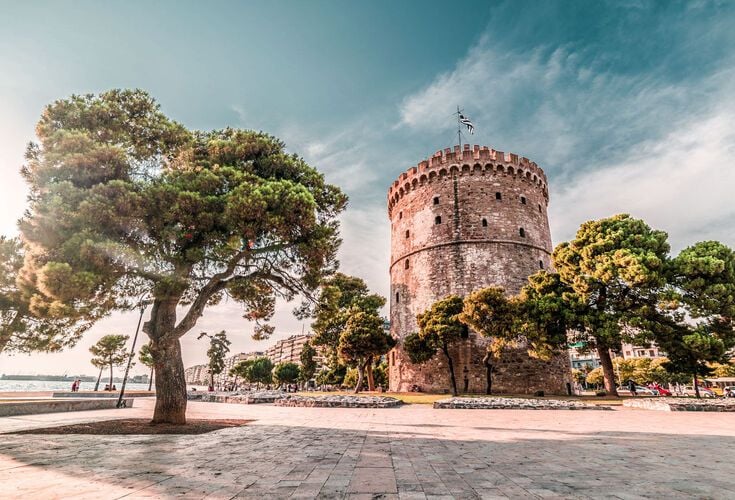 The emblematic White Tower
Situated on the waterfront, the White Tower is both a fitting symbol of the city and a fascinating museum. Every floor narrates a different chapter in Thessaloniki's extraordinarily diverse history – historical, cultural, commercial, gastronomic and artistic. Take your time on the top floor balcony to appreciate the 360-degree view of the city and the Thermaic Gulf.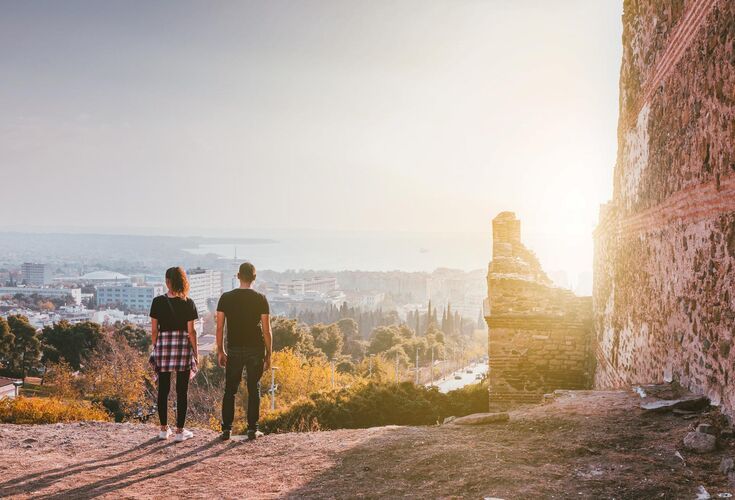 Feeling the vibe of the city
You'll quickly understand why Thessaloniki is called an open-air museum. The White Tower, Galerian Complex, Roman Agora, Bey Hammam, Church of Agios Dimitris (and other landmarks) effortlessly reveal the city's multicultural identity. But most of all, it's about getting a feeling for its unique character. You'll need more time to visit the historic Upper Town (something to return for!), but don't leave without experiencing the waterfront and views of the Thermaic Gulf.
DAY 2 OVERVIEW
No need for breakfast this morning because you're in for a culinary treat. Thessaloniki's food scene is legendary throughout Greece, so that's the focus of the first half of the day. After that, it's more culture as you delve deep into Macedonian history … and then you're free to discover the famous nightlife.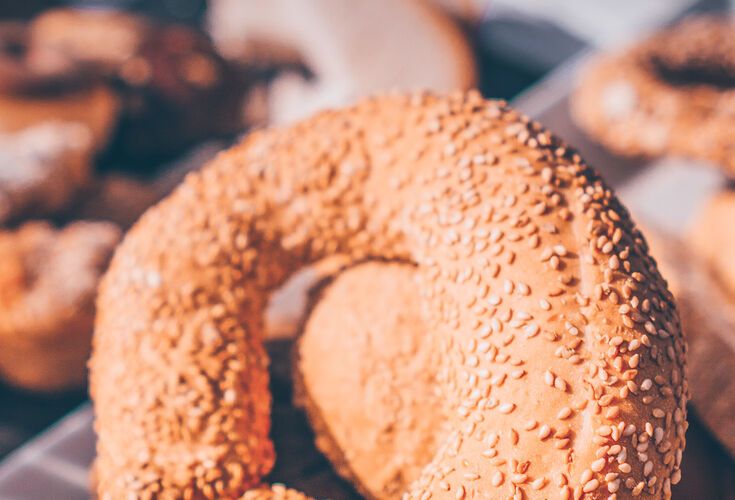 A culinary tour of Thessaloniki
Thessaloniki's multicultural past comes out in what you eat and drink – tastes of the East, traditional recipes, street food, modern twists and fine dining… you'll find it all in tavernas, bistros and restaurants. Look out for the Macedonian pies and the syrup-based sweets (the bougatsas are heavenly) and tsoureki (sweetened bread). The koulouri (sesame seed-crusted bread ring) has its origins here, perfect for a bite on-the-go. And the markets (Kapani and Modiano) are must sees, with their lively stalls and stores selling local products.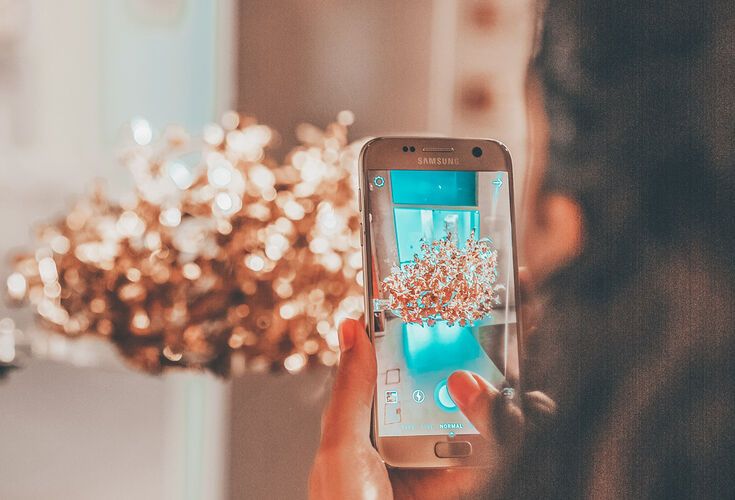 The Archaeological Museum of Thessaloniki
After spending the morning on the streets, you head indoors now for the final piece in Thessaloniki's cultural jigsaw. The Archaeological Museum ranks amongst the best in the country, fully doing justice to the cultural legacy of the Macedonian dynasties. Look out for the Petralona Hoard (dating from the 3rd millennium), the Statue of Augustus (the best-preserved statue in the museum) and the Marble door of the Macedonian Tomb of Agia Paraskevi (displaying the intricacy of Macedonian craftsmanship and burial customs).
DAY 3 OVERVIEW
Kassandra
Distance from Thessaloniki: 118km
Car, Foot
2
Off into Halkidiki now, heading for the first finger of the three-pronged peninsula. The exotic beaches of Kassandra are what put Halkidiki on the map and it is where most of the region's luxury hotels are found. So prepare for your first unforgettable taste of beach-life, with plenty of water sports and other fun.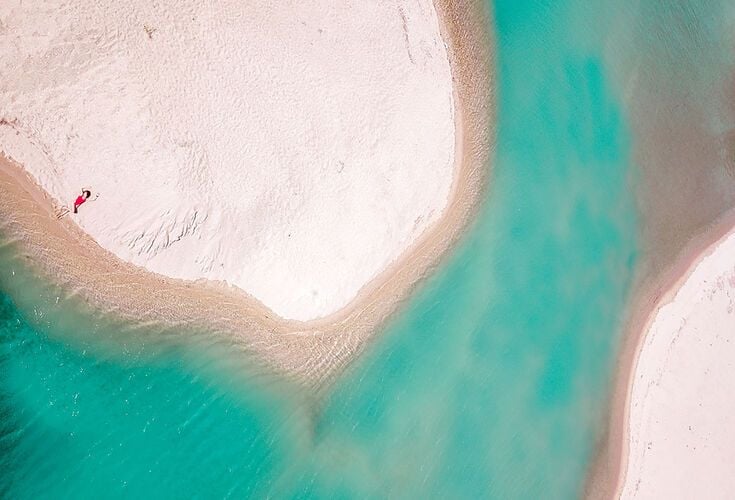 A first swim at Glarokavos
And there it is … the swathe of golden sand you were promised. Chrissi beach (Golden in Greek) has the honour of being your first swimming spot. You've reached Glarokavos, near the southwestern tip of Kassandra, where the beaches compete with each other for beauty. Nearby, Lagoon beach also lives up to its name, resembling a lake and surrounded by greenery. Hire a kayak to explore the coastline or better still go paragliding. You won't have imagined that blue comes in shades like these.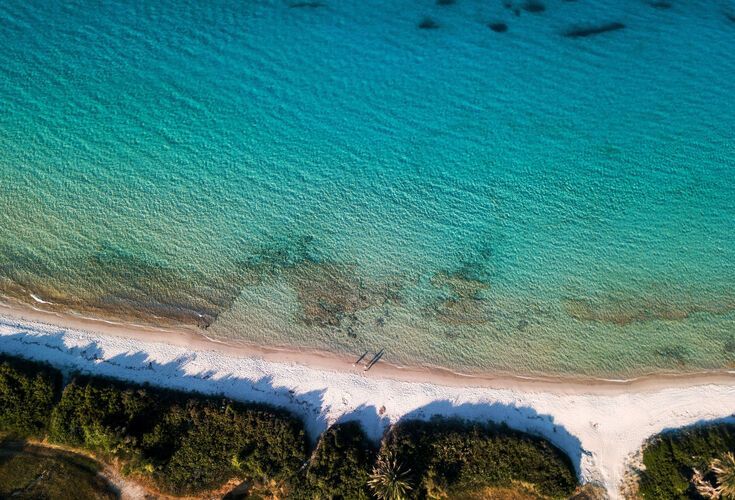 More beach-time and dinner in Paliouri
Hard as it will be to leave, continue a short distance south where another stretch of gold and a choice of water sports await you at Hrousou (or Paliouri) beach. Your day ends in the village overlooking the bay, exploring the picturesque alleyways and settling down to dinner in a traditional taverna.
DAY 4 OVERVIEW
Kassandra
Distance from Paliouri: 55km
Car, Foot
2
Your second day in Kassandra takes you in search of more magical beaches and sea views as you head up the western shoreline of Kassandra, before switching coasts and ending with a feeling of traditional village life. You'd better be hungry.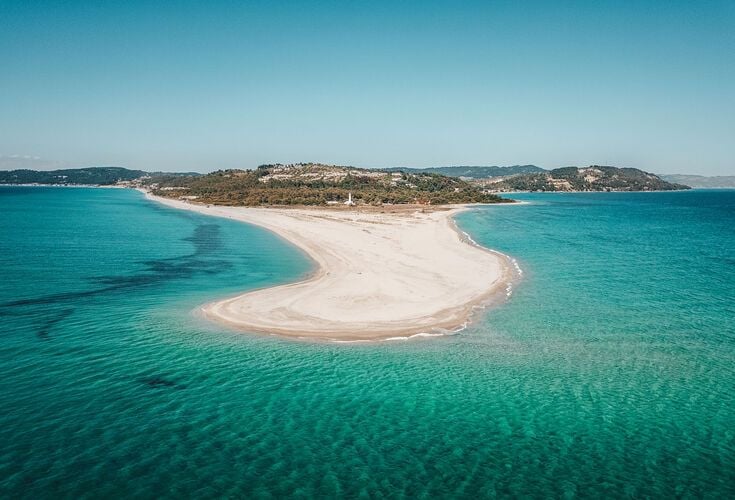 Surrounded by sand in Possidi
Midway up the western Kassandra coastline, Possidi is practically surrounded by beaches. Long stretches of sand line both its eastern and western shores (with plenty of choices of sunbeds & umbrellas, beach bars and water sports) but Possidi's defining point is a cape jutting into the Thermaic Gulf filled with virtually nothing but sand. After strolling and swimming, a seafood meal in a taverna awaits.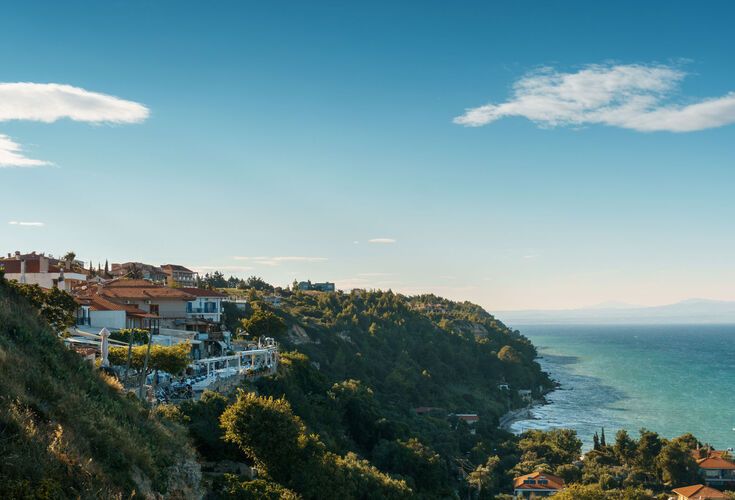 Sunset cocktails in Afytos
Time to switch coasts after lunch as you head to Afytos, a traditional village built on a green-filled plateau overlooking the sea. Treat yourself to an afternoon swim when you arrive, but the highlight will be exploring the alleyways and enjoying a sunset cocktail in the Vrachos district (meaning rock), high above the sea.
DAY 5 OVERVIEW
Sithonia
Distance from Afytos: 130km
Car, Foot
2
You've got a full day ahead of you (or more likely two if you choose to do everything). We're heading to the villages of Sithonia, the first in the mountains and the second by the coast. And before you reach Nikiti, the capital of Sithonia, there's a boat trip to an uninhabited island to look forward to.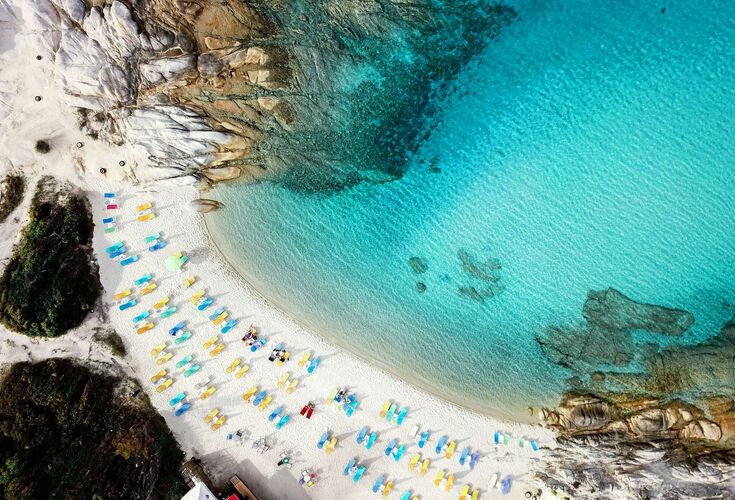 Snorkelling in Kavourotripes
Break your drive to southern Sithonia with a swimming stop in Kavourotripes. You'll find more golden sand and glorious sea but this time the setting is slightly different. Kavourotripes is a series of beaches within a lattice-like coastline of smooth rocks and lush greenery. Hope you brought your mask and flippers because the water here is something else.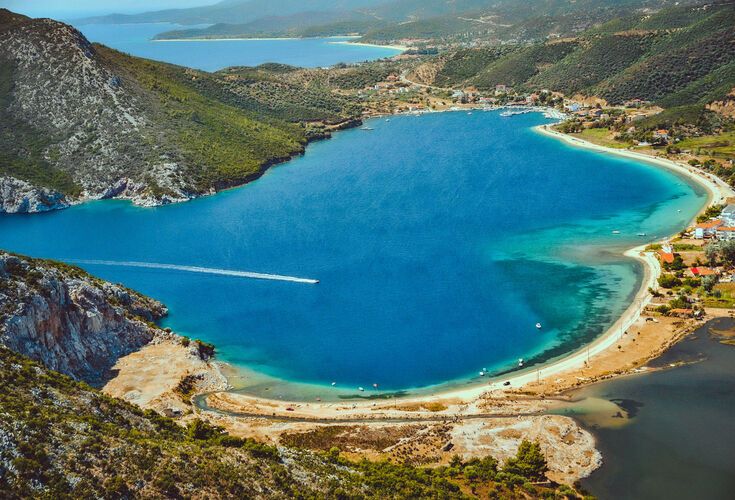 The fishing village of Porto Koufo
Continuing south, you reach a hidden gem in the form of the long tranquil bay of Porto Koufo. The beach will be tempting, but leave plenty of time to explore the little fishing village, protected by the natural bay and surrounded by pine trees. For anyone wishing to stay an extra day, there are wonderful hiking paths from Porto Koufo to the summit of Mt Kapros or to Akrotiri Drepano.
DAY 6 OVERVIEW
Sithonia
Distance from Porto Koufo: 85km
Boat, Car, Foot
4
You've got full day today (or more likely two if you choose to do everything) ahead of you. We're heading to the villages of Sithonia, the first in the mountainous and the second by the coast. And before you reach Nikiti, the capital of Sithonia, there's a boat trip to an uninhabited island to look forward to.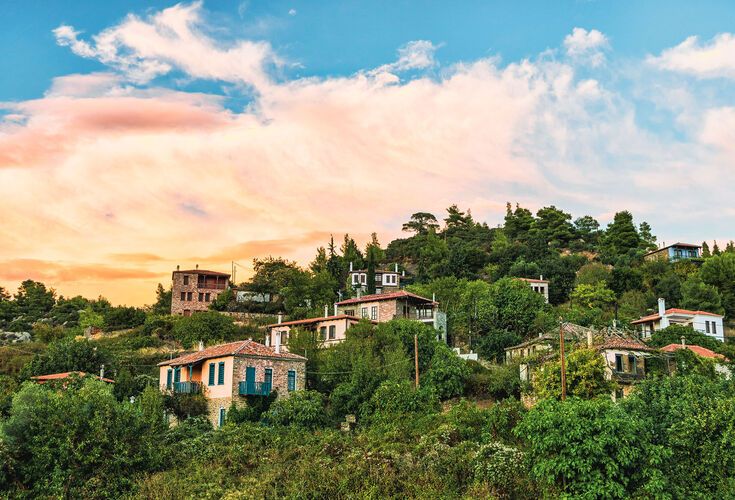 Hillside traditions in Parthenonas
The hillside village of Parthenonas gives you a completely different perspective of Halkidiki. At 350m above sea level, it appears to have sprouted from the greenery, with stone houses, picturesque streets, colourful courtyards and epic views of the Toroneos Gulf. The oak-tree shade of the village square is a perfect spot for a morning coffee. And if you can stay longer, the hiking route from Parthenonas to Mt Itamos is out of this world.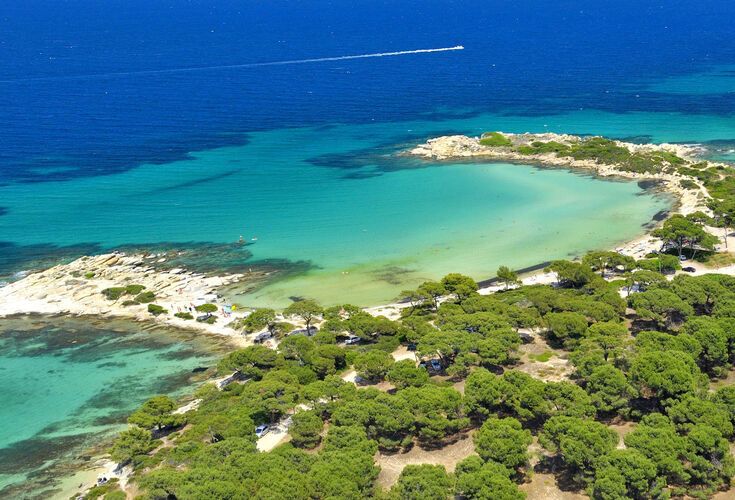 Shallow and sandy Vourvourou
Heading north again, prepare for a couple of highlight beaches. Vourvourou and Karydi beach are sandy bays framed by rocks that have been smoothed by the wind and sea, with plenty more of that exotic water. Shallow and sandy, they're ideal for water sports (stand-up paddleboard, kayaking and even surfing when the conditions are right). Or perhaps you're in a mountain biking mood today.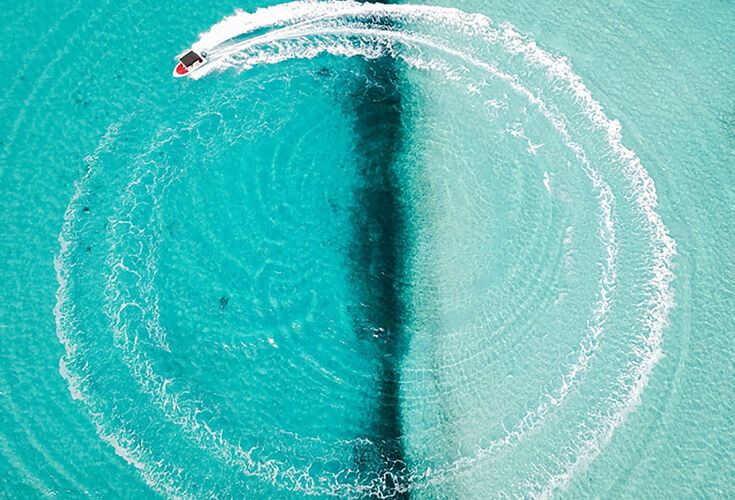 A boat trip to Diaporos
Just opposite, you'll see a dreamy little island, which you can easily get to by hiring a boat. You'll soon discover that it's part of a cluster of islets. Your only issue will be choosing which one to stop at for a leisurely snorkel. Or if you prefer, you can get there by canoe.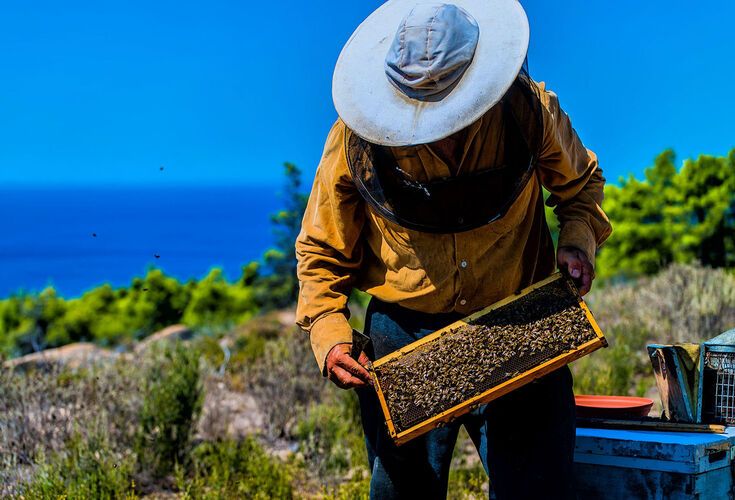 The local products of Nikiti
Onwards and upwards as your day ends in northern Sithonia. Nikiti is a charming hillside town but it also has a lively beachfront. There's a plane tree-shaded main square and traditional coffee houses and shops with local products. The honey is especially good, with many villagers owning beehives.
DAY 7 OVERVIEW
East coast
Distance from Nikiti: 65km
Boat, Car, Foot
2
Off to Halkidiki's third leg now, famous for housing the monasteries of Mt Athos. You'll reach Ouranopoulis, the last town before entering the men-only monastic realm. But before that, you're off to Halkidiki's only inhabited island.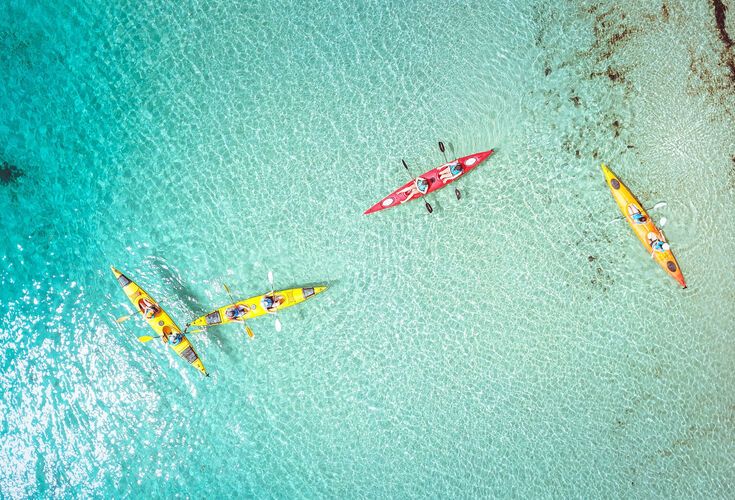 A boat trip Ammouliani
It takes just 15 minutes to cross from the mainland (at Tripiti) to Ammouliani but once you're there you'll find a totally different side to Halkidiki. The pace of life manages to become even slower, with a quaint little port and town to discover, along with hotels if you want to extend your stay. There is an old boatyard where the monks of Mt Athos used to keep their boats during bad weather. From the port, you can take a boat to the Drenia isles, a tiny cluster of exotic islands, or make your way to the beaches on the other side of Ammouliani.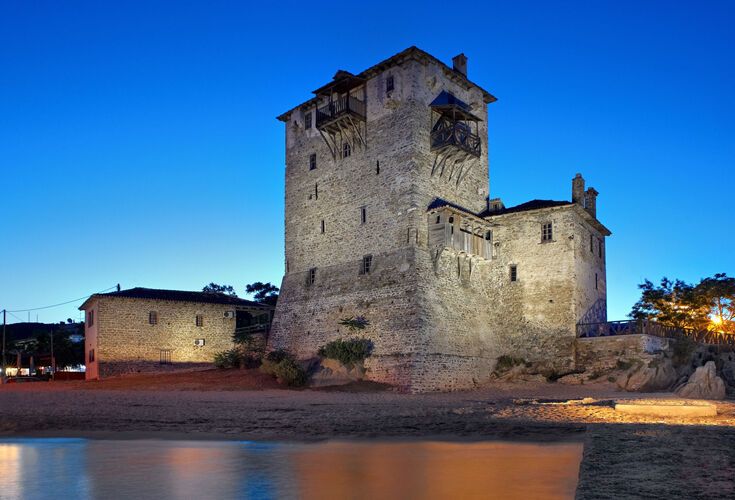 The seafood and sunset of Ouranoupolis
Returning to the mainland, you're off to Ouranoupolis next, where's you'll once again be surrounded by greenery and the sea and be rewarded with views towards the monasteries of Mt Athos. Before you find yourself a taverna and order seafood caught the very same day, visit the Prosforios Tower, built by the Venetians in the 14th century. The sunset views from the harbour are divine.
DAY 8 OVERVIEW
Central Halkidiki - Thessaloniki
Distance from Ouranoupolis: 154km
Car, Foot
4
You follow in the footsteps of Aristotle (one of Halkidiki's most famous sons) for much of your last day, as well as having a final taste of traditional Macedonian village life. And as an unexpected treat, we take you to a vineyard.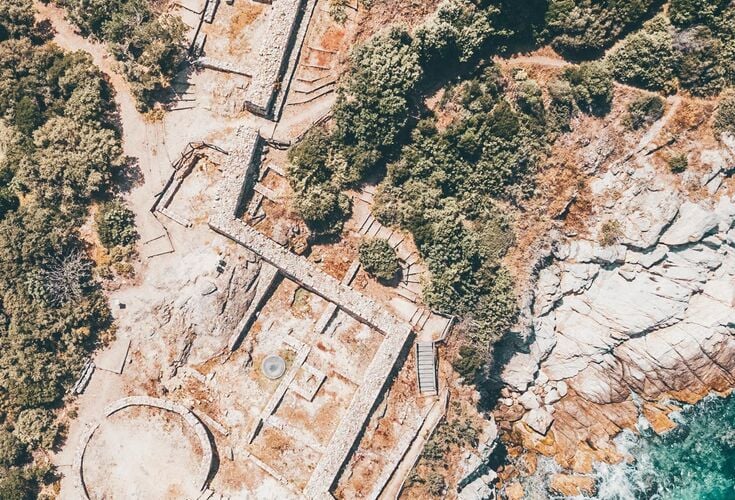 Ancient Stagira, the birthplace of Aristotle
Founded in the 7th century BC, Ancient Stagira is famous as the birthplace of the philosopher (and many other things besides) Aristotle three centuries later. You can explore the remains of Byzantine walls and an ancient citadel (including houses, an agora and tower) of the ancient town. And this being Halkidiki, there are beaches nearby for a final swim before you leave.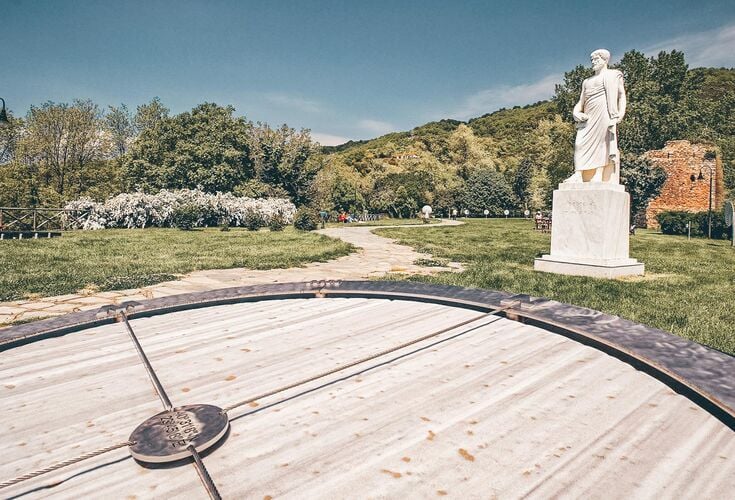 Testing 'the Naturals' in Aristotle's Park
Aristotle features strongly again as you visit a park dedicated to some of his biggest ideas. You'll find instruments (a prism, optical discs, compass, sundial, parabolic refractors and wind turbines) that give you a hands-on understanding of many of the physical phenomena he referred to as 'the Naturals'. As well as a statue of the great man.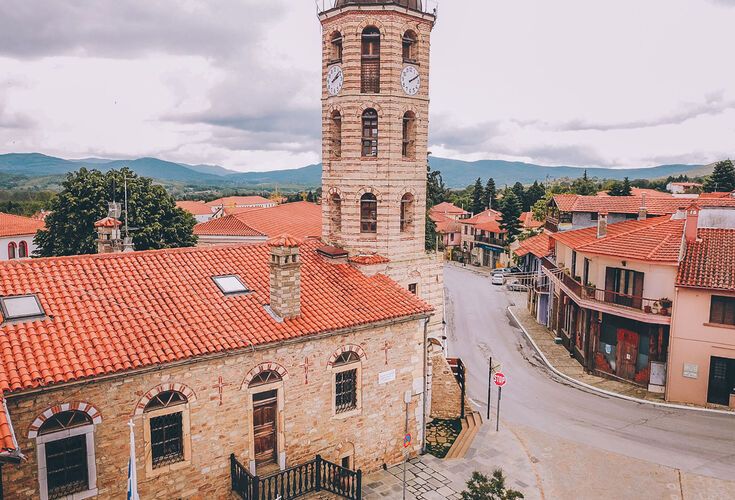 The traditions and vineyards of Arnea
Your final stop in Halkidiki is a listed village that is totally authentic in its architecture and customs. There's a population of more than 2,000 in Arnea, with crafts like weaving still going strong and a folk museum. And nearby are vineyards that will open your eyes to the region's growing reputation as a wine destination. Once you pop your first cork, you'll want to be back for a wine tour of the region.
A last taste of Thessaloniki
Heading back to Thessaloniki, you are fully relaxed and inspired by everything you've experienced. But there's time for one more taste of the city's food scene before heading home, full of memories (and a few handpicked souvenirs).