EXPERIENCE
Enjoy a vineyard and wine tour of Santorini
Bottling all the authenticity of an island renowned for its cosmopolitan charm, the wineries and vineyards of Santorini allow you to enjoy thousands of years of wine-making tradition. So settle back and allow us to take you on a wine tour of Santorini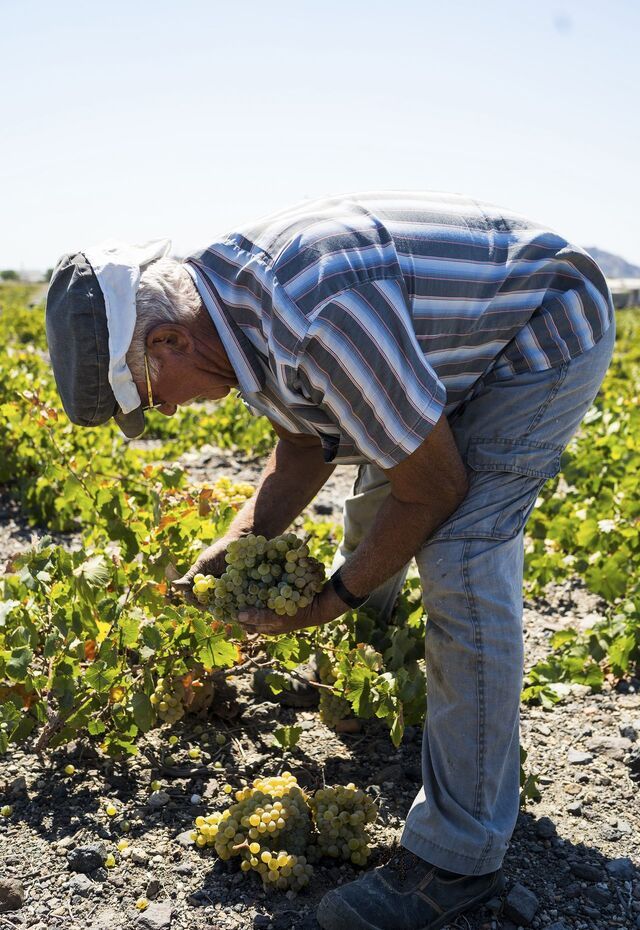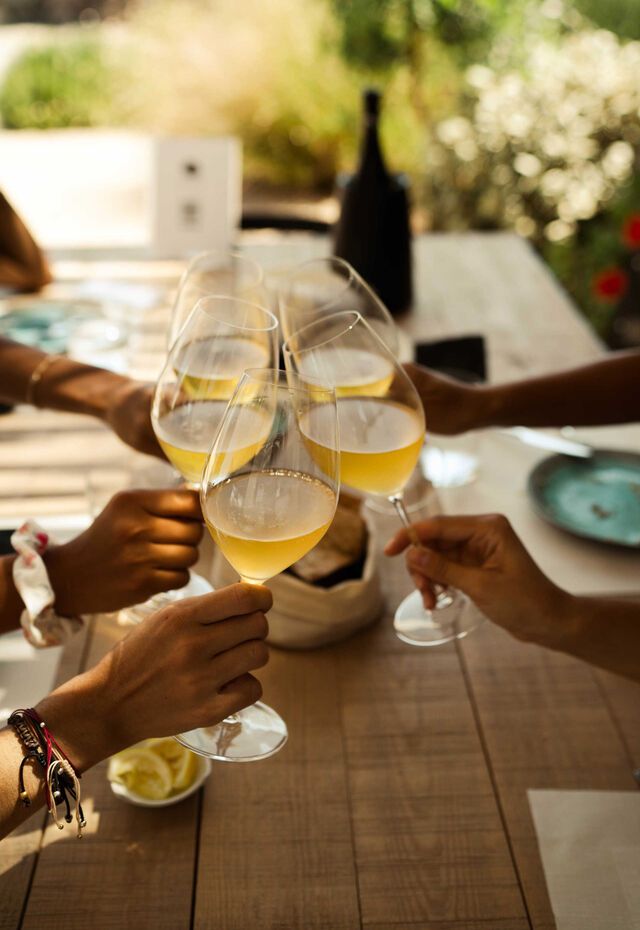 Duration
2 - 5 hrs or a few days
Season
All year round
OVERVIEW
Enjoy a vineyard and wine tour of Santorini
When it comes to Old World wines, Santorini makes a special case for attention. Wine-making can be traced here to before the eruption of its legendary volcano, more than 3,000 years ago. So when you set out on a wine tour of Santorini, you do so in the knowledge that its viticulture roots run very deep.
Deeper even than the time of the phylloxera insect that decimated European vine roots in the late 19th century, but didn't affect these vines because they were protected by the volcanic soil.
More than 50 grape varieties grow in Santorini's vineyards – most famously Assyrtiko (producing the crisp whites that have propelled Santorini onto the international wine map and attracted multiple awards). And you'll enjoy getting to know the PDO-awarded sweet dessert wine Vinsanto, made with sun-dried grapes and served as a liqueur.
But beyond grape varieties and local history (amphorae and wine-making utensils have been found at the Prehistoric settlement of Akrotiri), the story of Santorini's wineries is about the characters who run them and their traditions.
The pruning system that curls vines into kouloures (baskets), protecting them from winds and intense sunlight and allowing them to absorb more water, is characteristic of many vineyards. And subterranean arched cellars, known as kanaves, are part of the architecture of many wineries.
As well as touring the vineyards and cellars, you'll enjoy wine-tasting accompanied by local cheese and cold cuts. So much so that when you're home and pop a cork of one of the bottles you've taken back with you, you'll be taken right back to the vines and the people who produced them.
DON'T MISS
A wine tour of Santorini
There are 19 vineyards that can be visited, either individually or as part of a wider Santorini wine tour.
Oia
Switch the whitewashed elegance of cosmopolitan Oia with the greenery of a vineyard in just a few kilometres. Just a short drive away is Domaine Sigalas.
Caldera wineries
What more incredible backdrop could there be to a winery than the caldera? The vineyards here are grown in terraces around Megalochori and Pyrgos Kallistis. You can choose between SantoWines (a cooperative of more than 1,200 members) and Venatsanos Winery, both with wonderful caldera views. In Megalochori, there is Gavalas Winery and (a little outside the village) Boutaris Winery. And further up the west coast, on the outskirts of Thera, you'll find Avantis Estate.
Inland wineries
If it's an authentic village setting you're after, then head to the inland settlements. You'll find the Argyros Estate, Canava Roussos and Volcanic Slopes winery, along with the Art Space Winery, in and around Episkopi Gonia (Mesa Gonia) and Artemis Karamolegos Winery just down the road, outside neighbouring Exo Gonia village. In Vathonas, the Koutsoyannopoulos Winery & Wine Museum is built in a cave 8m below ground, with a labyrinth of tunnels reaching 300m, in which you will find scenes depicting viniculture techniques from the 17th century. Close to Pyros, you will find the Hatzidakis Winery. And finally, a little outside the village of Vourvoulos (to the north), is the Vassaltis Winery.
Coastal wineries
If you fancy combining a visit to a winery with a swim, Gaia Wines is on Santorini's east coast, midway between Kamari and Monolithos, right by the beach.
GET PLANNING
What wineries in Santorini can you visit?
There are plenty of excellent Santorini wineries that can be visited. Amongst them are:
If you are not on an organised tour, please remember that driving after the consumption of alcohol is extremely dangerous. The distance between many wineries is walkable.
Santorini is also covered by an extensive public bus service. More info
What is the best time to visit Santorini's vineyards and wineries?
Most wineries on Santorini are open from April-October and many can be visited all year round, but be sure to contact them by telephone first.
In April-May, grapes begin to come through on the vines and vineyards are at their most atmospheric.
The harvest period is August - September.
Autumn
Spring
Summer
Winter
How long do you need for a winery tour in Santorini?
You can visit a single vineyard, including wine-tasting, in 2-3 hours.
If you join an organised tour and visit 2-3 wineries, you will need 3-5hrs.
If you all visit the wineries mentioned (and perhaps others) it will take you 2-3 days.