One of the prettiest Ionian islands, Kefalonia is a treasure trove of villages, seaside settlements and time-forgotten hamlets awaiting discovery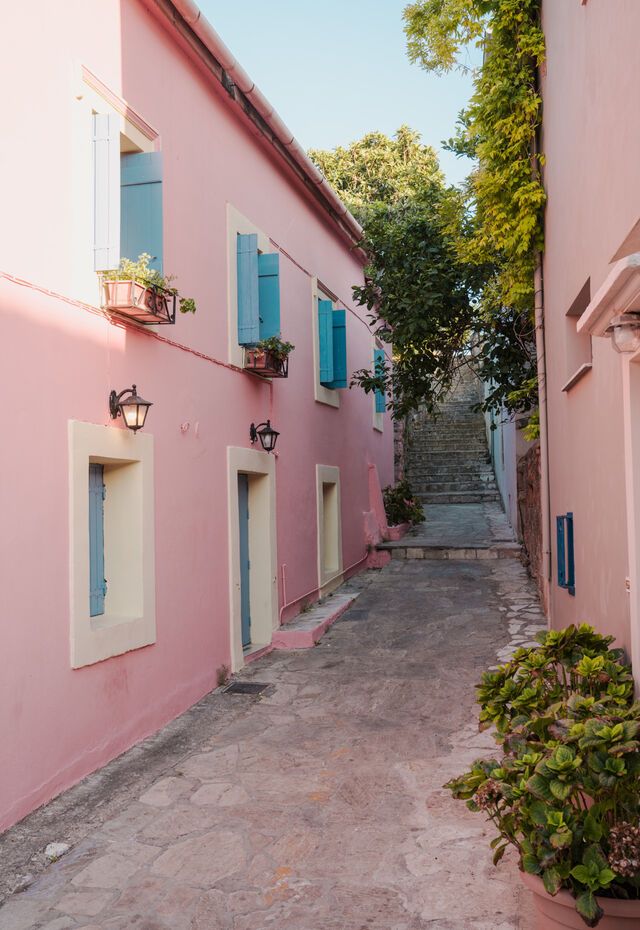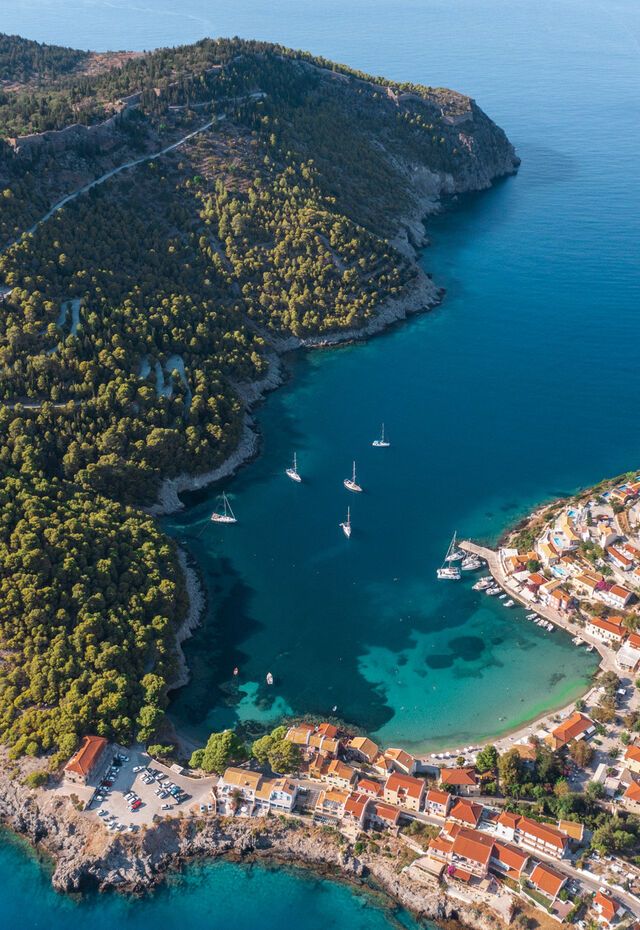 Duration
2-3 days
Season
All year round
OVERVIEW
Village-hopping in Kefalonia
You may already know Kefalonia for its beaches, like Myrtos, and green interior but look deeper and it hides a secret that will likely become one of the highlights of your holidays on this Ionian Island gem. Kefalonia is filled with villages and settlements. Some are cosmopolitan, with picturesque little ports surrounded by greenery, and others combine wonderful swimming spots with historical treasures.
You'll find mountain hamlets that reveal Kefalonia's wine tradition and marvel at architecture dating to Venetian times. There are even settlements abandoned after the 1953 earthquake that come alive once again with summer festivals.
So we've gone ahead and picked out some of the best settlements and villages in Kefalonia for you to enjoy. One thing's for certain… you'll leave with your Instagram feed maxed out and a renewed appetite for the quiet life.

DON'T MISS
Highlight villages of Kefalonia
Assos
One of the most picturesque of Kefalonia's villages, Assos is located in the northern part of the island. Its pastel-coloured houses cascade down the hillside and within a dainty cove is a pebbly beach that looks out onto the signature blue and green of the Ionian Sea. The hill above the village is sprinkled with houses and tavernas line the shore, providing food with views al-fresco. Be sure to explore the town square and the Venetian castle above the village. It's a 20-minute uphill walk to get there but the views are captivating, especially at sunset.
Fiskardo
Also in the north and enclosed within a small bay, Fiskardo is another of Kefalonia's best-known villages, and not for nothing as the multicoloured houses stand just as majestically in the harbour as they did when they were built by the Venetians in the 18th century. Fishing boats bob gently in the water and tavernas and shops line the shore, beckoning you to give them the attention they deserve. You'll find several beaches nearby (Emplisi, Dafnoudi and Foki), with greenery that reaches the shore and the Ionian Sea's turquoise waters doing their thing. Note that boat trips from Lefkada visit Fiskardo (as well as a selection of Kefalonian beaches).
Sami
As pretty as it is cosmopolitan, this seaside settlement in northern Kefalonia is also one of the island's most important ports, receiving ferries from Patra (in the Peloponnese) and Astakos (in Central Greece). There is plenty of history in Sami, with the ancient citadel above the village (offering splendid views) dating to the 3rd century BC and the Archaeological Collection of Sami being a must for anyone wanting to learn more about Kefalonia's past. You'll love just walking along the promenade, picking your taverna and admiring the views of Mt Ainos on one side and the Ionian Sea on the other. Meanwhile, visits to beaches like Antisamos and the caves of Melissani or Drogarati tie in beautifully with a visit to Sami.

Agia Efimia
If you like authentic and postcard-pretty, the seaside village of Agia Efimia (9km from Sami) delivers every time. The marina is well equipped to handle more than 70 boats, and beaches like Myrtos and Agia Paraskevi are close by. Find yourself a waterfront taverna for a seafood lunch or sit down for coffee and people-watch. It's that kind of place. As a bonus, the annual summer festival on July 11 celebrates the village's namesake saint.
Valsamata
If you want some mountain air, head for Valsamata. Within the Omalos mountain range in the heart of Kefalonia, it's part of a larger village community that merged with neighbouring Fragata. Around 20 minutes from Argostoli, it's famous for its church dedicated to Kefalonia's patron saint, Gerasimos, and being surrounded by the island's biggest concentration of Robola grape production. With the vineyards in the surrounding area and the Agricultural Wine Cooperative of Kefalonia located here, there is plenty of choice for wine tours – as well as an annual wine festival in late August, with plenty of food and music as well as wine. Just outside the village is a choice of tavernas (don't miss out on Kefalonia's sumptuous meat pie). And you can walk off any unwanted calories by exploring nearby Palia Valsamata.
Bonus: Palia Vlachata
There is an eerie beauty to Palia Vlachata, one of Kefalonia's villages levelled by the 1953 earthquake and since reclaimed by nature. Its abandoned houses appear to have stood still in time. However, there is more to Palia Vlachata than meets the eye. Every summer, the Saristra Festival gets underway, with events ranging from music and arts to kids' activities, screenings and exhibitions, breathing life into the debris of this ghost village. It's one of the most loved summer festivals and more than worth your time if you have the chance of attending.

GET PLANNING
What is the best way to visit the villages of Kefalonia?
The best way to get to know the villages in Kefalonia is by car, so that you have the flexibility to plan your route (there are plenty of options around the airport as well as larger settlements like Argostoli, Lixouri, Agia Efimia, Sami etc).
For a day trip to as many of Kefalonia's villages as possible, you can start in Argostoli and visit Assos, Fiskardo, Agia Efimia, Sami, Palia Vlachata and Valsamata before returning to Argostoli (128km). This way, you get to see them all but not in-depth, of course.
We suggest combining Sami, Valsamata, Agia Efimia on one day and Assos and Fiskardo on another.
If you visit during the Saristra Festival in Palia Vlachata, make sure to comb through the festival program so you also visit Sami, as it's very close.

How do you get to Kefalonia island?
― Kefalonia has an airport with regular domestic flights from Athens throughout the year and seasonal international flights.
― There are 3 ferry routes that operate all year round to Kefalonia:
The quickest way to reach Kefalonia by ferry is from the port of Kyllini in Western Greece (287km by car or bus from Athens and 1.5hrs ferry crossing to the port of Poros in Kefalonia)
There are all-year-round ferry connections from Patras (211km from Athens by car or bus and 3.5hrs ferry crossing to Sami port in Kefalonia)
There are also ferries from Astakos (in Aitoloakarnania on the mainland) to Sami (2hrs 20mins) available all year round.
When is the best time of year to visit the villages of Kefalonia?
The villages of Κefalonia are alive with residents going about their daily life all year round.
The island does get busy in the peak summer months (July-August) so if you are able to visit in early or late summer, you will enjoy your holidays in Kefalonia even more. During the summer, Kefalonia's villages offer an excellent change of tempo from the island's popular beaches.
Museums and cultural sites:
Archaeological Collection of Sami
Wednesday-Monday: 08:30-16:00 | Tuesday: Closed
How much time do you need to visit all the villages of Kefalonia?
You will need the whole day to briefly visit every village.
To take your time and explore each one in depth, you will need 2-3 days minimum.
Naturally, you can dedicate the time you want and pick and choose between the villages.