EXPERIENCE
A boat trip from Kefalonia to Ithaca
A taste of the tranquillity and authenticity of Odysseus' isle will whet your appetite for so much more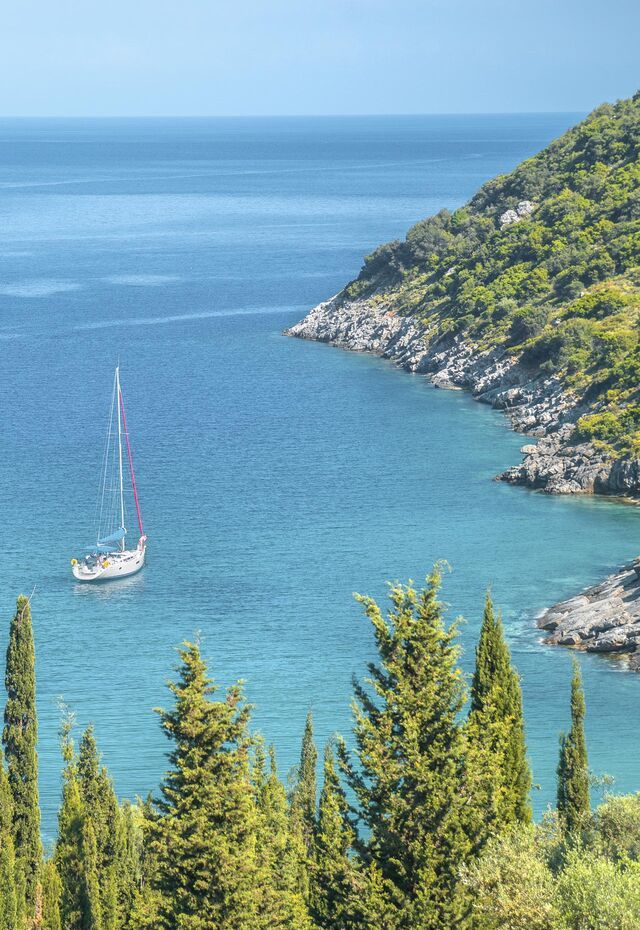 Duration
7 - 8 hrs
Season
May - October
OVERVIEW
There is something deeply mythical about sailing to Ithaca. The homeland of Odysseus is one of the smallest of the Ionian islands and greets visitors with a lush landscape of tree-lined valleys and coves, cute-as-can-be beaches and proud locals known for their welcoming smile.

Just 18 miles from top to tail, Ithaca is an island packed with tradition, history and culture and is the beloved secret of sailing crews and boat owners. So to take a boat trip here from neighbouring Kefalonia, just a couple of miles away, is to spend the day going from gem to gem.
The Venetian architecture that perfectly harmonises with the setting, the wood-fringed beaches with their unique little pebbles and the picture-perfect tranquillity that comes so naturally… By the time you're finished, you'll feel like you've had a tantalising taste of your next main holiday destination.
DON'T MISS
Depending on your choice of boat trip or if you hire your own boat, your experience will include some of the below:
The port of Vathi
A naturally deep harbour, Vathi oozes quaintness and charm. Take your time to explore the waterfront and narrow streets, drinking in the architecture and atmosphere. You can enjoy local tastes at one of the many tavernas and, of course, gaze at the adorable little island of Lazareto in the bay, with its clutch of trees and 17th century chapel.
The beaches
Around 15mins away by taxi from Vathi (or as part of your boat trip) are some wonderful beaches to discover. The turquoise-watered Filiatro is the most popular and cosmopolitan beach in Ithaca. And over on the other side of the island is Piso Aetos, with its little white pebbles. But many consider Gidaki the best beach because of its lush vegetation and open bay, allowing visitors to spread out and enjoy the view.

Port of Kioni
Kioni is love-at-first-sight material… a picturesque little fishing village up the coast, with flower-filled patios and a gorgeous waterfront. Some boat trips organise an early-evening dinner here.
Monastery of Katharon
It's worth seeking out the island's highest point, not just because the Katharon Monastery is a landmark, but because it offers breathtaking views of Ithaca and Kefalonia. It's positioned so that the steeple is visible from every part of the island.
Stavros
Continuing north, you reach the village of Stavros, next to which Odysseus' Palace is rumoured to have been built. A scale model of the palace (known as Homer's School) is found in the village along with a small archaeological museum. Excavations in the area have unearthed findings indicating that Ithaca has been inhabited since the end of the third millennium BC.
GET PLANNING
Boats for Ithaca leave from Sami and the smaller ports of Poros or Skala, in Kefalonia.
To Ithaca
From Sami, Poros and Skala:
There are numerous organised boat trips, leaving from 8:00-9:30 and returning at around 16:00-18:00.
There is also a ferry boat service from Sami to Piso Aetos, if you don't want to join a group excursion.
Other ports on Kefalonia (for organised tours): Fiskardo, Agia Efthimia, Karavomylos.
On Kefalonia, from Argostoli
To Sami:
To Skala:
By car or taxi: 36km (50min)
To Poros:
By car or taxi: 39km (55min)
Ferries from Sami operate all year round but boat trips run from May to October.
The best time to enjoy the peace and tranquility of Ithaca is in the quieter and slightly cooler months of May-June and September-October.
Prices range from €35-€65 per person for organised boat trips.
All boat trips are dependent on weather conditions.
Autumn
Spring
Summer
Winter
The length of your experience will depend on your boat trip and port of departure.
Organised boat trips last 7-8 hours.
It's worth dedicating a whole day to Ithaca.
Ithaca has all the facilities you'll need, including shops and places to eat.
You'll be doing plenty of walking and swimming, so make sure you have everything you need for a full day in the sun: