The highest peak of the Ionian Islands offers some of the best hiking in Kefalonia, with a unique fir tree forest, rich nature and views as far as the Peloponnese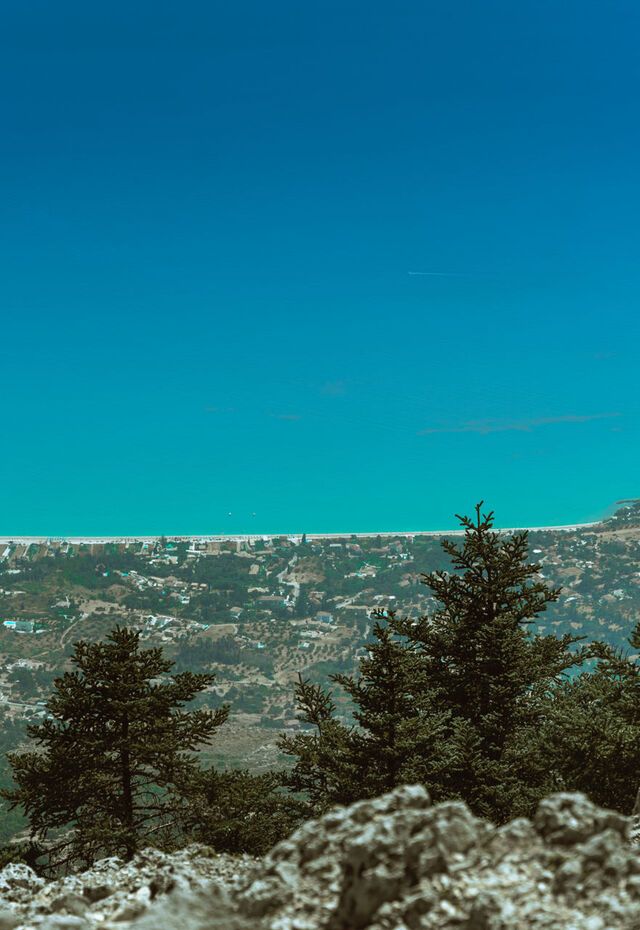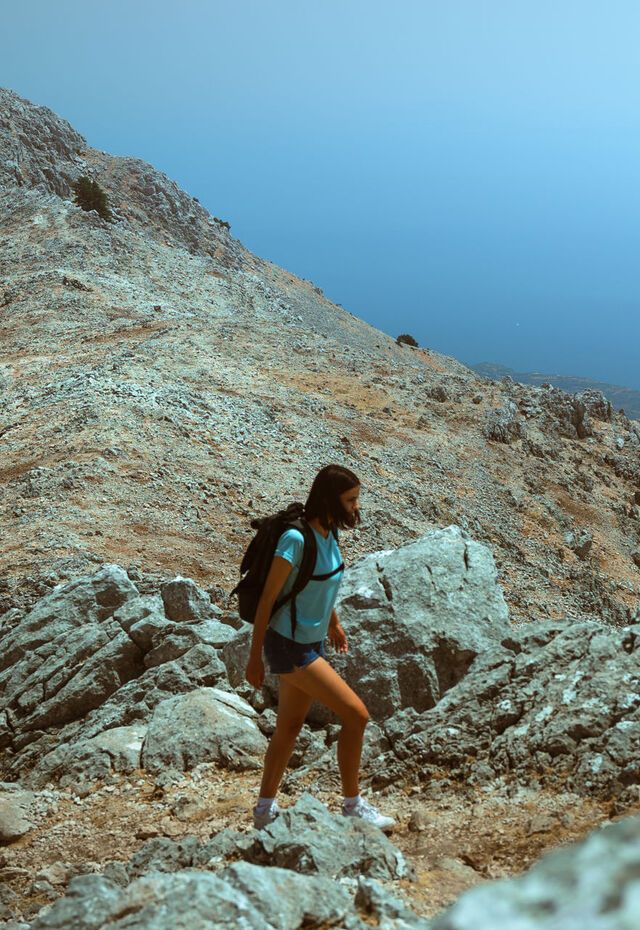 Duration
1.5 - 5 hours
Season
May - October
OVERVIEW
Hiking in Kefalonia's Mt Ainos National Park
If you can bear to drag yourself away from Kefalonia's legendary beaches, there's another side to the island that's in its own way just as memorable but known by only the lucky few. Rising from the centre of the island, Mt Ainos (or Mt Aenos) is the tallest peak of the Ionian Islands and is blanketed by rich green forest. It's also one of the few Greek island national parks, meaning that if you love exploring nature and being rewarded with epic views, you've come to the right place.
There are dozens of hiking paths in Kefalonia (coastal and inland) but those on Mt Ainos are extra special because the Natura 2000-protected national park is dominated by Kefalonian fir trees. Much of the wildlife is specialised to this unique ecosystem. If you're really lucky you might even spot some of Kefalonia's semi-wild horses.
Whether or not you reach the 1,628m peak of Megas Soros, you'll enjoy wonderful views of Kefalonia and other Ionian Islands, even as far as the Peloponnese coastline.
There are five marked hiking trails on Mt Ainos but we highlight two here (an easy route and a slightly more demanding hike to the summit). All you'll need are a good pair of shoes and basic hiking essentials (and for the longer hikes, ideally a guide) and the Kefalonian landscape will supply the rest.
Footpath 1: Mt Ainos Environmental Centre to Hionistra

This straightforward hike starts at the Environmental Centre of Mt Ainos and follows a circular route through the fir tree forest to the Hionistra viewpoint and back again. You'll enjoy some of the best views on Mt Ainos, including Argostoli and Sami as well as the islands of Ithaca and Lefkada.

Footpath 2: Digaleto to Megas Soros

A medium difficulty hiking path starting at Digaleto village in the foothills of Mt Ainos and taking you all the way to the summit. The views of the Ionian Sea (all the way to the Peloponnese) are out of this world.
DON'T MISS
The fir tree forest
Whichever of the two hikes you choose, you will walk through Kefalonia's famous fir tree forest, covering two-thirds of the mountain. Abies cephalonica (also known as Greek fir) is native to Kefalonia and is one of the rarest fir trees in Europe, growing to 25-35m and with needle-like, flat leaves. It was once found in such abundance here that the Venetians called the mountain Monte Nero (Black Mountain) after the colour of its wood. It is the only fir tree forest on a Greek island and is the primary reason for the creation of the national park as long ago as the early 1960s.
The fauna and flora
Every season on Mt Ainos is different, offering the opportunity to enjoy different plants and animals whenever you visit. There are more than 400 species of plants, including the Viola cephalonica, a small mauve flower that grows in the cracks between rocks (especially around Hionistra viewpoint) and the small white Crocus hadriaticus. Keep an eye out for the Moria lizard (a shade-loving lizard endemic to the Ionian Islands and Peloponnese) and listen for chirping coal tits (one of 100 species of birds recorded on Mt Ainos, including snake eagles, golden eagles, partridges and black woodpeckers). Various types of mushroom flourish in autumn and there is a population of semi-wild horses (with a characteristic thick mane and tail), originally used for farming but now released to roam free.

The unique view
Even if you only visit the Mt Ainos Environmental Centre (where you can learn more about the wildlife and hiking paths of Kefalonia's national park), you'll be treated to a wonderful view of Argostoli and Sami on Kefalonia and the islands of Ithaca and Lefkada. But the real treat comes for those who reach the 1,628m peak of Megas Soros, from where the views are something else.

Book your trip
All your holiday planning needs in one place, letting you book direct and benefit from official online rates
Group
6.5 hours
Free cancellation
Not sure? You can cancel this reservation up to 24 hours in advance for a full refund
Group
7 hours
Free cancellation
Not sure? You can cancel this reservation up to 24 hours in advance for a full refund
GET PLANNING
How do you get to Kefalonia island?
Kefalonia has an airport with regular domestic flights from Athens throughout the year and seasonal international flights.
The quickest way to reach Kefalonia by ferry is from the port of Kyllini in western Greece (287km by car or bus from Athens and 1.5hrs ferry crossing to the port of Poros in Kefalonia) all year round. There are seasonal ferry connections from Patras (211km from Athens by car or bus and 3.5hrs ferry crossing to Sami port in Kefalonia). There are also ferries from Astakos (in Aitoloakarnania on the mainland) to Sami.

How do you get to Mt Ainos Environmental Centre on Kefalonia?
You can hire a car or catch a taxi from Sami (20.2km, 30 mins) and Argostoli (25.1km, 35 mins) on Kefalonia.
How do you get to Digaleto village?
You can hire a car or catch a taxi from Sami (13.8km, 20 mins) and Argostoli (27.3km, 39 mins)

When is the best time to go hiking in Kefalonia?
The best conditions for hiking and all nature activities in Kefalonia are in spring, summer and early autumn (ideally May to October). It is best to avoid winter months.
Most of the hiking paths in the Mt Ainos National Park are shaded, but it is worth setting out in the morning to avoid the heat in summer months or the evening to catch the sunset (on Hiking route 1).
The island does get busy in the peak summer months (July-August) so if you are able to visit in early or late summer you will enjoy your holidays in Kefalonia even more, whilst still being able to swim.

Autumn
Spring
Summer
Winter
Route 1: Mt Ainos Environmental Centre – Hionistra (circular path)
Distance: 6,184m
Starting Point: Mt Ainos Environmental Centre
Highest point: 1,600m
Walking time: 1.5-2.5 hours
Difficulty: Low
Path 2: Digaleto – Megas Soros
Distance: 6,595m
Starting Point: Digaleto (by the quarry)
Highest point: 1,628m (Megas Soros)
Walking time: 4.5-5 hours
Difficulty: Medium
More Info for Mt Ainos hiking paths