READING TIME
As long as it takes to eat a slice of watermelon
Kefalonia is famous for its thick, green canopy of oleander, oak and fir trees, its picturesque seaside villages of Fiskardo and Assos, and the surreal beauty of the Melissani Cave.
But there's no doubt that your holidays on the largest Ionian Island will revolve around its awesome beaches. Kefalonia has some of the best in Greece, with the likes of Myrtos regularly cracking top lists worldwide for their crystal-clear, blue-green water and dramatic settings. There are so many, in fact, that choosing one can seem daunting. Some are long and sandy, others have crunchy, fine pebbles; some are fully organised with facilities and tavernas and others are totally remote; and some are easy to get to and others more challenging. So we've done the hard bit for you and gone looking for the best beaches in Kefalonia. All you have to worry about is deciding what kind of beach day you're after.
Myrtos beach
People visit Kefalonia purely on Myrto's merits. That's how good it is. But then, you may already know this. Surrounded by towering cliffs and enclosed in a windless bay that is blessed with deep, turquoise waters and fine white pebbles, you could easily spend your whole day here. One small part of the beach is organized while the other is wilder, for those who crave solitude. Paragliding is a thing, too, so keep an eye out for that. Myrtos beach will mesmerize you and you will come back for seconds. If you're towing kids, just beware that it gets deep quickly. Make sure to stay for the dazzling sunset and note that Assos is close by.
Amenities: A few sunbeds & umbrellas, snack bar
Access: By road
Antisamos beach
Just when you thought it couldn't get any better, along comes Antisamos to say otherwise. Superlatives like tropical, exotic and paradise don't do this beach justice but we'll give it a go. Picture a bay that is surrounded by thick (and we mean thick) green, rolling hills, with the whitest of fine pebbly sand giving way to all shades of green and blue. That's Antisamos. Kefalonia beach heaven. Lay about, snorkel or indulge in water sports. Or maybe try hiking to Koutsoupia beach (quite a hike, so you can also rent a boat to get there) and bask in its emerald water goodness. Antisamos is utterly revitalising.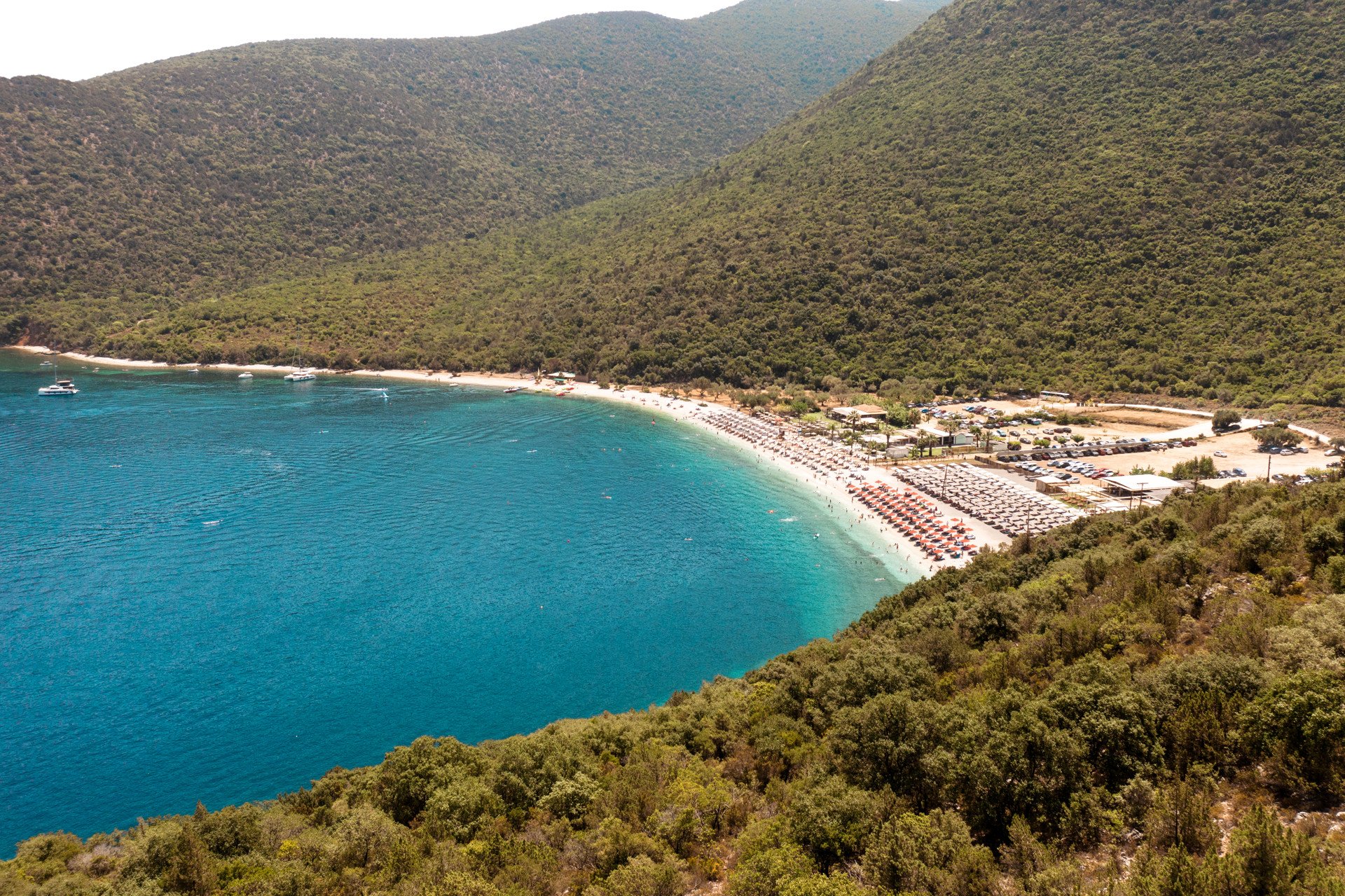 Amenities: Sunbeds & umbrellas, beach bar, restaurant, water sports
Access: By road
Horgota beach
If Horgota looks familiar, it's probably because you've seen it in Captain Corelli's Mandolin. Part of the movie was shot on this wild, pebbly strand, instantly making it one of the most sought-after beaches in Kefalonia. Horgota's pine trees practically reach into the green-blue water, providing shade and tranquility. You could relax here all day long or mix it up by hoofing it to nearby Agia Sofia beach, where you can also check out the abandoned houses that fringe the shore.
Amenities: None
Access: By road
Foki beach
One of the most scenic beaches in Kefalonia, Foki and its U-shaped bay also double as a monk seal sanctuary (don't miss out on the caves), guaranteeing you clean waters and just the sound of waves lapping the shore. This tiny strip of heaven jumps right out at you with its picturesque setting amongst cypress trees and olive groves, and its proximity (1.4km) to the gorgeous village of Fiskardo a bonus. Preferred by families for its easy and calm demeanour, it could be your sanctuary, too.
Amenities: Taverna, natural shade
Access: By road
Emplisi beach
The water in Kefalonia doesn't get any clearer than what awaits you at Emplisi. And like most of Kefalonia's beaches, it is surrounded by pine and cypress trees. It's a pebbly-shell beach that gives way to long slabs of rock near the edges, ideal for tanning sessions minus the sand. Like Foki, Emplisi beach is fairly close to Fiskardo, making it popular, but it benefits from being larger. Get your grub at a taverna in Fiskardo and swim at one of the best beaches in Kefalonia.
Amenities: Natural shade, snack bar
Access: By road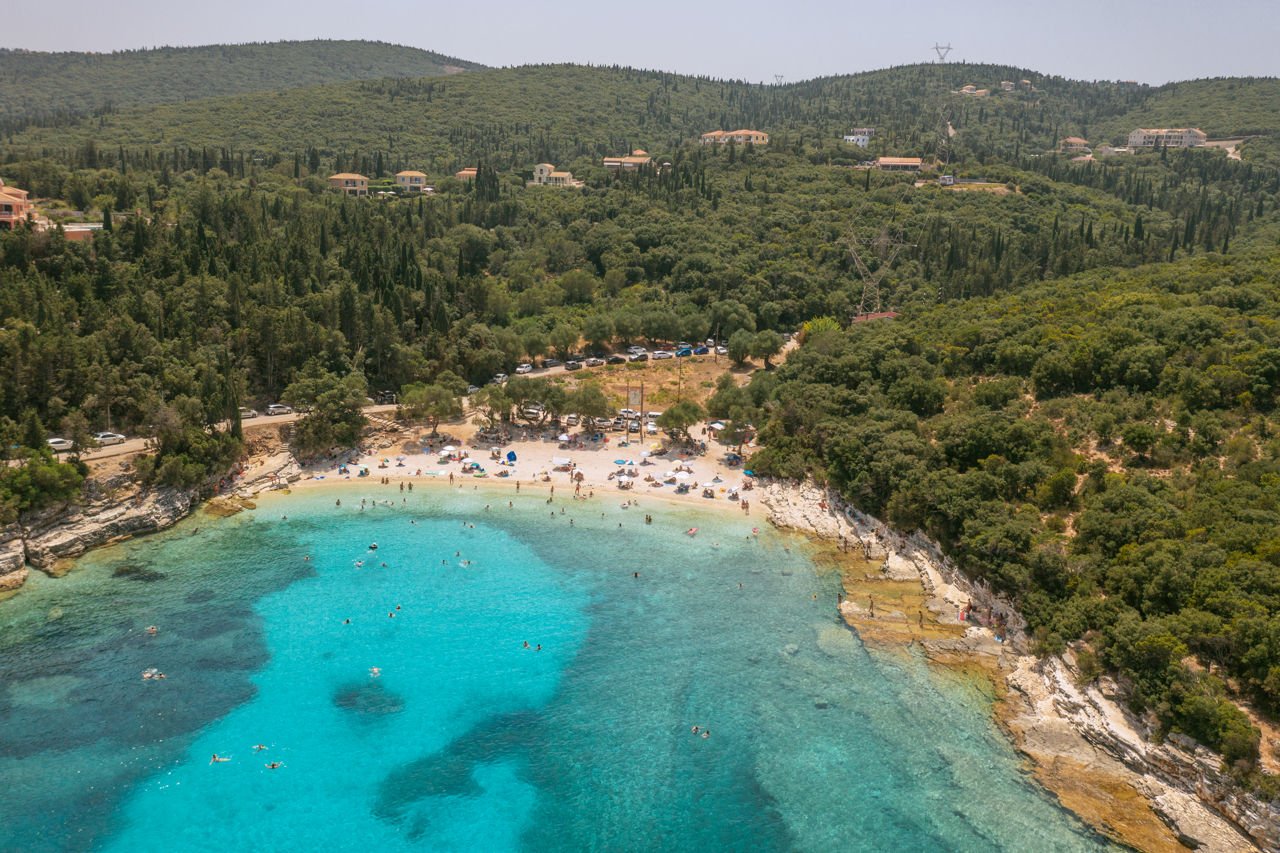 Dafnoudi beach
For the intrepid, visiting Dafnoudi beach is half the fun because getting there means having to go through a splendid cypress tree forest (start at Antypata village). Once there, the other half of the fun begins as you discover that the beach's luminescent green waters are surrounded by rocky edges covered in green, where you can dive from. At the end of the pebbly stone beach, there are some caves you can swim to and explore. It's all fun and games at Dafnoudi beach, with tropical vibes and more chill than a Bob Marley concert. (Another gem close to Fiskardo.)
Amenities: None
Access: By road & short hike
Fteri beach
Instagram doesn't do beaches but if it did, they'd look something like Fteri. The fine white, pebbly beach sitting within a wide, sprawling, semicircular bay is like something out of an exotic sunscreen commercial. It is lined by massive limestone cliff faces poked by holes and caves (some of which are good for shade). In the middle of the beach, a part of the cliff face creates a natural archway, connecting the two sides. You can jump off several rocky outcrops into the sea, swim around and explore caves or just sit back and enjoy one of the prettiest beaches in Kefalonia.
Amenities: None
Access: By boat from Zolas port (near Agia Kyriaki beach)
Petani beach
The craggy cliffs that surround Petani beach are carpeted with green vegetation that drops right into the sea. They juxtapose dramatically against the turquoise waters and white pebbly sand. You might be in heaven for all you know. Under the surface, colours change due to a sweet stream of water that trickles down the mountainside, making this a prime snorkelling spot.
Amenities: Sunbeds & umbrellas, beach bar, tavernas
Access: By road
Xi beach
Xi beach is a kaleidoscope of colours that will deplete your phone battery quicker than you can say Greek salad. The sand is yellow-orange and the water all shades of green and blue … and with colours like that, you could paint your own masterpiece. It's one of the most striking beaches in Kefalonia, with the yellow-green coming from argyle in the sand (exfoliating spa, anyone?). Meanwhile, the shallow waters make it an ideal spot for families. There are plenty of activities to keep you busy, but make sure to come early or in the afternoon because Xi is a popular beach. You'd better hope your battery still has charge because the sunsets here are divine.
Amenities: Sunbeds & umbrellas, water sports, beach bar, taverna
Access: By road
Makris Gialos beach
Whether you're into chills or thrills, chances are you'll find just what you're looking for at Makris Gialos and its adjacent beach, Platis Gialos. These two are the gold standard for beach holidays in Kefalonia. With fluffy yellow sand and crystal-clear waters, it's not hard to see why they're so popular. Makris Gialos is bordered by pine trees that separate it from the road, and has ample amenities that offer fun and games for both kids and adults. Fairly big and catering to one and all, it's a beach that's not to be missed.
Amenities: Sunbeds & umbrellas, beach bars, water sports
Access: By road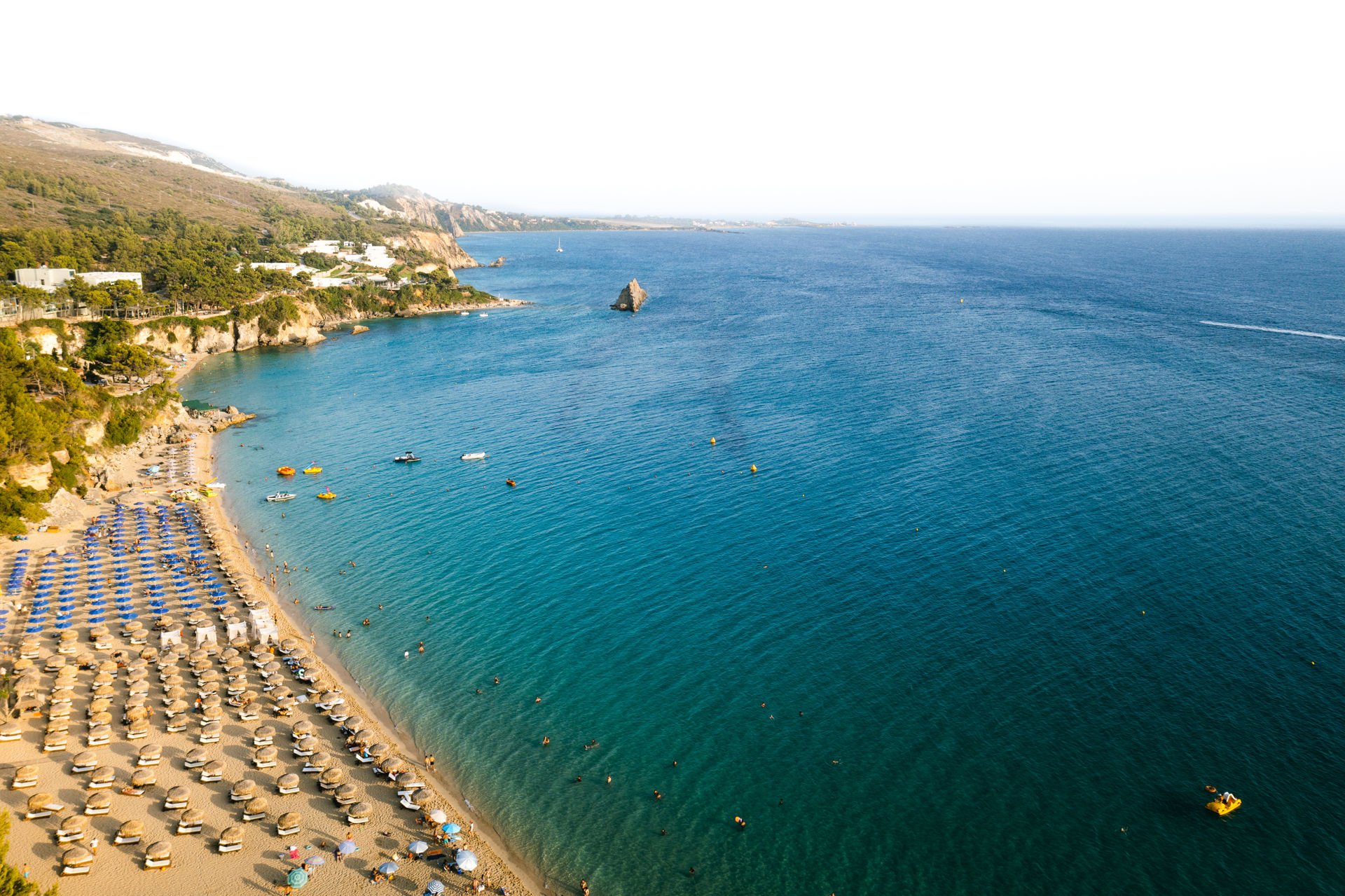 Atheras beach
Small and pretty, Atheras beach delivers bucket-loads of peace and quiet to those who visit. Once inside a small, windless cove that boasts warm, shallow waters, you'll find your Shangri-la there. Plus a few families, too, as it's favoured for its quiet character and safe waters. It's surrounded by a cascading terrace of hills, with the natural harbor of Porto Atheras and the lovely chapel of Agios Spiridonas on hand to provide a good for a few Insta moments.
Amenities: Taverna
Access: By road
Skala beach
Do yourself a favour by visiting the sprawling expanse of fat yellow sand that is Skala beach. One of the biggest beaches in Kefalonia, Skala weighs in at 5km, boasting turquoise waters and a pine-fringed esplanade that will enchant you. With such generous spacing, you'll thank us later. Located next to the homonymous settlement (with all the amenities you could need), Skala is all about sun, sea, food and enough leg space to feel like you're flying business class. Bon voyage!
Amenities: Sunbeds & umbrellas, water sports, tavernas, restaurants
Access: By road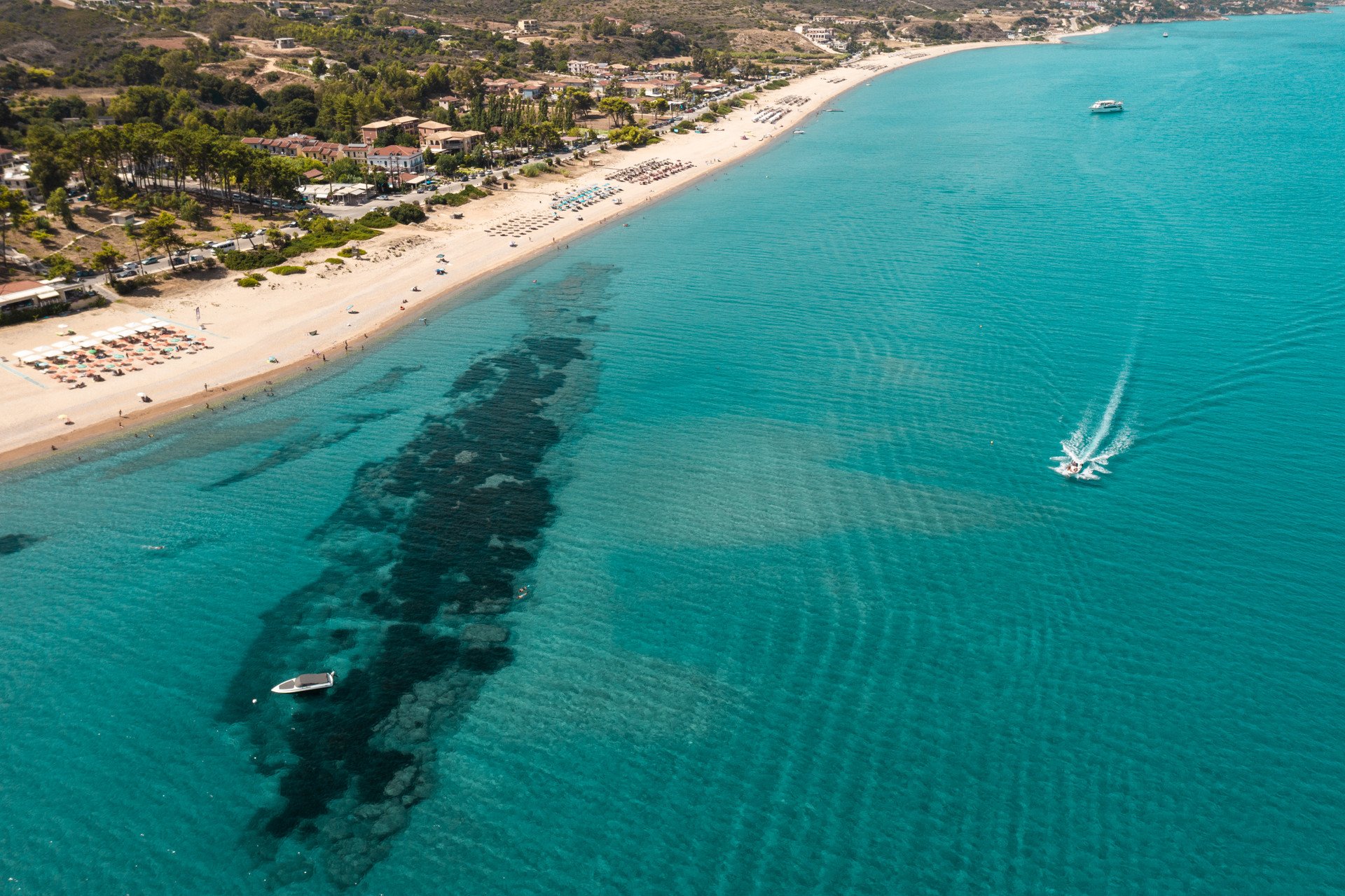 Avithos beach
As soon as you set eyes on the fine, golden sand and clear blue water of Avithos beach, close to Argostoli on the south coast, you'll wonder why we left it till last. But there really is no pecking order when it comes to the best beaches in Kefalonia. The greenery at Avithos comes all the way down the hills, virtually to the sea. And the amenities and shallow water make it a hit with families. As soon as you get hungry, there are tavernas nearby and those who stay the whole day will be rewarded with a killer sunset. Just keep in mind that sea turtles lay their eggs here, so tread carefully. And for final gem, Ai Helis beach is just 10mins away by car … another family favourite due to the facilities, sand and shallow water.
Amenities: Sunbeds & umbrellas, beach bar, taverna
Access: By road
13 of the best beaches in Kefalonia
Told you we'd wow you with the choice of beaches in Kefalonia. But that really is just the start. Now you have to turn your attention to Kefalonia's other assets: A day out in Fiskardo or Assos, the amazing food and local products (let's introduce you to Robola wine), and all that greenery hiding an incredible choice of nature activities, especially in the Mt Ainos National Park. Wanderlust, ahoy!
Book your trip
All your holiday planning needs in one place, letting you book direct and benefit from official online rates
Group
9 hours
Free cancellation
Not sure? You can cancel this reservation up to 24 hours in advance for a full refund
Group
3 hours
Free cancellation
Not sure? You can cancel this reservation up to 24 hours in advance for a full refund
Group