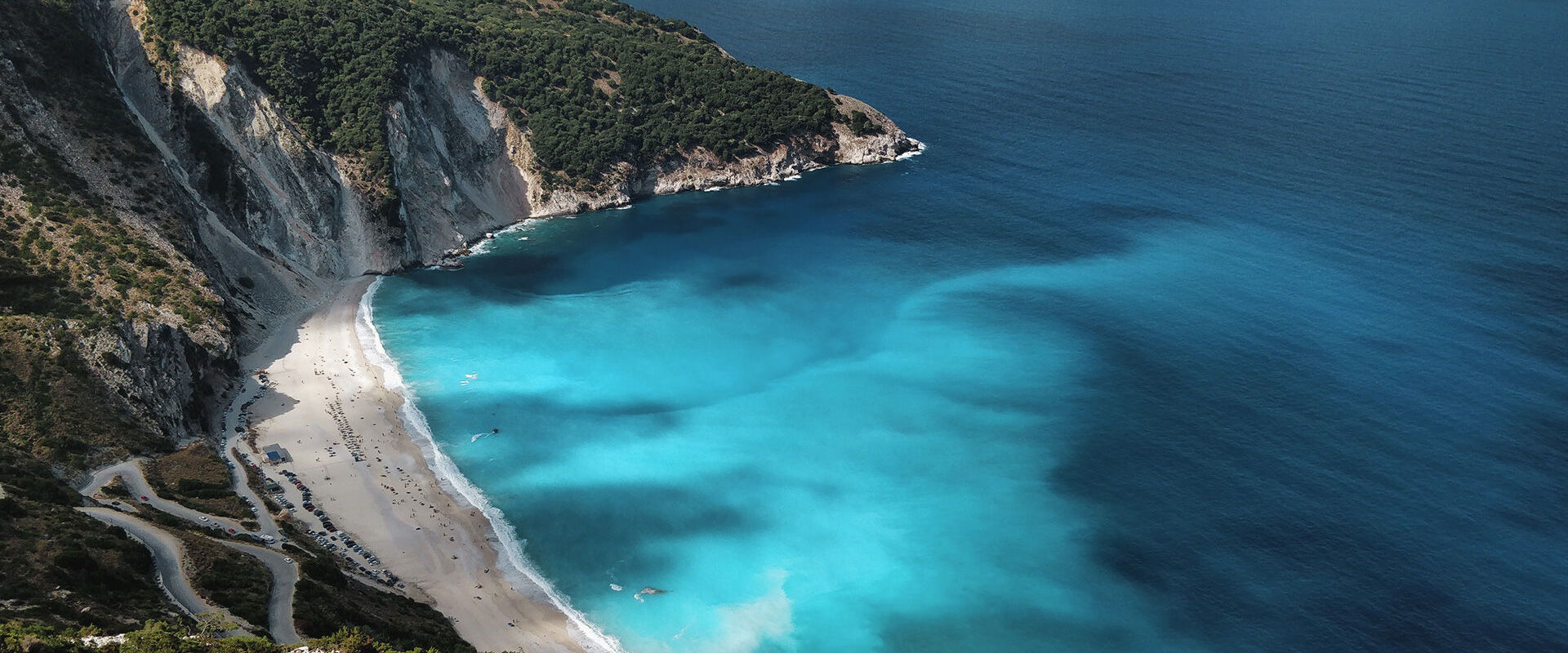 EXPERIENCE
The wild beauty of Kefalonia's Myrtos beach
A geological masterpiece, Myrtos Beach has been sculpted by nature to create the most dramatic backdrop to your holidays in Kefalonia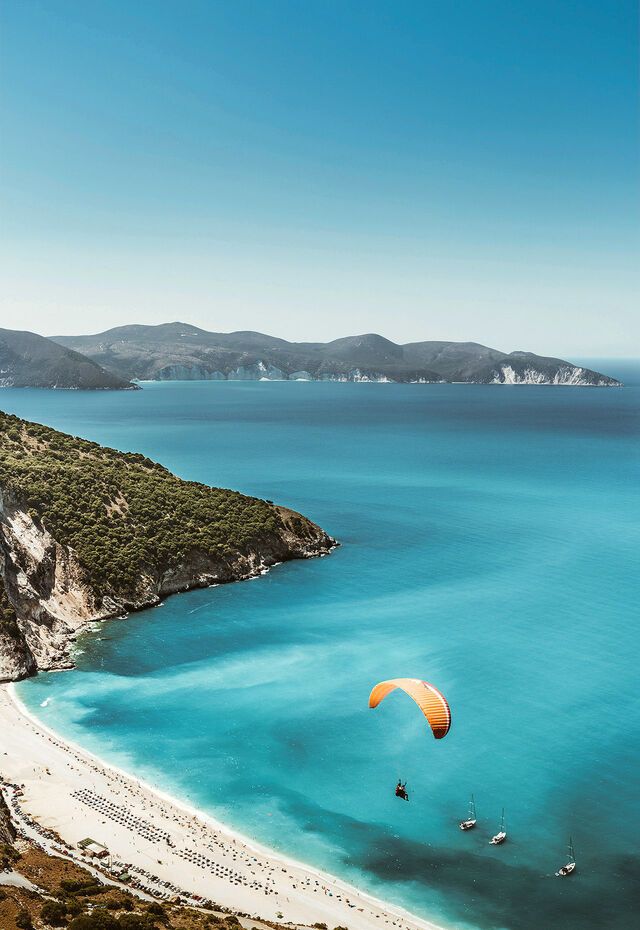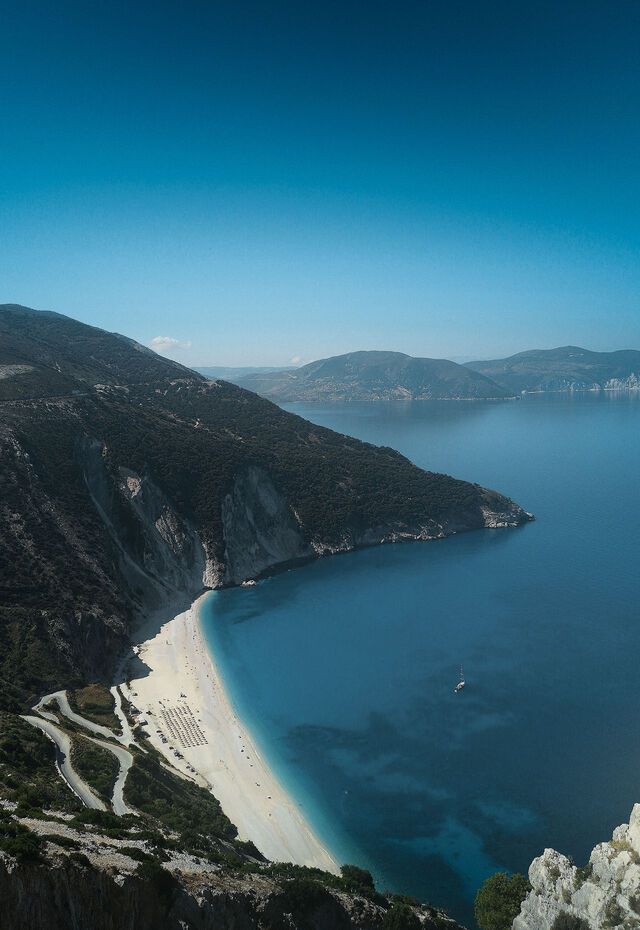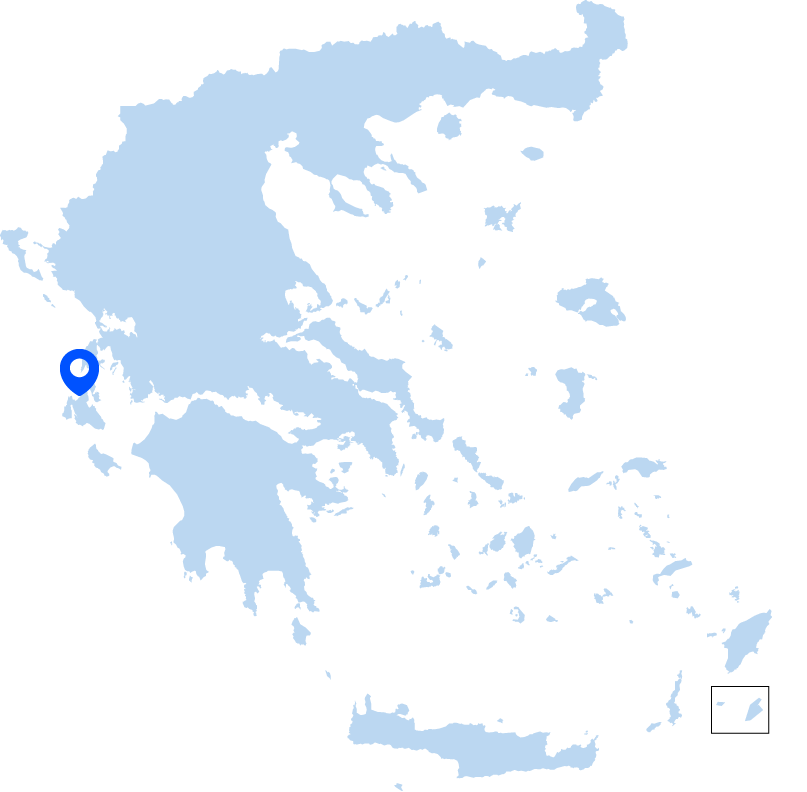 Duration
4-6 hrs
Season
May - October
OVERVIEW
You could come to Myrtos Beach in Kefalonia just for the Instagram shot from the viewpoint. Near-vertical limestone cliffs surrounded by a forest of pine green and, stretching below you, an 800m semi-circular beach of white sand and pebbles and an iridescent blanket of blue. No wonder it routinely features amongst the best beaches of the Mediterranean, let alone Greece.
There's a wild beauty here – and not just because of the 2km hairpin turn-filled dirt road you negotiate to reach it. You can spend a day just contemplating the majesty of surroundings chiselled away over centuries by the Ionian Sea or swimming out to admire the clifftop setting and all that fragrant greenery.

Beyond the serenity of the shimmering sea blues and greens, you can feel the immense power of nature everywhere. At one end, there's a small cave with its own little beach. And if you are here in the evening, you're in for a bonus. Facing west, Myrtos rewards you with magical sunsets.
Book your trip
All your holiday planning needs in one place, letting you book direct and benefit from official online rates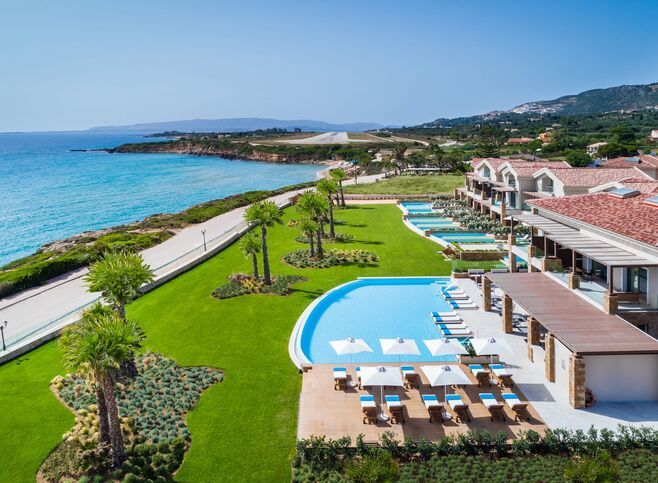 Accommodation
Kefalonia
Experience the beauty of Kefalonia and the Ionian Sea in a beautiful hotel overlooking the sea and the majestic sunsets. In a ho...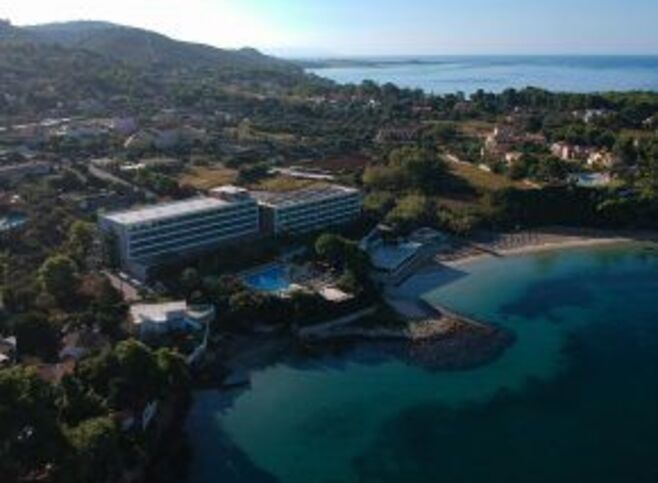 Accommodation
Kefalonia
For memorable holidays we welcome you to the Mediterranee Hotel with all the facilities of a 4**** HOTEL. It is...
GET PLANNING
From Divarata village
By car or taxi: 2.5km (7mins)
By bus
From Argostoli
By car or taxi: 30km (45mins)
By bus
Myrtos Beach is worth visiting all year round, but the full experience comes between May-October when the water is at its most enjoyable for swimming.
If you do visit in July-August, do so in the early morning or late afternoon when it's cooler and quieter.
May-June and September-October are the best and quietest months to visit.
A canteen operates during summer months and there are a limited number of umbrellas and sunbeds to hire.
There are some tavernas at the top of the dirt road leading down to the beach and in Divarata.
There is public parking by the beach.
There are lifeguards on duty during the summer months.
Make sure you have everything you need for a day in the sun:

TRAVEL RESPONSIBLY
Beaches are delicate ecosystems so please help keep them in the best possible condition and leave only your footprints.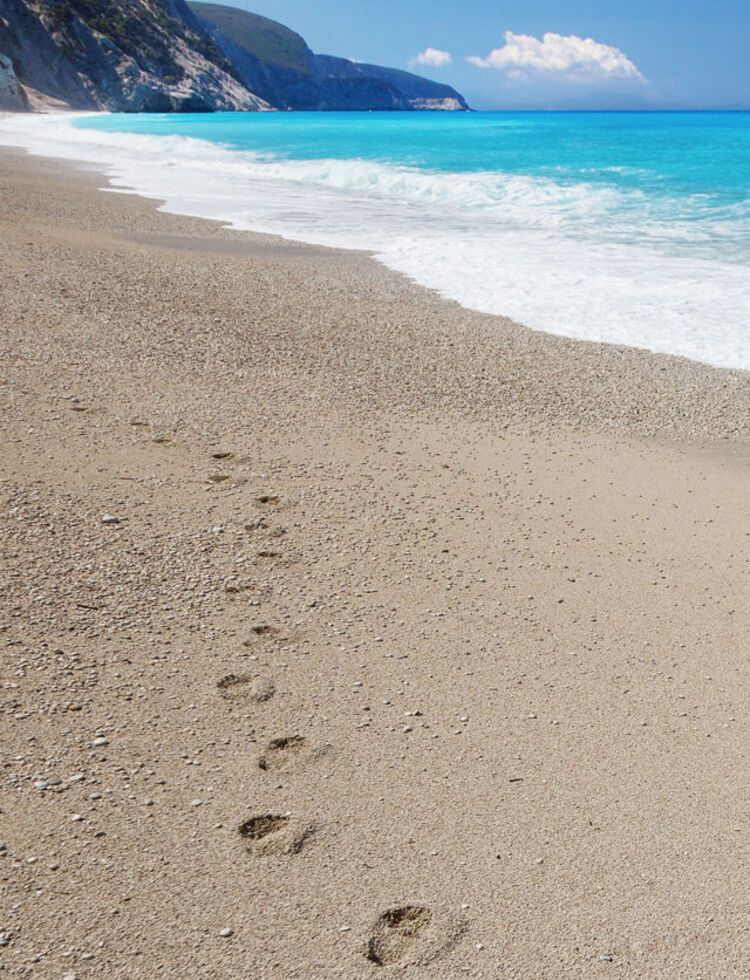 Use the bins provided or, if need be, take your rubbish with you.
Don't remove any shells, rocks, fossils or sand from the beach.
Respect the marine life and the plants and animals on shore.
Use a refillable water bottle to try to minimise your use of plastic.
Making fires on beaches is strictly forbidden.
The water becomes very deep close to the shore so be careful with children.
Follow lifeguard instructions because there can be strong currents and days when swimming is forbidden.