Tinos is home to more than 40 villages of unspoiled beauty, with many carrying the torch of marble craftsmanship and other age-old traditions that have given the Cycladic island a matchless artistic flair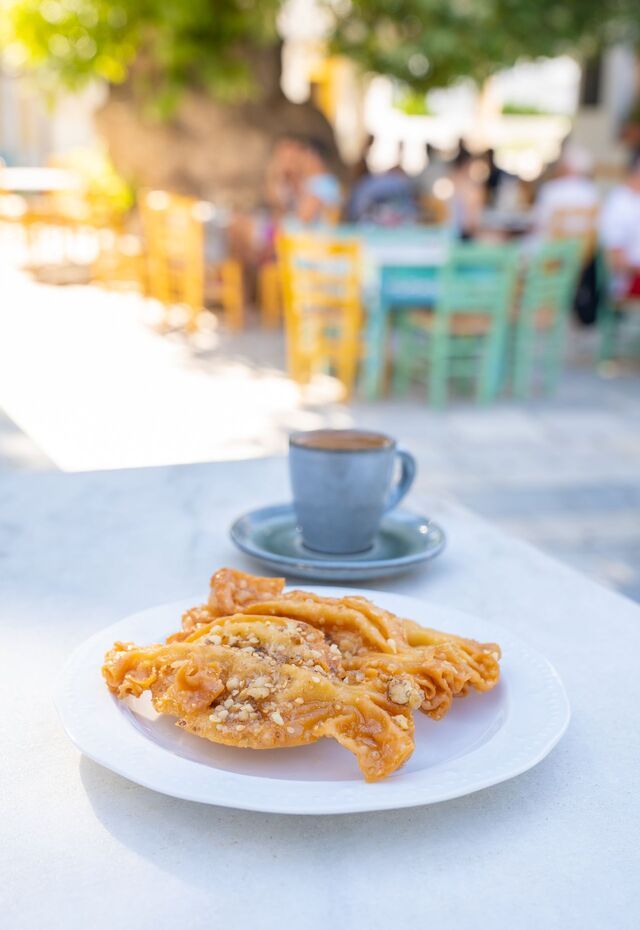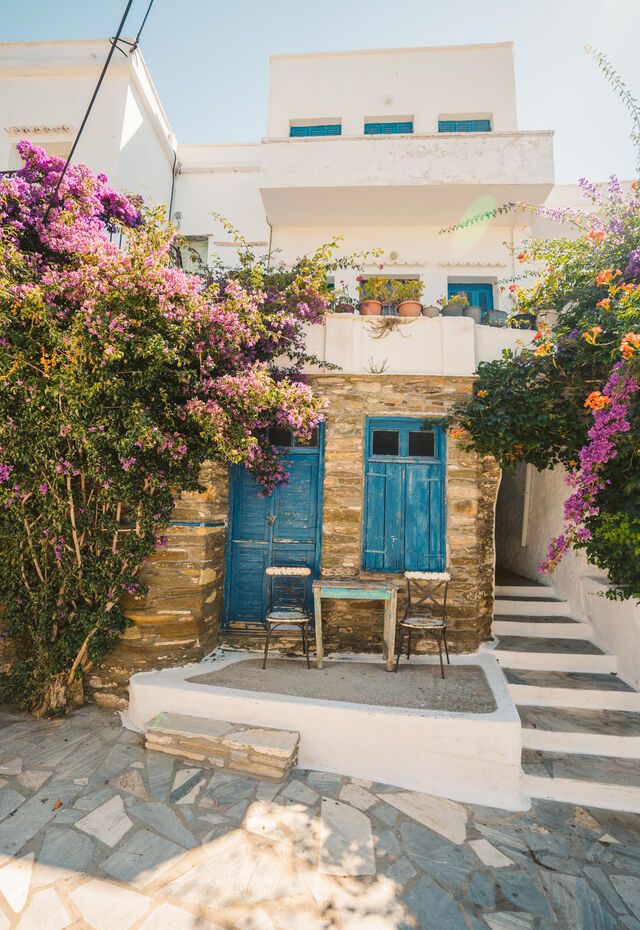 Duration
2 days
Season
All year round
OVERVIEW
Tinos is an island known for its beautiful beaches, lively Hora (main town) and incredible food, as well as the devoutness of its iconic cathedral – the Church of Panagia Evangelistria (or Our Lady of Tinos), a major pilgrimage site for Orthodox Christians. And to that list deserve to be added its villages. There are more than 40 villages in Tinos – some in the hills and others by the coast, but all taking you to an idyllic scene of alleyways, cobblestone streets and a combination of white-cubed houses and bougainvillea-filled courtyards for which the Cyclades islands are famed. You'll also get to taste local delicacies in traditional coffee houses and tavernas and discover Tinos' centuries-old marble sculpting tradition. As you explore the countryside, look out for the dovecotes (pigeon houses) harking back to Venetian times, basket-weavers and museums that tell the tale of the island's unique history. So whatever time of year you are planning your holidays in Tinos, make sure to add the villages to your itinerary.
DON'T MISS
The best villages of Tinos
Dio Choria
Meaning two villages (as it was originally two settlements that merged), Dio Choria is amphitheatrically built on the slopes of Mt Kechrovouni, offering views towards the southern end of Tinos and the Aegean. It has all the same Cycladic characteristics of other villages in Tinos, with whitewashed houses, brightly coloured doors and window frames, and cobbled streets. But what makes it different is the medieval air of the arcades and arches found in its alleyways. Make sure to try the raki and a traditional spoon sweet preserve. And if your holidays in Tinos are in early August, there's the bonus of the annual oregano festival, which is celebrated with music and heaps of food. Close by (around 20 minutes by car) are the beaches of Lichnaftia and Pachia Ammos, offering complete relaxation (there are no amenities) and green-blue water with a mix of sand and fine pebbles.
Falatados
The second-biggest village in Tinos, Falatados is located inland and follows the same traditional architecture of settlements throughout the island, with cobblestone streets and flower-filled courtyards. The tall blue dome of the Church of the Holy Trinity dominates the village square and the House of Sketch is a totally unexpected museum, opened by brothers who are political cartoonists. Falatados has a well-earned reputation in Tinos for its wine and raki, meaning that you're more than likely to stumble upon a distillery or grape press, and the annual Rakizio festival is a keenly anticipated event in September each year. Luckily for us, you can enjoy a wine-tasting tour all year round. Around 20 minutes away by car is Santa Margarita beach, another secluded swimming spot with green-blue water and no amenities.
Volax (or Volakas)
One of the best-known villages in Tinos, Volax is nestled in the hills, right in the middle of the island. It's famous for its basket-weavers labouring away in their workshops – and yes, you can purchase their wares straight off the assembly line. It's also an intriguing location, with lunar-landscape boulders peppered around the countryside (you can also see them on one of the hiking paths of Tinos). The Cycladic aesthetic is strong in Volax and there is an artistic air to the village, with lines of famous Greek poets like Odysseas Elitis, Konstantinos Kavafis, and Andreas Kalvos carved into old doors of the village. You can learn more about Tinos' history at Volax's Folk Museum. The artefacts paint a vivid picture of life in the 19th century, with instruments, clothes and other everyday objects on display. There's also an open-air cinema in the summer months and plenty of spots to enjoy a traditional spoon sweet with coffee or a local recipe.
Kardiani
Built into the slope of a mountain and with one of the most spectacular sea views in Tinos, Kardiani has been classified as a traditional settlement by the Greek state. But the real showstopper here is the local marble tradition, which is evident everywhere you look – in the architecture, streets and archways … and especially in the churches, which are considered works of art and are listed buildings. Below the village, you'll find Giannaki beach (within the bay of Kardiani), boasting sand and green-blue water and a fully organised beach bar that is ideal for a seafood lunch. Nearby Kalyvia beach is sandy and similarly organised with a beach bar. Or for seclusion, head for Agios Petros beach (sand and fine pebbles). Order a cocktail and stick around for the sunset. Heavenly!
Isternia
Isternia is another Tinos settlement built into the mountainside with incredible views of the Aegean, this time in the western part of the island. Along with Pyrgos, it was one of the most important marble-sculpting centres on the island, producing numerous renowned sculptors. Make sure to visit the Isternia Artists Museum, as well as the Church of Agia Paraskevi, which has a fabulous courtyard view. Heading down to the coast, you can enjoy a dip at the village beach followed by a seafood lunch by the sea. Alternatively, you'll find plenty of cafes and bars in the village, where you can kick back and sip your coffee or cocktail with excellent views … all of which make Isternia one of Tinos' most special villages.
Pyrgos
The biggest and most scenic village in Tinos, Pyrgos is another listed traditional settlement. Wandering its streets gives you the sense that you're in an open-air museum, with a marble tradition dating back to the 18th and 19th centuries. A long line of famous sculptors, such as Gianoulis Halepas and Giannis Voulgaris, hail from the village (as well as a well-known painter Nikiforos Lytras) and Pyrgos continues its artistic tradition with gusto. There are numerous marble sculpting workshops and museums, such as the Museum of Marble Crafts, the Museum of Tinian Artists and the Halepas Museum (in the artist's former home). There are also some galleries, as well as the Fine Arts School of Pyrgos. The ambience is further enhanced by the Cycladic architecture, flowers and cobblestone streets, as well as the marble ornaments that adorn houses and churches. Once you've explored the shops and savoured the local delicacies (sweet and savoury), head to the giant shade-giving big plane tree of the main square.
Panormos
One of Tinos' traditional fishing villages, Panormos is found right below Pyrgos in a natural harbour that is protected from the elements. You'll find bobbing caique boats and seafood tavernas along the waterfront, as well as a choice of nearby beaches that includes Stafida (the closest) and Rochari (with a beach bar and a boho vibe). Panormos Bay has some of the best beaches in Tinos, including Agia Thalassa (long and sandy, with an organised part as well as plenty of tamarisk trees for free shade) and Kavalourko (an exotic slice of sun-dappled Cycladic goodness, with shallow water and sand). The islet of Planitis sits right across from Kavalourko, within safe swimming distance (weather permitting).
GET PLANNING
What is the best way to visit the villages of Tinos?
The best way to get between Tinos' villages is to rent a car (there are plenty of options in Hora).
If you want to spend a day village-hopping, it's best to start in Hora. The shortest route is Hora – Dio Choria – Falatados – Volax – Kardiani – Isternia – Pyrgos – Panormos – Hora (72.7km, or about a 2hr30min drive). This will give you a brief taste of each village but not enough time to get to know them in depth.
We suggest you visit Dio Choria, Falatados and Volax on one day and Kardiani, Isternia, Pyrgos and Panormos the following day.
How do you get to Tinos island?
The quickest way to reach Tinos is by ferry from the port of Rafina (32km east of Athens). The crossing is approximately 1hr50min by fast ferry (Flying Cat) and up to 3hr45min by conventional ferry.
You can also reach Tinos from Piraeus port (10-13 km by car or bus from the centre of Athens). The crossing to Tinos is approximately 4hr30min.

Museum of Marble Crafts
🎟 Opening Hours & Tickets

Museum of Tinian Artists
Open daily 11:00-17:00, except Mondays

The Gianoulis Halepas Museum
Open daily 11:00-14:30 & 17:30-21:00
Price of admission: €3
How much time do you need to see the villages of Tinos?
You will need the whole day to briefly visit all the villages mentioned in this experience.
To take your time and explore each one in depth, you will need a minimum of 2 days.
It's worth visiting just 1-2 villages on your holidays in Tinos, selecting the ones that take your fancy.

During the summer months, the annual Tinos Festival holds events in many of the villages.
If your holidays in Tinos are in May, look out for the Tinos Food Paths Festival, where you'll have the opportunity to be introduced to the local cuisine by the locals themselves.
There are numerous hiking paths in Tinos starting at or passing through some of the villages. See here for a detailed list.
There are also festivals and celebrations that take place in some of the lesser-known villages of Tinos, such as the Artichoke Festival in Komo (May-June), the Wine Festival in Tripotamos (August) and the Honey Festival in Kampos (August-September).