EXPERIENCE
Discover the hiking paths of Tinos
Crisscrossing the entire island, Tinos' extensive network of hiking trails is the ideal way to explore a landscape that exudes authenticity.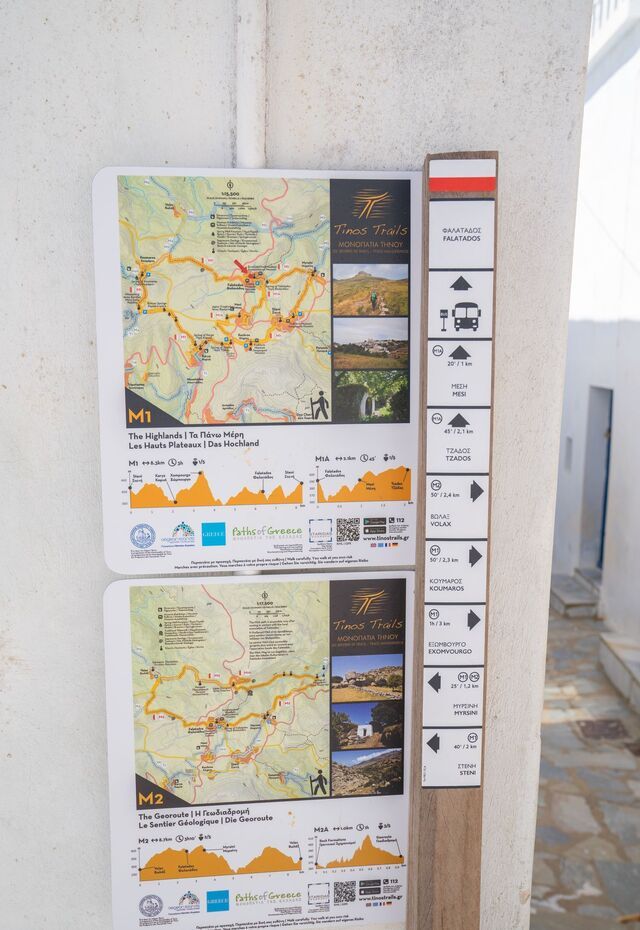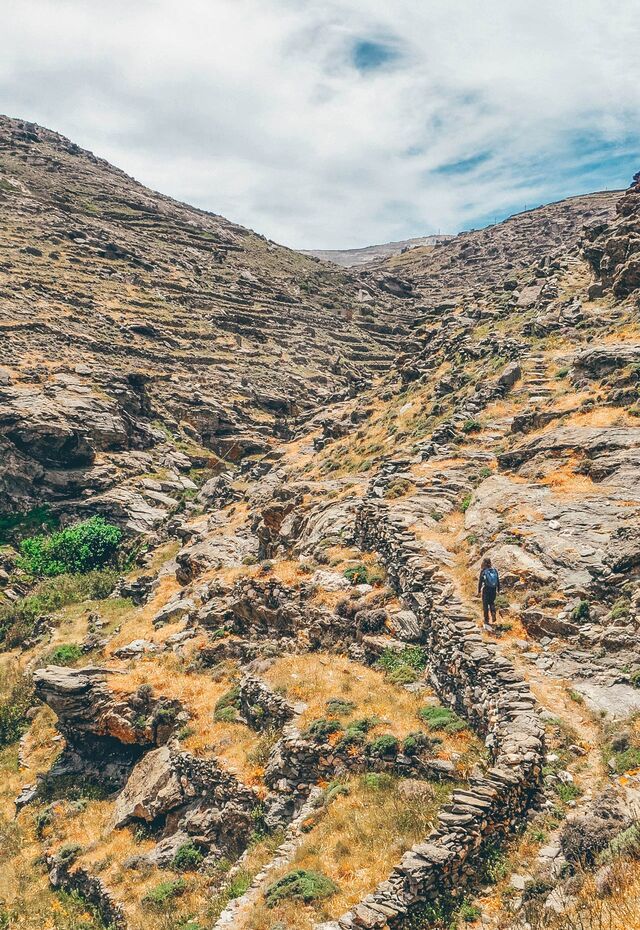 Duration
3 - 4 hrs
Season
All year round
OVERVIEW
It takes no time at all to be captivated by the beautiful island of Tinos and its many cultural and historical highlights, which is why hiking is the best way to discover it.
Lucky us, therefore, that there is an incredible network of walking paths on Tinos, originally used by residents to link otherwise unconnected settlements across the island.
Of the 300km of path crisscrossing Tinos, about 150km have been marked out. Some go in a loop and others follow the coast, taking you past dams, archaeological sites, monasteries, folk museums, a Venetian castle, dozens of dovecotes and even spherical boulders whose origin remain a mystery.
You could spend a week on Tinos and choose a different hiking route each day.

DON'T MISS
There are numerous hiking trails (with names such as The Three Capitals, From the Sea to the Sky and Hidden Valley). Here we focus on The Highlands (M1), which takes you on an 8.3km loop across the Livaderi plateau in the heart of the island.
The villages
As you skirt the Livaderi plateau, you pass through villages that capture all the authenticity of Tinos. Koumaros, Falatados, Myrsini, Steni, Kechros, Tzados and Karia – you'll enjoy discovering them all. You'll recognise the classic Cycladic architecture of little white houses and narrow alleyways but the atmosphere in the villages is also unmistakably Tinian, with churches and dovecotes. We have envisaged starting and finishing at Koumaros, but you can set out from any of the villages. And if you want to reduce the distance, there is a shortcut branch (Μ1Α) that leads south from Falatados towards Tzados, cutting out two villages.
The boulders of Volakas
Between Koumaros and Falatados, you'll pass a geological sight that is unique to Tinos – smooth, large granite boulders known as the Geological Formations of Volakas (or Volax). Various explanations have been offered as to their formation, including volcanic eruption, but by far the best is that they are the debris of an ancient cannonball fight of Titans. You can see more of these strange formations on the more challenging M2 and M2A trails, which also take you to the quaint village of Volakas, famous for its basket-weaving.
Exomvourgo Castle
A little before you reach Koumaros, you pass Exomvourgo Castle, high up on a 640m conical hill. It's well worth a visit, if you're feeling energetic. (You briefly follow the M4 and T1 trails to get there.) Dating from the 11th century, the castle is now largely ruins but it was one of the most formidable fortifications in the region for more than four centuries. The sea view from the top more than makes the climb worthwhile.
Book your trip
All your holiday planning needs in one place, letting you book direct and benefit from official online rates
GET PLANNING
From Hora (the main town)
By car or taxi: 10km (16mins)
By bus: Buses pass through some of the villages (Falatados, Steni, Myrsini) but check the timetable to be sure that it works for your walk.
By foot: The T1 hiking trail (which links with M1 and M4) starts in Hora.
The hiking paths of Tinos can be enjoyed all year round but each season has its own charm. Springtime (with wildflowers and running water) is particularly beautiful, as is autumn.
Set out in early morning or in the afternoon to avoid the midday heat and perhaps coincide your walk with the sunset.
It is worth visiting in April-June (with Easter being a particularly special experience on Tinos) and September-October, in order to avoid the peak season.
Autumn
Spring
Summer
Winter
The M1 hiking route
Start & Finish: Koumaros-Karia (circular)
Distance: 8.3km
Difficulty: 1/5
Duration: 3-4hrs depending on your speed and number of stops
Make sure you have all the correct equipment before setting out: