There was a time when Tinos was a must-visit destination for Greeks chiefly for the August 15 festival of the Virgin Mary (one of the most important in the Orthodox Christian calendar). But that was before its villages gained the recognition they deserve for their deep traditions (including marble crafts) and hiking trails and the island's unique dishes and local products (mostly through the summer festivals) catapulted it onto the scene as an undisputed foodie destination. And right alongside all that, you can add the beaches – up there with anything the other Cyclades islands have gifted us. Unspoiled, cosmopolitan, fully organised with fine sand and even surfing beaches … take your pick. We'll open your eyes to the best beaches in Tinos, not just the most popular but a few hidden gems too, so you can start building that bucket list and be inspired to get packing for Tinos.
Kolympithra beach
Cosmopolitan and breezy, Kolympithra is one of Tinos' most-popular beaches. Divided in Mikri & Megali Kolympithra, it ticks a lot of boxes for a lot of people. Both have clear blue water and fine yellow sand and enjoy protection from the wind. Megali Kolympithra is more laid back and you can even try your hand at surfing if the conditions are right (lessons are available). Mikri Kolympithra is more organised, including a taverna.
And as a bonus, nearby Apothikes beach is a large flat expanse of pebbles and sand with scant amenities, perfect for relaxation away from the crowds.
Amenities: Sunbeds & umbrellas, beach bar, tavern, water sports
Access: By road

Panormos bay
For a little beach-hopping when you're in Tinos, head to Panormos bay and its scenic seaside village. Within Panormos village itself, Stafida beach does the job (don't miss out on the fresh seafood) but if you head further out, the lunar landscape of Agia Thalassa beach will mesmerise you. Just next door, Kavalourko beach is equally pretty with some unique rock carvings as well as views of the islet of Planitis (you can swim there if it's not windy). Both beaches are wild and craggy, with amazing rock formations and fine sand.
Amenities: None (on the beaches), tavernas (in Panormos)
Access: By road & hike

Rochari beach
One of the most carefree beaches in Tinos, Rochari is located next to Panormos and serves as its designated boho spot. There's fine sand and clear blue water (although it can get choppy when the wind picks up) and some tamarisk trees for shade. It's a moderately sized beach that does tend to get crowded with mojito-drinking patrons, so come early. You can also try your hand at canoeing or Stand-up Paddleboard, with rental equipment on the beach. Easy does it in Rochari.
Amenities: Sunbeds & umbrellas, beach bar, water sports
Access: By road

Apigania beach
Settings like Apigania are why people come back for more when it comes to beach holidays in Tinos. This gem is wild, untamed and totally unspoiled, with access requiring a little hike. There are fantastic views as you approach the beach, especially when you first set eyes on the stretch of fine sand and green-blue water, automatically placing it in the running for prettiest beach in Tinos. As it's located in the south, it is protected from the northerly winds (which can be strong on Tinos). Meanwhile, one side of the beach is nudist-friendly.
Amenities: None
Access: By road & hike

Agios Romanos beach
Agios Romanos beach is just what you need if you're looking for chilled holidays in Tinos. It's family-friendly as it's windless and has shallow blue waters and fine fluffy sand. Mildly organised, with a beach bar and some scattered tamarisk trees providing natural shade, this beauty is popular and easily accessible. You can grab your lunch at one of the nearby tavernas and sleep it off in a stylish beachside cabana.
Amenities: Sunbeds & umbrellas, beach bar, tavernas
Access: By road

Kalyvia beach
Another southern beach to look out for is Kalyvia. It's one of Tinos' most family-friendly beaches, found next to the village of Kardiani, which provides you with a good few amenities as well as a reason to explore. This sand & pebble beach is located inside a cosy, windless bay, with a smattering of trees … so arrive early and you'll enjoy some free shade. Nearby Agios Petros and Giannaki beaches are also worth your while if you fancy roaming further. And come dusk, make sure to catch the sunset from Kardiani.
Amenities: Sunbeds & umbrellas, beach bar
Access: By road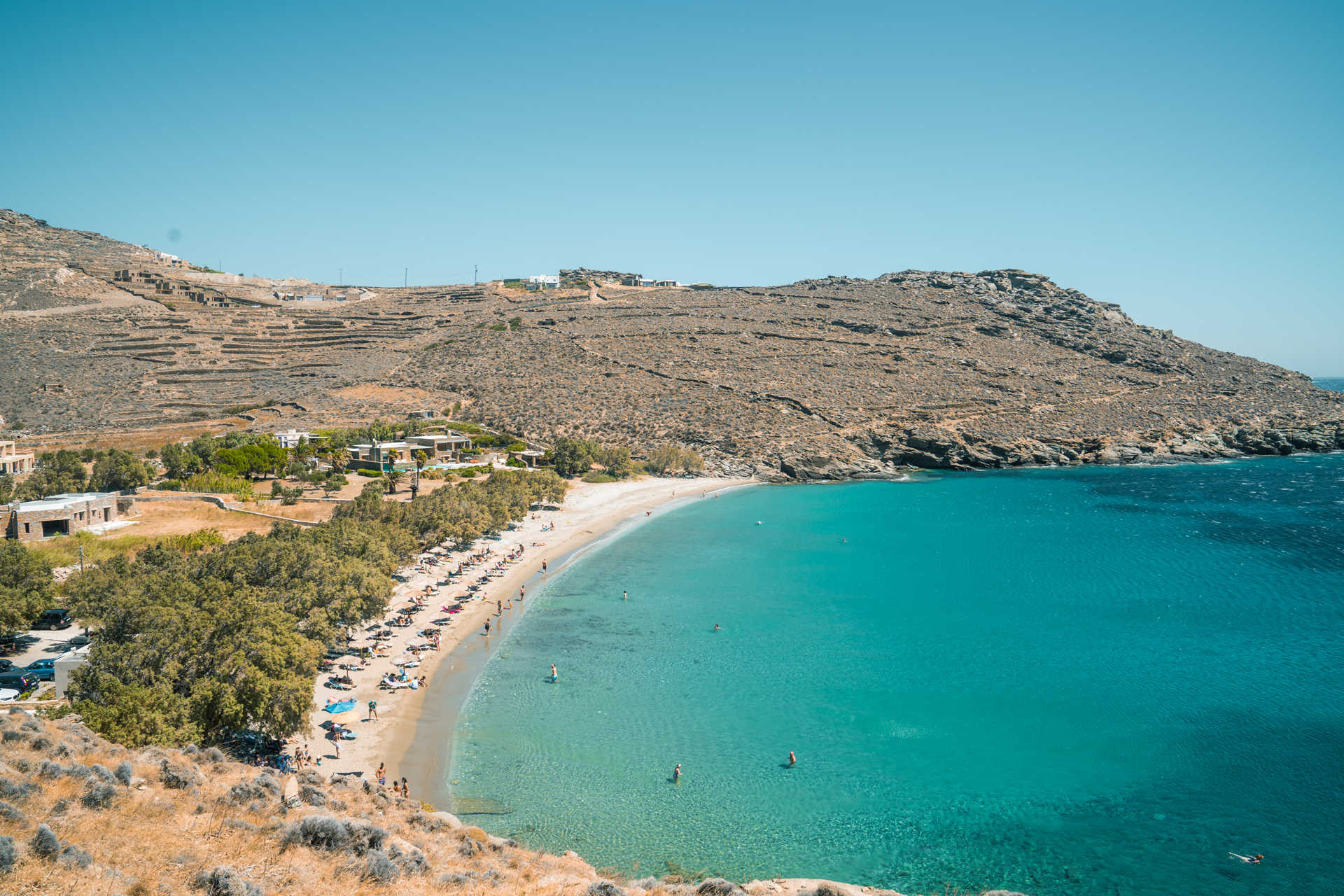 Agios Petros beach
If you crave wild, secluded beaches, Tinos has you covered. Agios Petros beach is one of the most isolated and enjoys fat fluffy sand and cerulean waters. It's a fairly narrow beach that is cut in half by a giant rock formation, with the 16th-century chapel of Agios Petros sitting sentinel above it and offering a neat photo opp. There are no facilities at all, although the village of Kardiani is nearby.
Amenities: None
Access: By road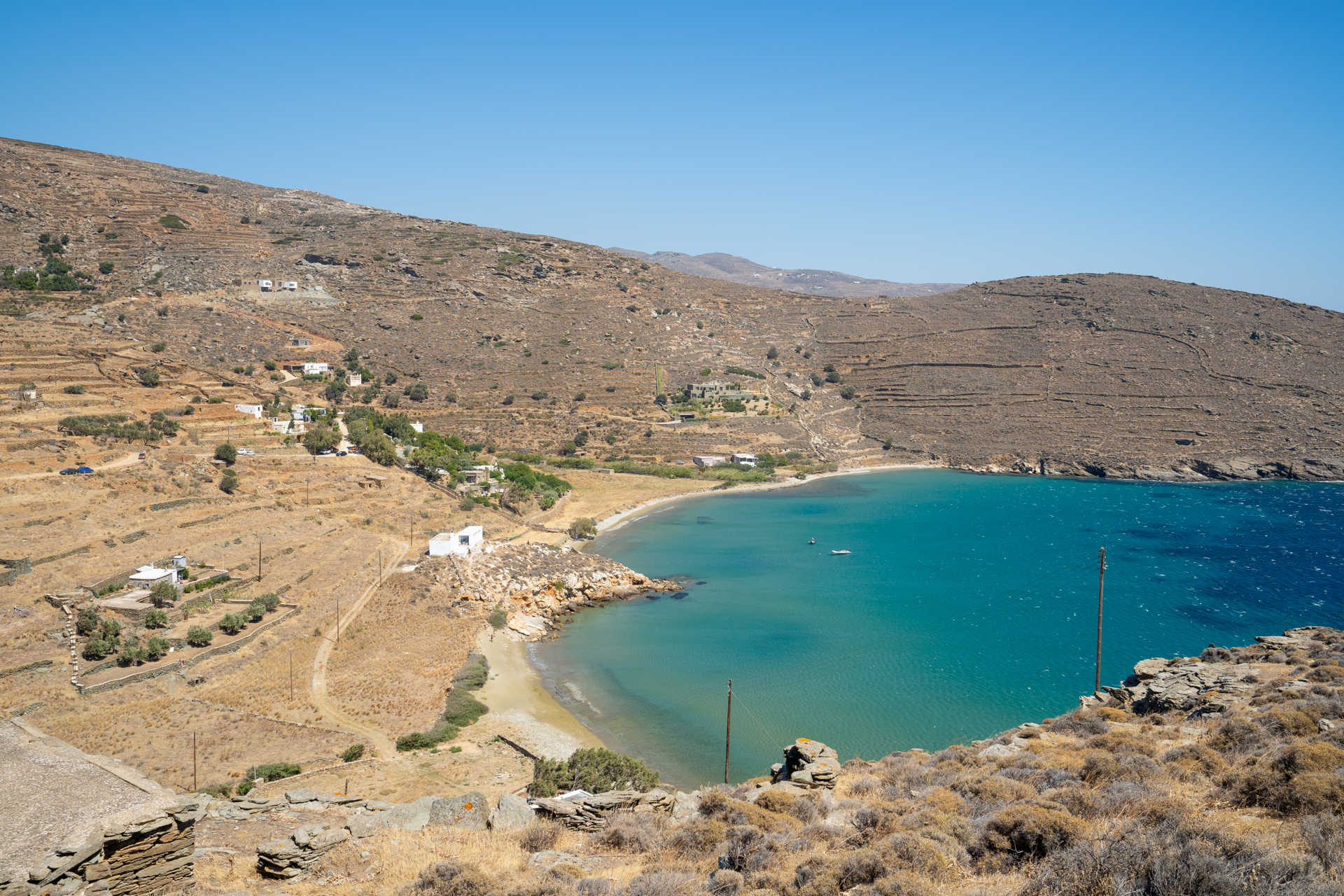 Pachia Ammos beach
As the name suggests (fat sand), Pachia Ammos beach is one of Tinos' most exotic, boasting dunes and, of course, fluffy sand. The waters are clear blue and shallow, especially popular with kids. The edges of the beach are rocky slabs, from which you can dive and jump, or just plant your towel and chill. This one's off-grid with no amenities, and getting there includes a 10min walk after parking the car. It oozes character and has a chilled vibe that's irresistible. If you're staying in Hora (Tinos' main town), it's just a 20min drive away.
Amenities: None
Access: By road & hike

Agios Fokas beach
Agios Fokas is one of the closest beaches to Hora (walking distance) and Agios Sostis and, at 1.5km in length, one of Tinos' biggest. Its size means you can find your spot easily and enjoy the natural shade provided by scattered tamarisk trees. Alternatively, beach bars and sunbeds & umbrellas are at hand. Wherever you sit though, you'll get to enjoy the fine sand and shallow, crystal-clear blue waters that make this an easy choice for all tastes and age groups. The view of Renia isle, near Mykonos, is the icing on the cake. As beaches in Tinos go, this one is great if you want to stay close to base.
Amenities: Sunbeds & umbrellas, beach bars
Access: By road

Livada beach
No other beach in Tinos is like Livada. Located in the north, it's surrounded by a rocky moonscape that is wild and can often be windy. Getting there is tricky as the dirt road requires a hike after a point, but the attraction here lies in the rocks that stick out of the water and extend around the edges, creating a unique visual oddity, so you'll be compensated for your efforts. The beach is made up of fine pebbles, meaning that the water is extra clear for snorkelling. Tamarisk trees offer some shade here, too, and if you take a stroll, you'll see a little stream that spills into the sea (meaning the water's a little cooler than other beaches in Tinos). You're also likely to see goats and ducks as the surrounding area is a Natura 2000-protected habitat. Livada is one of the most isolated beaches in Tinos, so bring supplies.
Amenities: None
Access: By road & hike

10 of the best beaches in Tinos
If you're looking for authentic yet cosmopolitan beaches, with a touch of surfing mixed in for good measure, Tinos has what you want. Like the island itself, they are pure heaven.
Book your trip
All your holiday planning needs in one place, letting you book direct and benefit from official online rates
Group
Private
6 hours
Free cancellation
Not sure? You can cancel this reservation up to 48 hours in advance for a full refund
Private