Athens gets a lot of love for its mix of ancient and modern, but it's easy to forget that much of its creative soul lives somewhere in the middle. The traditional crafts of Athens – from weaving and fabric work to the makers of ceramics, leather goods, hats and musical instruments – flourished in the late 19th and early 20th centuries as the city exploded in population. And going hunting for those craftspeople in Athens today – some working for family businesses and others new to the field – is one of the great joys of exploring the city's downtown neighbourhoods. There's no better way to discover what makes Athens tick.
The modern face of pottery and ceramics
If there's one Athens craft you'll already have a feeling for its pottery. The ceramics culture in Greece goes back to Prehistoric times but the real creative explosion came in Classical Greece with all those amphorae, jugs, cookery items and votives (gifts to gods) we now admire in museums. The evolution can be tracked just from the changing patterns and designs – stripes, coils, leaves, flowers, fish, birds etc – that transform humble baked clay into works of art. What you might not know, however, is that it's a craft that continues to attract some of the most creative minds in Athens.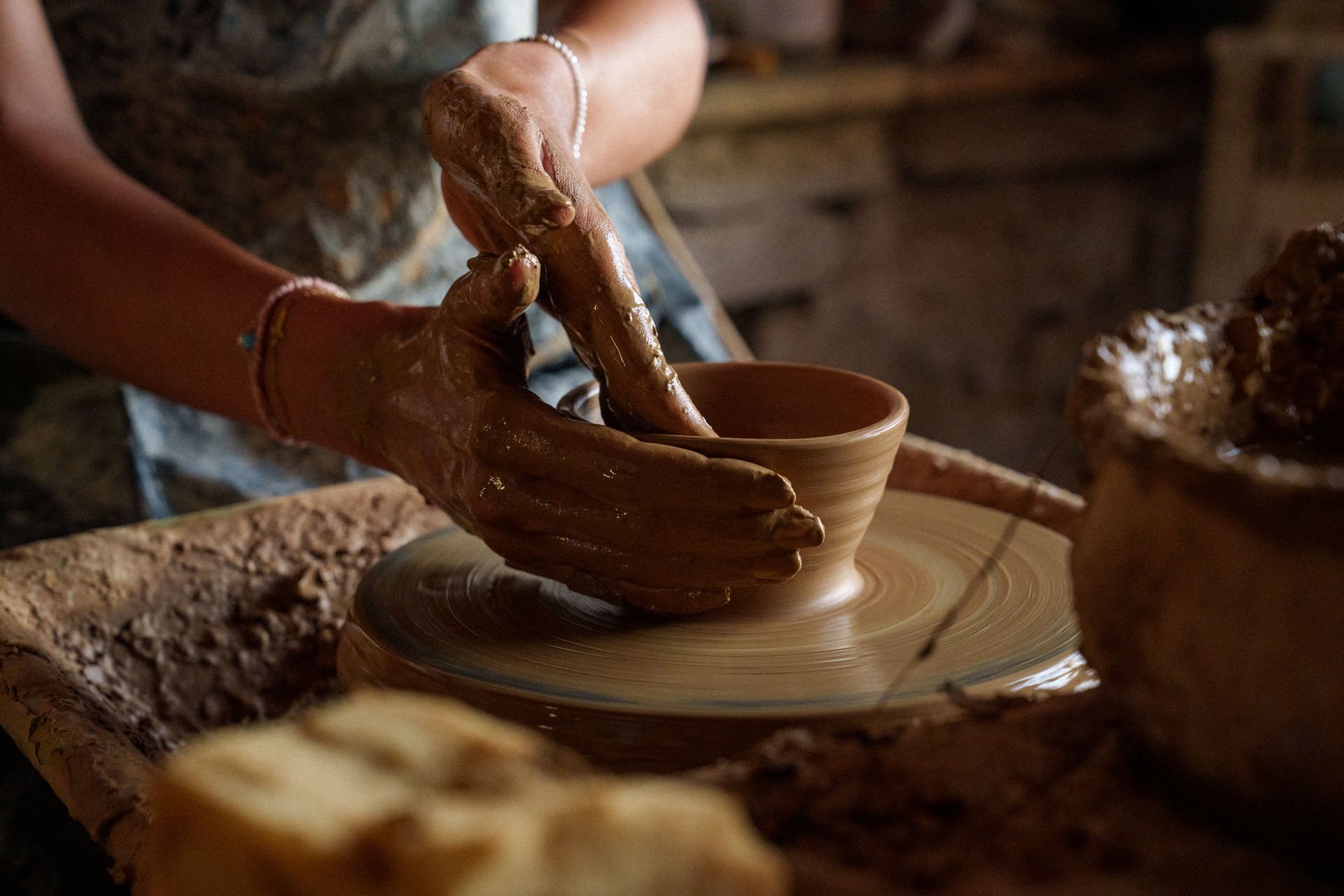 The ceramics scene in downtown Athens includes workshops where you can get your hands dirty and share the influences that have inspired their owners (classical, modern, progressive, playful etc). A few to put on your radar are Yfi in Petralona (Alkminis St), Trabala Studio in Koukaki (Odyssea Androutsou St) Dotahart Athens Art Lab in Plaka (Afroditis St ), Threesome Ceramics in Pangrati (Amynta St) and Pilgrim in Ilisia (Thethidos St).
Meanwhile, on Diagoras St (behind the Panathenaic Stadium) Attic Black imitates the ancient technique of creating Attica vases. Everything about the process (the style, texture, chemical composition and black colour of the clay as well as the three-stage firing technique) is the same as the original.
Lastly, Mon Coin Studio is an exhibition space with Greek contemporary ceramics artists in Monastiraki (Thisio St) and the Pottery Museum in Keramikos (Melidoni St) explores ceramics in 19th and 20th-century Athens and also offers pottery workshops.
Sandal-makers and other past masters of leather
There was a time when craftsmen cutting and fashioning leather hides was a common sight in Athens. And leatherwear is still a constant temptation in areas like Monastiraki, Psirri and Thissio. One sniff and you'll be convinced about the quality.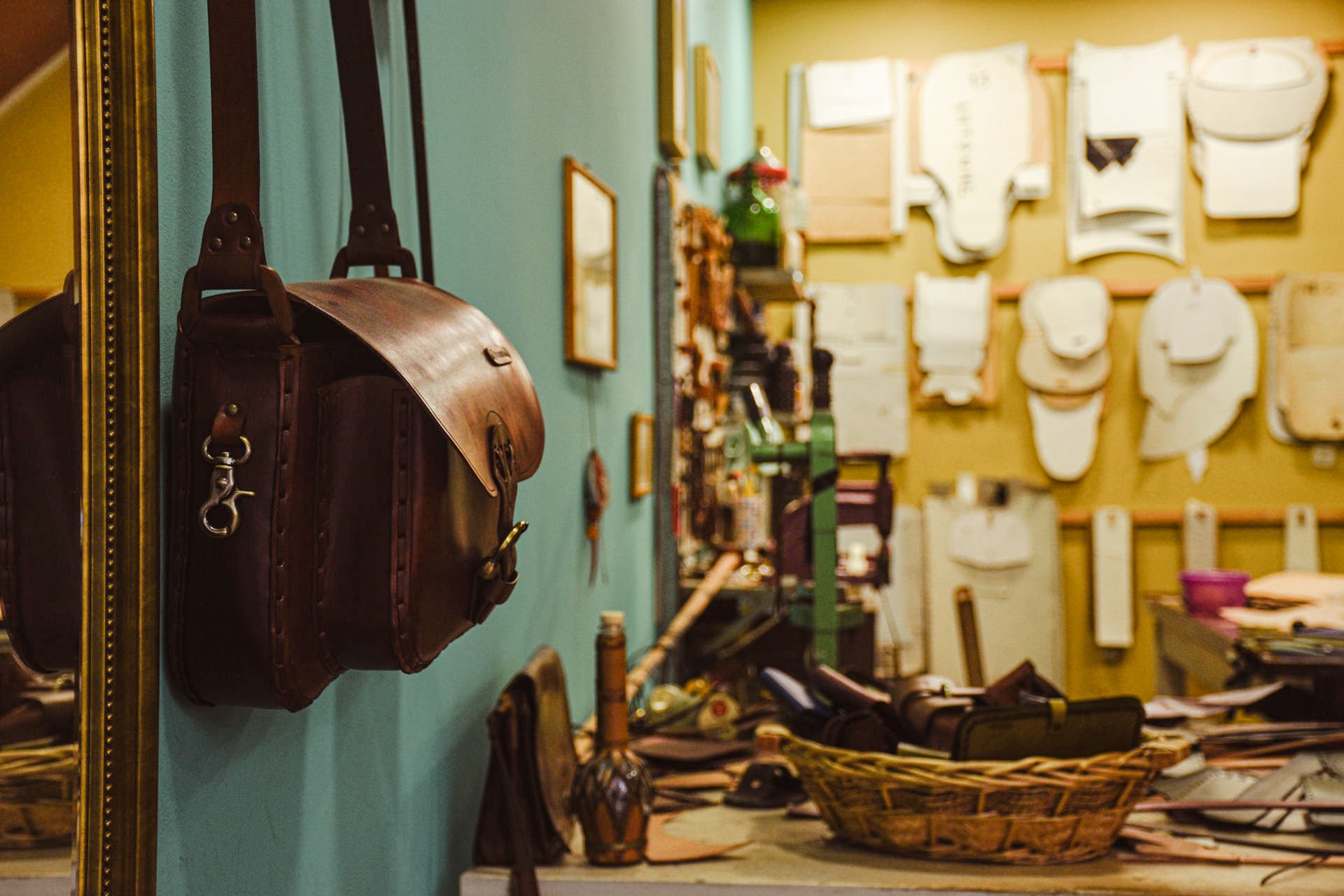 Psirri is famous for its cobblers, with little shops still making handmade shoes (some even custom-made on-site). At 5 Pittaki St, Roumeli creates exquisite tsarouchia (the clogs worn by Presidential Guards outside the Hellenic Parliament). And Exarhia (one of the most creative neighbourhoods of Athens) has gems like Nikolas Germanos' handmade modern shoes at 24 Kallidromiou St. But generally, you won't be disappointed when it comes to leather shoes while shopping in the centre of Athens. And not just shoes but leather belts and wallets and an array of bags – such as at Antonis Karradakis' Karras Handmade Leatherwear in Psyrri (12 Miaouli St).
But it's sandals that make the biggest fashion statement when it comes to leatherwear in Athens. In antiquity (for the elite at least) sandals were about beauty as much as comfort – and so it continues with authentic sandal-makers in Monastiraki and around the Acropolis. Some (like Melissinos Art in Tzireon St) have been going for generations. The real inspiration can be traced back centuries, however, with Greek mythology including stories of gods and goddesses having their sandals made by a Cretan sandal-maker who enriched each pair with magical powers.
The weaving and embroidery scene of downtown Athens
All that said, the biggest impression on your crafts walk in downtown Athens (especially in the area below Syntagma Square between Ermou, Kolokotroni, Kalamiotou and Aiolou streets) will be made by all the fabric and textile shops. Colourful ribbons, lace, silk and embroidery material … they're all around you in a treasure trove of design material.
How else could it be in the city named after the goddess Athena, the protector and teacher of weaving? And perhaps you've heard the tale of Penelope – Odysseus' wife in Homer's Odyssey – duping her suiters for years by weaving a funeral shroud and unpicking it at night while waiting for her husband to return. But the greatest flourishing of embroidery and weaving in Greek culture came in Byzantine times in ornate clerical vestments and the costumes of emperors, as well as dowry items like embroidered pillowcases and wall hangings.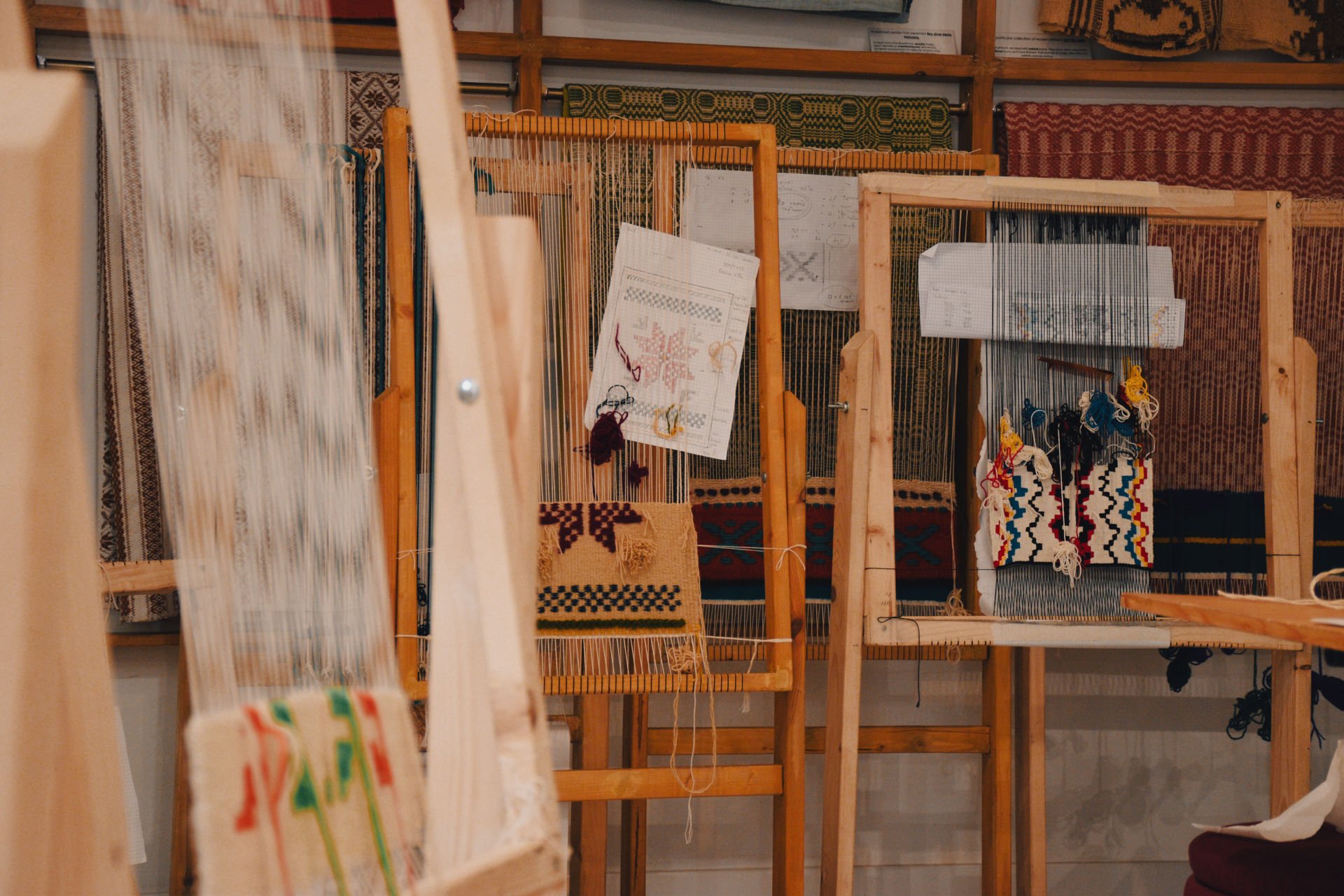 Amongst the traditional craft gems in Athens are shops specialising in linen furniture and bedroom decorations, including blankets and cushion covers. And keep an eye out for semedakia (like doilies) and embroidered tablecloths and runners. There are stores selling the finished product or materials to make your own. Meanwhile, SEN Heritage Looms (ΣΕΝ) – a hand-weaving community founded in 1872 – has a shop in a listed building at 3 Kolokotronis St that sells embroideries and woven table sets as well as gifts and children's blankets and pillowcases.
For textile workshops and museums in Athens, Ifenin teaches you about the traditional way of spinning wool into thread and weaving on foot-powered looms, with interactive workshops for children and adults. And the Museum of Greek Folk Art explores embroidery as perhaps the finest expression of Greek folk art through the influences of east and west in 18th and 19th-century Greek society.
Meanwhile, the Benaki Museum's Mentis – Antonopoulos (NEMA) Passementerie Museum in Gazi (Polyfemou St) is located in a traditional fabrics workshop that is more than 150 years old. You'll learn how ribbons, braids, tassels and curtain ties are made using age-old methods and how silk is processed and thread is turned into masterpieces.
Finally, the Argalios Atelier, in the Keratsini district north of Piraeus, lets you have a go at the interlacing method of weaving and teaches you more about the traditional loom and weaving process. You'll take a hand-woven coaster home with you.
The instrument makers that continue to strike a chord
You can't get more authentic in Athens that a traditional Greek musical instrument. Bouzouki, lyra, lute … the names alone conjure images of nights on a Greek island filled with music and great food. And behind every Greek instrument, there's a craftsperson who is part carpenter and part artist.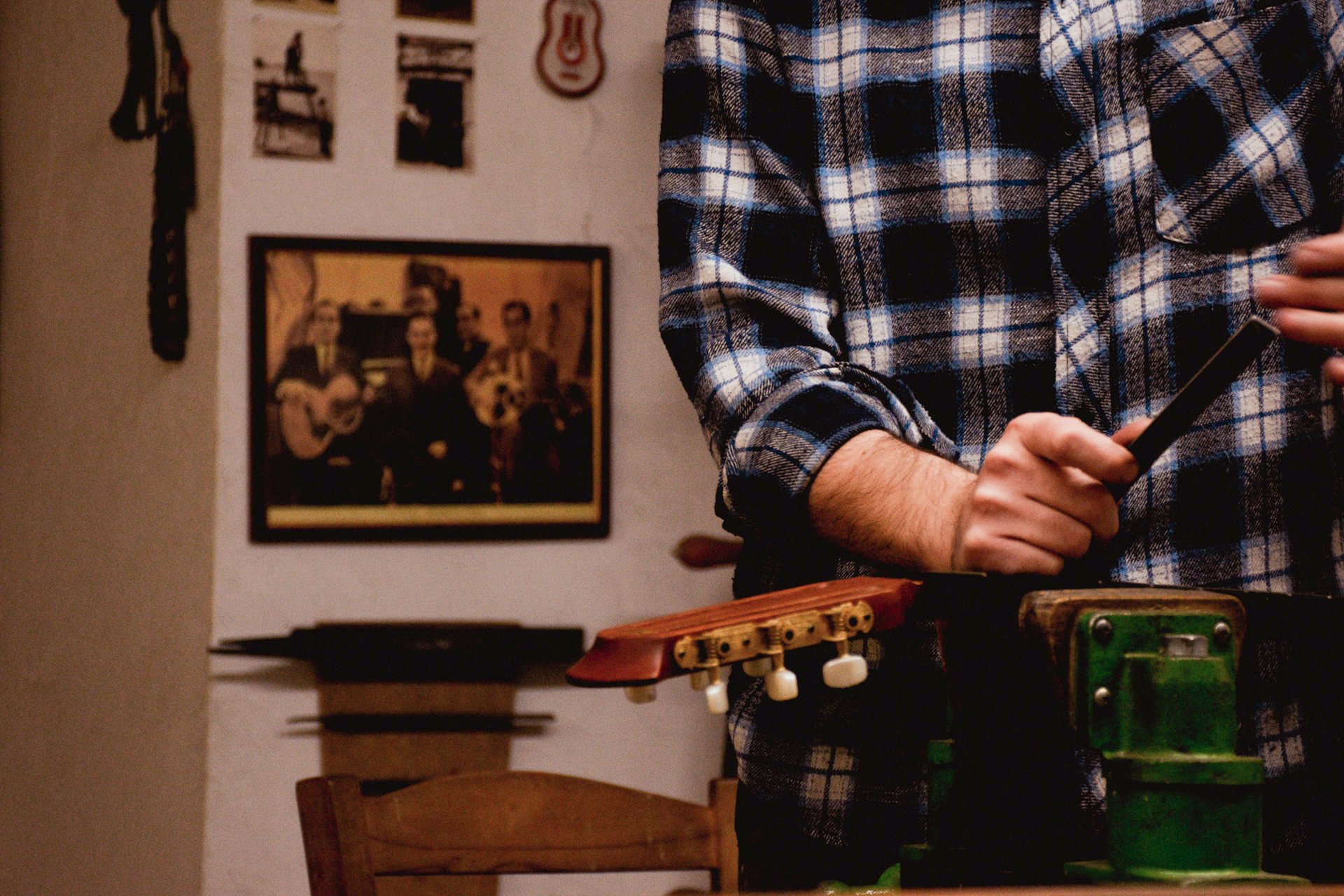 Visiting the workshop of an instrument-maker is a must for anyone who wants to fully immerse themselves in the crafts world of Athens. In Exarhia, there's a selection of tiny musical workshops whose owners are known by name for their craft. Nikolaos Brass (42 Zoodochou Pigis St), Dimitris Vasiliou (Luthier Art, 55 Didotou St), Panagiotis Toulikas (38 Didotou St) Agalianos Giorgos (17 Soultani St) and Giorgos Karandreas (7Α Alkiviadou St) are the people you want to know if you're looking to create or repair not just a bouzouki, lyre or lute but also guitars, violins, cellos and other string instruments. And there's a gem in Nea Smyrni … Kleo Drums, that makes hand-made percussion instruments and accepts visitors upon request.
To really finish off your crafts tour in Athens, the Museum of Greek Folk Musical Instruments is housed in the Lassanis Mansion, which was built in the 1830s and is one of Plaka's oldest surviving buildings. It has a collection of 1,200 musical instruments donated by Foivos Anoyanakis (a musicologist and pioneering researcher of Greek traditional music) who donated not just his instruments but also his library and archives. The instruments are displayed over two floors and a basement according to how they produce their sound: membraphones (drums, tambourines, bagpipes etc), chordophones (string instruments) and idiophones (like bells and other instruments whose body makes the noise).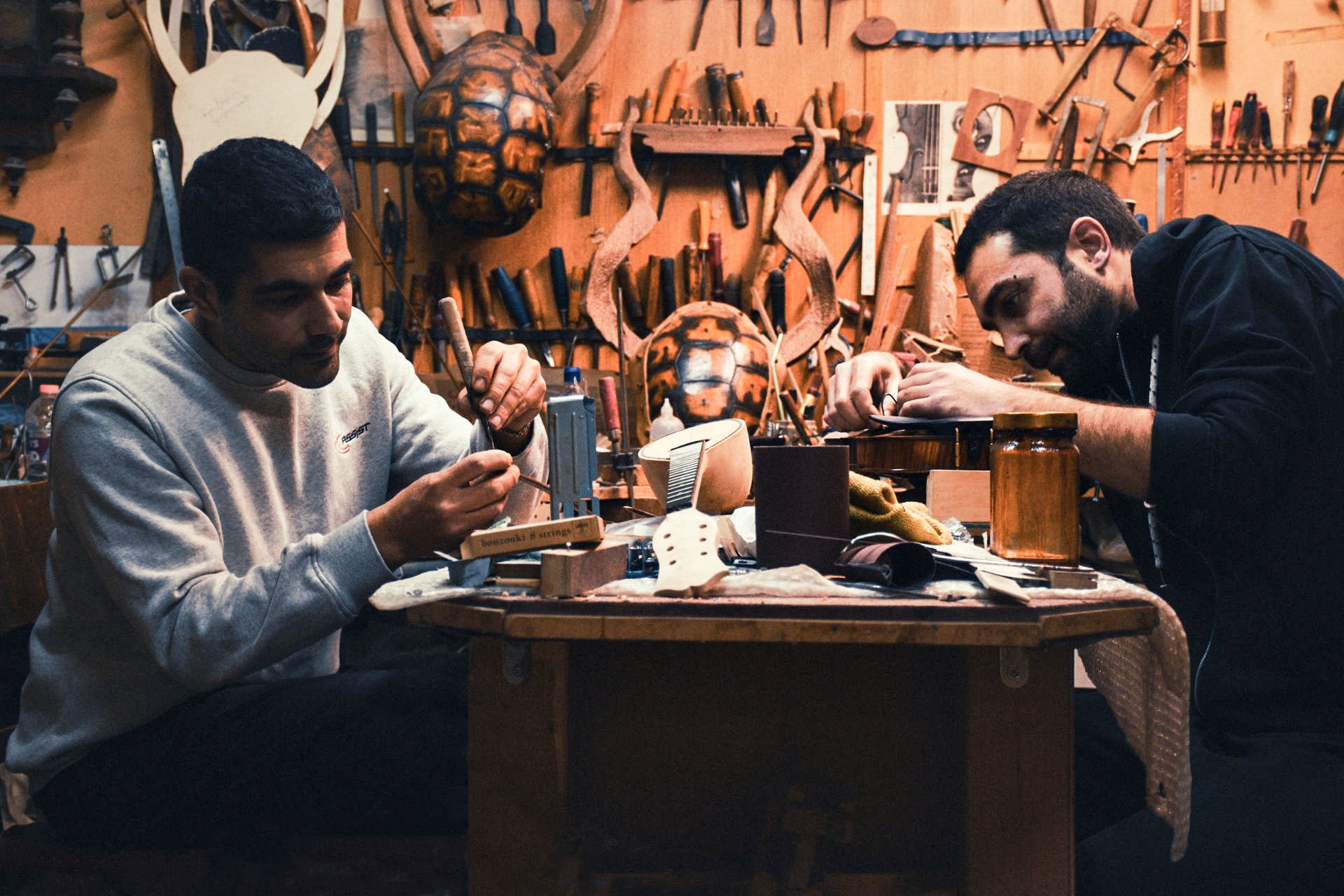 Hat-makers that make a fashion statement
Another traditional craft in Athens that scores high on the fashionometer is hat-making. If you know where to look, you can find milliners (once a common site in downtown Athens) continuing the craft. You'll find stylish hats for sale in the main shopping streets of Athens, but it's worth seeking out the hidden gems still making hats on-site in the traditional way.
In upmarket Kolonaki, the Katerina Karoussos creates elegant and creative handmade fabric hats with linen and cotton linings, each individually cut and sown. And in Psirri, Savapile (on Agias Eleousis St) is a family business since the 1960s that services the local and international market. Wicker, silk, cloth, felt … something full-on aristocratic or maybe a casual number… you'll find what you're looking for.
Or you can check out Agnoulita Hats, of HNC Hatworks, who are based in Nikea (north of Piraeus) but allow you to handcraft your own hat online. So whatever style of hat you're for, you'll find it in Athens. But before you go for a fedora or beret, think about asking for a kavouraki or kapelina and go full-on Greek-style! Now you're looking the part!
Guide to the traditional crafts of Athens
Discovering the traditional crafts of Athens lets you get to know the real personality of Athens … traditional, stylish, experimental, welcoming and forever reinventing itself.
Book your trip
All your holiday planning needs in one place, letting you book direct and benefit from official online rates