EXPERIENCE
Feeling the vibes of Athens around the Acropolis
Using the Acropolis as your compass, a city of extraordinary contrasts and charms opens up beneath your feet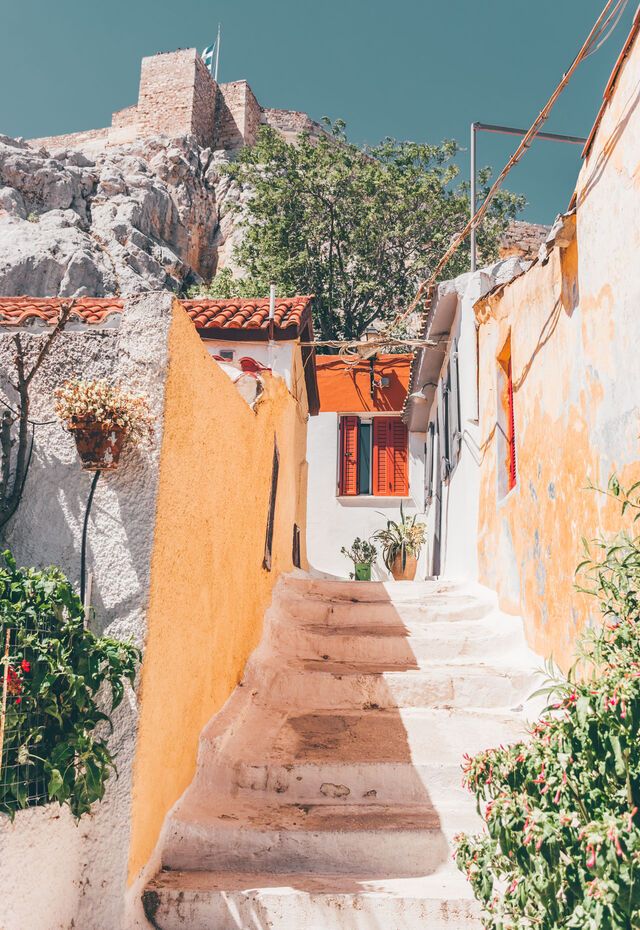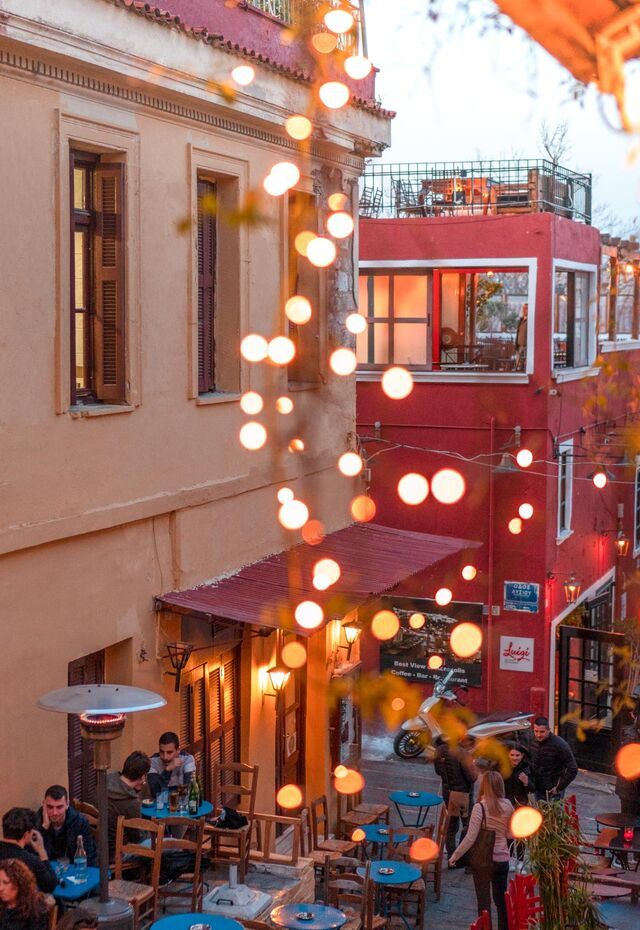 Duration
2 - 5 hrs
Season
All year round
OVERVIEW
Myths, history, wine bars, coffee shops, street food, spice shops and hilltop views that get you contemplating life's bigger questions. All in an afternoon's stroll and for the cost of the loose change in your wallet.
Walking around Athens is one of the great pleasures of visiting the city. Each neighbourhood has its own feel and each hour of the day its own mood.
Yes, the Acropolis is rightly No.1 on so many people's bucket lists when they land. What they haven't yet realised, though, is that it's everything directly around the Sacred Rock that speaks most loudly about what Athens is today.
It's ancient and modern, quaint and loud, cute and edgy, traditional and street… all at once.
We've handpicked some highlights. They could make up one big walking tour spread over a few hours or even days, and you can jump from one area to the next in just a few stops on the metro.
And to get that unmistakable feeling of localhood, you can consider one of the many organised guided tours of Athens, according to whatever theme you fancy. Some can even be personalised.
DON'T MISS
We're starting outside the Acropolis metro station. Next to you is the Acropolis Museum and above you the Parthenon. Set aside another day for these special sites. Right now, though, you're heading up the pedestrianised street of Dionysiou Areopagitou, past the buskers and hawkers. The Odeon of Herodes Atticus is on your right, where every summer pop and opera singers perform on moonlight nights.
The path you're on takes you westward around the Acropolis but, before you do that, head up the forested-hillside to your left. Filopappou Hill is a secret jaunt of Athenians, not just because of the quiet and the greenery but because of the extraordinary city views from the top. Don't forget to visit the monument that gives the hill its name, as well as the Prison of Socrates on the lower slopes.
As you continue around the Acropolis, an alternative hillside walk is Areopagus Hill (site of the law courts of ancient Athens).
By now, you'll have found that Athens is hillier than you expected and, as you head down from the rock on which the Acropolis was built, towards the tourism hub of Plaka, make sure you do so via adorable little Anafiotika.
For the ten minutes or so it will take to navigate its narrow alleyways, so windy that the houses aren't even numbered, you'll think you're on a Cycladic island. It's no coincidence because the people who built these houses were from the tiny island of Anafi.
Head past the Roman Agora and across the cobbled streets of Plaka (you'll want to stop for a souvenir) and on to Monastiraki. By now you'll be ready for a coffee, so find yourself a kafeneion and ask for a traditional Greek coffee.
Monastiraki is renowned for its flea market on Ifestou Street. You could spend hours picking your way through the stores, but if you want the real experience get here on a Sunday morning when the pavements are filled with bric-a-brac.
It's a five-minute walk from here to the Ancient Agora (where Socrates once spoke) and the Temple of Hephaestus (Athens' best-preserved temple), in up-and-coming Thissio.
Or you could continue heading north towards Psyrri, another area new to Athens' tourist map. There's a cool urban vibe but you'll also find traditional tavernas
You can visit Agios Dimitrios, Athens' first cathedral, on the street of the same name, which also houses another gem called the Avli (courtyard), where you'll find a little collection of two-storey wooden houses and a coffee shop straight out of 1950s Athens.
Turning right onto Evripidou Street you'll find yet another Athens, with herb & spice shops originally opened by the city's new residents after the 1932 Greece-Turkey population exchange.
Carrying on all the way up, you connect with the main thoroughfares heading to Athens' central square, Syntagma, famous for the Parliament and the next door National Garden (another unexpected oasis of greenery).
Make sure you have a stroll through the gardens, past Zappeion Hall and finish up at the first modern Olympic Stadium, a horseshoe-shaped, marble-seated arena also known as the Panathenaic Stadium, which also serves as the finish line to the Athens Marathon.
It's up to you what you do now. But if it's evening drinks and a bite where young Athenians go that you're after, we've got a final suggestion. Just south of where you started (at the Acropolis metro station) is Koukaki. It ticks all the boxes.
Book your trip
All your holiday planning needs in one place, letting you book direct and benefit from official online rates
GET PLANNING
For a European capital, walking distances in Athens are short. But experiencing the city by foot doesn't mean you have to be walking the whole time. The metro is the quickest form of public transport. It's clean, easy to navigate and safe.
Red: Including Acropolis (our starting point), Syntagma, Panepistimio (near Evripidou St) and Syngrou Fix (near Koukaki).
Blue: Including Syntagma and Monastiraki (1km walk to Acropolis Metro Station). The blue line extends to the Athens International Airport and the Port of Piraeus
Green: Including Monastiraki, Thissio and the Port of Piraeus
Exploring Athens by foot can be done all year round.
To get the most out of the experience visit between October-April when the summer crowds have thinned and you'll also most enjoy the company of Athenians going about their daily lives and feel like a local.
---
For ticket information and opening times:
Opening hours: Summer (March-October) 8.00-19.00 and winter (November-February) 8.00-17.00.
2 hours will give you a great introduction to Athens by foot, taking you from the Acropolis all the way to Psyrri (with a coffee break).
4-5 hours is enough time to do the whole walk, including a coffee break and generous lunch.
A full day will allow you to do everything in your own time, with coffees, lunch, shopping and even hotel break before dinner, if you're staying in the centre and want to put your feet up.