Ioannina is the largest city in Epirus and a much-loved getaway for Greeks throughout the year. It has a unique atmosphere (especially when Lake Pamvotida is covered in its famous early-morning mist) and is full of cobbled streets and historic buildings, as well as museums and monuments linked to the Ottoman occupation and in particular Ali Pasha, the all-powerful late-18th and early-19th century ruler in this parts. And at the same time, it's a student city, with a modern side and great nightlife and eating scene. Most getaways to Ioannina are for around 2-3-days (but we're proposing longer), especially as it's so close to the mountain villages and nature spots of Epirus, including the Zagori villages and Vikos Gorge and Parga and Sivota whose vibe and sandy beaches give them an island feel on the mainland. So join us in discovering 10 of the best things to do in Ioannina.
A stroll around the Ioannina city landmarks
The past and present combine effortlessly in Ioannina. On the one hand, it has preserved its cultural heritage and on the other, it has embraced student life. So every getaway to Ioannina should start with a city walk, just to soak up the atmosphere and check out the tavernas, shops and parks you'll be enjoying during your stay. Oh, and don't forget the nightlife spots.
A good place to start is Clock Tower, a city landmark built in the lower town in 1906 and relocated to the Park of Heroes (including the Tomb of the Unknown Soldier) by Dimokratias Square in 1918. From here, it's a short walk to Litharitsia Park, where you'll find the Veli Pasha Building Complex (with a mosque, a madrasa and auxiliary buildings), which was part of a palace built by Ali Pasha for his son, and the Litharitsia Fortress, with a rooftop restaurant/bar that has a view of the whole city.
Generally, take your time. Walking down and around Averoff St, with its cafes and tavernas and shops selling folk art items, you reach Mavili Square by the lake. Anexartisias and its side streets are also musts, with tsipouradika (meze restaurants offering small dishes and tsipouro) and bars that come alive at night. You'll find Instagrammable arcades (such as Stoa Louli, Stoa Liambei and Sto Alieos) with gorgeous eating spots. And 28th October St Frontzou St, Tzavella St, Charilaou Trioupi St to Pargi Square, Michail Aggelou St are all full of shops and cafes.
And for anyone with an eye for architecture: Look for the restored Misios Mansion at on Asopiou St (built in 1844 for a notable Ioannina family), the post-Byzantine style City Hall on Dimokratias Square, the Kaplaneios School on Zois Kaplani St (the original school building was an important centre for Greek learning during Ottoman times), Levi House on Koundouriotou St (a luxurious mansion in the heart of the Jewish district), the Post Office on Markou Botsari St (built in 1905 as a school) and the Tzavella Mansion on Pavlos Mela St (another classic 19th-century listed building).
A walking tour around Ioannina Castle
An absolute must among the things to do in Ioannina is to explore its fortified old town, known as Ioannina Castle. Built on the banks of Lake Pamvotida, it is the oldest continuously inhabited Byzantine castle in Greece, although Hellenistic-era artefacts have also been found here. It contains some of Ioannina's most historical buildings, the most famously belonging Ali Pasha, who rule a semi-autonomous state encompassing much of Greece and Albania from Ioannina from 1787-1822.
The Castle of Ioannina refers to two fortified parts, a walled northeastern citadel created in Byzantine times when it featured a palace and church dedicated to Saint John were replaced in the 17th-century Aslan Pasha Mosque complex, and Its Kale (the Inner Fortress) a southeastern enclave with separate walls and gates containing Ali Pasha's palace other buildings.
Fethiye Mosque with the Tomb of Ali Pasha
Starting in the northeastern citadel, you pass through Ioannina's Jewish district (including the city's Synagogue) to reach the remains of the Aslan Pasha Mosque (including a Medrese, library and Ottoman baths), as well the Ethnographic Museum of Ioannina.
And moving on to Its Kale, you discover the site of Ali Pasha's palace and iron-caged mausoleum, as well as the remains of the Fethiye Mosque, overlooking Lake Pamvotida. Its Kale also includes two of Ioannina's most important museums… the Byzantine Museum and Silversmithing Museum of Ioannina.
A stroll or bike ride around Lake Pamvotida
So much of Ioannina's identity comes from its lake, which gives it a fantastical aura that is inextricably linked to its history. Amongst the legends hiding in its depths is that of the beautiful Kyra Frosini, who was drowned in the lake in 1800 on the order of Ali Pasha, whose advances she rejected. Ali Pasha would later be killed at the hands of Ottoman forces in one of the monasteries on the island.
Formed around seven million years ago, the lake is one of the oldest in Europe and is part of the Natura 2000 environmental network. As well as protected fish species, an estimated 170 species of bird can be found here over the year. So a lakeside stroll is another must in the things to do in Ioannina, with plane trees, poplars, willows and reeds lining the bank and an uninterrupted view of the island. Or better still hire a bicycle from a shop in town. A favourite route is around the castle (from Dionisiou Filosofou St) up to Kastari Park (near Gate D) and then along the lakeside path towards the city's suburbs (Paralimnio, Anatoli & Katsikas), leaving the urban landscape as you cross wooden bridges and continue around the lake.
A boat trip to Ioannina's legendary island
Boats take visitors to the island throughout the day from a small port by the castle. So as you leave, you get yet another magical view, this time from the lake back towards Ioannina. Known simply as Nisi (island in Greek), it is inhabited mostly by a small number of fishermen and taverna owners (serving eel, crab and other seafood from the lake) as well as cafe and shop owners selling local handcraft (although most live in the city). It's easy to cover the island on foot, with exceptional examples of Epirot architecture and culture spots to enjoy.
Pamvotis (or Pamvotida) lake island, known as Nisaki
The Ali Pasha and Revolutionary Period Museum is just behind the Monastery of Saint Pantaleimon, where Ali Pasha was decapitated in 1822. Among the exhibits are a gold-plated kariofili rifle and the famous 1.62m-long tsimbouki (water pipe) belonging to Ali Pasha, and a silk dress of his wife, Kyra Vassiliki. Make sure to visit at least one of the monasteries on the island, including the Monastery of St Nicholas Filanthropinon (founded in 1291), famous for its wonderful wall paintings, the Monastery of Stratigopoulou (also from the 13th century) and the 16th-century Monastery of Panagia Eleousa.
Discover Ioannina's diverse museums
First on your list of museums in the city is the Archaeological Museum of Ioannina, located by Litharitsa Park, right in the centre. The museum has around 3,000 exhibits from archaeological finds from ancient Epirus, from Paleolithic times right up to the post-Byzantine period, as well as a collection of modern Greek paintings. But for contemporary art, the museum for you is the Municipal Art Gallery of Ioannina, in the Pyrsinella Mansion (a 19th-century neoclassical building) at the junction of Korai and 28th October street. It has a collection of about 500 works by Greek artists, including paintings, prints and sculptures. More traditional is the collection of the Kostas Frontzos Folklore Museum, in a 19th-century Ottoman Manor House on Michail Aggelou Street, with an interesting collection of Epirot folk artefacts.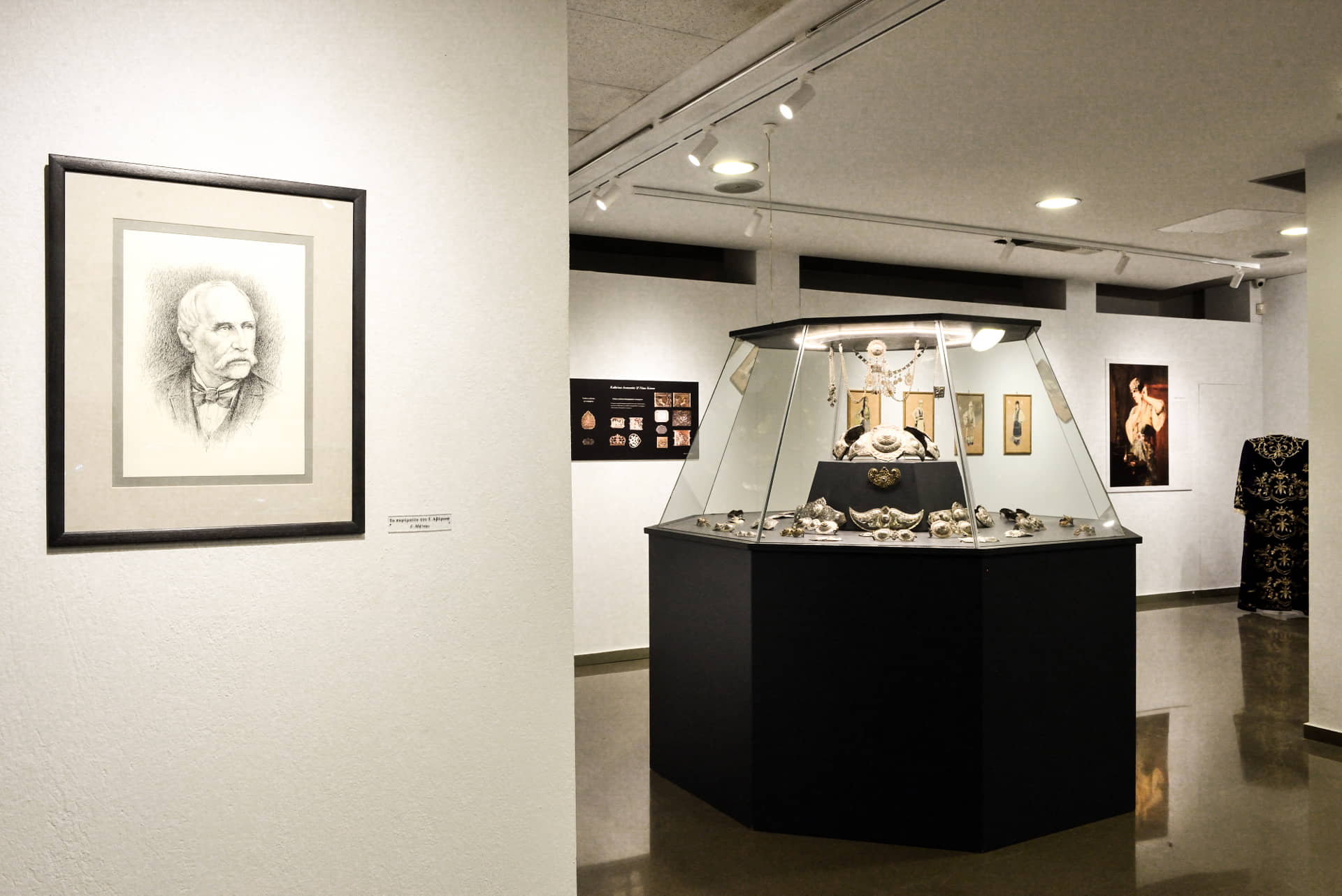 Photo credit: Εταιρεία Ηπειρωτικών Μελετών​​​​
And a final culture tip is a couple of gems just out of town. The Theodoros Papagiannis Museum of Contemporary Art preserves works of the famous Greek sculptor and professor of fine art in his home village, Elliniko, including around 20 large works made of brass, marble, stainless steel and iron. And finally, the Paul Vrellis Greek History Museum (14km outside Ioannina) has a collection of waxwork displays recreating landmark moments from Greek history.
Get to know the silversmithing past
It's astonishing to think that Ioannina has continued the craft of silversmithing since antiquity, with around 90 workshops operating in the city. You'll be tempted to buy a souvenir from a store in the centre (eg Anexartisias St and Averoff St) or on the island, but your first stop to appreciate the skill and tradition of the craft should be the Silversmithing Museum (founded by Piraeus Bank Cultural Foundation), in the western bastion of Its Kale, within Ioannina Castle.
The museum relates the history of silversmithing in pre-industrial Ioannina and across Epirus through texts and multimedia material and a collection of finely handcrafted silverware, including jewellery, ecclesiastical items and martial gear as well as household and personal effects. You'll learn how Ioannina's silverware was exported as far as Austria and Russia, where it was valued for its quality and detail. Elsewhere, the Ioannina Traditional Crafts Centre (on Archiepiskopou Makariou Ave) includes silverware workshops, a museum, a cultural events hall and a silver craft retail shop.
A tour of the beautiful Perama Cave
Moving on to the things to do in close proximity to Ioannina, the Perama Cave is a natural treasure just 5km away, at the northern edge of Perama town. The cave is around 5km long, although only 1km has been fully explored. Tours last 45 minutes and include a memorable display of stalagmites and stalactites. Especially in summer, you'll enjoy the year-round temperature of 18°C. From Perama, you can drive up to Ligiades village (at an altitude of 910m), a traditional settlement with restaurants and cafes and with beautiful views over the Ioannina basin and Lake Pamvotida.
Day trips to nearby villages
A little further away (but no more than a 1.5hr drive from Ioannina) are some of the most memorable villages in Greece, each with its own history and nearby natural landmarks. To the north, the Zagori villages (Zagorohoria) are the gems of Epirus, with names that trip off the tongue, like Vitsa, Tsepelovo, Monodendri, Mikro & Megalo Papingo, Aristi, Vikos…. They are known for their cobbled streets, stonework, churches and picturesque main squares and are surrounded by epic mountain scenery and running rivers. And just a few kilometres beyond the Zagori villages is Konitsa, on the slopes of the Pindos Mountains and overlooking Aoos Gorge. Heading northeast of Ioannina, Metsovo is a town with a village feel, with yet more mountain scenery and great food and wine. It's another favourite getaway for Greeks, with some fascinating history to tell.
Meanwhile, due east is another great collection of settlements, known as the Tzoumerka villages (the Tzoumerkohoria), even more remote than the Zagori villages, with stone bridges linking some of the settlements, and monasteries and mountain tavernas to visit. The best known is Syrrako, on the slopes of Mount Lakmos and separated from its twin, Kalarites, by the deep ravine of the Chroussias River.
Finally, for a beach day during the summer months, around 1hr east of Ioannina is Parga on the Ionian Sea. And for a bonus culture trip, the tiny village of Dodoni (20km south of Ioannina) is famous for its 3rd-century BC theatre and archaeological site where Zeus and Dionysus were once worshipped.
Outdoor adventures in Zagori
All that beautiful scenery means one thing for nature lovers: outdoor adventure … and lots of it! There are organised sporting and nature activities throughout the area – mountain excursions, hiking, rafting, paragliding, mountain biking, snow skiing, truffle hunting and more. Hiking the Vikos Gorge is a must if no holiday is complete without a nature walk. In the heart of the Vikos-Aoos National Park, the gorge is 12.5km long (although you don't need to hike it all). The flora and fauna are some of the most important in Greece and the steep limestone walls rise to over 1km in parts. The classic route is from Monodendri to Vikos village, but there are other starting points (including Megalo Papingo, Kapesovo and Kipi).
Another great experience is rafting or hiking along the Voidomatis River, with organised excursions starting from Aristi Bridge (midway between Aristi and Vikos) to the Kleidonia Bridge, one of Epirus' most famous bridges. Meanwhile, Lake Aoos (the highest-altitude artificial lake in Greece) offers kayaking and canoeing expeditions, with views of the Pindos Mountains that are out of this world and an islet in the lake used for picnics.
Βοοκ Outdoor Αdventures near Zagori
You can canoe and kayak on Lake Ziros, around 60km south of Ioannina (close to Arta). Fed exclusively by underwater sources, it is one of Epirus' hidden gems. Storks build their nests here in spring and there is a deciduous forest (plane trees, poplars, willows, oaks etc) around the perimeter. Likewise, the activities along the Acheron River, south of Zagori and close to Parga, include river trekking, rafting, kayaking, horseback riding, cycling and flying fox. Most are child-friendly but there are more advanced options too. Finally, there is mountain biking in the lush Zagori forest, with excursions from Elati village, beneath Mt Tymfi, on a 15km route through virgin forest and past landmarks that include Epirus' famous stone-arched bridges.
The cuisine and local products of Epirus
The last of your things to do in Ioannina (and Epirus generally) is to enjoy the food. With all those lush mountains and valleys, livestock breeding has traditionally been the main profession in Epirus. Which for us means plenty of meat and cheese, ingredients represented in many local dishes … especially the pies, which are thin and filled with anything from mountain greens, mushrooms and feta to chicken, goat and veal. Whatever is in season and plentiful.
Other favourites are the cheeses and cold cuts from the Zagori villages and Dodoni (especially feta), handmade pasta, spoon sweets (preserved fruit or vegetables in sugar syrup), and locally brewed tsipouro. You'll find them all in Ioannina, as well as confectionery stores selling siropiasta (syrup sweets made with filo pastry, almonds and pistachios) such as baklava, kataifi, and sker bourek (a white marzipan sweet flavoured with rosewater, made in Konitsa and served at weddings as a symbol of purity). All have influences from the region's Ottoman past.
Ioannina is also full of eating spots, from traditional tavernas and mezepolia (specialising in meze and tsipouro) to modern restaurants that take local ingredients and traditional recipes (pies, seafood, mushrooms, local slow-cooked or grilled meats, dairy products etc) and give them a new lease of life.
10 best things to do in Ioannina
Holidays in Ioannina are amongst the most special in Greece. So what are you putting on your wish list after hearing about the city landmarks (Ioannina Castle, Lake Pamvotida and all those museums and restaurants) as well as the excursions to villages and outdoor adventure?
FAQ's about Ioannina
Circus: A cocktail bar with guest DJs and nights with House music
Route 66: An atmospheric bar in the Instagrammable Liambei arcade
Spitaki Cocktail Bar: A cool and warmly decorated cocktail bar near the Castle that has become a local hangout
Scala Bar Cafe: A bar/cafe that mixes traditional and modern aesthetics
Trypokarydos: A cosy bar on the ground floor of a house with traditional architecture
Heads or Tails: A modern cocktail bar that also serves delicious food
Νautical club of Ιoannina: A great summer choice for coffee & drinks with a lake view (popular with families)
Kofi Microroastery: The ideal hangout for coffee lovers (it's roasted on site)
Café Chevalier: Found just inside the Castle walls and so a good choice for after your walk
Book your trip
All your holiday planning needs in one place, letting you book direct and benefit from official online rates
Group
Group
4 hours
Free cancellation
Not sure? You can cancel this reservation up to 24 hours in advance for a full refund
Group
6 hours
Free cancellation
Not sure? You can cancel this reservation up to 24 hours in advance for a full refund.