Rugged mountains, hidden bays, traditional villages, natural beauty and exhilarating activities: meet the myriad faces of Epirus
In Epirus the people seem to blend in with the land. You'll meet a different Greece at this crossroads of civilisations and landscapes in Western Greece, between the Pindos mountain range and the Ionian Sea. Mountain peaks, gorges, rare plants and animals, lakes, rivers and indented sandy beaches complement the ancient ruins of Dodoni and dozens of mediaeval castles, monasteries, arched bridges and stone-built traditional villages.

The destinations are many and varied, creating a wide range of options for holidays all year round. From picturesque Zagorohoria, Metsovo and the Tzoumerka, to beautiful Ioannina and the summer resorts of Parga and Syvota, Epirus will welcome you at any time of year and deliver on its promise of an unforgettable experience.
Small bays and hidden beaches
On the sandy shores of the endless Epirot coastline in Western Greece, from Preveza to Parga, you'll find beach bars to serve you drinks and summer spirit. Around Parga and Syvota you'll be itching to sail around the rugged bays and inlets to discover your own private beach. At Drepano near Igoumenitsa a glorious beach merges with a lagoon.
Mountains and gorges destined to be explored
High mountains and rushing rivers offer plenty of adrenaline-pumping excitement. You can kayak down the Aoos, top of the list in beauty and difficulty, raft the Voidomatis and the Arachthos rivers and hike the Acheron River in the summer. You can base jump from Profitis Ilias, walk the Vikos gorge, climb mountains and rocks or row in the Ioannina lake.

If you are inclined towards more sedate activities, and want to relax in nature, there's bird-watching in the Amvracian Gulf, one of Europe's most important wetlands. Whatever you decide, try to fit the following into your explorations; the Zagorohoria, the Aoos Lake, Tzoumerka, the drive between Igoumenitsa and Metsovo on the new Egnatia highway and over the Katara pass, the highest in Greece to remain open all winter despite heavy snow.
Immerse yourself in the local culture
The history of Epirus is unbelievably rich. It's all there to behold at the magnificent archaeological site of Dodoni with its famous ancient theatre, at Roman Nikopolis and at the Oracle at Efyra, renowned in antiquity. You'll meet it also in Ioannina with its castle, Byzantine museum of Its Kale, eight Byzantine and post-Byzantine monasteries on the Island in the Lake. Monasteries abound in the Zagorohoria, too, with Agios Ioannis Rangovos and Agia Paraskevi being the most noteworthy.
Throughout Epirus, you'll admire the traditional workmanship in crafts of all kinds, from stone masonry to the delicate art of the silversmith. Discover the wonderful unspoilt villages, which have been dubbed 'poetry in stone' because of their exceptional architecture, like those in the Zagoria district, Metsovo, Syrrako and Kalarrytes in the Tzoumerka range. The ubiquitous arched stone bridges such as at Kipi,Plaka, Konitsa and, most famously of all, Arta further attest to the local stone masons' flair. Not to leave out the silversmiths, a tour round their ateliers in Ioannina will leave you gasping with admiration at their skills.
The culinary specialities of Epirus
The pastoral heritage of Epirus translates to a heavy preponderance of meat and dairy products. Epirot feta is rightly famous along with other dairy products, ranging from buttermilk to hard cheese. Also typical are various meat dishes, such as kleftiko and lamb with sorrel, while its pies made with homemade phyllo, stuffed with anything you can think of – zucchini, meat, chicken, cheese – are renowned throughout Greece. Every place is a culinary destination in its own right, with its own speciality: shrimp in the Amvracian Gulf; frogs' legs and sweets, like milk pie, kataifi, baklava, bougatsa in Ioannina; cheeses, pasta, wine and rice pie in Metsovo. Zitsa is known for its sparkling wine and bottled water, which is sold under the names Vikos and Tzoumerka.
The most popular sights and attractions in Epirus
Zagorohoria: Stone structures in a beautiful and rugged mountain setting make this area a must-see. Visit Mikro and Megalo Papingo, Aristi and Monodendri, which are among some of the best known.
Vikos-Aoos National Park: The rare natural phenomena here will present you with unforgettable experiences as you walk the Vikos Gorge and the Aoos Canyon and contemplate the sheer heights of Mt Tymfi.
Drakolimnes: Left over from the Ice Age, the Dragon Lakes are two kilometres above sea level. You'll find the largest ones at Smolikas and at Gamila.
Konitsa Bridge: The Aoos and Voidomatis rivers meet at this famous bridge.
North of Konitsa: From the Mastorohoria (Pyrsogianni) to Sarantaporos, Bourazani and the Molyvoskepasti nunnery
Metsovo: This most famous Vlach village, at an altitude of 1,160m, framed by the impressive mountain scenery of the Pindos mountains, is a living museum of traditional handicrafts, dairy products and wine.
Ioannina: One of the prettiest cities in Greece. Here you'll find Lake Pamvotis with its famous island full of Byzantine monasteries. The vibrant city has dozens of sights, many places to eat and drink, good hotels, an attractive old town and is a delight to visit in any season.
Syrrako & Kalarrytes: Two beautiful old stone villages face each other like mirror images – destinations of exceptional beauty in Epirus.
Tzoumerka Waterfall: Two liquid giants fall from 125m. Simply stunning.
Preveza: Take a stroll on the lively esplanade of this port-town in Epirus , at the mouth of the Amvracian Gulf.
Ioannina

Zagorohoria

Vikos Gorge

Tzoumerka Waterfall

Ancient Dodoni

The island feel of Parga
Landmarks
Travel ideas
Shining the light on stories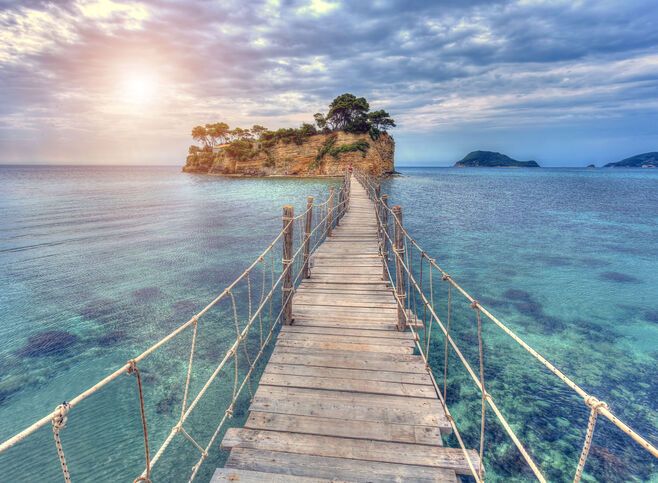 Holidays in Greece: Ingredients of a dream vacation
Over 200 magical islands, a mountainous mainland, fun-loving cities and a foodie's paradise all rolled into one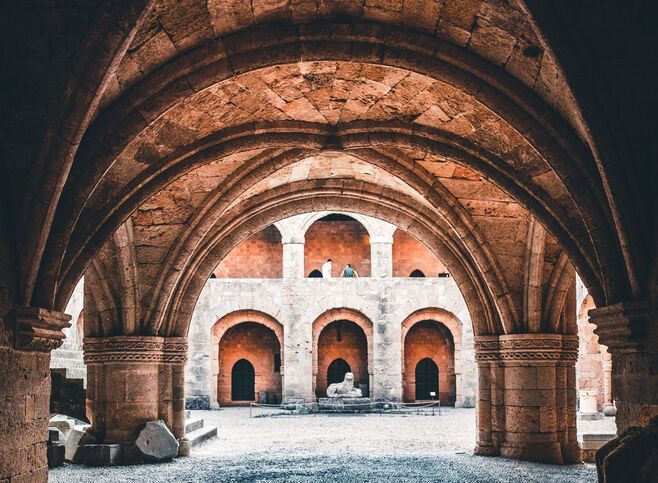 The 10 most important architectural monuments in Greece
Mediaeval cities and traditional villages, white houses bleached by the sun and formidable castles