Combine fun, adventure and one-of-a-kind scenery with outdoor activities on the Acheron River in beautiful Epirus.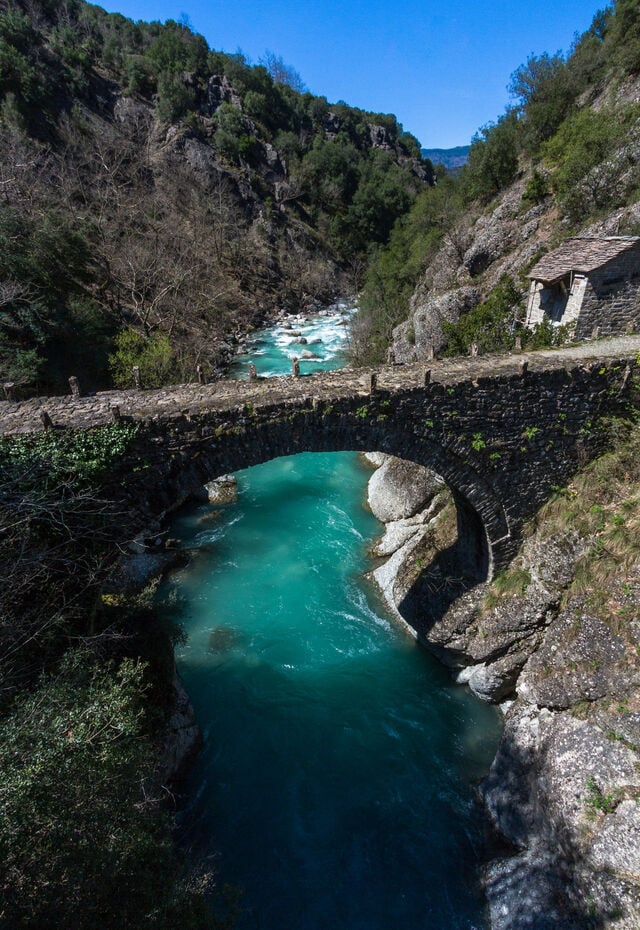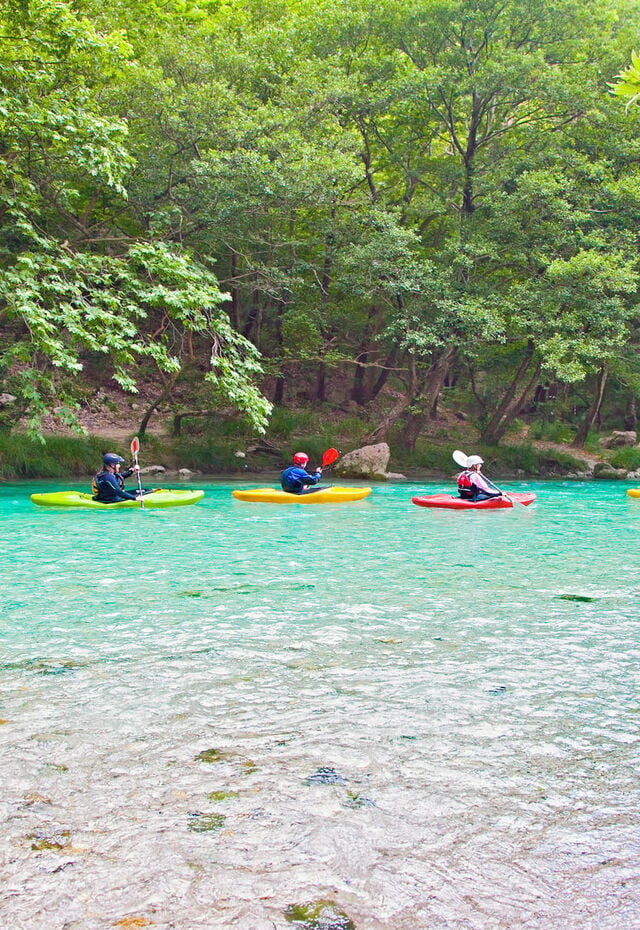 Duration
Half a day
Season
Spring, Summer & Autumn
OVERVIEW
Whatever time of year you visit Epirus, you are in for a treat! Whether you are looking forward to wandering through the beautiful mountain villages of Zagori, relaxing on one of the fantastic beaches near Parga and Sivota or enjoying a winter break in Ioannina, Epirus has something for everyone. And if you're feeling adventurous, a day trip to the Acheron River is there to add some excitement to your holiday.
There's a whole range of activities to choose from on the Acheron (also known as the Acherontas) River, made all the more special by the backdrop of Epirus' spectacular gorges and forests. Not just that but Greek mythology tell us that Hades' Gate was right here, near the Acheron Springs (it will difficult to believe given the idyllic setting) and that Charon rowed the souls of the dead over the river, crossing from the land of the living into the underworld.
Of course, nowadays it's a more "lively" crowd that's attracted to Epirus and the Acheron River – especially those rafting, hiking, kayaking, horseback riding, cycling and even zip lining for an adrenaline-filled day out.
Whichever way you choose to explore the river, the cool waters, high-sided canyons and wild beauty of Epirus make this a truly one-of-a-kind experience. The Acheron Springs are 1,600m above sea level (2 km from the village of Glyki) and the entire surrounding area is part of the Natura 2000 network.
And there's no need to worry if you've never done anything like this before – most of the activities on the Acheron River are easy and there are lots of organised experiences where beginners are more than welcome. You'll have an experienced guide who will explain everything and make sure you're ready to set off on your new adventure. On the other hand, experienced adventurers can still find a wide range of more challenging options.

DON'T MISS
Highlight activities on the Acheron River in Epirus
Hiking & river trekking
Most of us will have gone for a walk along a river before, but have you ever gone trekking in a river itself? Well, Epirus' Acheron River is just the place to set off on a new adventure, so grab some old trainers or a pair of water shoes and get ready to set out. You'll go through clear turquoise waters and pass under plane trees and past high white canyon walls, and while you might find the water a bit cold at first you'll soon be too absorbed in the scenery to notice! The walk starts at the Acheron Springs and is fairly easy going as you go by Dragon's Cave and through the Acheron Canyon until you reach Skala of Tzavelaina. At this point, you can turn back or carry on past Dallas Bridge and on to the most difficult section of the hike that takes you all the way up to Hades' Gate.
Rafting or kayaking
There are so many ways to get to know the Acheron River! A beginners' trip in an inflatable raft, kayaking from the fishing village of Ammoudia to the Acheron River Estuary or a more demanding rafting experience from the village Sertziana down to Glyki – it's up to you how much energy and adrenaline you put into your day on the river. Most rafting trips start at the Acheron Springs in Glyki and you'll have an expert guide who will take between 4 and 10 people out in a boat. Everyone works together as a team, and it's a fun and exciting way to get close to nature.

Cycling
There's no need to feel left out if cycling is your thing. Even if you didn't bring your bike with you it's easy to hire one here and you'll love discovering the paths and quiet roads in the area. It's a good idea to join a guided group and set off to enjoy the clear mountain air and famous Epirus scenery. All in all, cycling along the banks of the Acheron River is a great alternative to hiking or rafting and it gives you a chance to cover more ground and to see even more of the river and the beautiful countryside surrounding it.
Zip wire (flying fox)
Time to get your adrenaline flowing! Zip wires are an exhilarating way to see the river quite literally from a different angle. You don't need to be especially fit. As long as you're generally healthy, you can experience the thrill of flying from one bank to the other along a wire rope connected to a pulley system. You'll be given all the info and safety equipment before you set off. All you need to do is bring your sense of adventure and enjoy the ride!
Horseback riding
Have you got kids who love horses? Maybe you've always wanted to try horse riding yourself? Or maybe you're already an experienced rider who's enchanted by the idea of riding through the gorgeous Greek countryside. Horse-riding is another great choice for your day on the Acheron River in Epirus and it's maybe the best way to feel at one with nature in this special environment. It's a fun activity for all the family.

GET PLANNING
How do I get to the Acheron River in Epirus?
The nearest towns to the Acheron River are Parga (the closest), Sivota and Preveza and the nearest city is Ioannina
The closest airports are Ioannina Airport and Aktion Airport (near Preveza). Both have flights to and from Athens several days a week.
You will need to hire a car to get to the Acheron River from Parga, Sivota, Preveza or Ioannina
Driving time and distance to the Acheron Springs:
From Parga: 30km (40 mins)
From Sivota: 53km (55 mins)
From Preveza: 57km (1 hr)
From Ioannina: 75km (1 hr 15 mins)

What's the best time of year for adventure activities on the Acheron River in Epirus?
Most activities on the river are available from April to October. This is also the best time of year to enjoy swimming in the Acheron River. However, some experience providers run activities all year round, depending of course on the weather conditions
We recommend you join guided group activities. This way you'll get all the equipment and information you need, and it's the safest way to explore the river.
The experiences depend on weather conditions.
Autumn
Spring
Summer
Winter
How long do activities on the Acheron River last?
How long your activity takes will depend on what you've decided to do and on the difficulty level. If you're going on a beginners' level activity, it will last between 30mins and 2 hours, whereas if you choose a more difficult activity it could be anything up to 5-6 hours long.
Whatever you choose to do, we suggest you plan on spending at least half a day at the Acheron River. Even if you opt for a short beginners' activity, you'll still want to make the most of your trip by relaxing and enjoying the views, and having a meal at one of the tavernas by the mouth of the river.

Where's the best place to stay near to the Acheron River in Epirus?
Parga – a picturesque seaside town, close to some lovely beaches
Sivota – a cosmopolitan summer option, with exotic beaches (close to Parga)
Preveza – a small provincial town by the sea, close to Aktion Airport
Ioannina – the capital of the prefecture and a lively all-year-round destination with a good nightlife and cultural sites
The length and difficultly level of your activity are up to you. Most activities on the Acheron River in Epirus are available at both easy and moderate levels.
Organised experiences include all the equipment you will need.
Make sure you have: