Get your checklist ready because we're about to fill it with some of the best things to do in Rhodes – and beach time is just a small part of it!
Best of all, the experiences we're proposing are most enjoyed away from the bustle and heat of the peak summer months.
Time travel in the medieval Old Town
Rhodes Old Town
Top of our list of the best things to do in Rhodes is a tour of the medieval Old Town. There's something otherworldly about the Rhodes Old Town. Not just because it feels like a film set for jousting knights but because it's just as alive today as it was in the Middle Ages. Imagine yourself on the Street of the Knights. At one end is the Palace of the Grand Master and, at the other, the Hospital of the Knights (co-housed with the Archaeological Museum).
And all along the cobblestoned way are Inns where knights once drank, prayed and plotted. The whole town – including all the little alleyways and the Ottoman and Jewish quarters – is a UNESCO World Heritage Site. And when you're done, find yourself a restaurant that does modern Greek food – just so your travel clock gets the full experience.
Be awe-struck in Lindos and St Paul's Bay
Lindos
The first thing you should do when you get to Lindos is head into the archaeological site and up to the hilltop acropolis dedicated to Athina Lindias. It's an undoubted must-see of Rhodes, not just because of all the history but because of the view. Wow! Ahead of you is the Aegean Sea and behind you Lindos village (with its labyrinth of shops, bars and tavernas). And there, down to your right, is St Paul's Bay, an almost completely enclosed bay that will beckon you to swim in it. Or maybe it's where you'll head for an evening drink. Think about it, you're standing by a 300 BC temple and you've just chosen your spot for sunset cocktails!
Head to the Valley of the Butterflies and Rodini Park
Butterflies Valley
From June to September each year, a little winged miracle of nature takes place on Rhodes. Millions of vibrantly coloured Panaxia species butterflies flutter in to feed on the sap of the Zitia trees and lay their eggs. The aptly named Valley of the Butterflies is where you can admire them. But please tread carefully and help preserve these delicate little creatures. And while we're on the subject of natural escapes, near the Old Town is Rodini Valley Park, which has a handful of gentle hiking paths, ponds, plane trees and other greenery. It's a great place for a picnic.
Go village-hopping (with more castles views)
Village-hopping will likely be the least expected of your holiday activities in Rhodes. Embonas is built on the slopes of Mt Attavyros, which is grape-growing country (more on that below). If you're here at the right time of year, you'll see raisins drying in the sun. And there's dainty Monolithos, with its stone houses and medieval hilltop castle (the sunset view is amazing).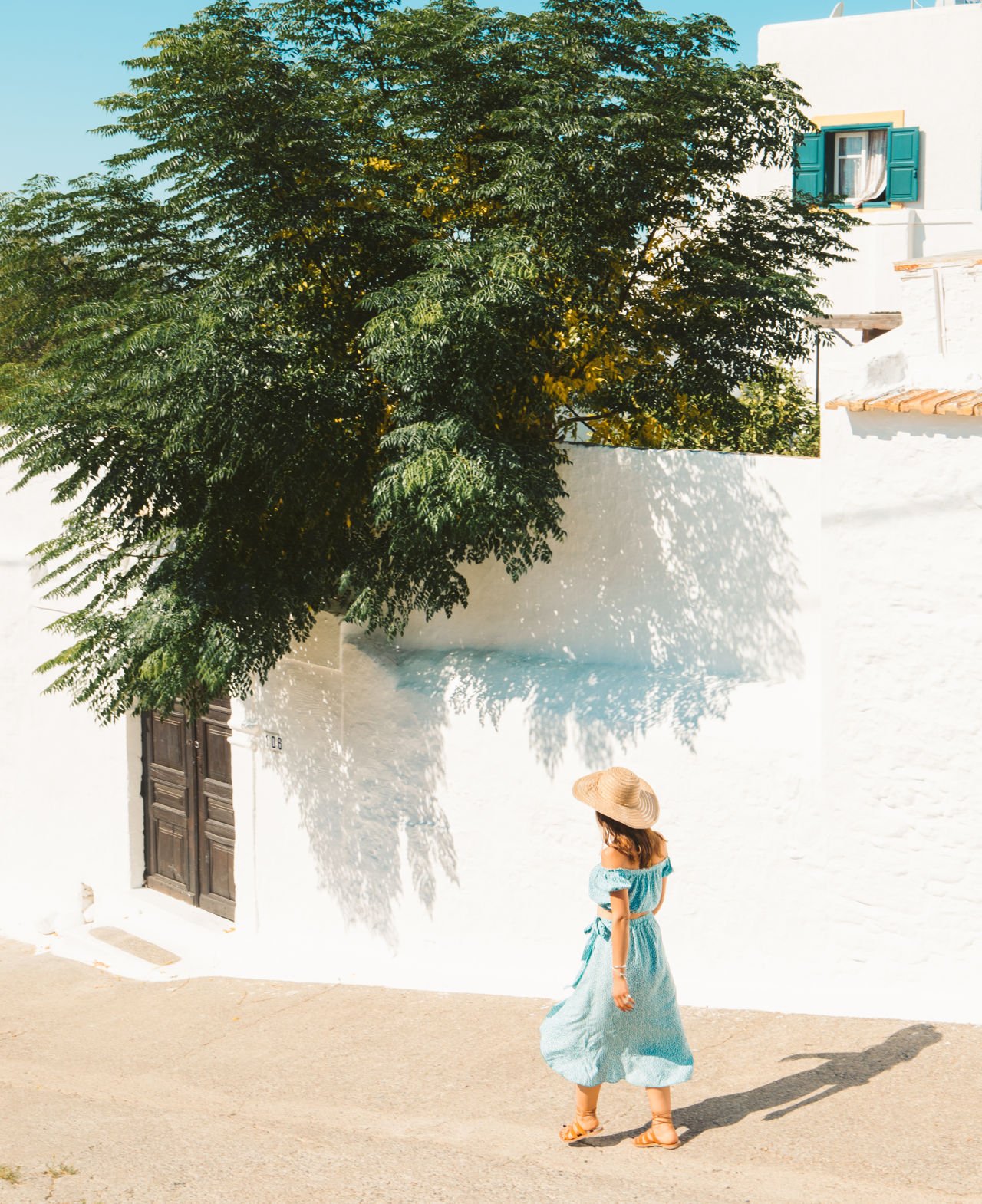 To the south, there's Vati (with panoramic views of the village, a lovely square for coffee and hiking trails which lead from here) and Lahania (with its light blue doors and windows, carved stone gates and tiled roofs). To finish the day, head down to Haraki for a seafront dinner under the stars with the castle illuminated in the background. Heavenly!
Discover an unexpected wine-making tradition
After seeing the vineyards on the foothills of Mt Attavyros, you'll be interested to know that wine-making on Rhodes goes back to the 7th century BC. There are numerous wineries you can visit, offering wine-tasting experiences where you'll learn about the indigenous Athiri and Muscat white grapes and the red Mandilaria and Amorgiano. Two of Rhodes' more celebrated labels have Protected Origin of Designation status. If you can coincide your visit with the late-summer grape harvest, so much the better.
Wine Tasting & Cooking Class in Rhodes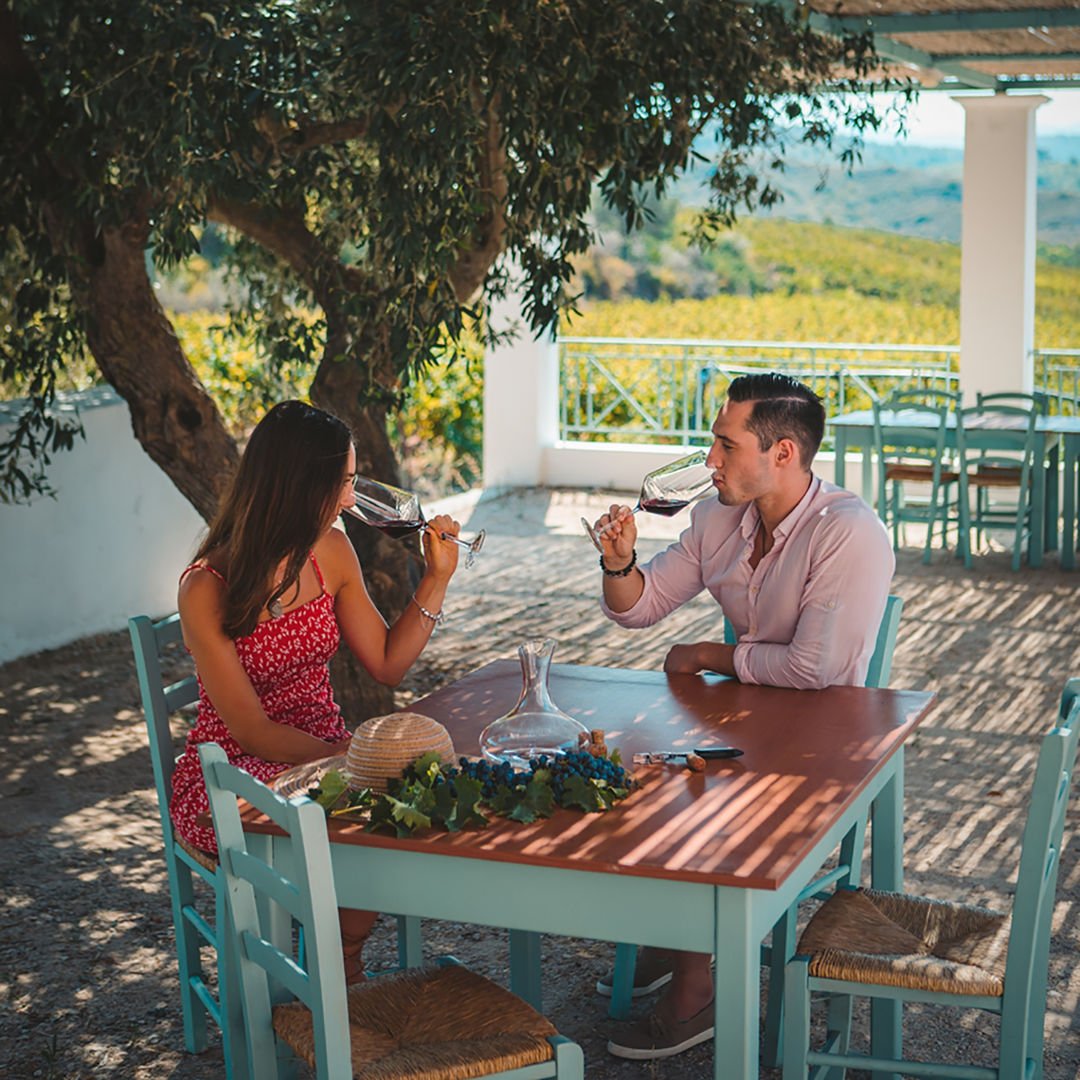 Taste the irresistible honey and other delicacies
Rhodians use food as an expression of their generosity. After all, all that greenery produces an abundance of great local produce – especially olive oil and tomatoes, as well as other vegetables and many types of wheat, wild herbs and greens. High up in your list of foodie things to do in Rhodes should be trying pitaroudia (delicate little chickpea fritters), dolmadakia (stuffed vine leaves) and slow-cooked meats with bulgur wheat. And then there's the honey, which has inspired delicacies such as melekounia (sesame-and-honey bars) and nougat. It' worth making a beeline for the Bee Museum of Rhodes. It's the only one in Greece and one of the biggest in the world.
Head to some of best beaches in Rhodes on a boat trip
Time to splash out. If there's a gift you should give yourself, head to the beautiful port of Mandraki, by the Old Town, or Rhodes Marina just down the coast, and hire a boat with a skipper for the day. All the way down the coast to Lindos are some of the best beaches in Rhodes.
Starting with the long stretch of sand and fine pebbles at Kallithea Beach (with a shore trip to the Kallithea Springs, where you'll enjoy the art deco feel and pebble mosaics). Move on to the green-and-blue-watered Anthony Quinn Beach (so-called because the American actor fell in love with the bay during the filming of the Guns of Navarone). And, finally, visit the pure fine sand of Tsambika and Agathi.
Visit the green island that sometimes isn't an island
Prasonisi
Last on our bucket list of things to do in Rhodes is to head to Prasonisi, at the southernmost tip of Rhodes. The Green Island (as its name translates) is a strange creation of nature. By winter it's an island and by summer a peninsula, connected by two fringes of sand. Either way, it's a wind- and kite-surfer's heaven. But don't worry if you're not a surfer. You can swim on both sides of the beach. Something for everyone… just like Rhodes itself.
Holidays on Rhodes island
If there's one feeling you're left with when you visit Rhodes in the quieter months either side of peak summer, it's that this is when all the medieval magic and history, and all those tastes, escapes and authentic villages shine brightest of all.
FAQs about Rhodes, Greece
Rhodes is easily reached by air or ferry throughout the year. There are daily ferry connections with Piraeus port in Athens and with Greek islands (especially the Cyclades and other Dodecanese islands and with Crete). There is an airport with regular daily connections to Athens and direct flights to international destinations during the busier months.
The most famous cultural landmarks of Rhodes are the medieval Old Town (which has been continuously inhabited since the Middle Ages and is a UNESCO heritage site) and the Acropolis of Lindos (which includes the Temple of Lindias, dating to 300 BC). It's most famous ancient monument was the Colossus of Rhodes (one of the Seven Wonders of the Ancient World). The giant statue is said to have stood across the port and used to support a chain that blocked its entrance at night, although no remains have been found. Other cultural landmarks of Rhodes include Ancient Kamiros (the remains of a 5th-century BC Doric city), the Asklipio (a 15th-century castle of Grand Master D'Aubusson) and the Rhodes Acropolis.
As one of the most popular Greek islands, Rhodes does get busy in the peak summer holiday months. So the best time to visit is April-mid-June and September-October, when the summer crowds have thinned (with swimming at its best from June-October). Spring and autumn are the best months for outdoor activities in Rhodes, such as hiking.
Rhodes is the 4th largest Greece's largest islands (1,400 km2) so it is best to hire a car or motorbike if you want to experience all the highlights of the island, or catch a taxi. There is also a good bus services (Rhodes KTEL) that connects the main destinations and many beaches.
There are so many things to do in Rhodes that you can dedicate your entire holiday (6-7 days) to the island, but you can also spend just a few days there as part of an island-hopping itinerary to get a taste for it.
Book your trip
All your holiday planning needs in one place, letting you book direct and benefit from official online rates
Group
Group
Group