READING TIME
As long as it takes to drink a Greek coffee
Famous for its sponge divers and rugged landscape, Kalymnos has also become a landmark destination for rock climbers. But that's just the start of what this Dodecanese island in the Aegean Sea has to offer. Welcome to our top things to do on your holidays in Kalymnos, from scuba diving sites and boat trips to beaches that are as varied as the seafood in the tavernas.
Rock climbing with an Aegean view
Kalymnos has become an iconic rock climbing destination, with hundreds of climbing routes boasting crags, caves and overhangs and epic views of the Aegean that bring back enthusiasts year after year. In fact, Kalymnos can claim something special amongst Greek islands, as its tourism season peaks in autumn during the Kalymnos Climbing Festival. Climbing certainly doesn't need to be your only reason to visit but it more than justifies its spot at No.1 in our list of top things to do in Kalymnos.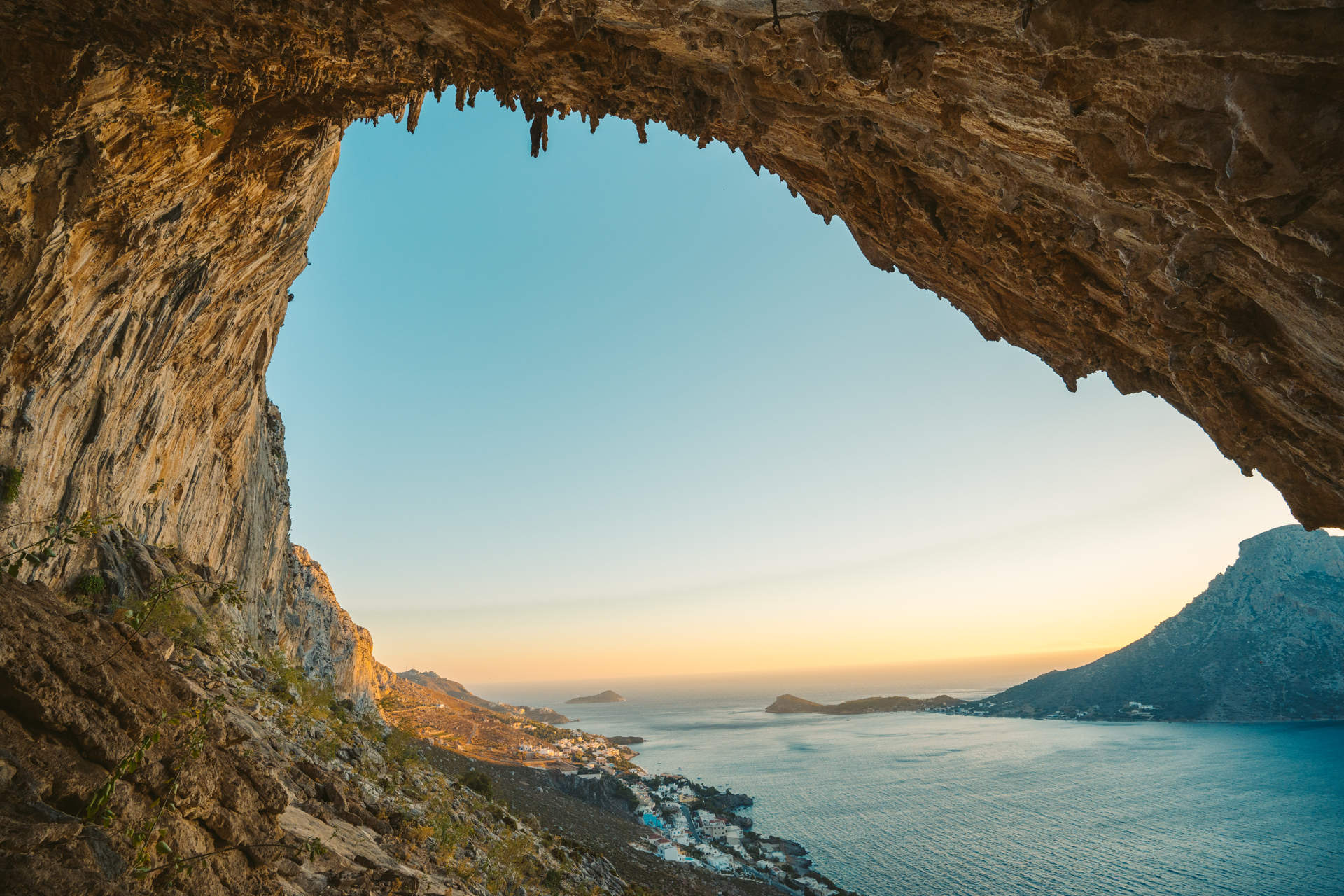 Beaches for every mood
From the cliffs to sunbathing on the beach… surely how every climb should end! Or you could just head straight for a swim. Most of Kalymnos' organised beaches are concentrated on the western coast, with everything you need to spend a whole day by the sea. Amongst the most popular are Massouri, Myrties and Panormos (where there's an awesome sea bar/restaurant), as well as Kantouni and Linaria. For something more exotic, there's the black volcanic sand of Platys Yialos. And if remote is what you're looking for, there's Palionisos to the east and Ton Toicho to the north.
The fascinating traditions of Pothia
Within the alleyways of Kalymnos' port-town, you'll find churches and neoclassical buildings (built with the riches of shipping), the coats of arms of the Knights Templar, an Archaeological Museum (with prehistoric ceramics, tools and statues) and the House of Kalymnos (an excellent folk museum).
There are beautiful spots for coffee or a meze and, in the Vouvalio district, you can learn all about the famed sponge divers in the Maritime Museum. By the shipyard are workshops that processed the highly-prized sponges. And overlooking Pothia is the Castle of Chryssocheria (another medieval legacy), with an epic view.
Tastes that are at one with nature
Seafood is king on Kalymnos: octopus, tuna and swordfish (grilled or smoked and thinly sliced), lobster and so much more. Look out for spinialo, a local delicacy of fouskes (sea squirts) traditionally preserved in a bottle of seawater by sponge divers. Nowadays, scallops, mussels, devil fish and sea urchins are added as taverna appetizers. There are citrus groves in the fertile valleys and goats thrive in the hills. Aromatic honey has been famous here since antiquity and another tradition is Krithira Kouloura, a barley rusk enjoyed with local cheeses – spicy kopanisti, creamy myzithra or semi-hard kalathaki (a kind of feta).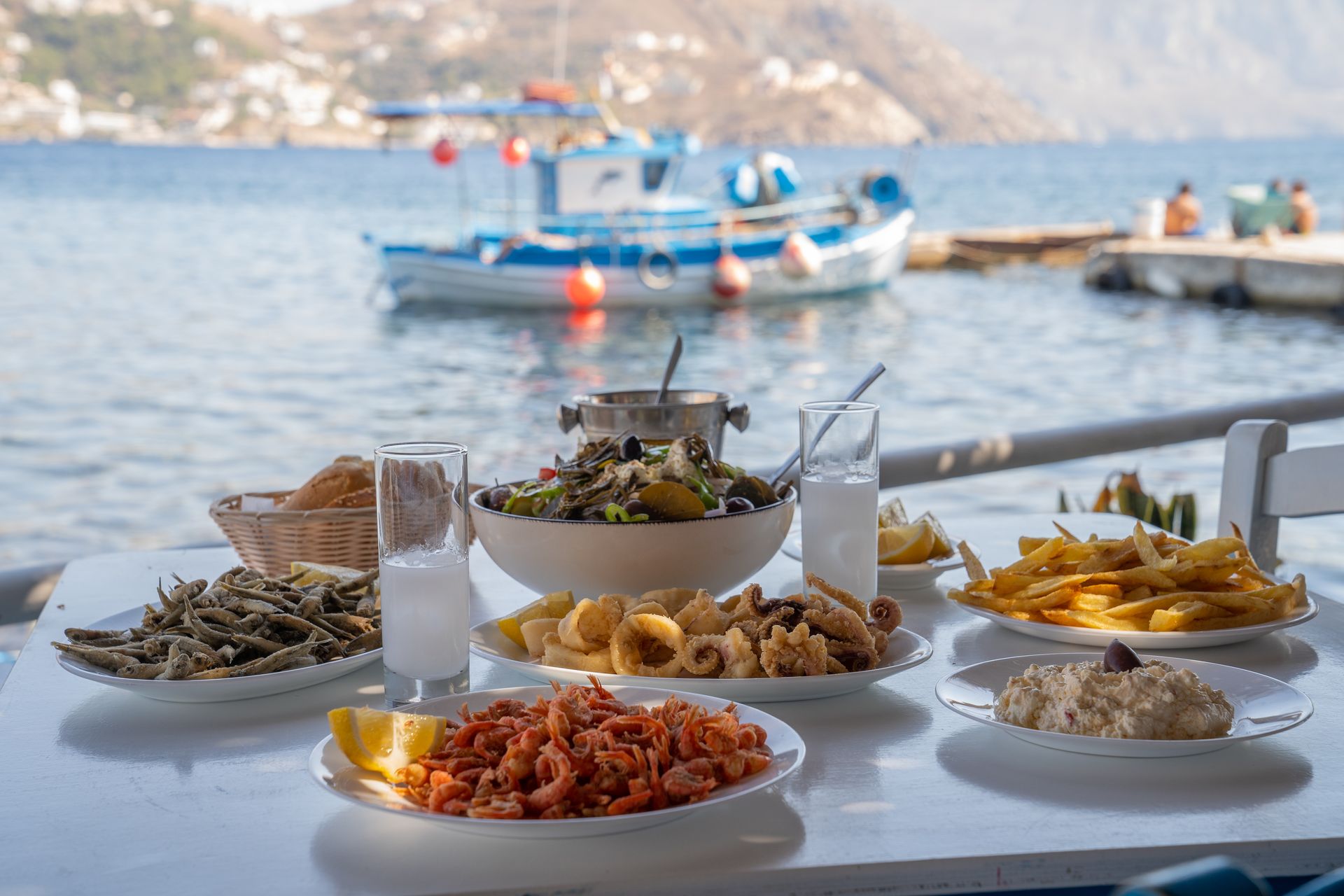 Vathy, a Greek island fjord!
Heading east, you pass through the Valley of Vathy, filled with orange and tangerine trees, until you reach the peaceful little port of Rina. The bay here is so long and narrow that it resembles a fjord, complete with fishing and excursion boats. There are also plenty of activities you can book in Vathy (including sea kayakng, boat trips to nearby beaches, fishing excursions … adding to your list of things to do in Kalymnos). But don't think twice about heading straight to one of the fish tavernas.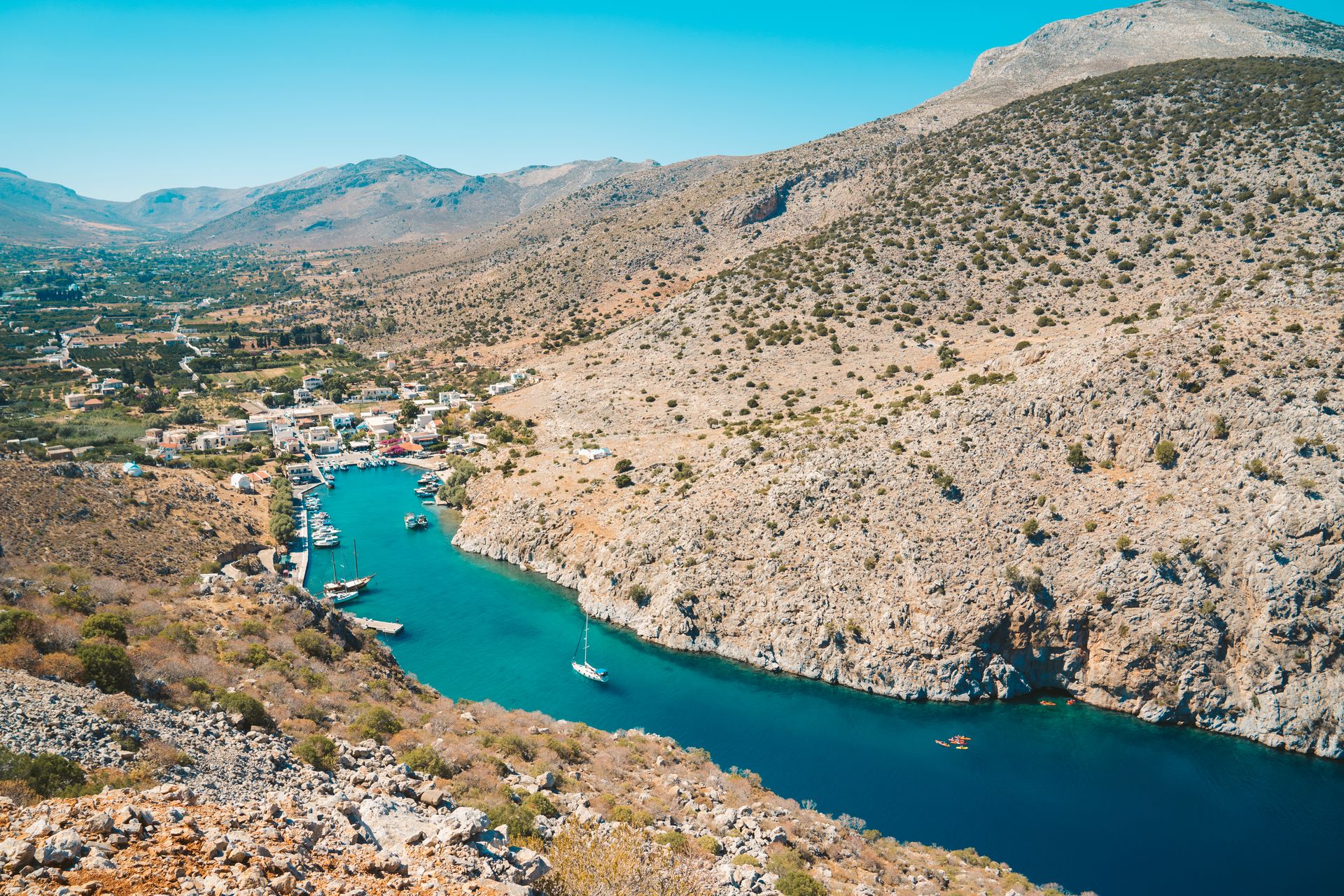 Exploring an underwater world
The rocky landscape continues underwater in Kalymnos which, given the clarity of the sea, also makes it a perfect diving destination. In fact, Greece's first diving park was created here and you'll find plenty of diving sites around the island, particularly on the south coast. Sponges, sea anemones, octopus, starfish, seabream, scorpionfish… keep your eyes open because you'll be seeing plenty of sea life. And you'll have the bonus of hearing lots of sponge diving tales from certified instructors.
A boat trip to unspoiled Telendos
Just off Kalymnos' western coast is a little cone-shaped island, Telendos, which you can reach by an easy 10min boat trip from the port of Myrties. You'll instantly be transported to a world of no roads and beaches as peaceful as the day they were created (Paradise and Hoklakas are the most popular) and a family-owned taverna where a fresh catch of seafood comes in every morning. It's the perfect setting for an ice-cold ouzo and seafood meze. There's an early Christian necropolis you can hike to, if you're feeling active.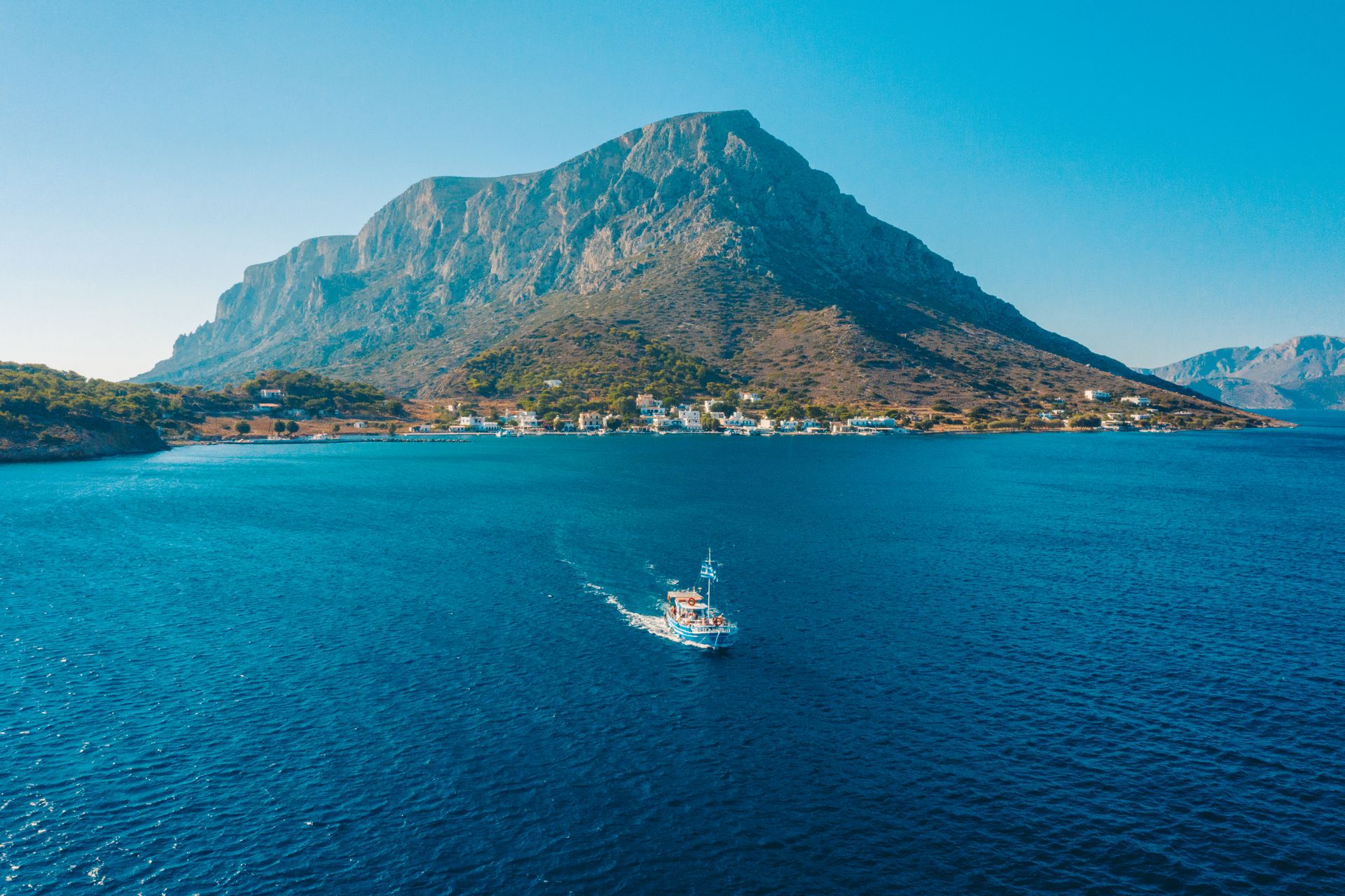 A boat Trip to Pserimos
From the opposite side of Kalymnos, boats leave to another tiny island, Pserimos, which is halfway to Kos. It has a little settlement, called Avlakia, with a smattering of tavernas and shops selling souvenirs and local products like honey and capers. But most people come for the great swimming and beachfront tavernas with yet more unforgettable seafood. Experienced scuba divers will be interested in the 25m-deep wreck off Pserimos' eastern shore.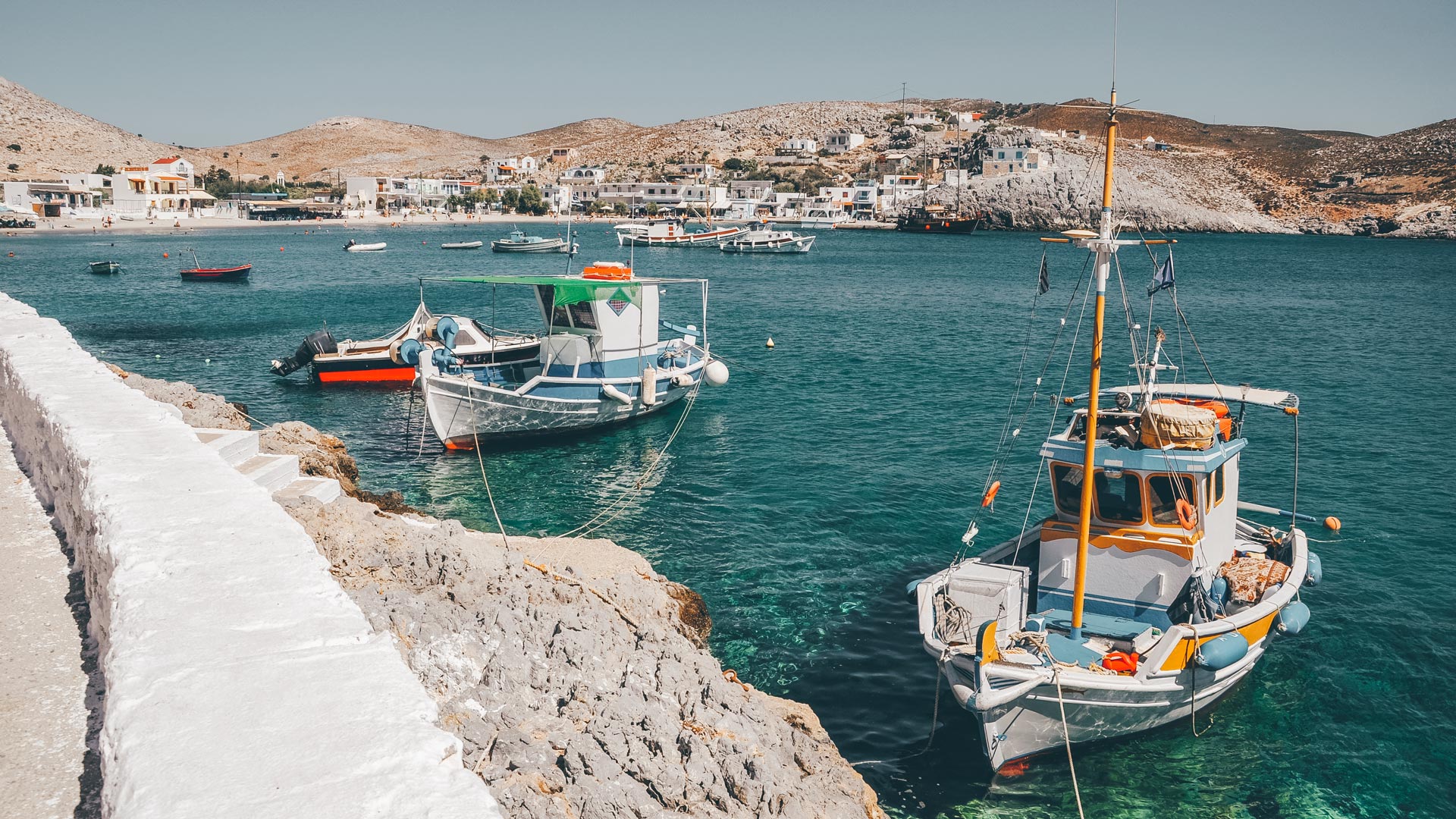 Top things to do in Kalymnos
Climbing, diving, eating, exploring and plenty of beach-time await you in Kalymnos, an island of big adventures and deep traditions. Are you ready to discover all the great things to do in Kalymnos.
Book your trip
All your holiday planning needs in one place, letting you book direct and benefit from official online rates