EXPERIENCE
A boat trip to charming Symi from Rhodes
Be transported to the days of colourful mansion houses and simple living on a boat trip to Symi, a tiny island with a grand past and an equally big appetite for life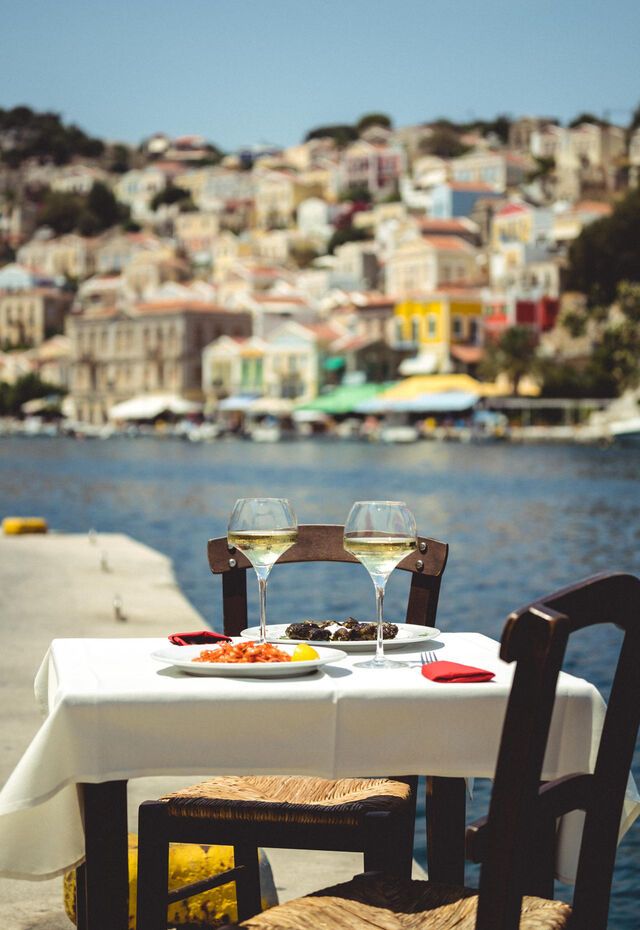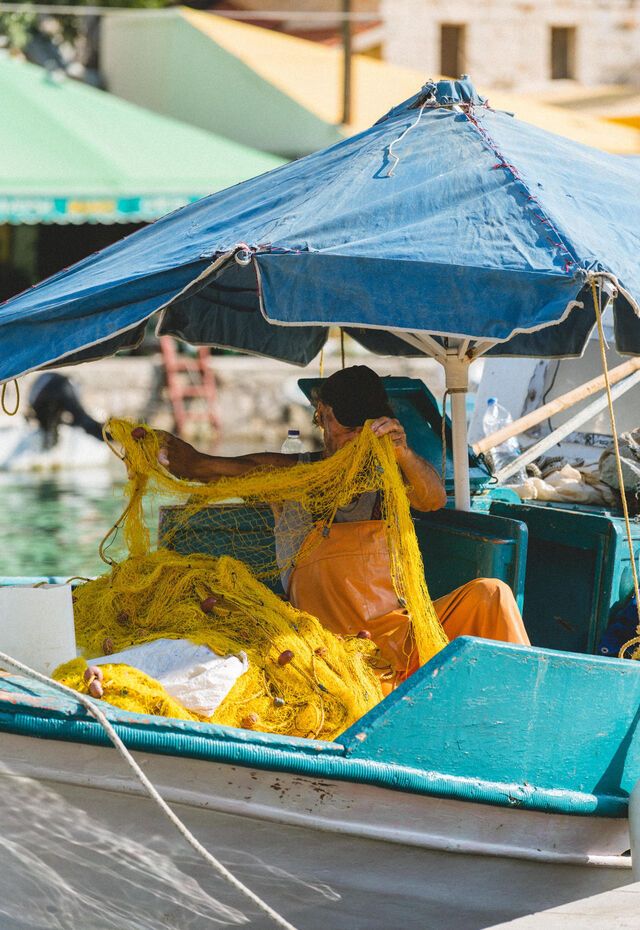 Duration
Full day
Season
May - October
OVERVIEW
Arriving at Gialos, the main port of Symi, imprints itself into your memory like a photograph. But you'll have no idea which era the photo was taken in.
There's an old world grandness to the multicoloured mansion houses in and above the port. So much so that you're instantly transported to the days when this remote Greek island was awash with the fortunes earned from shipping. Except that back then (at the end of the 19th and beginning of the 20th centuries) some 25,000 people lived here and the island's famous boatyards produced around 500 new ships a year.
These days, the fishing and sailing boats along the Symi waterfront bob to a different, more relaxed tune. But that hasn't stopped Symi retaining all its traditions. So taking a boat trip from Rhodes (Symi's cosmopolitan neighbour) allows you to instantly step into another kind of island charm.
Take a look around you once you arrive at Gialos … at the generously-laid out tavernas and those houses rising theatrically up the hillside towards the upper town. You'll be gripped by the urge to explore this small Greek island with a big heart.
DON'T MISS
Highlights of Symi island
A stroll around Gialos
Before you head anywhere else, make sure to give Symi's port the time it deserves. The clocktower and belfry of the church of Panagia Evangelistria stand out. But mostly this is where you can best appreciate the colours and grandeur of the mansion houses rising up the hill.
Climbing Kali Strata
It's quite a climb but tackling the 500 stone steps of Kali Strata, connecting the harbour to Ano Symi (Upper Symi), is the best way to explore Gialos. Essentially it's one long winding staircase, taking you through the lower and upper town, allowing you to enjoy the neoclassical architecture, pebbled courtyards and tiled roofs from every angle. Stop at the shops with local handmade products, or maybe at a bakery or cafe along the way.
The view from the Byzantine Castle
If you've got it in you, keep climbing all the way to the Byzantine Castle above town. It was built in the 14th century by the Knights of St John as an expansion to an existing fortification and there are even remains of an ancient citadel up here. The highlight is the view of all the town's roof-tiled houses and the port of Gialos.
The local cuisine
Whether you eat in the port or upper town, you'll love the food of Symi. There are traditional cafeterias and ouzeries for a coffee and a snack, but you should definitely try a fish taverna by the sea. Symi is legendary for its seafood, especially the prawns. Keep an eye out for atherinopita (seafood pie), handmade pasta and local honey balls called akoumia.
The monastery of the Archangel Michael Panormitis
Some boat trips include a stop at the 18th-century monastery in Panormo Bay, which was traditionally a pilgrimage site for seamen. It has two museums (one folklore and one religious) and is famous for its frescoes and wood carvings.
St George's Beach
Most boat trips stop for a swim here and it's not hard to see why. Accessible only by boat, it's the largest and most impressive beach on Symi, with a massive rockface reaching 300m.
GET PLANNING
Where do boats for Symi leave from on Rhodes?
The main port of Rhodes:
Ferry boats leave from 8:00-9:00 and return at 16:00-17:00.
Boat trips leave from 9:00-10:00 and return at 16:00-17:00.
What is the best way to get around Symi island?
Traditional boats (called kaikia) and taxi boats take tourists from Gialos port to St George's Beach during the summer months
You can catch the bus or take a taxi from Gialos to the Monastery of Panormitis.
When is the best time to visit Symi?
There are ferries between Symi and Rhodes all year round, but organised boat trips to Rhodes operate from May-October.
May-June and September-October are the best and quietest months to visit.
Tickets for organised day trips to Symi start from €25 per person. Ferries cost €15 each way.
All boat trips are dependent on
Autumn
Spring
Summer
Winter
How long do boat trips to Symi from Rhodes last?
The crossing from Rhodes port is 1-1½ hrs, depending on which boat trip you choose.
A day trip from Rhodes will last 8-10 hrs.
Symi has everything you need (shops, tavernas etc) but the beach at St George's Bay has no facilities.
Make sure you have everything you need for a day in the sun: