READING TIME
As long as it takes to eat a slice of watermelon
The biggest of the Dodecanese islands, Rhodes has been tempting visitors to its cultural highlights and golden shores for decades. And it isn't hard to see why. Ask yourself what sort of beach style you would be tempted by? Cosmopolitan and worldly or laidback and wild? Either way, the beaches of Rhodes have you covered.
Many are fully organised with sunbeds, water sports and every comfort, and others are more remote, letting you relax in total peace. And more than 20 have been awarded a Blue Flag for environmental cleanliness.
So whether you've already booked your holidays to Rhodes and want to know the best beaches nearby, or you're looking for a bit of inspiration for where to base yourself, let's get you in a Greek summer mood and explore some of the best beaches in Rhodes.
Lindos beach
A visit to Lindos beach invariably has to compete with time spent at the 4th-century BC Acropolis of Lindos standing sentinel above it and walking amongst the avalanche of whitewashed houses cascading magically down the hillside. But once you're done with the formalities, don't hesitate to head down and indulge yourself. The big bay below the Lindos Acropolis (with two beaches side by side, the larger one called Megali Paralia) has fluffy yellow sand and the clearest waters, ideal for families due to the shallow depth. You can rent a SUP or water bike and go Jacques Cousteau as the surrounding area lends itself to exploring missions. Otherwise, the facilities on and around the beach should be more than enough to keep you entertained till sunset cocktail time.
Amenities: Sunbeds & umbrellas, beach bar, water sports, tavernas, restaurants, parking
Access: By road
St Paul's Bay
Owing its name to the chapel above the beach, semi-enclosed Saint Paul's Bay and its golden sand are picture-perfect. This well-protected cove sits below Lindos, with all of the accompanying facilities close to hand. So if you get restless, there's a bunch of stuff to see (Lindos Acropolis, Saint Paul's Chapel and Lindos itself). But you'll be hard-pressed to leave this slice of heaven. The waters are shallow, calm and clear, making this prime snorkelling territory. Just note that it's one of the most popular beaches in Rhodes, so arrive early if you want to find shade.
Amenities: Sunbeds & umbrellas, beach bar, restaurant, tavernas, parking
Access: By road
Vlycha beach
Situated in a long, flat plain that descends smoothly into the sea, Vlycha beach is one of the best choices for families with young kids. It's surrounded by a wide, arid cove and scattered trees, with hotels and shops lining the shore. Clean, blue waters give way to white, pebbly sand and its size allows you to easily find isolation to one side of the beach. Just next to it, you'll find the equally scenic Kalathos beach and its 4km expanse of fun that includes water sports. Holidays in Rhodes don't get any better.
Amenities: Sunbeds & umbrellas, snack bar, beach bar, restaurant parking
Access: by road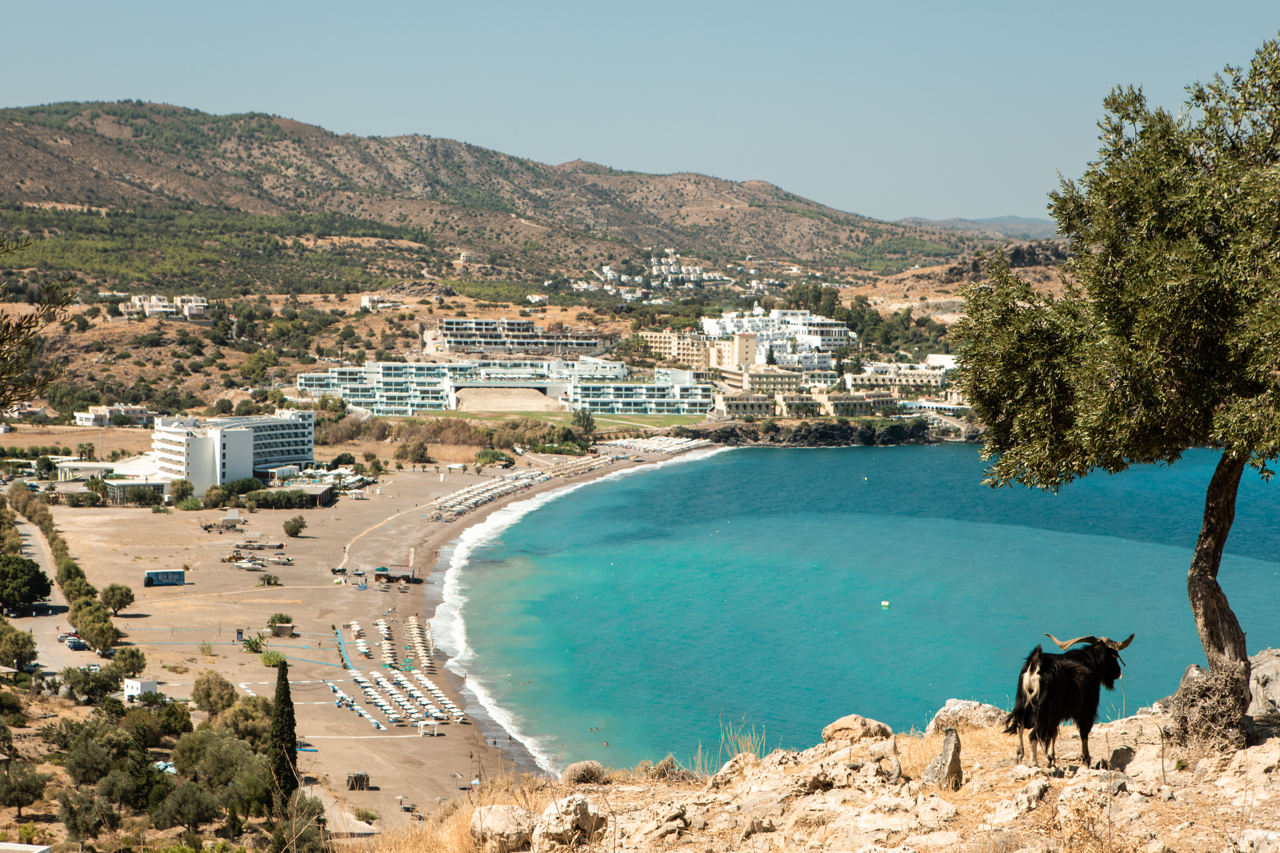 Anthony Quinn Bay
The beloved actor may be long gone, but his name lives on (on account of the 1960s movie The Guns of Navarone that was shot there) and this lagoon-like setting and stretch of pebbly sand is as mythical as its resumé. Anthony Quinn Bay is legendary in Rhodes for its magical waters that shine bright in the sunlight. It's great for snorkelling and scuba diving and the beach itself is composed of fine sand and pebbles. This is arguably the best-known beach in Rhodes, especially as it's just a short car ride away from lively Faliraki. Nearby Ladiko beach is also worth checking out.
Amenities: Sunbeds & umbrellas, snack bar, restaurant, beach bar, parking
Access: By road
Agia Agathi beach
Nice and easy does it in Agia Agathi. This laid back stretch of sand is just right and a look at those shallow crystalline waters (ideal for families as it's knee-deep for several metres) will be enough to make you want to stay all day. Situated inside a cove with yellow sand and easy vibes, it could well belong to a Cyclades island. This beach offers a couple of curiosities worth checking out. You can start with the 14th-century Agia Agathi chapel to the left and continue with a cave which, legend has it, is an old troglodyte house (really!). Meanwhile, standing guard above the beach is a medieval fortress.
Amenities: Sunbeds & umbrellas, snack bar, parking
Access: By road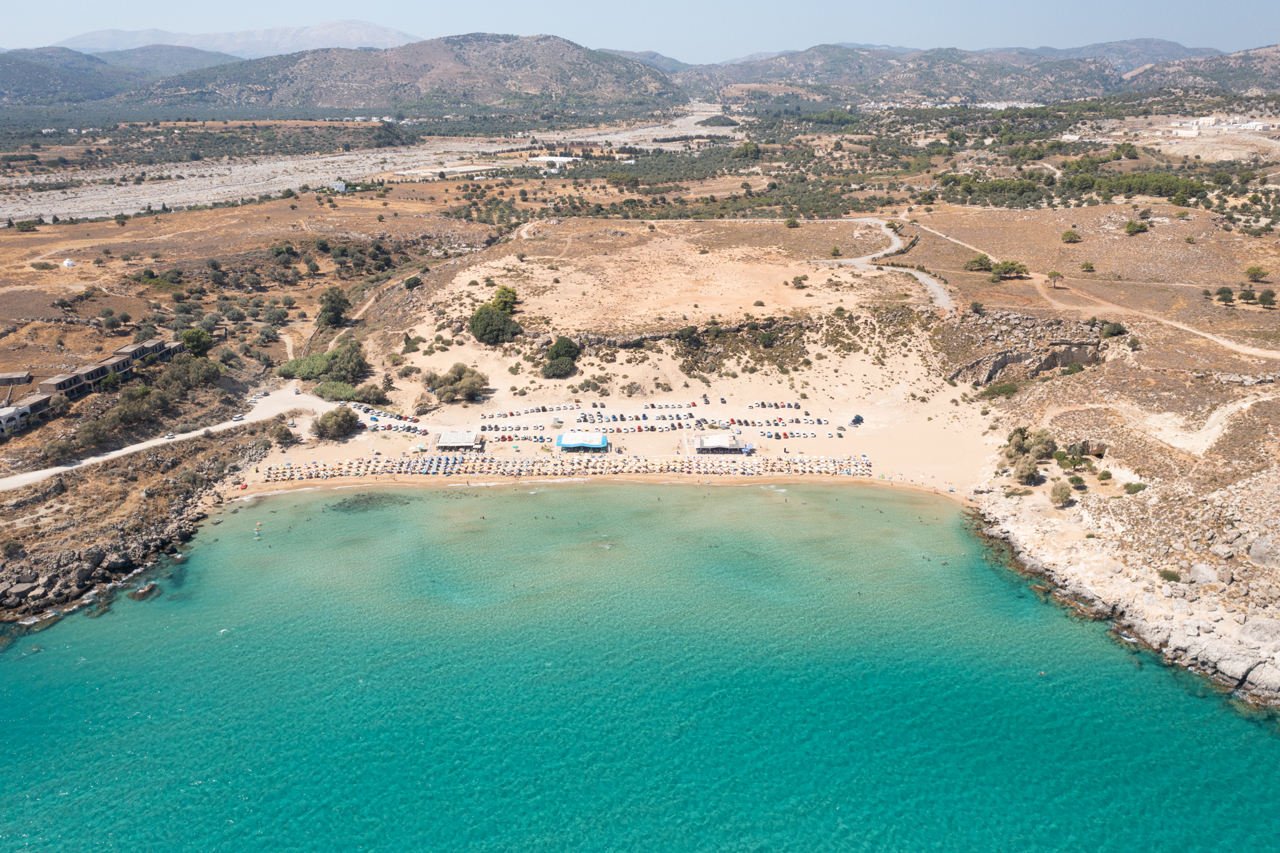 Tsampika beach
Long and blonde, Tsampika beach makes everyone go 'A-ah'. Fluffy, fat yellow sand, clean emerald waters and enough space and amenities to keep you busy are what this beach is about. There are water sports and even a water park, and if you need to peel yourself away, the gorgeous chapel of Agia Tsampika sits atop the hilly cove. In addition, nearby Stegna beach and its extensive facilities are at hand. This is an all-dayer of a beach, with eateries and shops, ideal for everyone.
Amenities: Sunbeds & umbrellas, beach bars, snack bar, water sports
Access: By road
Kallithea Springs
Found at the northwest of the island, Kallithea is one of the best-known parts of Rhodes, not least because of the iconic, domed building boasting fine mosaics, known as Kallithea Thermal Springs. The unique building complex, recently restored and renovated, was originally constructed in the late 1920s and includes the Rotonta Hall as well as a terrace and impressive patio.
You can enjoy a drink or bite at the restaurants and cafes here and rejuvenate by bathing in the crystal-clear waters of Kallithea beach. The sunbeds on the rocky beachfront give the setting a unique atmosphere. Alternatively, you can explore the coastline just to the south (also known as Kallithea) and discover other golden-sanded beaches with names like Oasis, Red and Tasos. Memorable is an understatement.
Amenities: Sunbeds & umbrellas, beach bars, tavernas, restaurants, parking
Access: By road
Elli beach
Elli is a superb option for those who make the obligatory visit to Rhodes Old Town, due to its close proximity (walking distance). It's also next to the Saint Nicholas Fortress and the cute watermills of Mandraki, should you want to have a wander before heading to the beach. Elli is a fairly big beach, with stretches of sand and pebbles and some really clear water. (There's even a diving board a 100m or so into the water.) With water sports and heaps of amenities, it's a beach with a great all-around feel.
Amenities: Sunbeds & umbrellas, cafes, beach bars, water sports, restaurants, parking, sea ramp
Access: By road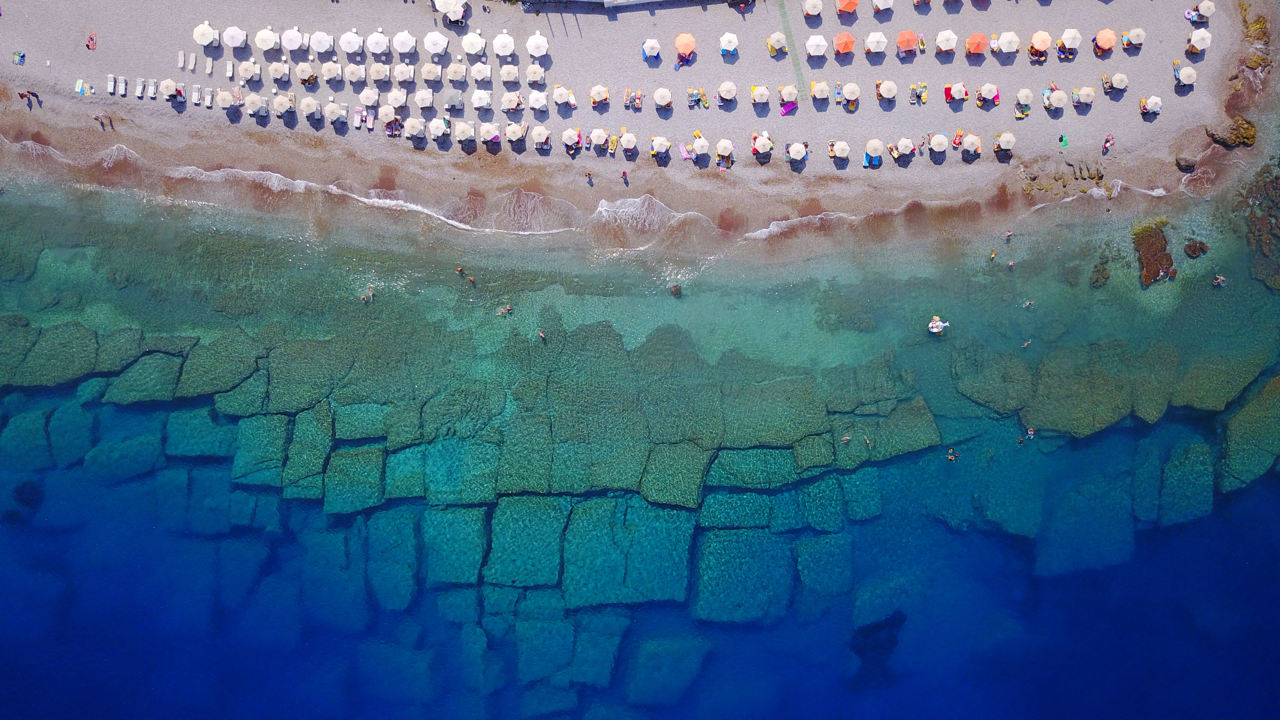 Afandou beach
Blue Flag-certified and stretching as far as the eye can see, Afandou beach is classic Rhodes, with a mixture of sand and very fine pebbles. Along with facilities including beach bars and a volleyball court – and even the nearby Afandou Golf course – you can just as easily opt for the secluded part and bring your own gear. If you keep walking, it becomes Traganou beach and there's a cave by the rocky edge of the bay. The small town of Afandou (2km) is nearby.
Amenities: Sunbeds & umbrellas, beach bars, snack bar, tavernas, water sports, parking
Access: By road
Prassonisi beach
Prassonisi is one of the most photographed beaches in Rhodes. It is in fact a sandy causeway connecting the islet of Prassonisi to the mainland, a feat of nature that creates a unique double-sided stretch of golden sand that is occasionally submerged. It also happens to be a prime wind- and kite-surfing spot, big enough to accommodate everyone's whims. The island itself is a Natura 2000-protected habitat and Prassonisi is hands down one of the most Instagrammable beaches in Rhodes.
Amenities: Sunbeds & umbrellas, restaurant, water sports, taverna, parking
Access: By road
Fournoi beach
If you're looking for something peaceful and secluded, Fournoi beach – 75km from Rhodes town on the southwest coast – is a great choice. It's a remote, pebbly beach, with lots of little coves and caves for exploring and crystal-clear water, which can get wavy. There are a few sunbeds and umbrellas and a taverna in summer months. It's also close to the village of Monothilos, which has a Venetian Castle – one of several on the island. This one literally stands out due to the height of its location. Set atop a hill, it is accessible by stone stairs built into the rock (careful as they can be slippery) and offers one of the most breathtaking views of the Aegean.
Amenities: Sunbeds & umbrellas, snack bar
Access: By road
Glystra beach
With white sand and tropical vibes galore, Glystra is one of Rhodes' most laidback beaches. The setting is all the more magical for the carpet of lush vegetation on either side of the wide yet cosy cove, with clear, shallow water that's ideal for kids. Located in the southeastern part of the island and close to Lardos village, Glystra is what you're looking for if you're after a chilled beach in Rhodes.
Amenities: Sunbeds &umbrellas, snack bar, parking
Access: By road
12 of the best beaches in Rhodes
Rhodes is a fantastic sea and sun destination with an endless number of incredible beaches for all tastes. But it's also an island with a depth of history and natural wonders to discover, as well as culinary delights bursting with the flavours of local products and a robust wine tradition.
Book your trip
All your holiday planning needs in one place, letting you book direct and benefit from official online rates
Group
Group
5 hours
Free cancellation
Not sure? You can cancel this reservation up to 6 days in advance for a full refund
Group