READING TIME
As long as it takes to eat a slice of watermelon
If you've been lucky enough to feel the irresistible flutter of butterfly-shaped Astypalea, there are two notable side effects. The first is the urge to keep the secret to yourself and the second is to want to return every year. The Cycladic aura (even though it's a Dodecanese island) of Astypalea's bridal-white town and beaches are relaxing and energising. And that's before you've tasted the food, gone on a boat trip and enjoyed a cocktail in the glow of the lit-up castle. Simplicity has never felt so vitalising. Sound tempting? Check out our things to do on your holidays in Astypalea and decide for yourself.
A stroll around the energising Hora
Number one in our list of things to do in Astypalea is to discover the source of the island's famous energy. From Pera Gialos (the original port), you can see the sugar-cubed houses of the main town and its crowning glory, the Venetian Castle. There are cafes and tavernas and an Archaeological Museum in Pera Gialos before you climb the narrow streets full of colourful balconies, bougainvillea and little shops with friendly locals beckoning you in for a closer look.
Feeling relaxed yet revitalised on the beach
Each of Astypalea's beaches comes its own special feeling of escape. In fact, there's a different beach for every day of your holiday (and plenty in reserve for your next) on Astypalea. Some are sandy and some have pebbles and shingle, just as some are organised and some as free as the day nature created them. But they all ooze relaxation.
West of Hora are Vatses and Kaminakia, sandy coves with umbrellas and sunbeds or trees for natural shade as well as beach bars and tavernas (both are reached by going down a dirt road) and Livadi has a special view of Hora and the Castle. For remote beaches, there's Agios Konstantinos and boats leave from Pera Gialos for Agios Iοannis. Or head to Plakes or Chryssi Ammos in the central strip of the island, known as Steno (Narrow).
A boat trip to Kounoupes and Koutsomitis
Each morning, boats leave from the port of Pera Gialos for the islands tucked under Astypalea's wings. You'll find it hard to believe after your swimming experiences so far, but you'll be treated to water that's even clearer and more magical. First stop, the beach at Koutsomitis (turquoise or blue sea, you decide) and beyond that Kounoupes, effectively two islands connected by a strip of sand that makes an unforgettable double-fronted beach with nothing on it except a boho cafe. Chilled doesn't even begin to describe the experience.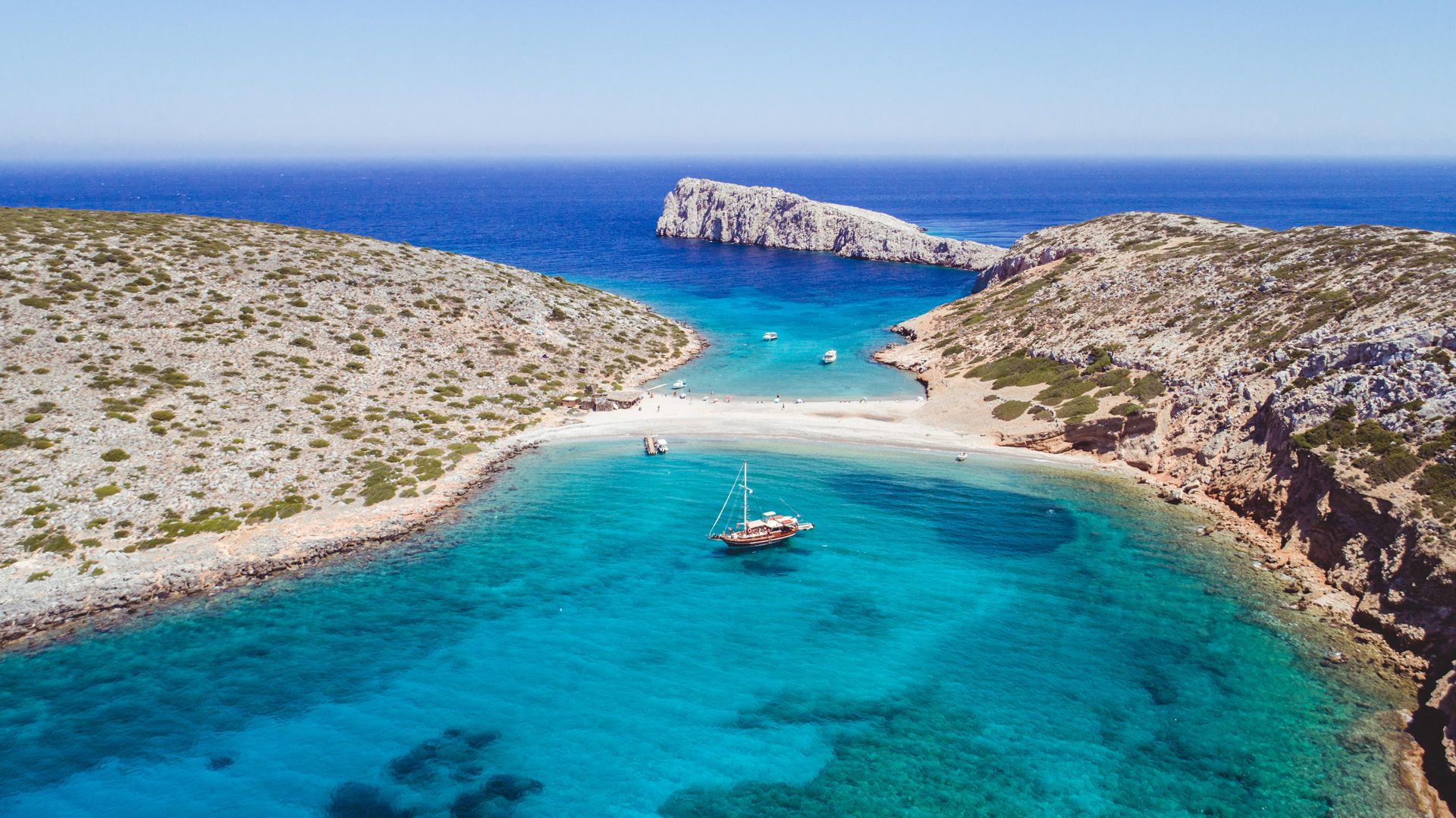 Eating like a local
Whether you're in a taverna in town or by the beach, every meal in Astypalea will feel like you've been invited to dinner by a local. It goes without saying that the seafood is fresh and plentiful, but don't miss the local dishes… lambriano (stuffed and roasted goat), lentil-based arntista and poungia with chlori (little pastry pockets filled with cheese and oven-baked). Lambrokouloura biscuits are one of many specialities scented with locally produced saffron. And for a sweet treat, ask for xirotigana, folded dough rings, fried and drizzled with honey from bees that feed on wildflowers.
Exploring the fishing villages
The last of your magical things to do in Astypalea is to visit the coastal villages. Maltezana (or Analipsi), the second-largest settlement, in northern Astypalea, ideal for combining a seaside taverna and more lazing on the beach. And, to see just how far the energy reaches, Vathi is at the top end of Astypalea's eastern wing, with a bay whose opening is so narrow it feels like a lake. There's a taverna here to make sure the feeling lasts.
5 of the best things to do in Astypalea
Casual yet stylish, relaxed yet energising and with beaches that capture the mood perfectly… Astypalea is a gem of an island in the Aegean.
Book your trip
All your holiday planning needs in one place, letting you book direct and benefit from official online rates
Group
Group
Group