EXPERIENCE
A boat trip to timeless Halki from Rhodes
A boat trip to tiny Halki from Rhodes introduces you to the smallest Dodecanese island, with aristocratic mansion houses, quaint alleyways and age-old simple island life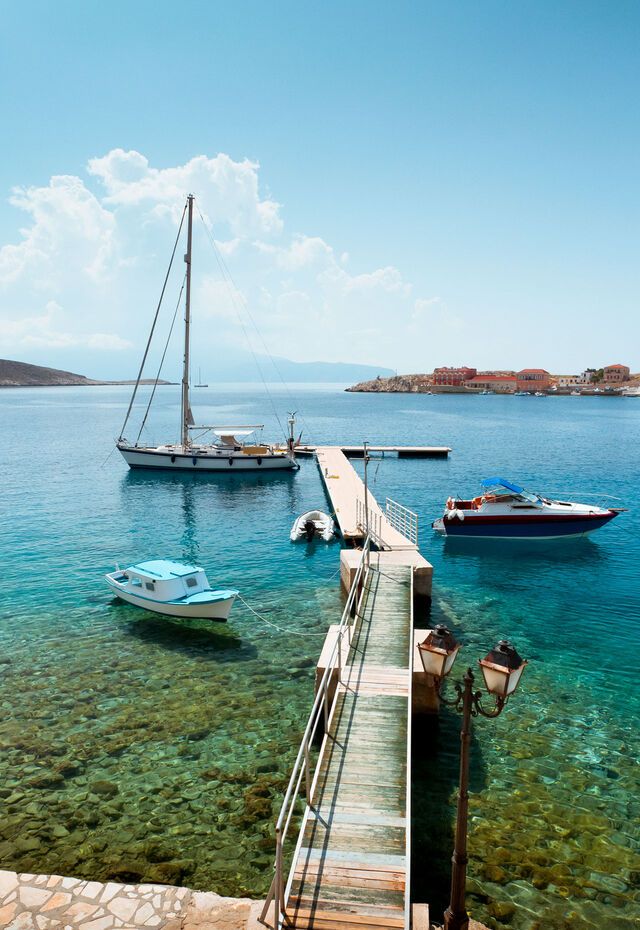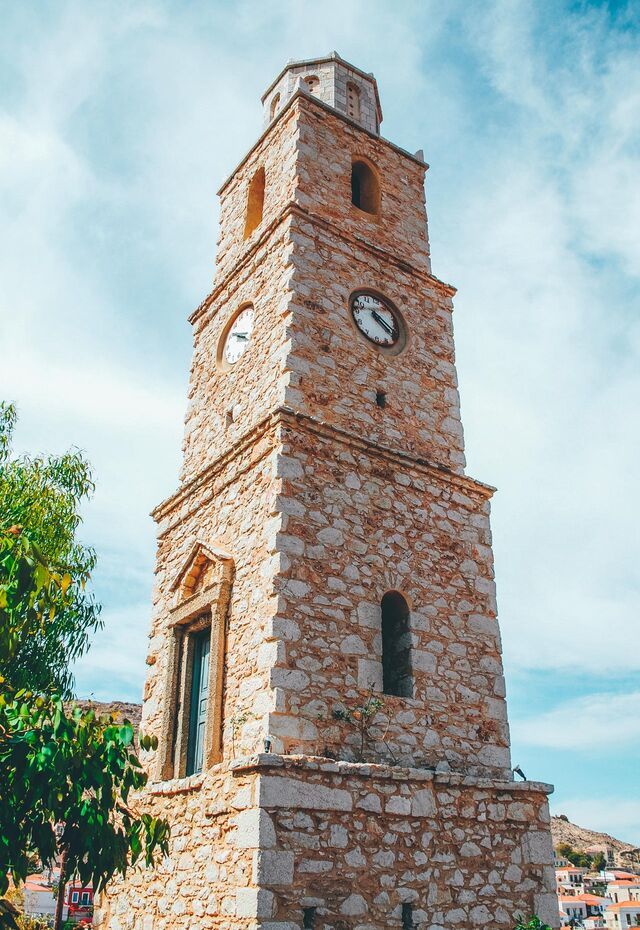 Duration
Full day
Season
June - October
OVERVIEW
It's hard to know what time of day it is when you arrive at Nimporio, the picturesque (and only) settlement of Halki. This, after all, is the place where the clocktower has read precisely twenty past four for more than 20 years – and fittingly so, for time seems to stand still on this remote Greek island off the western shores of Rhodes.
A day trip to Halki allows you to leave behind the bustle of cosmopolitan Rhodes. You'll enjoy the grandeur of colourful 18th and 19th-century mansion houses, extending amphitheatrically up the hill overlooking the port, with an age-old island way of life that melts your heart with its simplicity.
There are just a few hundred residents on Halki and virtually no cars … just the tranquil rhythms of the slow life on a tiny Dodecanese island. This, after all, is a place where even the chimes of the town's official clock were silenced because they were regarded as too loud.
DON'T MISS
Highlights of Halki island
The atmospheric port
You'll get a great feeling for Halki just by walking around the port. The mansion houses once belonging to captains are a reminder of this small island's grand seafaring past. And in tavernas, you'll find plenty of dishes of fresh fish, locally made pasta (known as makarounia) and ofto (meat slow-cooked opposite rather than over the flames). Once you've eaten, visit the 19th-century church of St Nicholas, with its bell tower supported by an arch partially built using ancient columns.
The alleyways
You could spend hours exploring Nimporio's beautiful little alleyways, lined with colourful houses and bougainvillea. If you're lucky, you'll be accompanied by the smell of baking in one of the bread ovens found in many of the homes here. Along the way, you'll pass the timeless (literally) clocktower located in front of the Town Hall.
The windmills
High on the hillside above Nimporio are three iconic windmills that stand like guardians over the harbour. The walk to reach them is well worth it when you see the panoramic views of the sea.
Nearby beaches
The beaches of Halki have soaked up all the serenity of the island. For white sand, head to popular Pontamos (10 mins west of Nimporio) and, for something quieter, Ftenagia (15 mins south). Another alternative is Kania, a picturesque pebbly beach 30 mins north of the port.
Book your trip
All your holiday planning needs in one place, letting you book direct and benefit from official online rates
Group
Group
5
Free cancellation
Not sure? You can cancel this reservation up to 6 days in advance for a full refund
Group
GET PLANNING
Where do boat trips from Rhodes to Halki leave from?
Rhodes main port
Large ferry boats for Halki leave twice a week from the main port of Rhodes but don't return on the same day. Smaller fast boats leave 2-3 times a week (departing at 8:00-9:00 and returning around 17:00-18:00). The main port of Rhodes is 15km (30 mins) by car, taxi or bus from the airport. There are frequent bus services (10-30 mins). For more info
Kameiros Skala port
Traditional tourist (kaiki) boats and fast boats to Halki leave daily from Kameiros Skala port in Rhodes (apart from Sundays). There are frequent crossings in the summer months, departing from 9:00-11:00 and returning between 16:00-18:00 (depending on the day). Kameiros Skala is 31km (35 mins) by car or taxi from Rhodes airport and 45km (55 mins) from the main port.
When is the best time to visit Halki in Greece?
Day trips from Rhodes run from June to October, after which you can only reach Halki on the larger (less frequent) ferries.
Tickets range from €8 for single ferry crossings to around €10 for a kaiki and €18 for a fast boat (return).
All boat trips are dependent on weather conditions.
Autumn
Spring
Summer
Winter
How long are boat trips from Rhodes to Halki island?
The length of the crossing from Rhodes to Halki will depend on your choice of boat and provider.
Your overall experience will last approx. 8-10 hours, depending on how you get there.
From Rhodes Main Port: Ferry boat 2hrs, fast boat 1hr 15 mins.
From Kamieros Skala: Kaiki 1hr 15 mins, fast boat 40-45 mins.

There are plenty of shops and places to eat on Halki but take note that there is only one bank ATM so bring cash with you just in case.
The beaches mentioned (Pontamos, Kania and Ftenaya) have sunbeds, canteens and tavernas.
You'll be doing plenty of walking, so make sure you have everything you need for a full day in the sun: