Containing all the grandeur and character of its original design, the fully refurbished Agora Modiano (the central food market of Thessaloniki) is a treasure trove of local and international products and a must for foodies visiting Greece's second city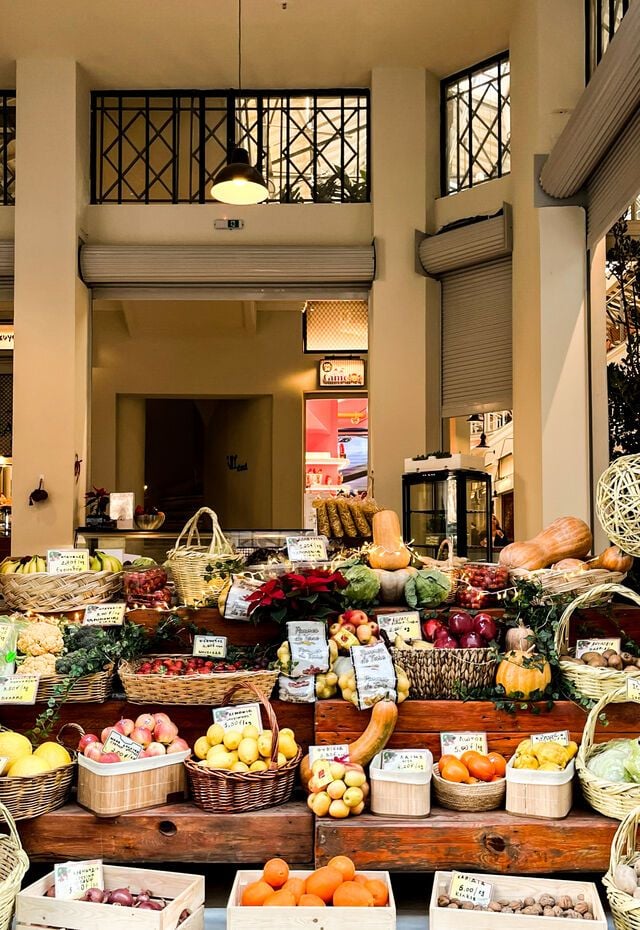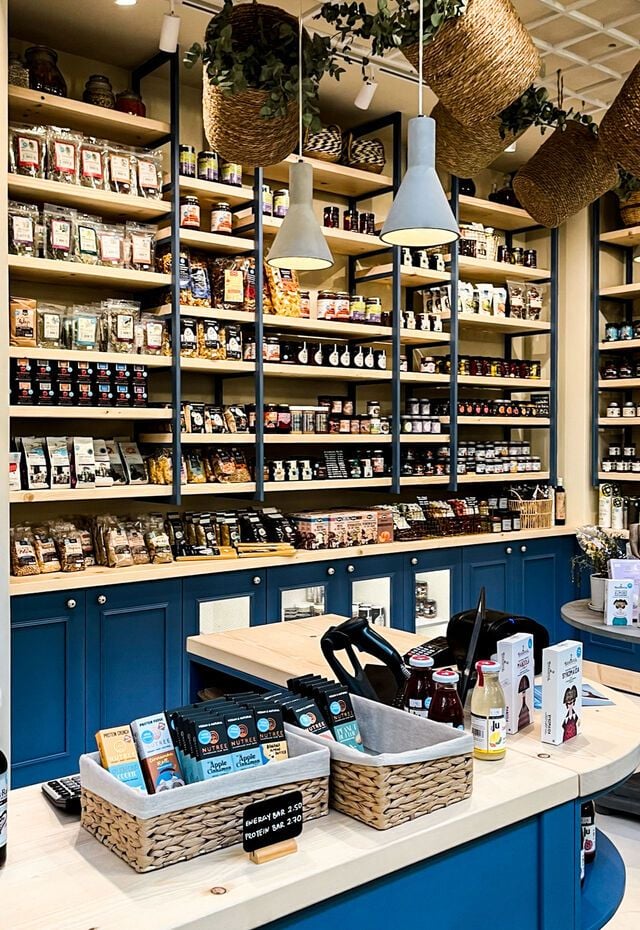 Duration
1-2 hours
Season
All year round
OVERVIEW
Thessaloniki has fully earned its reputation as one of the top foodie destinations in Greece. Everything from street food to high-end cuisine reflects the incredible wealth of cultures that have passed through or settled in this fascinating city as well as the legendary appetite for life of its residents. And at the heart of it all for almost a century – both as a city landmark and a functioning part of daily life – has been its central food market, known as Agora Modiano.
Visiting the city's largest covered market is a highlight experience for any self-respecting foodie on holiday in Thessaloniki. Fully refurbished but incorporating much of the original architecture (avant-garde back in the day), the Agora Modiano is a contemporary yet traditional food market whose history dates to 1922 when it was part of an ambitious redesign of the city centre after the devastating fire of 1917.
It was completed in 1930 by architect Eli Modiano, the son of a banker and member of a renowned local Jewish family, who studied architecture in Paris and is responsible for many of Thessaloniki's most important buildings. The partly glass roof and interior were reminiscent of a Parisian market but the colour and banter of the stall owners have always been Thessaloniki at its extrovert best.
Without losing any of the character and essence of its original design (including part of a mosaic floor), Modiano has been reborn as a modern and multicultural food market that is true to its ambition of combining the glamour of the past and the dynamism of the future.
The main entrances are below neoclassical pediments via Vasileos Irakliou St and Ermou St (a short walk from Aristotelous Square near the waterfront), leading into a basilica-shaped market with around 75 stalls divided into 'neighbourhoods' according to food type.
Fruit & vegetables, seafood, meat (premium and unexpected cuts), nuts & spices, cold cuts, cheeses and other delicatessen items all vie for your attention, while craft products include ice cream made with olive oil from Thessaloniki as well as cream, beers & wines from Greek microbreweries and vineyards, and artisanal breads & freshly baked biscuits.
Many of the stalls sell street food (including Italian and falafel and other vegan products) which you are welcome to eat at tables in a balcony area overlooking the main market, where you'll also find a zero-waste bar and brunch outlet. The balcony also doubles as a venue for music and food events and co-working spaces for digital nomads. So feel free to soak up the atmosphere (and order a second cocktail!).
The commitment to sustainability includes bioclimatic architecture and a neutral-waste policy, recycling not just paper and plastics but also food waste. That sweetness you taste in your cocktail might just be surplus syrup from a confectionery store! But above all, Modiano perfectly captures Thessaloniki's passion for food and sense of community.

GET PLANNING
What is the best way to get to Thessaloniki?
There are multiple ways to reach Thessaloniki, making it ideal for getaways throughout the year. It has an airport with international and domestic flights and is connected to Athens by the Greek National Highway (A1) (500km, 5hr15min by car). There are also land entry points between Greece and Bulgaria at the Promachonas border station (111km, 1hr25min from Thessaloniki), Turkey at the Kipi border station (337km, 3hr20min) and North Macedonia at the Evzoni border station (81km, 1hr5min). Finally, there are regular connections from Athens to Thessaloniki by public bus (KTEL) and train (more info here).
Where is Modiano Food Market in Thessaloniki?
Modiano Food Market is in the historic centre of Thessaloniki, with entrances on Ermou and Vasilieos Irakleiou streets. It is around 300m (3-5mins walk) from Aristotelous Square.
More Info here
What is the best way to reach Thessaloniki city centre from the airport?
You can easily travel from Thessaloniki airport to the city centre by hire car or taxi (18km, 30min) or bus (full schedule here).

When is the best time of year to visit Thessaloniki?
Thessaloniki is a wonderful city break destination all year round, with every season offering something different. Spring and autumn are the most comfortable seasons for strolling around the city (with lower temperatures and fewer people) and for getaways from Thessaloniki. In summer, you can combine your holidays in Thessaloniki with trips to the beach (including beaches in Halkidiki) and the festive spirit of Christmas in Thessaloniki is one of the best in Greece.
How long do you need to visit Modiano Food Market in Thessaloniki?
A quick tour of Modiano market takes around 30mins, or you could spend 1-2 hours going around each stall. It's also worth including breakfast or lunch in one of the restaurants or cafes.
ROAD-TESTED EXPERIENCE
This experience has been road-tested by Discover Greece, including sending international journalists to live the experience for themselves. Here are some of their highlights: