Going village-hopping in Thassos introduces you to unforgettable traditions and local crafts & products and offers a perfect contrast to the famous beaches and turquoise water of Greece's northernmost island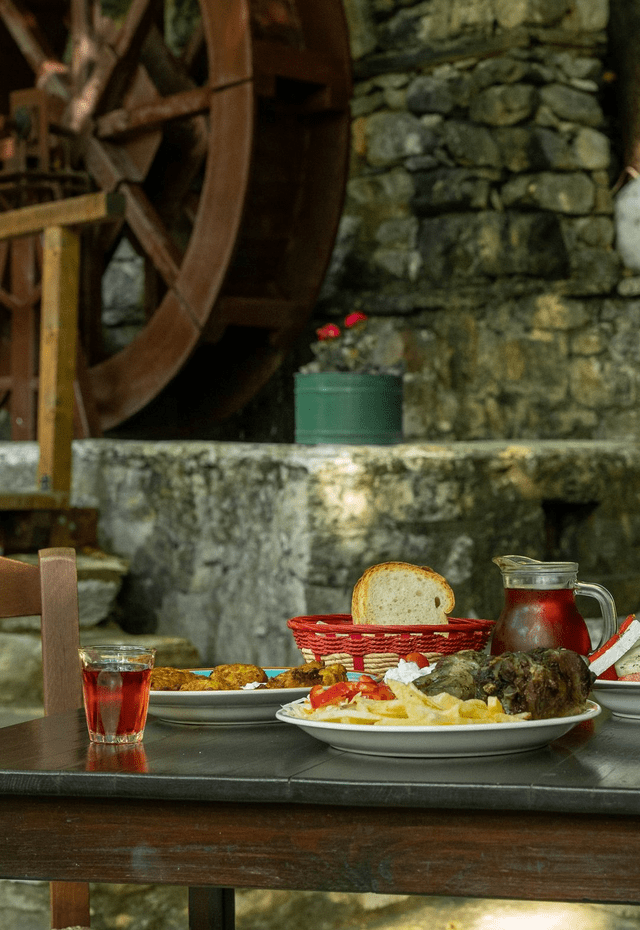 Duration
2 - 3 days
Season
All year round
OVERVIEW
You might already have heard of Thassos' pristine beaches and the Instagrammable beauty of Giola lagoon. But there's another secret on this island in northern Greece. Within its emerald-green, hilly interior you'll find mountain villages that are a wonderful contrast to the picture-perfect coastline. There's certainly nowhere better to meet locals keeping alive traditional crafts and creating products like thyme-honey and extra-virgin olive oil.
Thassos has 22 settlements, some along the coast and others in the hills. We'll be concentrating on the mountain villages here but, before getting started, make sure to give Limenas the attention it deserves. It's the main port (with regular ferries from Keramoti on the mainland) but it's small enough to have a village feel itself and offers cultural highlights such as the Old Harbour and Archaeological Museum and monuments like the Acropolis and the Ancient Theatre and Agora of Thassos. Visiting them will make your appreciation of the cobblestone lanes, mansion houses and Macedonian architecture of the villages all the greater.
Your first impression of mountain villages like Panagia, Potamia, Kazaviti and Theologos will be how harmoniously they blend in with the landscape. Many are built into the hillside or valleys, surrounded by fir, pine and chestnut trees and running water (especially in spring). If you're into hiking, the mountain footpaths are a must or you could just find a picnic spot and admire the view. Thassos' mountain villages were originally protective enclaves and lookouts in the days of pirate raids, meaning the sea views are out of this world.
So if Thassos is your choice for a holiday in northern Greece, or you want to combine it with other destinations on the mainland (like Kavala), you're in for a treat as we go mountain village-hopping on Greece's northernmost island.

DON'T MISS
Panagia
Village life starts just 7.6km (12mins by car) outside Limenas, 300m up the tree-filled lower slopes of Mt Ipsarion (1,204m). Panagia was the capital of Thassos after the revolution against the Ottomans in 1821 and still has a year-round population. The roofs of the mansion houses are in the Macedonian style, with local grey slate, and the highlight – as with most traditional Greek villages – is the square, with three water sources, cafes and tavernas. It's the perfect spot for a Greek coffee and walnut spoon-sweet and to just soak up the atmosphere.
The main church (Panagia) is named after the Virgin Mary, the patron saint of the village, and becomes the centre-point of celebrations on August 15 (the Assumption of the Virgin Mary) and Clean Monday (the first day of Lent and the start of the pre-Easter carnival, with plenty of merriment involving costumes, floats and food & wine). There's an Olive Museum and a watermill that is still used to press olives, and the start of a footpath up the mountain. Just 6km away is Golden Beach (Chrysi), if you feel like a swim.
Potamia
You reach even higher up the slopes of Mt Ipsarion with the next village, a couple of kilometres to the south. The secret to Potamia's charm lies in its name, which means 'rivers' in Greek. The landscape is even lusher here and the views even more magical. Especially in the spring months, you'll encounter plenty of running water. Just as memorable will be the famously spirited locals, many still involved with traditional crafts and professions, such as tending olive trees and animals. The thyme-honey on sale in the village is worth the journey on its own.
There is also a small museum with works of sculptor Polygnotos Vagis, who made a name for himself in America and left a collection of his artwork to his home village. The main church, Agios Dimitrios, dates from 1845 and, like its neighbour, Potamia is at its liveliest during the Lenten celebrations. You can hike along one of the surrounding rivers or towards the summit of Mt Ipsarion or head down to the coast for a swim, with Golden Beach 3km to the east.
Kazaviti (Mikros & Megalos Prinos)
You visit not one but two villages next, heading around the northern coast of Thassos and past the coastal settlement of Prinos. Mikro (small) and Megalo (large) Kazaviti – also known as Mikros and Megalos Prinos – are the oldest settlements on Thassos, around 600m from each other within dense vegetation on the western slopes of Mt Ipsarion. The first settlement you get to on the narrow, winding road from Prinos is Mikro Kazaviti, nestled within plane, beech and cypress trees. You'll adore the cobblestone streets and stone houses with wooden balconies and the Church of St George, so stay a while to explore. As you exit the village, there's a theatre on your left where summer festivals called Kazavitiana are organised.
Megalo Kazaviti is a few minutes up the road, in which you'll find more local architecture and a traditional Greek mountain village square with age-old plane trees for shade and tavernas serving local dishes. If you enjoy slow-cooked meat, you're in for a treat (as you are in all of Thassos' mountain villages). Around the square are narrow lanes, in which you will find the churches of the Twelve Apostles (check out the bell tower and wood-carved ceiling) and Zoodohos Pigi. The countryside is magical, with forest and cultivated land (including vines). Just above Kazaviti is the Chapel of St Ioannis, which celebrates every year on August 29 with plenty of food & wine, and nearby is the Monastery of St Panteleimon, built in 1834 and with a cave next door that was visited by the saint after which the monastery is named.
Theologos
Driving around the western coast and into the southern foothills of Mt Ipsarion, you reach one of the most historically significant villages of Thassos. Theologos was the administrative and trading capital in Ottoman times and is full of authentic touches, such as Macedonian architecture, watermills and little wooden bridges. The churches of Agia Paraskevi and Agios Dimitrios have ornate wooden temples and there are tiny cafes and traditional tavernas within and outside the village. The roasted goat and local wine are a speciality.
There are plenty of shops selling local crafts (some of them are created from the famous marble of Thassos) and products (if you didn't pick up a jar of thyme-honey earlier, do so now) and Hatzigeorgis Mansion (once owned by a renowned resistance fighter) has been turned into a folk museum with everyday tools and utensils and a representation of a traditional Thassos village home. Other highlights in the area are the artful Stone Bridge of Theologos (from 1917 and once vital for locals to reach the coastal settlement of Astrida during heavy rainfall) and the Kefalogourna Waterfalls (from where you can pick up a hiking path), as well as old lime kilns and watermills. A bonus, if you are visiting at the end of August, is the re-enactment of a traditional Thassian wedding. On the coast just to the south is the Monastery of the Archangel Michael, the largest on Thassos, with a spectacular view of the Aegean and from where a festival procession heads towards Theologos on the first Tuesday after Easter.
Maries
Last but not least is tiny Maries, 4.2km beyond Theologos and amphitheatrically built in a ravine. You'll find just a couple of tavernas and a traditional cafe (kafenion). With even fewer visitors, the tempo is even slower here and the sunset view is one of the best on the island. You pass the Monastery of Panagouda as you approach the village and nearby is a mountain lake, set in magical natural surroundings. There are various versions of the origin of the village name, including one involving the only survivors of a pirate raid, both named Mary.
Book your trip
All your holiday planning needs in one place, letting you book direct and benefit from official online rates
GET PLANNING
What is the best way to visit the mountain villages of Thassos?
The ideal departure point for your Thassos village-hopping experience is Limenas (the main port of Thassos), which you can treat as part of the experience, as the island's 'lead village'.
From Limenas, your best experience will be to hire a car or take a public bus or taxi. If you have a car, it is possible to visit all the settlements (Limenas, Panagia, Potamia, Kazaviti, Maries and Theologos) in a day, driving 97.4km (around 2hrs) in total.
Alternatively, you can spread the itinerary over two days, first visiting Panagia and Potamia (11.1km, 20mins) and then Kazaviti, Maries and Theologos.

What is the best way to reach Thassos island in Greece?
There are regular ferries from Keramoti to Limenas (approx. 40mins, from €4 for passengers) and from Kavala to Prinos (approx. 1hr20min) More info here.
Keramoti port is 40km by car or bus from Kavala, which has an international airport and is also a fascinating addition to a holiday in Thassos.
Kavala is 171km (1hr50mins) from Thessaloniki (which has an airport for international and domestic flights).

When is the best time of year to visit Thassos' villages?
The villages of Thassos are alive with locals going about their daily life all year round.
Even during the peak holiday period of July-August, Thassos' villages are quiet and offer an excellent change of tempo (and temperature) to the island's popular beaches and cultural sites.
Spring, late-summer and autumn are ideal times of year to enjoy the mountain forests.
Museum and cultural sites:
Limenas
The Archaeological Museum of Thassos: Open daily (except Tuesdays) from 8:30-15:30, with extended opening hours until 20:00 during the summer months. It is closed on national public holidays and not all areas are accessible for visitors with mobility difficulties. Entry: €4 (€2 reduced). Tel +30 25930 22180.
Theologos
Folk Museum of Theologos: Open daily from May to October from 10:00- 22:00. More info: +30 25930 31307.
Potamia
Polygnotou Vagi Museum: Open Tuesday to Saturday 09:30-12:30 and 18:00-21:00 and Sunday 10:00-12:30. Closed Monday. Tel: +30 25930 61400.
How long do you need to visit the villages of Thassos?
If you visit all the settlements described here on the same day you will need at least 2hrs driving time.
It's worth spreading the experience over two days to fully enjoy the traditions and local crafts and ideally spend the night in one of the villages.