EXPERIENCE
A guide to the local products and food of Rhodes
Bursting with flavour, the local products and food of Rhodes manage to blend the island's age-old traditions and cosmopolitan influences in a way you'll never forget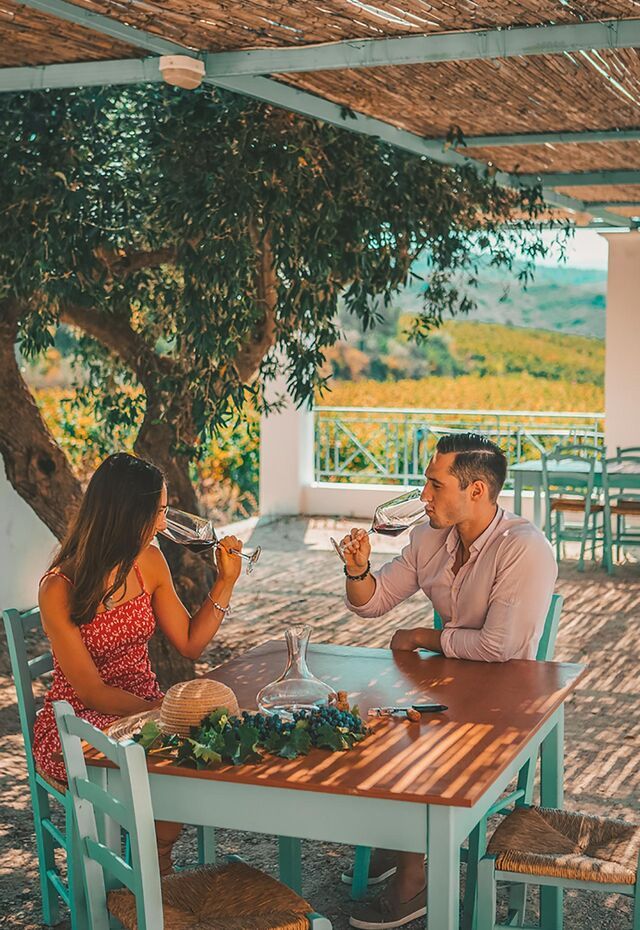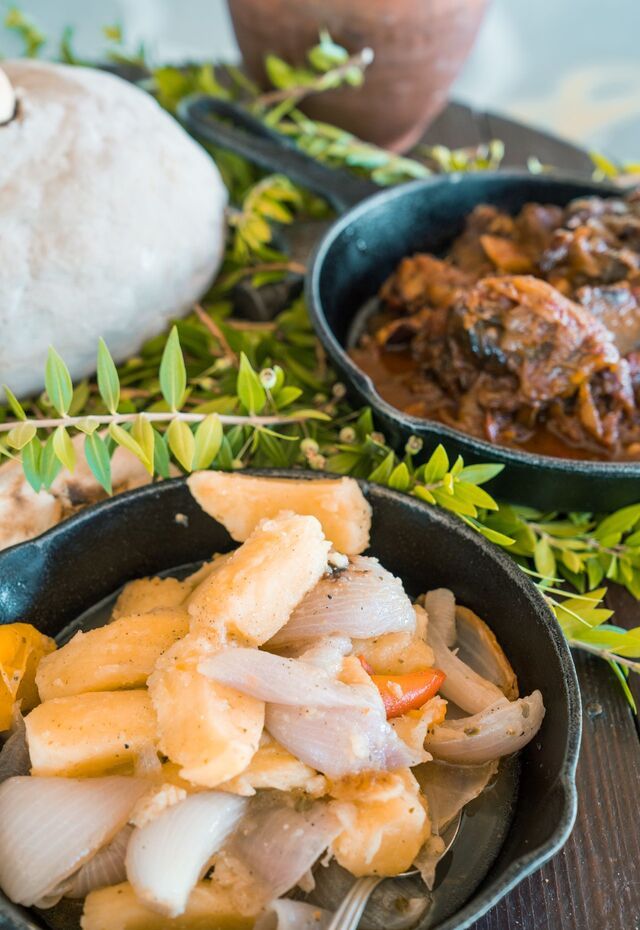 Duration
2 - 5 hours or 2 - 3 days
Season
All year round
OVERVIEW
Whether you visited Rhodes in antiquity, the Middle Ages or today, you'd be in for a culinary treat. Throughout its long history, the largest Dodecanese island has always managed to combine its mild Mediterranean climate and influences from Asia, Africa and Europe to its advantage. So when it comes to enjoying the local products and food of Rhodes, you're in for a real treat.
From fresh fish and seafood to robust meat dishes (often with cumin, a rare spice in Greek food) and outstanding fruit & vegetables and vineyards, the experience will remain with you every bit as much as the beaches or exploring the medieval Old Town of Rhodes.
You'll find cheeses, olive oil, vegetables, wild greens, berries, pulses, dried fruit, bulgur wheat (a staple of many Rhodian dishes) and a range of freshly-made pastas and local wines … all ingredients that aren't just incredible in flavour but in variety too. Just as the pastries and sweets of Rhodes are brought to life with a drizzle of aromatic honey and sprinkling of chopped nuts.
DON'T MISS
Highlights of the local products and food of Rhodes
Your culinary journey on Rhodes can include visiting wineries and local producers, or you could literally spread the experience over your holiday as you sample the meze-like dishes in tavernas.
The wine
There are numerous wineries on Rhodes, producing wines that match the smoothness of the climate. The traditional grape varieties – white Athiri and red Mandilaria (known locally as Amorgiano) – are still going strong, as are Assyrtiko, Malagouzia and Mavrothiriko. But European varieties such as Chardonnay, Sauvignon Blanc and Cabernet Sauvignon have also been successfully introduced. With vineyards split between lowland and hilly regions, it's a chance to appreciate the island beyond its coastline. Athiri, the main grape of PDO Rhodes (one of four Protected Designation of Origin wines), is cultivated on the slopes of Mt Attavyros, while Mandilaria is produced in lower areas.


The honey
You won't be allowed to leave Rhodes without trying the local honey. It is drizzled on pies (savoury and sweet), poured over yogurt and added to sesame seeds and nuts to produce melekounia bars, served at weddings and baptisms and eaten as an energising snack. You can visit Melissokomiki Dodecanisou (the Beekeeping Company of the Dodecanese), which has gathered a cooperative of around 70 beekeepers and stocks a variety of honey (thyme, pine, blossom…) as well as other beehive products (royal jelly, wax and pollen and even shampoos and soaps). And there is an accompanying Bee Museum (the only one in Greece), where you can learn all about Rhodes' beekeeping tradition since antiquity.
The local dishes
Now's the time to be introduced to Rhodes' local cuisine. There are so many dishes that it's hard to know where to start. Don't leave without sampling lakani (goat, chickpeas and coarsely ground wheat known as chondros, spiced with cumin and baked overnight in a ceramic pot), pitaroudia (fried tomato balls with onion), cuttlefish risotto (cooked with cuttlefish ink), talagoutes (pancakes with honey, grated almonds and sesame seeds), giaprakia (coarsely ground mince wrapped in vine leaves), karavoli (snails fried in red sauce with onions and cumin). The list goes on. All washed down with a Rhodian wine, or perhaps a locally brewed beer.
GET PLANNING
What is the best way to get to know the food of Rhodes?
Enjoying food in Rhodes is something you'll experience throughout your holiday but you can also book an organised tour (usually within the medieval Old Town) that includes food and wine-tasting and sampling local products.

What wineries can you visit in Rhodes?
There are many wineries in Rhodes that can be visited. A sample of those offering wine-tasting and vineyard tours is given below (with distances from the Old Town). It is worth contacting them before visiting.
How do you get from Rhodes airport to the main town?
You can hire a car or take a taxi or bus from Rhodes airport to the main town (23km, 37 mins). The bus stop is located between the new and old terminals and tickets can be purchased from the bus driver.
When is the best time to visit Rhodes?
Rhodes is an island that can be enjoyed all year round, with each season giving a different atmosphere. But it does get crowded in the summer so it's worth visiting in the quieter and cooler periods (May-June and September-October).
Visiting vineyards is best in April-May (the weather allows for all sorts of outdoor activities, such as cooking classes and wine-tasting in the vineyards) or in September to witness grape pressing and bottling.
Autumn
Spring
Summer
Winter
How long are food tours on Rhodes?
Group or private tours usually last 3-5 hours depending on the number of stops.
Doing all the experiences mentioned here will take 2-3 days.
A visit to a winery will last 2-3 hours, depending on the experiences you choose.
A visit to the Melissokomiki Dodecanisou and Bee Museum lasts 1-2 hours.