EXPERIENCE
Medieval village hopping in Chios
Once the prized possession of the Byzantines and Genoese, the medieval villages of Chios tell a unique story of architecture, tradition, fortification and – above all – mastic production and other time-honoured crafts that await discovery.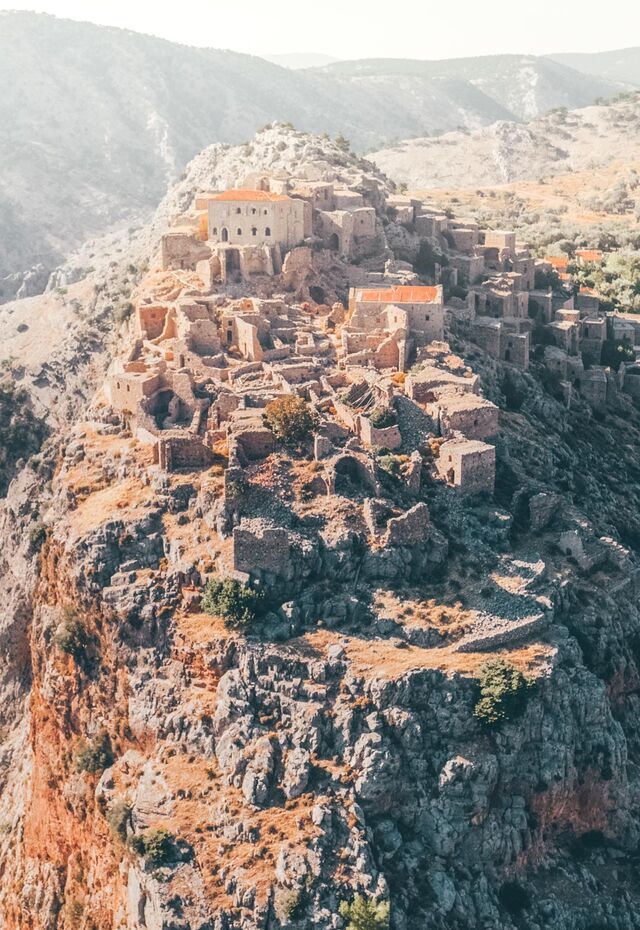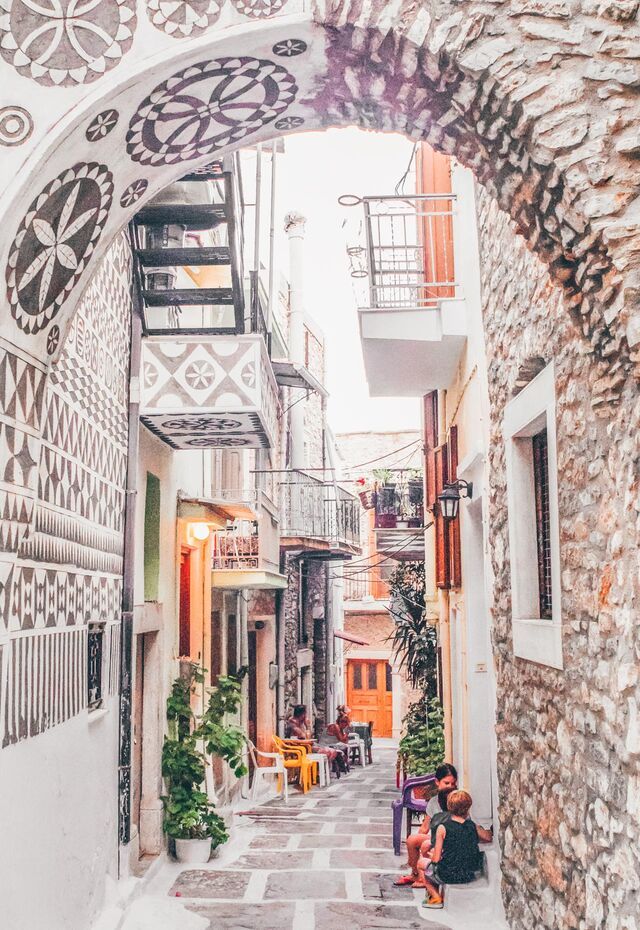 Duration
Full day
Season
All year round
OVERVIEW
There are more than 60 villages on the island of Chios, but you only need to visit a handful to discover the story of a unique island in the North Aegean. And this is especially true when it comes to Chios' medieval villages, found predominantly in the south of the island.

Many belong to what are known as the 'Mastic Villages' – so valued culturally that, collectively, they are a UNESCO World Heritage Site. In visiting them, you'll quickly understand that the distinctively scented resin, produced only on this island, is inextricably woven into the social and economic fabric of each village.

But your interest in Chios' medieval villages (not all of which are mastic producers) will go far beyond the valuable resin. You'll love the architecture and design, including the wonderfully detailed pottery work and craftsmanship that has survived within each settlement.

The villages aren't just influenced by the Byzantines (although many of the fortifications and towers are from this period), but also the island's Genoese occupiers from 1346-1566.

The Genoese intensified Chios' mastic production and introduced the tightly-packed houses and domed rooftops that served, respectively, as protection and as a lookout for pirate raids. Nowadays, thankfully, the villages are highly prized for different reasons.
DON'T MISS
Armolia
We start in one of the mastic villages, known for its beautifully decorated ceramic pots, mugs and jugs, as well as its narrow streets and arches that allow us to imagine it before it was destroyed and largely rebuilt. The Byzantine Castle of Apolichnon is found on a nearby hill.
Kalamoti
Situated in the second-largest and most fertile plain of the island, filled with olive and fruit trees. Kalamoti is a village of 850 or so residents, most of whom are involved in mastic production. As you walk around the village, you'll admire the two-storey houses and ornately carved doors. The two defensive towers and fortified perimeter will tell you of the importance of this village to the Genoese.
Pyrgi
The largest medieval village on Chios. Pyrgi's reputation precedes it in the form of sketches and paintings of its ceramic 'xysta'. These detailed and decorative black-and-white geometric designs adorn the facades of houses. Take your time to amble down the cobblestoned alleyways, admiring the artwork. And before you leave, visit the 13th-century Byzantine church of Agios Apostolos, one of many churches.
Olymbi
With the walls of homes joined together and a 20m tower in the centre of the village, Olymbi gives an excellent feeling for the lengths taken to protect the mastic villages. There are several medieval churches to visit, including Agia Paraskevi, with its ornately wood-carved iconostasis, and be sure to pass by the Trapeza of Olymbi (a two-floor medieval building once used for weddings). A nearby cave (also called Olymbi) has impressive stalagmites and stalactites.
Mesta
The furthest south of the medieval villages is one of the best-preserved. Mesta is another village whose architecture reflects both the riches and defensive needs of mastic production, with only two routes in and out of the village. You should visit the Church of Palio Taxiarhi, with its vaulted basilica and elaborate wood carvings. The village also has a good selection of tavernas and cafes, in which you can try souma (an ouzi-like drink made from distilling figs) or the village wine, or perhaps loukoumades (fried honey balls).
Vessa
A small, beautifully preserved village, Vessa is notable for its towers and fortified walls. It's another medieval village perfect for just strolling around. If you haven't stopped for a meal yet, make sure you do so in a traditional taverna in the village square.
Anavatos
Lastly, we head to the uninhabited village of Anavatos, set apart from the mastic villages on a steep hill. The stone wall that surrounds the village gives it a semblance of a fort, but that didn't stop it suffering during the Massacre of Chios in 1822, at the end of the Ottoman occupation, after which it was abandoned. There are around 400 mostly open houses, allowing you to inspect the wooden ceilings, very small living spaces, low doors and small rounded windows.
Book your trip
All your holiday planning needs in one place, letting you book direct and benefit from official online rates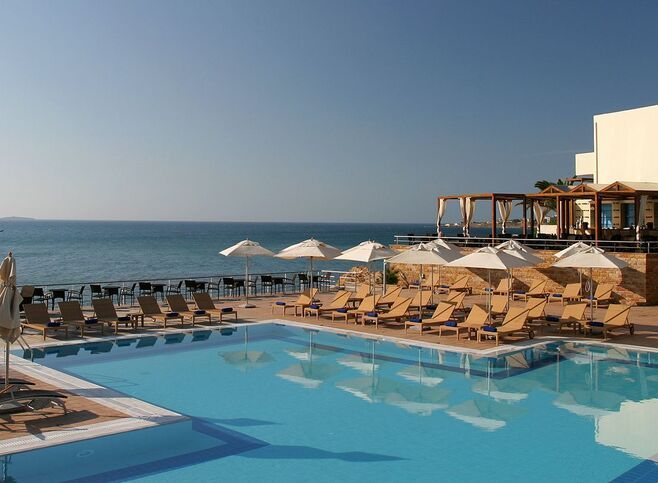 Accommodation
Chios
Erytha Hotel Resort is a seaside 4 star hotel of 125 rooms at karfas area of Chios island...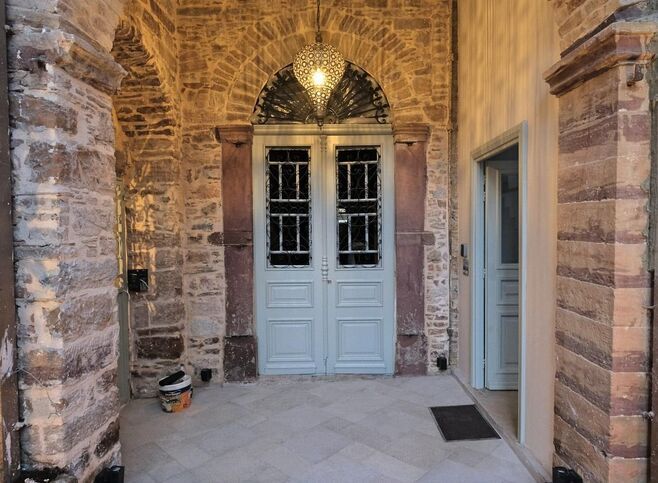 Accommodation
Chios
Agora Residence is located at the heart of Chios town, in the most commercial street, called Aplotaria Str. The renovat...
GET PLANNING
From Chios town to Armolia
From Chios town to Anavatos
From the airport to Armolia
From the airport to Anavatos
You can visit the medieval villages of Chios all year round, but the ideal months are April-October.
Museums and cultural sites:
Olymbi Cave
You can visit with a guide from the beginning of May to September.
Open daily 11:00-18:00 (except Mondays)
It's possible to visit all the villages in one day (with the exception of Anavatos, which is quite far away and should be visited separately). The circular route for the daytrip is 60km to the last village and a further 20km to return to Chios town.
The villages of Armolia, Kalamoti, Pyrgi, Olymbi and Mesta are around 10min from each other and can all be combined with a visit to Vessa before returning to Chios town.
TRAVEL RESPONSIBLY
Let's all try to keep the magic of Greece's villages, towns and cities alive for future generations.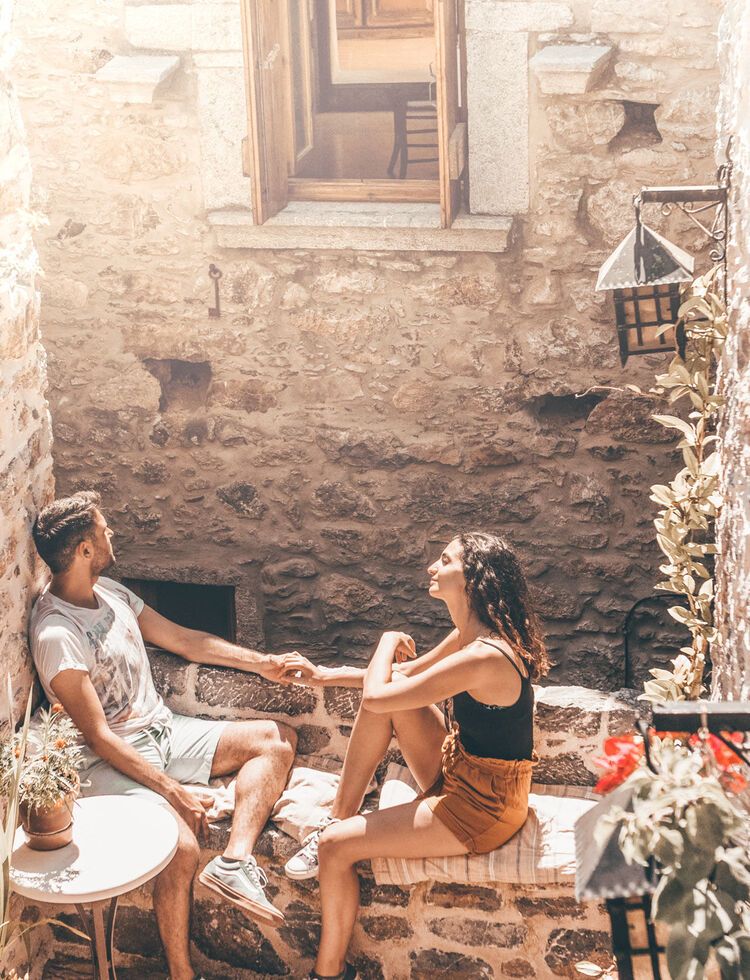 Keep the streets as clean as possible by using the bins provided or, if necessary, keeping your rubbish with you until you find one.
Use a refillable water bottle to try to minimise your use of plastic.
Explore your surroundings but please keep to designated paths for your own safety and to avoid disrupting the flora and fauna.
Do your best to support small, independent family-owned stores and local producers, taking home something handmade and local.
Respect the plants and animals.
Respect your fellow visitors and the locals.
Be inquisitive and definitely ask the locals for tips.