READING TIME
As long as it takes to eat a souvlaki
Chios may be an island best known for its mastic tradition, stone fortress villages and seafaring ingenuity, but if you haven't heard about the beaches, you don't know the half of it. There are more than 90 which (just like the island itself) are incredibly diverse. So if your idea of a quiet Greek island holiday doesn't involve you constantly Insta-snapping on your phone and wondering where to go next, allow us to introduce some of the best beaches in Chios so you can start planning your holidays in the North Aegean. Enjoy.
Mavra Volia beach
Mavra Volia is unlike any other beach in Greece. The reason? Its shore is made up of big, black, shiny pebbles thanks to a volcanic eruption from the nearby Psaronas crater (inactive, don't worry). The dark but crystal-clear waters are just what you'd expect from one of the most memorable beaches in Chios. It's very close to Emporio port and surrounded by a green canopy of rocky vegetation. And there's a little path that leads to a larger neighbouring beach that you might want to check. Mavra Volia can be affected by southerly winds, but it's protected from northerlies and is a must on your holidays in Chios.
Amenities: Snack bar, parking, nearby tavernas
Access: By road

Vroulidia beach
Great things come in small packages and Vroulidia beach is testament to that. This quiet strip of sandy paradise is backed by impressive white cliffs and its thick pebbly sand is lapped by incredibly coloured green-blue water. Sitting at the southernmost tip of the island, on Cape Oura, Vroulidia is ideal for snorkelling. And if you tire of that, you can always head to nearby Pyrgi, one of Chios' best-known medieval villages.
Amenities: Snack bar, parking
Access: By road & steps

Agia Dynami beach
The beaches of Chios come in many shapes and sizes. Agia Dynami, while small, packs a wallop. Named after the tiny chapel found at its eastern edge, it boasts emerald-green waters and a mixture of fine sand and pebbles and wouldn't be out of place on one of the Cyclades islands. On top of that, its relatively shallow waters are ideal for young children. It's one of the best options if you're looking for quiet Greek holidays, as it doesn't attract a whole lot of people, although be aware that it can get windy. If you fancy combining your day at the beach with visiting one of Chios' mastic villages, Olymbi and Mesta are nearby.
Amenities: Some natural shade
Access: By road
Avlonia beach
Wedged inside a cosy, secluded bay, sandy and pebbly Avlonia beach (underneath Mesta village) is the definition of calm and serene. And while the waters may be cool (as is the case with most west-facing beaches in Chios) they are also incredibly clear. Avlonia located next to the equally impressive Salagonas beach. Note that another beach with the same name exists underneath quaint little Pyrgi village, reachable by hike, so be careful you don't confuse them.
Amenities: Beach bar, sunbeds & umbrellas, parking
Access: By road

Apothika beach
One of the most fun beaches in Chios (with sand and pebbles), Apothika beach is popular with just about every age group. Its water sports facilities allow you to rent a SUP, canoe or kayak and explore the cove-filled coastline at your leisure. The beach bar also runs a scuba diving school, with its location, deep inside the cove, affording you the requisite wind protection. Should you venture inland, try stopping by Mesta.
Amenities: Beach bar, sunbeds & umbrellas, water sports
Access: By road & steps

Glari beach
Glari beach is one of the most cosmopolitan beaches in Chios. It also comes with a quirky backstory as it used to be a quarry, with nature slowly chiselling it down into its present shape (its name comes from the incumbent seagulls). And this sandy beach throws up another curveball as its waters are made cooler by a spring trickles down the mountainside. Otherwise, feel free to mingle at the beach bar or rent some water sports equipment (SUPs, canoes and kayaks) and explore.
Amenities: Beach bar, sunbeds & umbrellas, water sports
Access: By road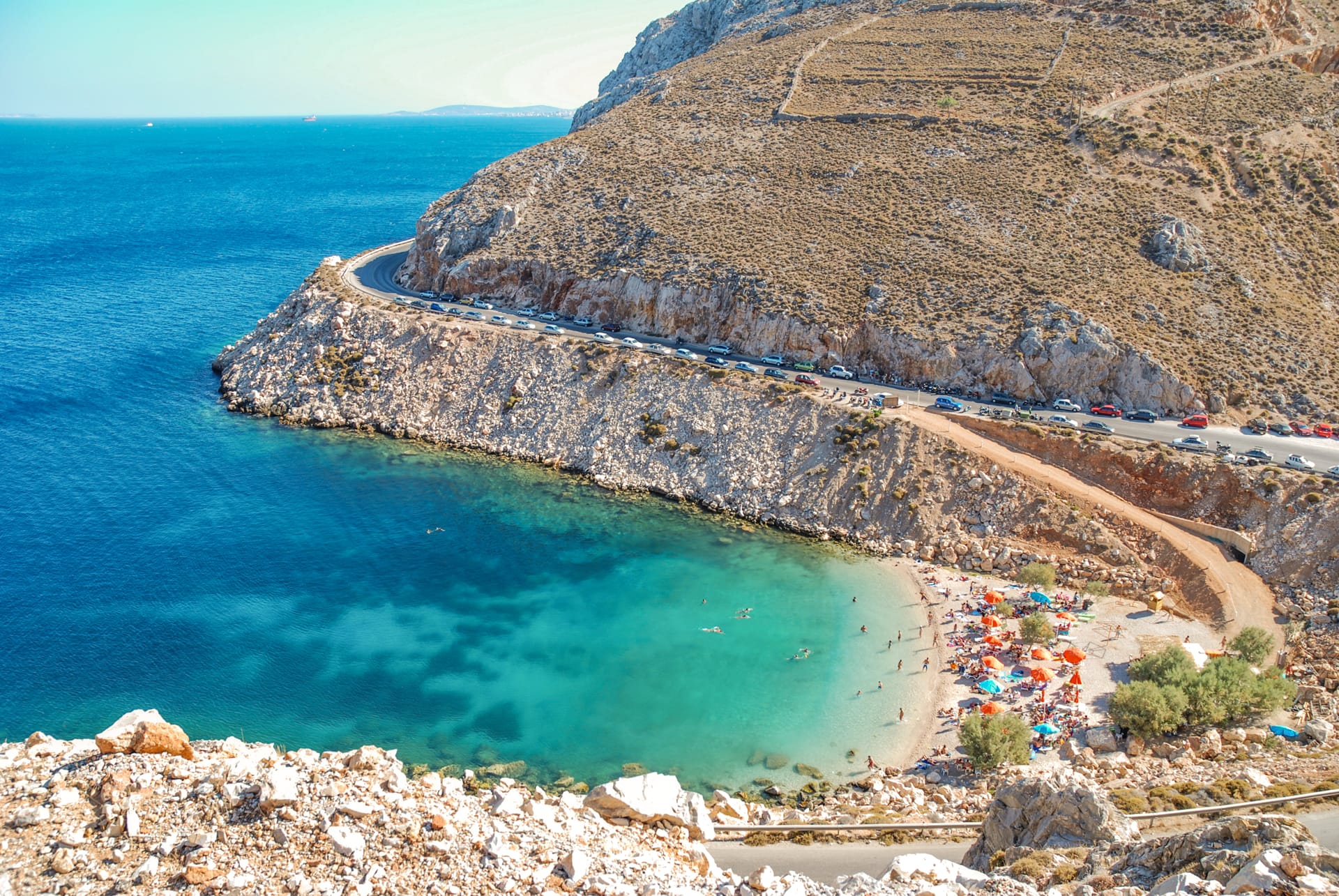 Trachili beach
Your holidays in Chios wouldn't be complete without a visit to pebbly Trachili beach. This secluded gem should be on your quiet Greek holiday bucket list due to its amazingly clear waters and the charming view from the pirate lookout on the Vigla plateau. Trachili sits at one side of a tiny peninsula, so make time to explore the nearby area as well as Gyali and Elinda beaches. This is without doubt one of the most picturesque beaches in Chios and as a bonus, it also enjoys warmer water than most.
Amenities: None
Access: By road

Giosonas beach
Wild and beautiful, Giosonas beach lies on the northern edge of the island and is a long stretch of pebbly goodness. Myth has it that Jason once passed by here on his way to (err…) fleece the Golden Fleece, hence its name. The surrounding area is home to the biggest gorge in Chios as well as a stream that ends up in the sea. Not to be missed is nearby Nagos and its delightful sea-facing tavernas. Few people visit, even during summer, so get that wanderlust going.
Amenities: Sunbeds & umbrellas, beach bar
Access: By road

Lithi beach
If you want relaxation but also need your comforts, visiting the quaint fishing village of Lithi should be one of your top priorities. Lithi beach is well endowed, enjoying shallow and clean green-blue waters and sandy shores, and is ideal for families and children. It is fully organised and famed for its freshly caught fish (best enjoyed at the cute little taverna right on the sand) and easy disposition. Catching the sunset by the chapel of Agios Nikolaos is not to be missed.
Amenities: Sunbeds & umbrellas, tavernas, beach bar
Access: By road

Agia Fotini beach
Catering to one and all, the family-friendly Agia Fotini beach (also known as Agia Fotia) and its scenic seaside settlement will grab you instantly. Its youthful, energetic vibe and convenient location are an awesome perk, and the fine pebbly beach itself is top-notch, with a Blue Flag certificate to show for its pristine waters. Rent a SUP and splash around, or sit back, relax and take advantage of the facilities. Agia Fotini is one of the most popular beaches in Chios for a good reason.
Amenities: Sunbeds & umbrellas, beach bar, tavernas, water sports
Access: By road
Bonus: If you are staying in or around Volissos in northwestern Chios, Managros and Agia Markella are great beach options. Agia Markella has sunbeds & umbrellas as well as a beach bar and taverna and the sunset from both (as with all the beaches on the west coast of Chios) is amazing.
The best beaches in Chios
Chios is a unique island that blends culture and fun seamlessly. Its beaches are a luminous spectrum of colours for all tastes and age groups. Come for the mastiha, stay for the beaches.
Book your trip
All your holiday planning needs in one place, letting you book direct and benefit from official online rates