The hiking trails of Syros offer a uniquely authentic way to uncover the history and nature of this captivating Greek island at the heart of the Cyclades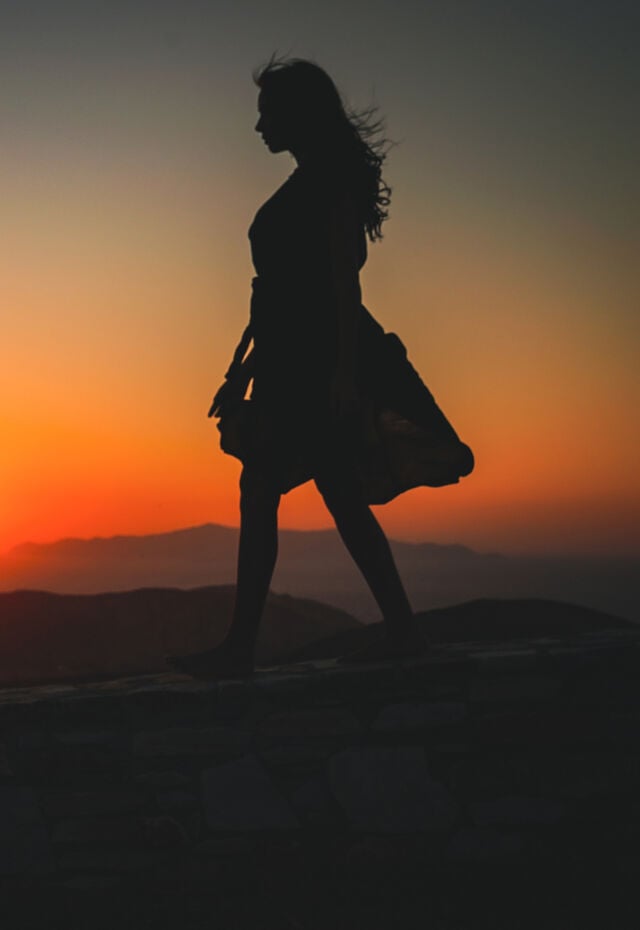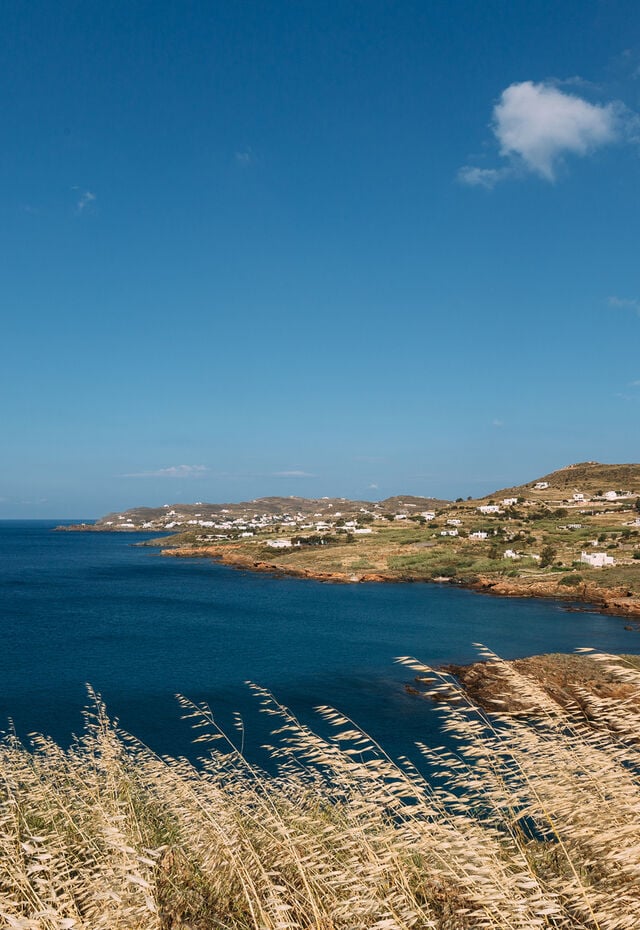 Duration
1 - 4 hours
Season
Spring & Autumn
OVERVIEW
From the cosmopolitan charm of the grand mansions of Ermoupoli to the classic Cycladic beauty of whitewashed houses and cobbled alleyways in Ano Syros, Syros is a wonderfully eclectic mix. And within that mix are the hiking trails that take you through a landscape filled with authentic villages, cultural gems and secluded beaches
Syros has a network of marked hiking trails covering the entire island. Some take you along the coastline and others into the hilly interior, allowing you to discover some of the island's best-kept secrets, many accessible only on foot.
To the north, Apano Meria is protected within the Natura 2000 environmental network and is geologically different from the rest of the island, particularly the eclogites (or aerolithi) metamorphic rocks that are often coloured with unusual patterns. There are secluded beaches here that can become part of your hike, ideal for anyone looking for extra peace and relaxation.
We have picked out five of the best trails for trekking during your holidays in Syros, so you can choose the right one for you, depending on where you are based and what level of difficulty suits you. You'll be treated to ancient settlements, tiny chapels and some of the best views of the Aegean from an island located right in the middle of the Cyclades islands.

DON'T MISS
Highlight hiking trails in Syros
Kini – Delfini Beach – Varvarousa Beach
Pack a towel and swimwear for this 4.6km route north of the seaside village of Kini. The trail follows the eastern coastline towards Cape Trachilos, accompanied by awe-inspiring Aegean views until you reach Delfini Beach. You can stop here for a swim or, better still, continue up to Varvarousa beach. This peaceful spot is only accessible by foot or boat, letting you enjoy the blue waters and sandy beach in style. You've earned it!
Kampos – Aerolithos – Lia Beach
This 3.6 km hiking route in northern Syros starts at Kampos and ends at Lia beach. It's a slightly rough trail, so maybe not the best for young children, but there's plenty to see along the way. As well as seeing interesting rock formations, you also pass by a small cave and the weird and wonderful Aerolithos rock in Ano Meria which, legend tells us, fell from the sky. It's an ideal place to stop for a rest and admire the landscape, with its hills, valleys and coves. For the perfect finish, relax on beautiful Lia beach.
Kampos - Grammata - Gria Spilia
This trail also sets off from Kampos. It takes you on a 7km trek to Grammata beach, past some interesting snippets of island history, including an ancient marble quarry. You'll walk through Ano Meria, within the Natura 2000 network and the only part of the island with limestone rock. Grammata means "letters" in Greek and, once you arrive at the beach, look out for the rocks engraved with prayers carved by sailors from antiquity to the Middle Ages. Next, follow the path to Gria Spillia, also known as Paralia Amerikanou (the American's beach) in honour of New York-born John Pierson, who fell in love with Syros and spent 30 years planting trees here. Best walked with a local guide.
Ai Michalis – Kastri - Chalandriani
Another trail with a historical flavour, this 7.1 km route sets of from Ai Michalis in the north of the island. The first point of interest is Kastri, where you can see the remains of a prehistoric settlement on a hilltop. Next, follow the path to the archaeological site of Chalandriani, which was once a major early Cycladic Period citadel. There's a lovely view from here too, with views across the Aegean to Tinos and Delos on the horizon.
Galissas – Agios Stefanos Church
Starting from the chapel of Agios Mamas on the outskirts of Galissas, you follow a 5.6 km marked path to reach the church of Agios Stefanos. You'll be entranced by this tiny church, hidden away in a magical setting inside a cave overlooking the sea. There are some steep climbs and descents along the way, especially right at the end when you descend the hillside to the cave with the church, so make sure to wear good shoes. Once there, there are some great photo opportunities with the church bell and cross framing the Aegean. You can also enter the church and write your thoughts in the visitors' book.
* All distances include the return journey to your starting point. See the Getting There section for more information on the Syros hiking trails included above and for general information on your holidays in Syros.

GET PLANNING
How do you get to Syros island in Greece?
Ferries run from Piraeus to Syros all year round (less frequently in the winter but with extra routes added in the summer months). There is also an airport with direct flights to and from Athens.

When is the best time for hiking holidays in Syros?
Syros has lovely beaches and authentic villages so it's a perfect summer holiday destination, especially in the months either side of peak summer.
The best time for trekking in Syros is the spring (April & May) when the temperature is ideal and you'll catch the wildflowers and the rest of the island's nature at its very best. September & October are also good months for walking as the intense heat of the summer has faded and nature is beginning to come back to life.
Suggested routes for hiking in Syros:
Kini – Delfini Beach – Varvarousa Beach (4.6km | 1hr 20 mins) / Difficulty level: Easy
Kampos – Aerolithos – Lia Beach (3.6 km | 1hr) / Difficulty level: Easy
Kampos - Grammata - Gria Spilia (7 km | 4hr) / Difficulty level: Challenging
Ai Michalis – Kastri - Chalandriani (7.1km | 4hr 15 mins) / Difficulty level: Moderate
Agios Stefanos church (1.6 km | 50 mins) / Difficulty level: Moderate
Note: Distances are for the full walk, there and back.

Autumn
Spring
Summer
Winter
Make sure you have all the correct equipment before setting out: