EXPERIENCE
A culinary tour of Tinos
Few destinations can claim to have made food as big a part of their identity as Tinos, with mouthwatering dishes and culinary festivals that champion the local products of this low-key but delicious Cycladic island.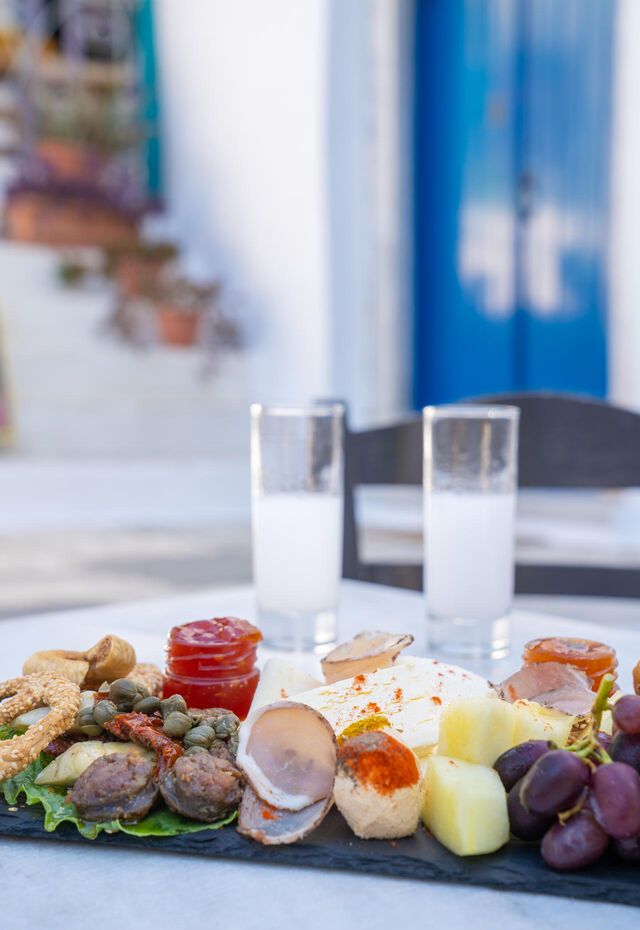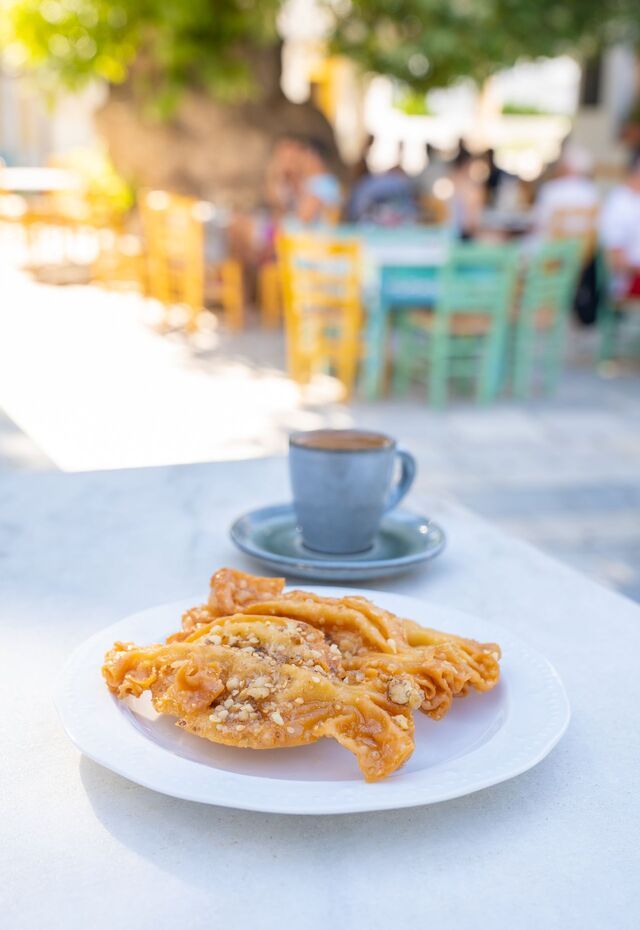 Duration
Half day
Season
All year round
OVERVIEW
From its seafood and mountain herbs to its dairy products and wines, the island of Tinos is just as rich in natural ingredients as it is in imagination when it comes to sharing its culinary creations.

The subtlety of the flavour of cheeses and cured meats is worn like a badge of honour by locals. And not a season goes by without a product taking centre stage. Capers are collected in early summer and brined for a month before being celebrated in an August festival. Just as there are festivals for artichokes, wine, honey, raki and oregano. And as autumn arrives, so Tinians head out to forage for mushrooms – eaten fried or stewed.

Indeed, this deeply authentic member of the Cyclades isles (just 30min-1hr30min from Mykonos by ferry) can claim to be truly self-sufficient when it comes to its produce.
As you venture around the island, you'll smell the mint, sage, dittany, thyme and chamomile that you'll then recognise in local stores or herbal infusions. And you'll admire the dovecotes (there are more than 1,000) used to rear doves and pigeons that are an indelible part of Tinos' culinary and architectural culture.

It won't surprise you that the locals have turned their attention to enticing foodies to their shores. The Tinos Food Paths initiative has become an established part of the culinary calendar, bringing Athenians and international visitors in growing numbers each May.
DON'T MISS
A culinary tour of Tinos includes exploring the island's unique landscape and villages, and definitely meeting local producers. So we've planned out a day dedicated to food and wine, but feel free to spread the experience over your entire holiday.
Tinian breakfast in Hora
Where better to start your day than at the Tinos Agricultural Cooperative in town. Not only is it a chance to become acquainted with the seasonal products, but you can sit down to an authentic Tinian breakfast. Cheese and cold cuts and, for sure, loutza (air-dried pork fillet marinated in red wine and a mixture of herbs, fennel seeds and cinnamon). A delicious frutalia omelette will come with vegetables, country sausage or syglino (small pieces of cured pork).
A taste of village sweetness
If you crave something sweeter for breakfast, then hold on until you reach a village. Pyrgos (also known as Panormos), in the north, has a charming square where you can settle down to Greek coffee and a slice of galaktoboureko (filo pastry a custard filling, soaked in syrup) or orange pie, or perhaps freshly-baked tsoureki (a sweet bread scented with mastic).
Visit a winery
Nothing is more closely linked to the Tinian soil than its wine production. Near the village of Mesi, right in the heart of Tinos, you can visit a family-owned vineyard cultivating Greek grape varieties (such as Malagouzia and Assyrtiko). How about a meal of local delicacies right in the middle of the vineyard within a renovated pigeon house? Or perhaps head to the village of Falatados, to the south-east, where there are excellent wineries amidst a unique landscape of granite boulders.
The local cheese
As soon as you've sampled Tinian cheese, you won't need a second invitation to visit a local cheese factory. It's not just the variety of tastes you'll enjoy being introduced to but the traditional cheese-making process and the colourful personalities behind the flavours. In the villages of Tripotamos and Kechros there are factories producing hard yellow gravieraki (matured for two months), creamy white myzithra, tiniako tiraki (carrying the island's name), mastic-scented kastelano, and PDO-protected spicy kopanisti (a speciality of the Cyclades). You should also try the local butter.
A dinner to savour
A full day exploring deserves a special end. Whether you're in the mood for fish or meat, prepare for a treat. The villages of Panormos (west) and Ysternia (east) also have seaside settlements with idyllic fish tavernas, or if you prefer to stay close to Hora, head to Agios Fokas. Alternatively, for a meat meze you'll be dreaming about when you're home, try a 'kafenio' in a mountain village (Kardiani, Triandaros, Pyrgos, Volax or Aetofolia) where you'll find an animal-herding tradition that hasn't changed for centuries.
Book your trip
All your holiday planning needs in one place, letting you book direct and benefit from official online rates
GET PLANNING
Organised food tours usually start in Hora, with private tours providing a hotel pick-up and drop-off.
Tinos is quite a big island (almost 200 sq. km), so you will need transportation to get around if you are not on an organised tour.
A culinary tour of Tinos can be enjoyed at any time of year with each season having its highlights.
Whatever time you visit, Tinos will win you over with its authenticity. But in May-June and September, your experience will be even more personal and memorable. The Tinos Food Paths initiative takes place in May.
In July-August, it's worth contacting wineries and factories in advance in case you need to book.
If you are exploring the island on your own, remember that stores selling local products follow regular shop opening times.
Autumn
Spring
Summer
Winter
Organised group tours last around half a day.
It's up to you how much time you want to give to the Tinos food scene, but it's worth dedicating a day to the experience. Or you could spread it over a week, combined with cultural and hiking experiences and, of course, heading to the beach.