One of the Dodecanese islands in the Aegean Sea, Leros is – according to mythology – where the goddess Artemis came to get away from it all. These days, it offers visitors the same sense of escape on their holidays. It's a heavenly refuge made up of hidden beaches and bays, with an assortment of traditional and neoclassical houses as well as a deep history and culinary culture. It's not for nothing that locals claim that 'anyone who knows Leros never forgets it'. So if you're up to the task of solving its riddle, read on and discover 12 unforgettable things to do on your holidays in Leros.
Be introduced to the Italian influences of Lakki
Picture the scene: the ferryboat has just docked and you immediately realise that you've arrived at a harbour like no other in Greece. The main port, Lakki, was founded under the name Porto Lagos during the 1930s by the Italians (who had occupied the Dodecanese islands) and to this day still amazes people with its Italo-Mediterranean features. So one of your first things to do on your holidays in Leros has to be exploring Lakki.
It is an open-air museum of wide streets with eucalyptus trees and eye-catching art deco buildings of tremendous artistic value, as they represent the only example of authentic rationalistic architecture outside Italy. Look out for the church, school, hospital, theatre, navy barracks, hotel and circular agora with its clocktower – all in that style. They are revolutionary in concept and reveal the vision behind what was once referred to as the 'Nea Polis'. (Mussolini envisaged Leros as a new Rome and went about constructing a 'new city' on what was once marshland.) Lakki is the biggest natural deep water harbour in the Mediterranean and is protected from winds by the nearby mountains, further adding to the sense of serenity.
Completing this walk down memory lane, you can delve deeper into Leros' past at the War Museum - Merikias Tunnel, a unique exhibition space inside an underground WW2 tunnel, featuring guns, maps, photographs, uniforms and other wartime paraphernalia. The time-capsule atmosphere instantly transports you to another age.
Local tip: For a taste of Leros' finest produce, visit To Mpakaliko me Tsipouro and meet the charming owners, Marietta and Takis. It's a unique convenience store, combining grocery, deli and traditional tsipouradiko (an eatery specialising in tsipouro and meze), serving up outstanding omelettes, Greek specialities and sandwiches bursting with local products.
Discover the castle and iconic windmills of Leros
No time spent in Leros is complete without a visit to the island's castle (also known as the Castle of the Virgin). It is located at the top of Pityki Hill, 200m above sea level, and was built by the Byzantines on the site of an ancient fort. It houses the miraculous icon of the Monastery of the Virgin Mary which, according to legend, appeared out of the sea and is believed to have healing powers.
You can walk the 500-odd steps up to the castle from Platanos (the capital and oldest settlement of Leros) or drive up through the village of Panteli. However you choose to get there, you'll enjoy the same sweeping views of the bays of Agia Marina and Panteli amidst a background of low mountaintops, fields and valleys.
The landscape is punctuated by half a dozen 17th-century windmills, landmarks of Leros that stand as a testament to simpler days – a true postcard moment. One of the windmills has been turned into an all-day bar (Harris Bar Leros) that serves a mean cocktail with killer views. The perfect end to your afternoon walk to the castle.
Local tip: Look out for the charming chapel of Agios Ilias next to the castle. The sunset views of the purple-and-orange-tinged sky and Alinda Bay from around the back are amazing.
Stroll around Panteli village and take a dip
So what other things are there to do in Leros, you ask? Explore its fishing villages! Start with scenic Panteli – it won't take much to make you fall for it. The scene consists of seafood tavernas along the shoreline, fishing boats bobbing in the sea, happy faces enjoying local delicacies, as well as freshly caught fish, traditional cafes and a beach with clear blue water (ideal for morning swims followed by a Greek coffee). If you're into snorkelling, bring your mask and flippers. And in case you want to explore more beaches in Leros, the road from Kastello to Panteli takes you to Vromolithos Bay, where you'll find an organised beach that also has tamarisk groves for natural shade (if you're looking for some privacy).
Local Tip: Holidays in Leros and food go together like milk and honey. Apart from the excellent tavernas in Panteli, two eateries stand out: Firstly, El Greco fish taverna, housed in an old repurposed stone mansion. Try the octopus carpaccio, Leros salad with salted mackerel, fresh fish and shrimp pasta. And just up the road is Sweet & Salty Leros, where you can indulge your sweet tooth with local delicacies like spoon sweets, marmalades, loukoumia (Turkish delight) and a galaktoboureko (milk custard pie) that is out of this world, as well as patsavouropita (a traditional pie with different kinds of cheeses) and local liqueurs.
Explore Agia Marina, the heart of Leros
The coastal town of Agia Marina has over the years become one with Platanos, effectively becoming the largest settlement on Leros. Walking its cobblestoned streets will become part of your daily routine, whether you're grabbing a morning coffee, an afternoon sweet or a nightcap. It is famous for its neoclassical mansions with Egyptian influences, traditional houses, bougainvillea-filled courtyards, earth tones and the show-stopping white windows that serve to underline Leros' architectural wealth. As you stroll the streets, you'll encounter the Archaeological Museum, where you can learn about Leros' history. And don't think twice about booking a boat trip on the Agios Georgios, a wooden fishing boat in Agia Marina harbour that takes you on an adventure to the neighbouring island of Lipsi and other wonderful islets with names like Aspronisia, Marathi and Arki.
Local tip: For a great souvlaki, head to Yparcho grill house in Roussos Square in Platanos and for charcoal-grilled gyros in Agia Marina go to Kroupia (vegan gyros options are also available). Mylos (also in Agia Marina) is another great recommendation, right outside a windmill overlooking the sea (the best real estate on the island?). It attracts visitors from all over for its top-notch food and extensive wine list. Try the skewered grouper, raw fish and eggplant ravioli with seabass and shiitake mushrooms, as well as the taramasalata (fish roe dip).
Take a boat trip to the islet of Archangelos
You'll quickly discover that there are so many experiences on Leros beyond its beaches, good food and nightlife. A visit to Archangelos, an islet just outside Partheni bay, on the north coast, is a locals' favourite. Home to some wild goats, the island has been classified as a wildlife refuge. Once there, you can arrange to be picked up by phoning the solitary taverna, Stigma Archangelos. Other than that, dedicate your time to exploring and swimming in the clear blue waters of the beach where you're dropped off. As soon as you're hungry, your table at the taverna awaits, where you can tuck into saganaki (pan-fried cheese) washed down with ouzo.
Local tip: Don't delay in booking your tickets to Archangelos, as well as a table at the taverna, as places are limited. Also, there are several other beaches (depending on weather conditions) – just ask the captain for directions.
Take in the vibes of Alinda
You'll definitely find yourself in Alinda at some stage of your holidays in Leros. Located near Agia Marina, it's the most developed part of the island, boasting a 400m beach with tamarisk trees and greenery. There are umbrellas, sunbeds, lockers and water sports, as well as fine golden sand and shallow, clear blue water that attracts a fair share of families with children. You'll also find shops, fish tavernas, supermarkets and even car rentals in Alinda.
Local tip: The Bellenis Tower in Alinda is the former home of Egypt-based constructor, Parisis Bellenis. Built in the early 20th century in the Italianate neoclassical style, it is now considered an architectural masterpiece, with cylindrical turrets and embrasures. It also now houses the Historical and Folklore Museum of Leros, with artefacts that include household items such as clothing and musical and medical instruments.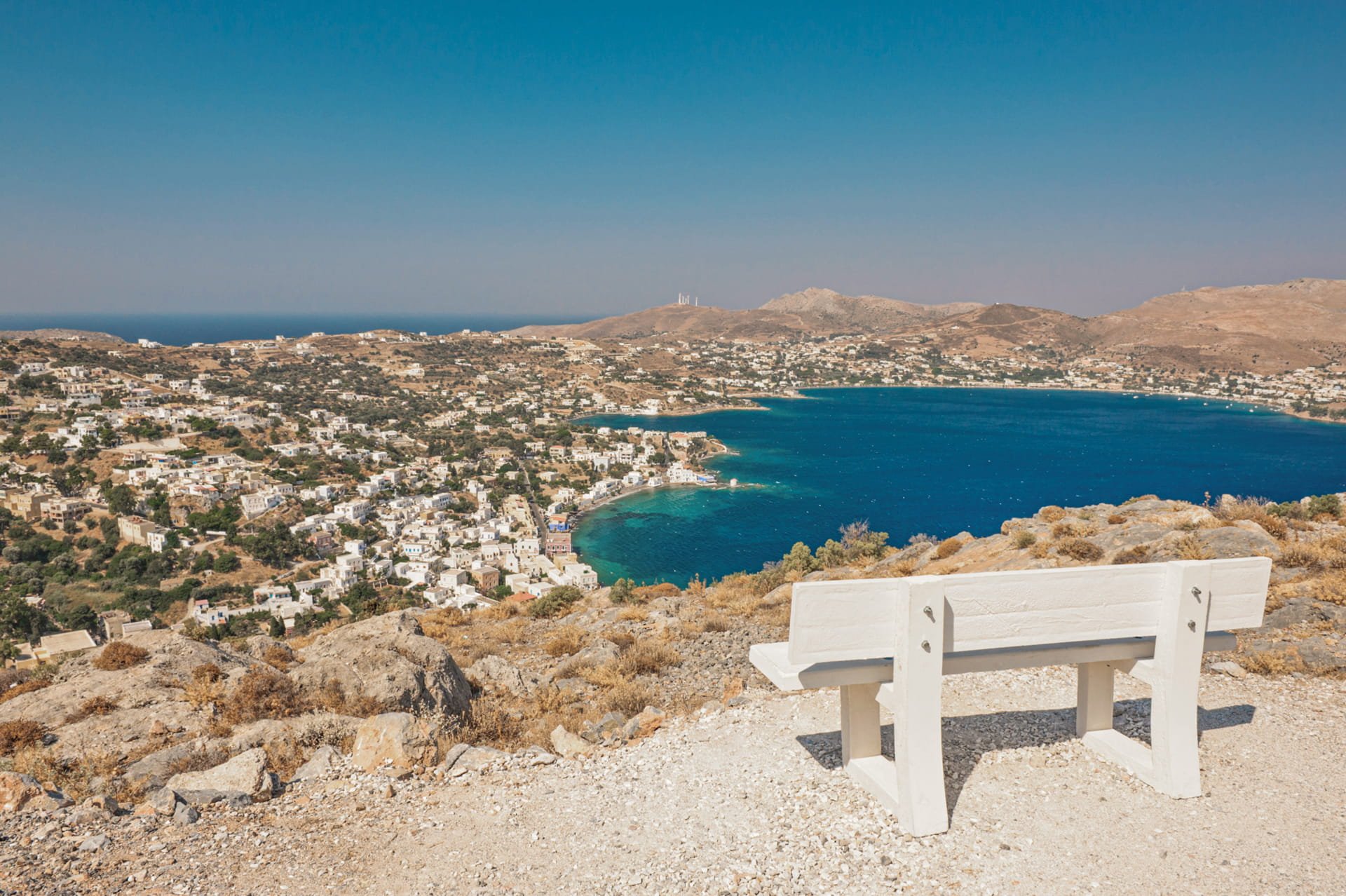 Get a beach and culture combo at Agia Kioura
Leros is a wild, virginal island with awesome beaches and singular history. Both these sides come together at Agia Kioura, on the north coast. Agia Kioura beach is a case of love at first sight, made up of sand and shingle and with clear green-blue water. Free of umbrellas and other amenities, it wouldn't look out of place in a sunscreen commercial.
Meanwhile, at the back of Partheni bay another surprise awaits you at the church of Agia Matrona-Kioura. It is a listed building, containing frescoes and works of art crafted by political exiles during Greece's post-WW2 military dictatorship years known as the Junta, with wardens and inmates used as stand-in models. One fresco depicts Christ as the newest exile, in a Last Supper scene staged in an army mess hall. One of these exiled inmates was Giannis Ritsos, one of Greece's most famous poets, who was inspired to write a poem that the late great composer Mikis Theodorakis would later immortalise in his ode to that era.
Local tip: Agia Kioura beach is narrow and small, so get there early during the high season. And don't forget to pack water.

Enjoy more beach time at Dio Liskaria
Follow the road that goes through Alinda and you'll reach Dio Liskaria, one of the most famous beaches in Leros and especially popular with younger sunbathers. You'll find a souvenir shop, taverna and the Zefyros beach bar in the middle of the beach. Grab a cold one and chill on the beach (with sand and fine pebbles) or go for a swim – and before you know it, it'll be time to pack up and do it all over again the next day. But make sure to share your beach love on Leros. Nearby is Kryfos beach, one of the prettiest beaches in Leros, boasting turquoise water and an imposing setting that lends itself to calm and tranquility. If you get here in the morning, you're almost guaranteed solitude, but note that it does swell up when the tourist boats arrive.
Local tip: You can get to Kryfos beach by boat from the Vareladiko taverna, right next to the beach bar. Just call ahead and find out the schedule. There's a way there on foot, but it's a tough hike.
Be wowed by the colours of the Aegean at Agios Isidoros
The beauty of the chapel of Agios Isidoros, in Kokkali, will cast a spell on you. It's the most romantic (and photographed) chapel on the island, standing sentry on a rocky promontory, appearing to almost float above the sea. There's a 50m stone footpath that leads up to it, with water spraying at your feet on both sides. It hosts weddings and christenings and – as you'll discover if you time your visit right – an unforgettable sunset.
Local tip: You can't expect to leave Leros without a bunch of holiday snaps. Head to Agios Isidoros after 19:30. You'll understand why.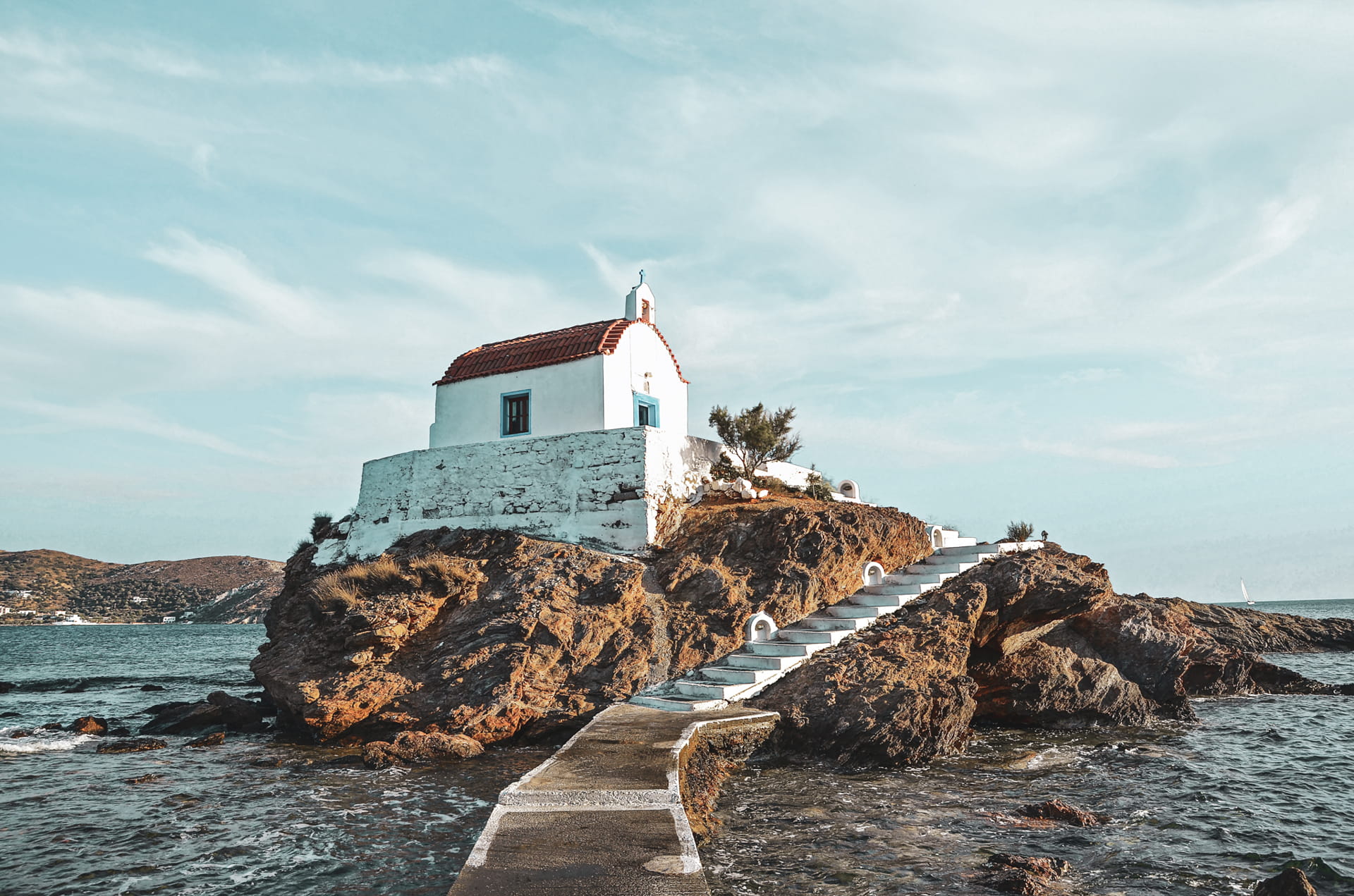 Spend the afternoon in Xirokampos
At the southeastern-most point of Leros (about 2km from Lakki and opposite the island of Kalymnos) is scenic Xirokampos, a village that sits in a valley filled with flowers and cypress, olive and almond trees. Above it is Paleokastro Castle (or Kastro ton Lepidon), the oldest of the castles still standing on the island. In the village is a Byzantine church dedicated to the Virgin Mary, with a memorable mosaic tapestry. Afterwards, you can go for a dip on Xirokampos' sandy beach (there are tamarisk trees for shade if you don't have an umbrella) or grab a coffee at a local cafe.
Before you leave this part of this island, another must is to visit the chapel of Panagias Kavouradena. Legend has it that a fisherman looking for crabs (kavouras means crab in Greek) found an icon of the Virgin Mary amongst some rocks and erected a small chapel on this site. It's one of the prettiest spots on the island, appearing to have almost sprung from the sea, with a small footpath leading to it and a couple of rocky bays beneath it to dive from.
Local tip: Even if visiting chapels isn't your thing, visit Panagia Kavouradena just to see the solitary icon of the Virgin Mary and Christ painted on a crab!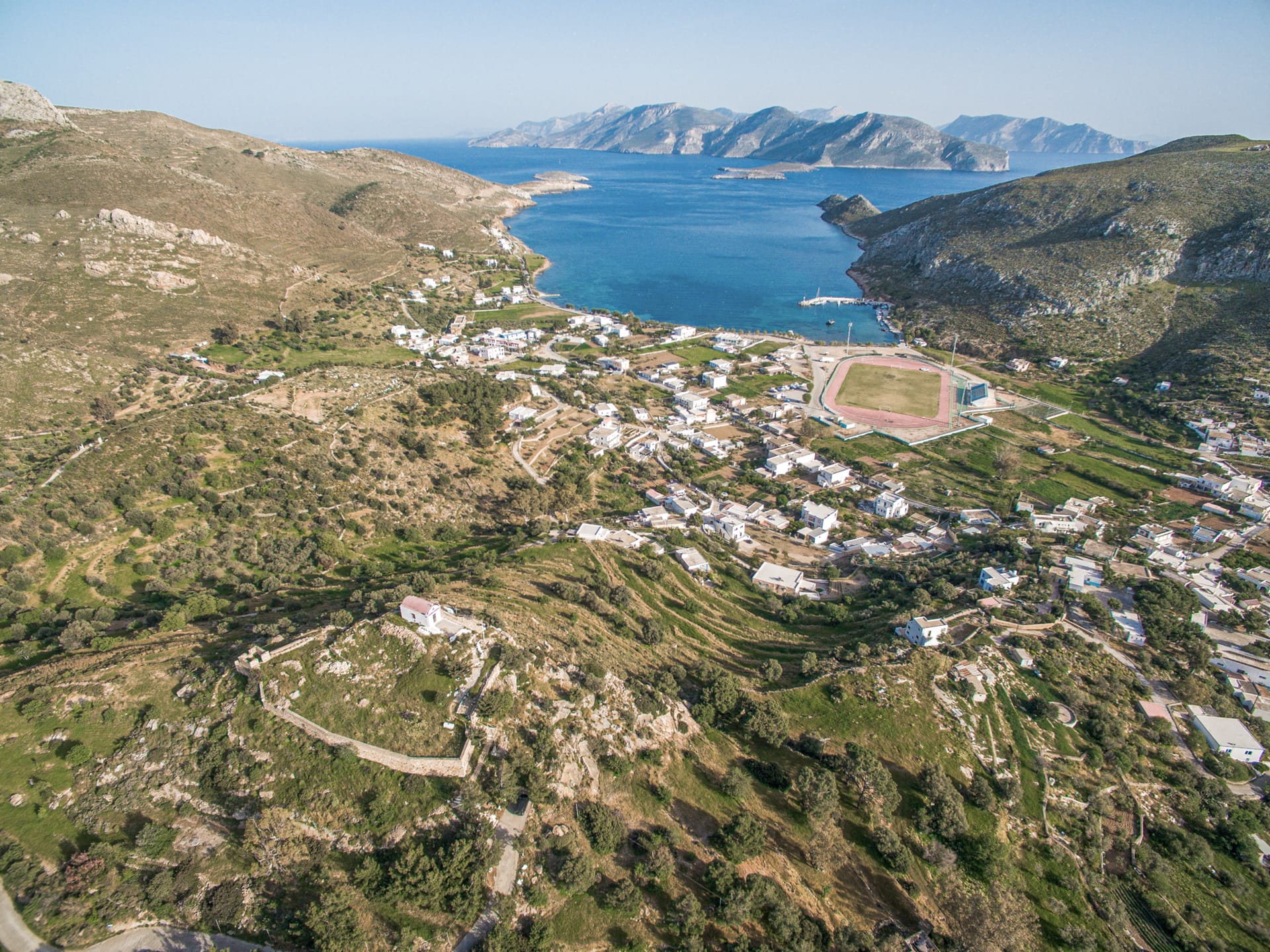 Eat your way through Leros' culinary traditions
Another undoubted highlight of your holidays in Leros will be discovering the island's rich culinary heritage. Traditional kafenia (where you can enjoy meze as well as coffee), small tavernas and restaurants all serve local treats like fish and shellfish recipes cooked with love in more than a few variations. Don't miss out on the local mizithra cheese and thyme honey, as well as pies, almond sweets, traditional soumada and gavafes – a fruit believed to be a relative of the guava that is only found in Leros!
Dive amongst a treasure trove of shipwrecks
Leros is said to have accumulated the most WWII shipwrecks in the world after Normandy, something which makes it a scuba diving mecca. Dives are conducted under the expert guidance of professionals, so visitors can enjoy this marvellous underwater museum and literally dive into world history. Among the wrecks are the destroyer Queen Olga and German warplanes, as well as the shells of other ships, torpedo nets and an assortment of underwater curiosities.
Local tip: There are certified diving centres on Lesvos. Even if you're a beginner, you'll be able to get lessons, opening up the underwater history of the island with an insight into the Battle of Leros.
12 unforgettable things to do in Leros
Looking for a Greek island that's resisted the tides of time? A place with unique character, traditional fishing villages, local cuisine and incredibly hospitable locals? If so, holidays in the Dodecanese island of Leros are for you. Once you've discovered all the things to do in Leros, you'll be repeating the mantra of the locals: Once you get to know Leros, you'll never forget it.