Kythnos, the island of simplicity and hospitality, is one of the lesser-known and least explored of the Cyclades isles. It's also one of the closest to Athens, located between Tzia and Serifos, and just 1hr30mins from the port of Lavrio or 3hrs from Piraeus.
Named after Kythnos, the mythical king of the original settlers (known Dryopes) and son of the god Apollo, it is characterised by its long and thin shape and ridge down the centre forming valleys that spread to the east and west. Many valleys end at a beach, with the result that Kythnos has around 100 beaches, the most in the Cyclades!
But that's just the start of what this magical, untouched Greek island has to offer. So join us as we explore all the unforgettable things to do in Kythnos.

Ease into the Kythnos mood with coffee in Merichas
Arriving by ferry, you're immediately introduced to the relaxing atmosphere of Kythnos. To do the charming little port of Merichas justice, find yourself your perfect waterside cafe and order a coffee. You'll instantly slip into the calmness of the surroundings and the sea. Or if you prefer to end your day in Merichas, you'll experience a magical sunset in this westward-facing settlement.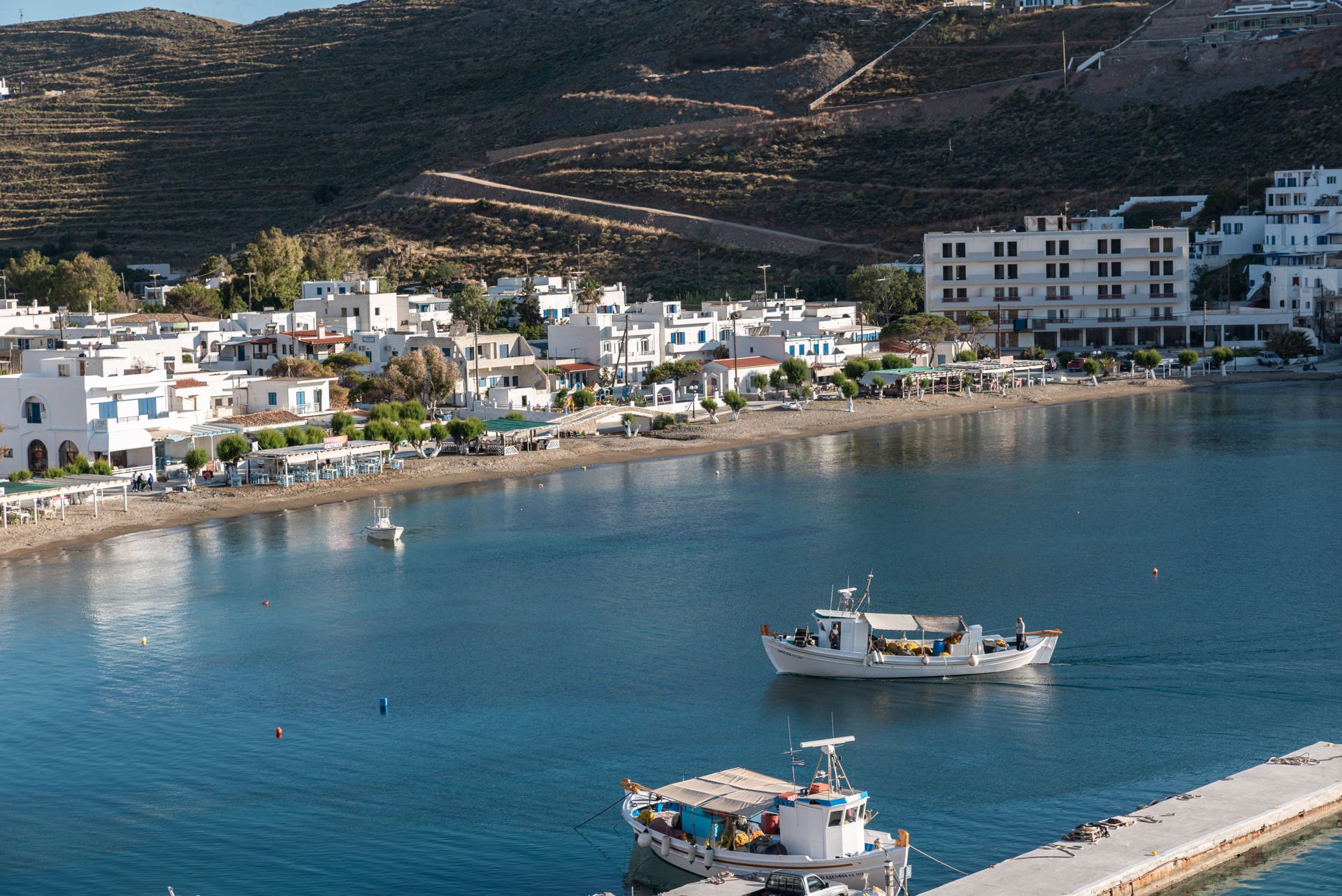 Head to picturesque Dryopida village and the Katafiki Cave
High up on any list of things to do in Kythnos is to visit the villages. One of the most picturesque is Dryopida, which gives the perfect introduction to Kythnos' culture and way of life. It was built in a valley hidden from the sea, right in the middle of the island, a feature that gave the residents extra protection from the pirate raids that were common in medieval times. As you stroll down the alleyways, past all the whitewashed houses with basil pots in the windows and look up at the red-tiled roofs. You'll get a first taste of Kythnos' pottery craftsmanship that you'll be learning much more about.
But there's another feature of Dryopida that's totally unexpected. Virtually within the village, you'll find one of the largest caves in Greece. The name of the cave (Katafiki) comes from the Greek word for refuge (katafigio), from the days when it was used as a hideout from pirates. There are wonderful stalactites inside.
Pro tip: Try Kythnos' traditional wedding sweet, pasteli, at Koulas tis Apithanou confectionery store.

Take a loooong afternoon stroll in Hora
The main town of Kythnos, Messaria (or Hora, as most main towns on Greek islands are called) is built amphitheatrically on the slopes of a hill. It is 8km from Merichas, the port, and has been continuously inhabited since the 17th century. With its intense Cycladic colours and authentic island atmosphere, it charms every visitor. There are quaint squares and a labyrinth of cobblestone alleyways, arches and churches, whitewashed houses with colourful doors and window frames, cafes, bars and sweet shops, as well as windmills – all of which combine to make up a wonderful Cycladic settlement.
Pro tip: You must definitely see Mrs Floras' alleyway. The love that's gone into the many paintings is like a fairy tale.
Fun fact: Northeast of Hora, you'll find four windmills. They were pioneering in Europe, operating from 1982 until quite recently and, on occasion, managing to cover three-quarters of Kythnos' energy needs.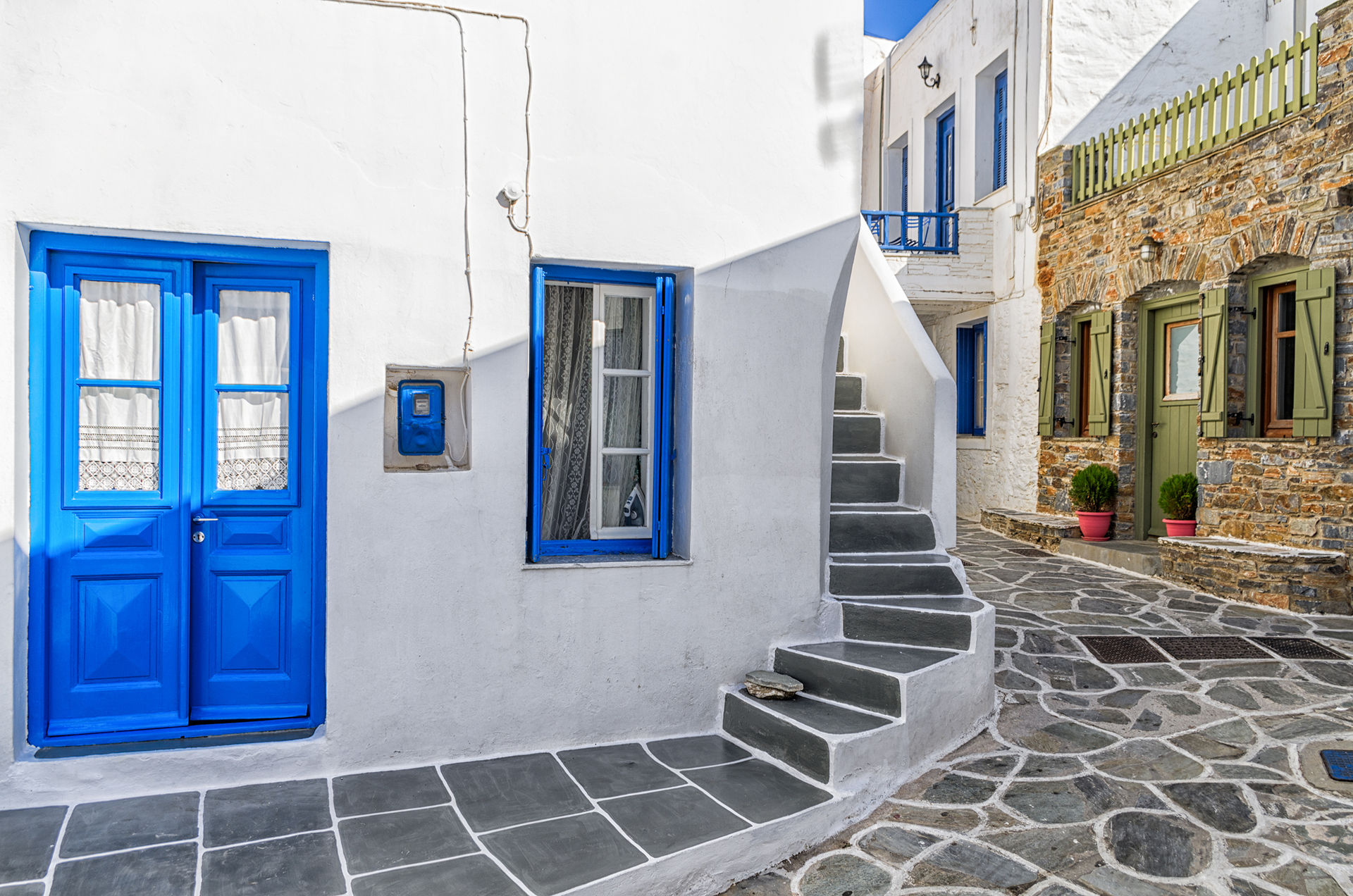 Visit Loutra and take a dip in Kythnos' thermal springs
One of the first things people learn when they get to Kythnos is that the island's second name is Thermia. This is due to the thermal springs found near the northern port, Loutra. Arriving in Loutra, you'll encounter a big building.
This was the first spa/therapy hotel in Greece, built during the time of King Othon and Queen Amalia in the mid-19th century. In front of the hotel is a beach with a stream running to the right, forming a natural swimming pool that becomes a thermal bath. So don't forget your swimsuit. Just be careful because the water temperature can reach 52 degrees Celsius!
Start counting the beaches: 1, 2, 3…
As we were saying, Kythnos has more beaches than any other island in the Cyclades. More than 100 to be precise. There are beaches for every taste, sandy or pebbly and with sunbeds & umbrellas or remote, but they all have one thing in common. They don't get as busy as swimming spots at other Cycladic islands. Don't miss out on having a dip at Episkopi, Gaidouromantra, Skylou, Naousa, Lefkes and other top beaches in Kythnos. The options really do feel endless.
Pro tip: Many beaches have family-run tavernas that you have to try. And when you do, order sfoungato, a croquette made with local cheese and one of the traditional dishes of Kythnos. Herodotus ranked the cheeses of Kythnos among the luxury items of the ancient Greek world.

Discover the footpaths of Kythnos
Hiking is, without doubt, one of the most memorable things to do in Kythnos, especially as it allows you to get up close to the island's cultural roots, deep history and natural beauty. There's no better way of discovering the picturesque settlements, glorious beaches, more thermal springs, archaeological sites, Byzantine monuments, little chapels, windmills, water sources and agricultural buildings with stone threshing floor… and lots and lots of virgin landscape. The ideal seasons for hiking are spring and autumn when the temperature is ideal and nature is at its most impressive.
Take your pick of hiking routes
Kythnos' many hiking routes vary in level of difficulty according to the terrain, with some following old farming trails that cross ravines ending at a beach and others leading to archaeological remains or impressive viewpoints.
A popular walking path is the route to the Castle of Oria (one of the medieval landmarks of Kythnos, known simply as Kastro, at the top of a steep hill) and the remains of the settlement destroyed in 1570 AD as well as the church of Panagia tis Kyra Eleousas at the summit. The view from here is fantastic and if you get a Kythnos travel guide (highly recommended), they'll tell you all about the castle's remarkable history as a Venetian landmark.

Meanwhile, the route to Lefkes beach, crossing the traditional settlement of Dryopida, has numerous points of interest along the way, such as the stone plystaria buildings, dating from 1852, where the women of Dryopida used to wash the village clothes.
Finally, there's a great walking path that takes you to the ancient capital, Vryokastro, which was occupied from the 10th century BC to the 7th century AD and once housed sanctuaries with temples to Apollo, Artemis, Aphrodite and Demeter. There's a wonderful view of Kolona beach.

Have not one but two heavenly swims at Kolona beach
It takes something special to stand out amongst 100 beaches, but Kolona does just that. You'll find it on the western side of the island, a double-sea-fronted strip of sand connecting Kythnos with the islet of Agios Loukas and giving you the experience of letting you swim on both sides.
The water is a little warmer on the right as, within walking distance to the north, is another beach with thermal springs nearby. Ideally, the best way to visit Kolona is by water taxi from Merichas (15mins away) because the road to get there by car is a little challenging.
Follow in a long tradition of potters on Kythnos
You'll be interested to learn that the signature roof tiles in the villages and Hora are a phenomenon of Kythnos, despite ceramic pottery being a craft found on other islands of the Cyclades. The high clay content of the soil has inspired pottery in Kythnos since the earliest times, in everything from the construction of cooking vessels to beehives. You'll find plenty of beautiful handmade ceramic items in shops as living proof of this craftsmanship. And the workshop of third-generation potter Giorgos Georgoulis, in the centre of Hora, offers visitors the opportunity to create their own souvenir. You can book a pottery class and discover the potter in you!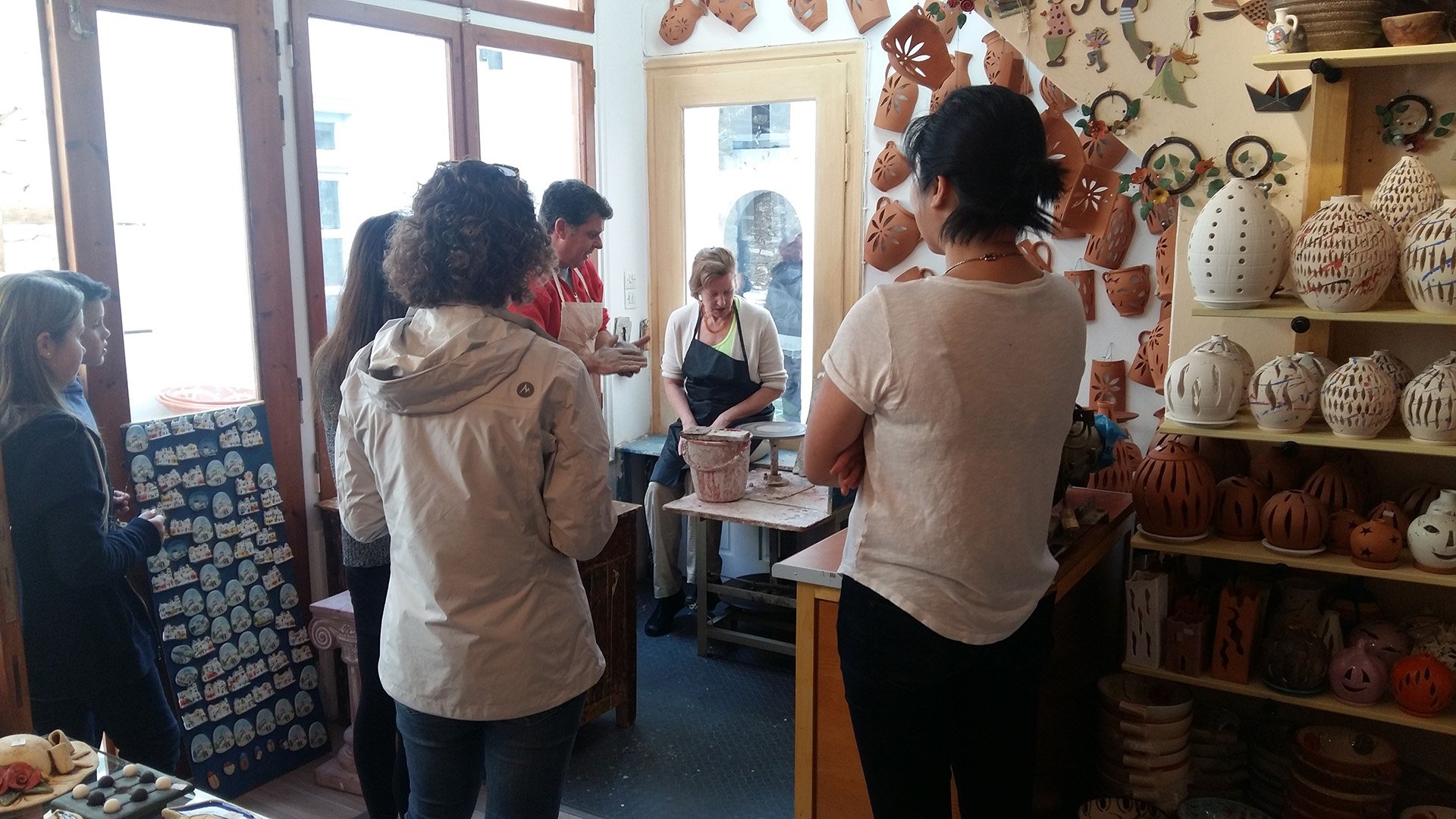 Explore Kythnos' colourful underwater world
Obviously, we couldn't put together a list of the best things to do in Kythnos and not mention the diving centre. Thanks to its morphology, Kythnos offers a rich underwater environment that's perfect for snorkelling and technical diving. There are sea walls, reefs and caves and crystal-clear water full of colourful marine life that goes beyond every imagination. The diving centre at Loutra has all the know-how and specialised equipment you need.
The best things to do in Kythnos
So there you have it! We're sure you'll agree that Kythnos offers dream holidays in Greece, especially if you cherish the beauty of the Cyclades islands but also simplicity and warm hospitality. Don't think twice about visiting, even at the beginning of spring or in autumn when nature is at its most impressive and you'll have a totally different experience from what you are expecting.
FAQs about Kythnos island
How do you get from Athens to Kythnos?
The quickest way to get from Athens to Kythnos by ferry is to travel from Lavrio, in eastern Attica (1hr30mins crossing). Alternatively, there are regular ferries from the port of Piraeus to Kythnos (3hrs).
How do you get around Kythnos island?
Kythnos is not a very big island and distances are quite short. There are regular buses between the settlements (Merichas, Messaria, Loutra and Dryopida) but you can also take a water taxi or a regular taxi. Water taxis are also an excellent way to explore the coastline.
What is the best time of year to visit Kythnos in Greece?
Kythnos island is most popular as a summer holiday destination, although it doesn't get as busy as some of the other Cycladic islands, such as Santorini and Mykonos. It is also beautiful to visit during spring and autumn in order to enjoy the scenic countryside, especially the many hiking paths.
What is Kythnos island best known for?
Kythnos is one of the least explored islands of the Cyclades, known for its crystal-clear waters, hospitable locals and authenticity, especially in the scenic main town (Hora) and villages. It has a long tradition in ceramic pottery and a medieval castle to explore, but its most memorable feature is its 100-plus beaches.