READING TIME
As long as it takes to drink a glass of ouzo
It's incredible how Patmos can make peace and simplicity seem so graceful. The entire old town, the famed castle-monastery and the Cave of the Apocalypse are, together, a UNESCO-protected monument. But Patmos is equally notable for its Cycladic chic air (although it's part of the Dodecanese, not the Cyclades, island chain) as well as lazing on beaches with no other concern than when to take another heavenly dip in the Aegean. It's definitely worth planning ahead, so here are the top things to do on your holidays in Patmos.
A stroll around Byzantine-chic Hora
It's doubtful that a main town represents a Greek island as perfectly as Patmos' Hora. Elegant, classy, cultural, spiritual, cosmopolitan, UNESCO-protected… it's all of that and more. There's Byzantine mysticism in the vaulted archways, Cycladic charm in the whitewashed houses and flair in the refurbished mansions (many named after renowned families, including the Nikolaidis Mansion that's now a museum).
Exploring town, you'll encounter the iconic windmills, Patmian School, Monastery of Zoodochos Pigi (with its impressive bell tower) and the 18th-century Town Hall in Xanthos Square. And you'll be returning to Agia Levias Square many times for the excellent food and stores with local products. An easy choice at No.1 on your bucket list of things to do in Patmos.
The Castle and Monastery of St John the Theologian
The crowning glory of Hora radiates its energy far and wide… just as it would have done when the castle walls were built in the 11th century. Within the monastery, the various chapels and 99 monastic cells reveal the deep, religious significance of Patmos and, if you're lucky enough to experience a mass, the hymns will instantly transport you to Byzantium. There's also a museum with rare Byzantine icons, but your lasting memory will probably be the panoramic view from here.
The Cave of the Apocalypse
Completing the UNESCO trilogy is the Cave of the Apocalypse, where St John the Theologian is said to have experienced the visions that led to the writing of the Bible's Book of Revelation (or Apocalypse) at the end of the 1st century AD. Just outside Hora, it is half-chapel, half-cave… the embodiment of Patmos' mystical aura.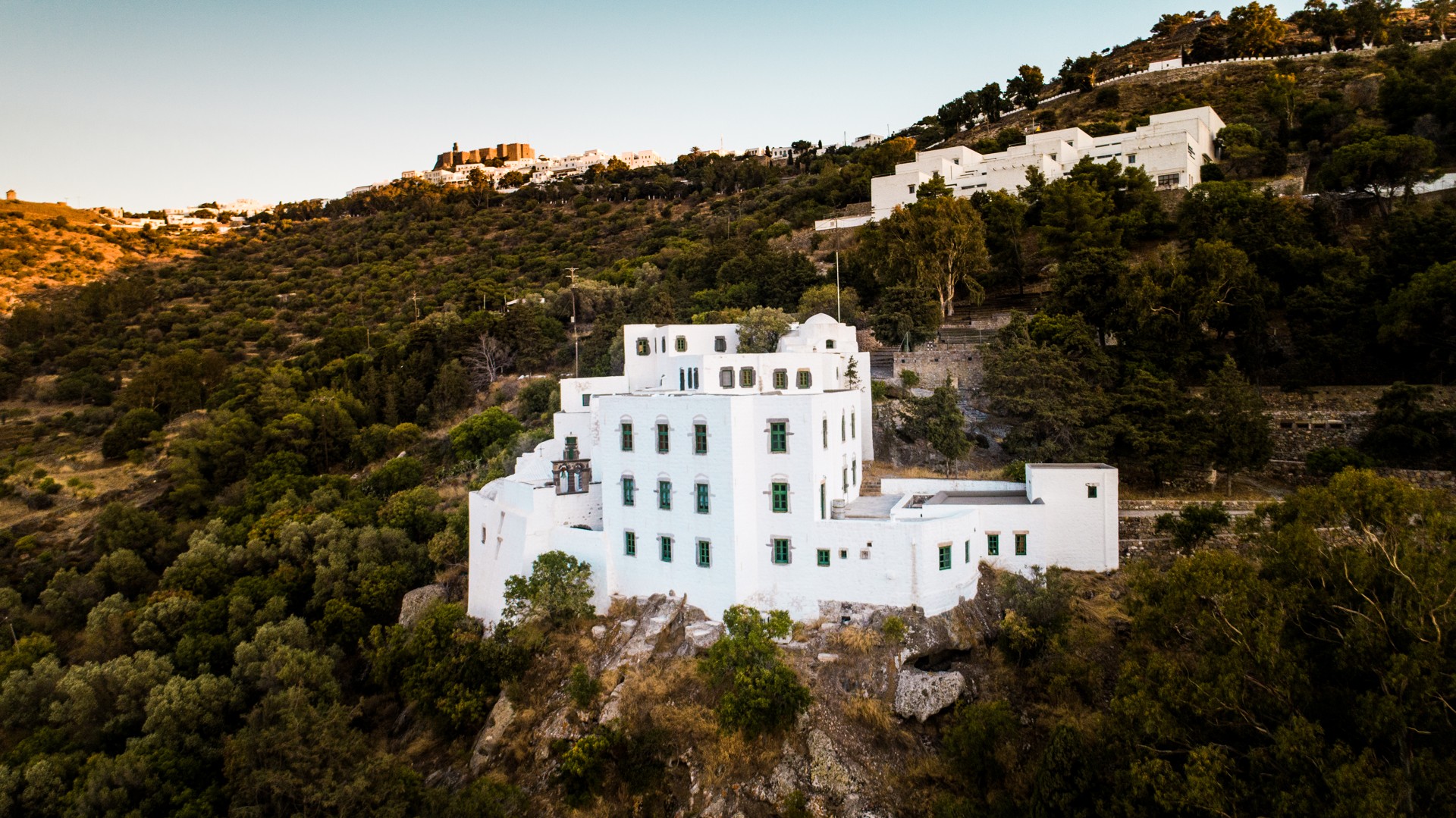 The lively port-town of Skala
Another kind of spirit awaits in the port-town of Skala. Gathering shops, tavernas and cafes in its squares and streets, it is full of life all hours of the day … and many hours of the night. This is where you head when Hora goes quiet, which it does at a certain hour in reverence to its ecclesiastical roots. It's worth making your way around the bay to the 18th-century Monastery of Panagia Koumana, one of the Holy Seats (or Kathismata) of the island, serving as hermitages for monks. This one was built against a rock on what is believed to be a hermit's cave.
Discovering the beaches
Let's face it, it's more 'sun-worshipping' that you're probably here for, so let's give you a whirlwind tour of the beaches (possibly No.1 in your things to do in Patmos list, after all). Heading anticlockwise beyond Hora, our first stop is Agrio Livadi (or Agriolivado as it's known locally), an organised and sandy beach, with tavernas, beach bars, water sports and a youthful vibe. Kambos has a mixture of sand and shingle and is popular with locals and families for its tavernas and water sports, while Vagia is a little bay with tamarisk trees for shade and Livadi Geranou's pebbles and crystal-clear waters attract beach-goers who prefer free space to sunbeds. To the northeast is Lambi (colourful pebbles and a taverna on the beach) and, on the opposite coast, Livadi Kalogiron is as peaceful as the monks from which it takes its name. A hidden gem in the south is Psili Ammos (Fine Sand), accessible by boat from Skala or a 30min hike from the road.
The special energy of Grikos
Time for a change of scene. The seaside village of Grikos is around 5km southeast of Skala. There's everything you need to spend the day here, from beaches with tavernas right on the sand to a village square with traditional tavernas. You'll also find the Rock of Kallikatsous, a huge fantastical-looking boulder that locals say is imbued with a special energy (the ancients believed it was a temple of Aphrodite). You can climb to the top from where the Aegean view is incredible. Perhaps you've just found your morning yoga spot?
A boat trip to Arki and Marathos
From Skala, boats leave daily for a cluster of isles around nine nautical miles away that – both administratively and in spirit – belong to Patmos. Arki and Marathos lie just north of Lipsi (another Dodecanese island), with just a few dozen permanent residents who mostly make a living as fishermen and goat herders. But the mood is so chilled, you'll wonder if anyone does either. There are some tavernas on Arki and little else other than beaches (Tiganakia is the most popular) and there's even less on Marathos. Otherwise, it's just day-trippers and perfectly clear water and beautiful coves to swim in.
Sophisticated yet unpretentious tastes
The local produce of Patmos is fresh and plentiful – seafood, meat, fruit and vegetables – but what happens next owes everything to the island's deeply authentic and yet cosmopolitan ways. Alongside wholesome, home-cooked food in traditional tavernas you'll find elegant restaurants serving sophisticated yet unpretentious dishes. Octopus with an anchovy marinade is a favourite, as are delicious char-grilled lobster and scorpionfish. Some dishes take it to another level (grouper tartare, with black tarama, ouzo vinaigrette and fennel mayonnaise). But you'll also delight in a simple cheese pie (a speciality) or carefully selected ouzo-appetisers. Finally, there's a winery near Grikos, where you'll become acquainted with the Assyrtiko and Mavrothiriko grapes from which most of the island's white and red wines are produced.
Exploring the hiking paths
The last of our things to do in Patmos is perhaps the best way to feel the island's special energy. There is an impressive network of old paths, often from settlements to the monastery and kathismata (seven are marked). One route you should definitely do is the old path from Skala to Hora, starting around 1km outside the port. It takes just 30 minutes and is lined with eucalyptus and pine trees, passing the Cave of the Revelation. Another circular route (2.5km) takes you from Hora to the Monastery of the Annunciation and back, through a small coastal plain of fruit and carob trees and vineyards.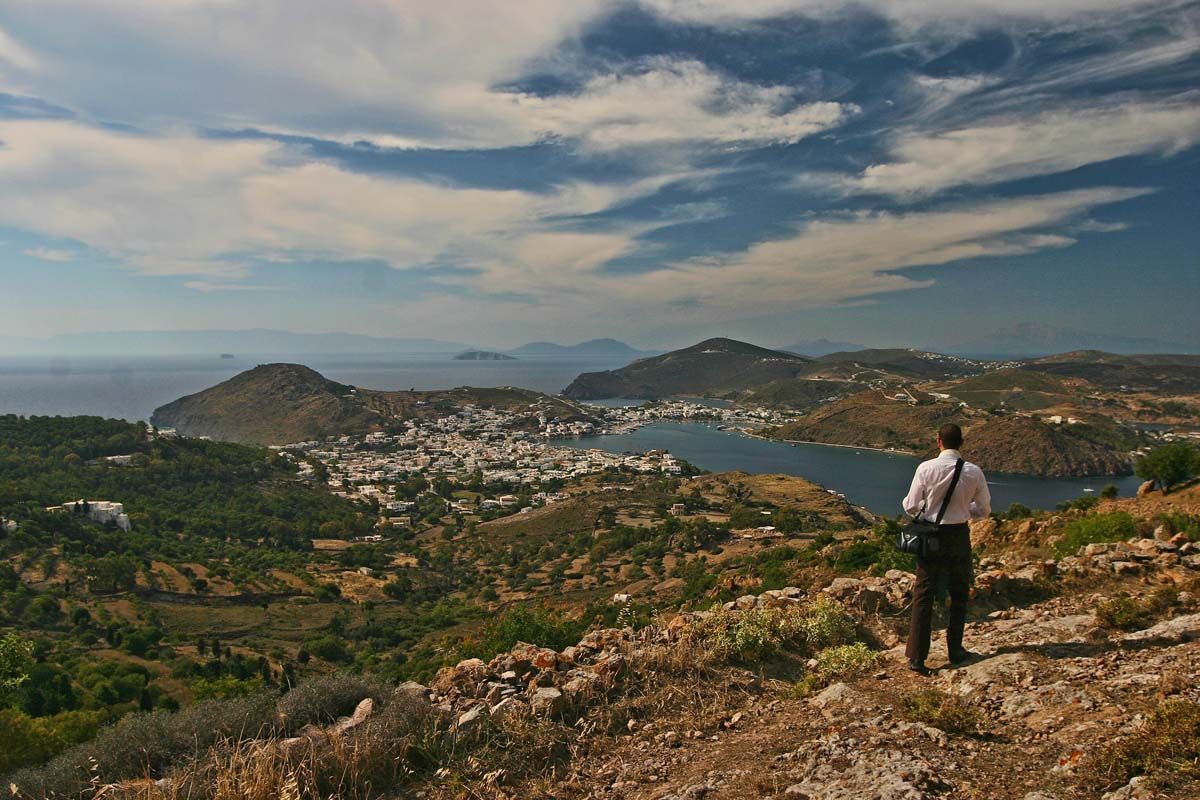 Top things to do in Patmos
Which of our things to do in Patmos are you adding to your bucket list? Of course you'll be exploring Hora and you just have to visit the Cave of the Apocalypse. But what about the boat trip and hiking paths and how many of those beaches are you going to get to?
Book your trip
All your holiday planning needs in one place, letting you book direct and benefit from official online rates
Group
Accessible