EXPERIENCE
Discovering the mystical aura of Patmos' Hora
There's a Byzantine mysticism and Italian finesse to Patmos' main town that reveal themselves with every step you take.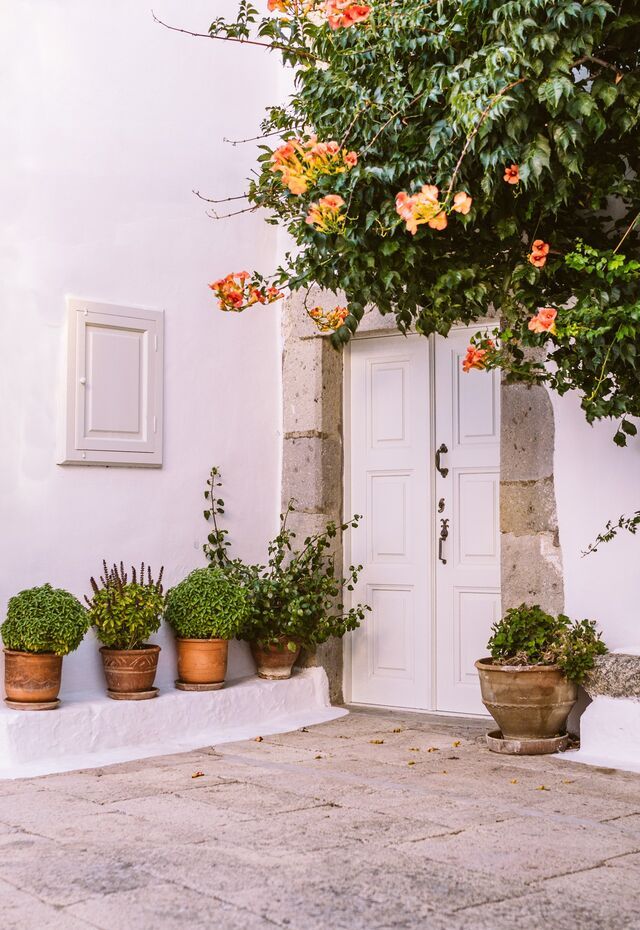 Duration
Full day
Season
All year round
OVERVIEW
It's not for nothing that the historic centre of Patmos, along with the Monastery of St John the Theologian and the Cave of the Apocalypse sitting above it, has been declared a UNESCO World Heritage Site. Just strolling along the maze of alleyways, through vaulted archways and past dazzlingly white and mostly immaculately maintained houses, makes you feel like you could be in the 16th or 17th century – which is when many of them were built.
Towards the bottom of the town, the walls of houses are thicker, giving the town a feeling of a Byzantine fortress – exactly what Hora (as the main town is known) was during the days of pirate raids.
Perched right at the top of town, where it's been since the 11th century, is the castle emitting a special aura over an island that also hasn't lost any of the finer touches brought by the Italians, who were here from 1912 to 1943. Even if it's just in a gelato, you'll appreciate it.
Patmos (2½hrs by boat from Kos) is where restaurants with trendy cuisine and rooftop bars serving cocktails sit effortlessly alongside traditional tavernas and coffee houses. But where Hora (known to Greeks as the queen of Horas) really leaves an impression is during those magical times when everything around you goes still and a rare and mystical silence presides.
DON'T MISS
The Castle and Monastery of St John
Upon entering the castle, which encompasses the monastery, you're immediately transported to Byzantine times. The views from here are truly panoramic (it's visible from every part of the island). Within the monastery, there's a wonderful library, along with ten chapels of different ages and almost 100 cells.
The Cave of the Apocalypse
Continuing up the mountain is the cave (more like a church now) in which St John the Evangelist wrote the Book of Revelation (also known as the Book of the Apocalypse). Banished by Roman emperor Domitian in 95 AD, John of Patmos took up residence in the cave, where he experienced his divine revelations.
The Patmian Ecclesiastical School
Located near the cave, the Patmian School was founded in 1713. It became one of the most important seminaries in Greece during the Turkish occupation, with a long list of alumni who became prominent figures in Greek history.
The windmills of Hora
Before you leave, visit the three iconic windmills near the monastery. They've been beautifully preserved, complete with wooden sail frames and mill mechanisms. Utterly Instagrammable.
The Convent of Zoodochos Pigi
The convent in Hora was founded by an abbot of the monastery in the early 17th century. Its beauty lies in the fact that it's not nearly as visited as the monastery, and so is wonderfully peaceful – until the five bells of its unusual bell tower chime.
Mansions
Here's a tip: Ask the locals to point out some of the landmark mansion houses in town: Vardikou, Palaiologou, Valvi, Founti (of Leonton). The Nikolaidi Mansion has been converted to a very good museum, in which a typical Patmian house has been recreated.
Xanthos Square
Notable for the impressive neoclassical building housing the Town Hall (Demarcheion) from around 1870. There's a statue honouring Immanuel Xanthos, a local hero and one of the earliest Greek independence fighters.
Agia Levias Square
This is a great spot for excellent food and cosy little shops selling local handcraft. Or you could just pull up a chair and grab an afternoon coffee or evening cocktail and feel time slow right down.
Book your trip
All your holiday planning needs in one place, letting you book direct and benefit from official online rates
Group
7-8 hours
Free cancellation
Not sure? You can cancel this reservation up to 24 hours in advance for a full refund
Group
5-6 hours
Free cancellation
Not sure? You can cancel this reservation up to 24 hours in advance for a full refund
Group
6 Hours
Free cancellation
Not sure? You can cancel this reservation up to 24 hours in advance for a full refund
GET PLANNING
From Skala (the main port) to Hora:
By car or taxi: 3km (8mins)
By foot: 25-45mins depending on which route you take. The older path (the Aporthianos road) is longer but more atmospheric, with beautiful views. It starts below the windmills and was the public road until 1818.
By bus: The timetable changes seasonally. More info
Patmos' Hora can be enjoyed all year round.You'll find most of the shops and restaurants open between May-October.
It's best to start your walk in the morning or afternoon when there are fewer people around and it's cooler (in hotter months).
Museums and cultural sites:
Monastery of St John and Cave of the Apocalypse
Summer: Open daily 8:00-13:30
Afternoon visits are also possible on: Tuesday: 16.00 -19.00, Saturday: 17:00-20:00, Sunday: 16.00 -18.00
Winter: Open daily 8:00-13:00

The Convent of Zoodochos Pigi
Seasonal opening hours apply. Summer daily from 8:00-12:00 and from 17:00-19:30. (Except Saturday evenings). More Info
Autumn
Spring
Summer
Winter
The sights described here can be spread throughout your stay. But take your time and stop for coffee or a meal, or to shop for local artefacts.
There's so much to see that it's worth dedicating one day to the experience.