READING TIME
As long as it takes to eat a Greek salad
Milos is one of Greece's rising stars, with an extraordinary array of beaches (more than 70), volcanic scenery, cute little boathouses and fantastic food. Whether you explore by car, foot, boat or even kayak, your holidays in Milos will be full of colour and Instagrammable memories. So to help you make the most of it, here's a list of unforgettable things to do in Milos.
Explore the lunar landscape of Sarakiniko
Sarakiniko
A sight that says you could only be in Milos. The lunar landscape of Sarakiniko has been captured in so many photos but nothing prepares you for the real thing. The limestone-white rock, shaped and smoothed to resemble the surface of the moon, is dramatic enough. But then comes the contrast with the deep blue sea and the little sandy beach below and that's it … your heart's well and truly captured. And if you want to make the experience truly epic, try cliff jumping into the azure-blue sea. A day at Sarakiniko is full value as No.1 in your list of things to do in Milos.
Take a boat trip around the island
The only way to fully appreciate the wild beauty and colours of Milos. Your entire boat trip around Milos will be special, but there are some standouts: Kleftiko is a one-time pirate hangout, dominated by steep cliffs and with turquoise water made for snorkelling, and Gerakas has sand dunes appearing to flow into the clear blue sea.
Discover the natural pool of the Papafragas Caves
Another one-time cave whose roof collapsed long ago, Papafragas Cave is more intimate than Sykias. With a little sandy beach at one end, it feels like a natural swimming pool shimmering under the sun. Exploring the area, you'll find some sea caves nearby. No wonder pirates once loved the place.
Eat seafood like a local at Pollonia
Just a breath away, the village of Pollonia is foodie heaven – not only because of the fish tavernas and little fishing boats testifying to the freshness of the produce, but because there is (yet another) great sandy beach to enjoy. Succulent seabass, fried squid, grilled sardines and smoked eel await … accompanied by vibrant salads and local dishes. Try the karpouzopita (watermelon, honey, cinnamon and sesame seed pie). It's a local delicacy, worth its place alone in any list of things to do in Milos.
Take a stroll around historic Plaka and Tripiti
While the port of Adamas (or Adamantas) is the biggest settlement on Milos, little Plaka (a few kilometres to the north) is the island's capital. Inhabited since the early 19th century, this is where Milos reveals its Cycladic character, with little whitewashed houses and cobblestone alleyways. Above Plaka, you'll find the Kastro district, so-called because of its Venetian walls. And just a short walk away is the village of Tripiti, famous for its catacombs (an amazing network of tombs built by early Christians fleeing Roman persecution) and an ancient amphitheatre.
Hike between Instagrammable fishing villages
Another classic vista of Milos, the syrmata (fishermen's boathouses literally built into the rocks) are the colourful centrepiece of the fishing villages of Klima, Mandrakia and Fyropotamos.
Explore the coastline by sea kayak
With all those sea caves, bays and beaches, there's no way you won't be tempted back out to sea… this time by kayak. There are full- and half-day guided tours in many directions. Paliohori and Provatas beaches are popular destinations to the south, as is Paliorema (and the former sulphur mine of Thiorichia above it) to the east and Glaronisia to the north.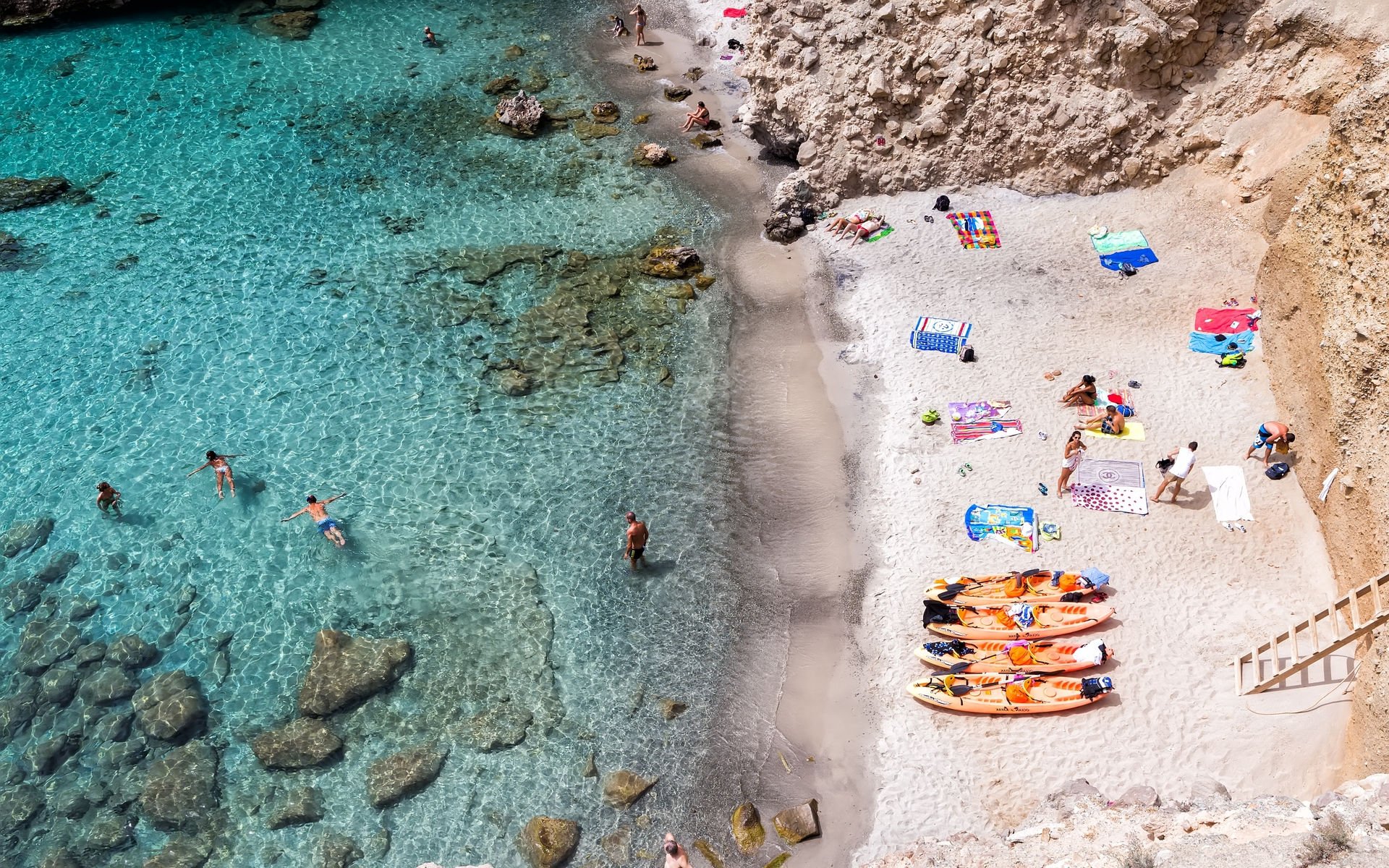 Take a boat trip to neighbouring islands
The last of your things to do in Milos isn't actually on the island but all around it. Day trips from Adamas to neighbouring isles couldn't be easier. Kimolos (Milos' volcanic little brother) lies just 40 minutes away, around the same time it takes to reach Sifnos (renowned for its fine beaches and finer food) and Serifos (quintessentially Cycladic, with sugar-cubed houses appearing to tumble down the hillside). In complete contrast, there is Polyegos, the region's largest uninhabited island and a natural escape with more great beaches and plenty of birdlife.
Top things to do in Milos
Milos is an island where experiences come on an epic scale – beaches, colours, cliffs and bays. But there's also a quiet and authentic side to enjoy in the villages and fish tavernas, especially in the quieter months. So if you can visit in May and September, you'll get to enjoy all the things to do in Milos even more.
Book your trip
All your holiday planning needs in one place, letting you book direct and benefit from official online rates
Private
Private
Private
8 hours
Free cancellation
Not sure? You can cancel this reservation up to 48 hours in advance for a full refund