EXPERIENCE
A boat trip to the natural escape of Polyegos
Discover the largest uninhabited island in the Aegean: Not just a virgin landscape of pristine beaches, but an escape for rare and protected wildlife, just off Milos.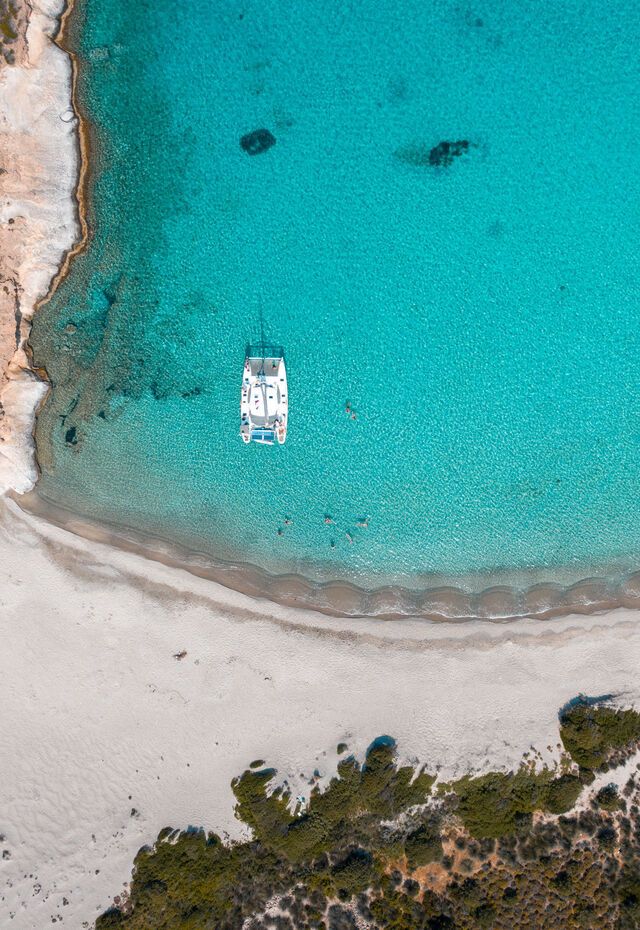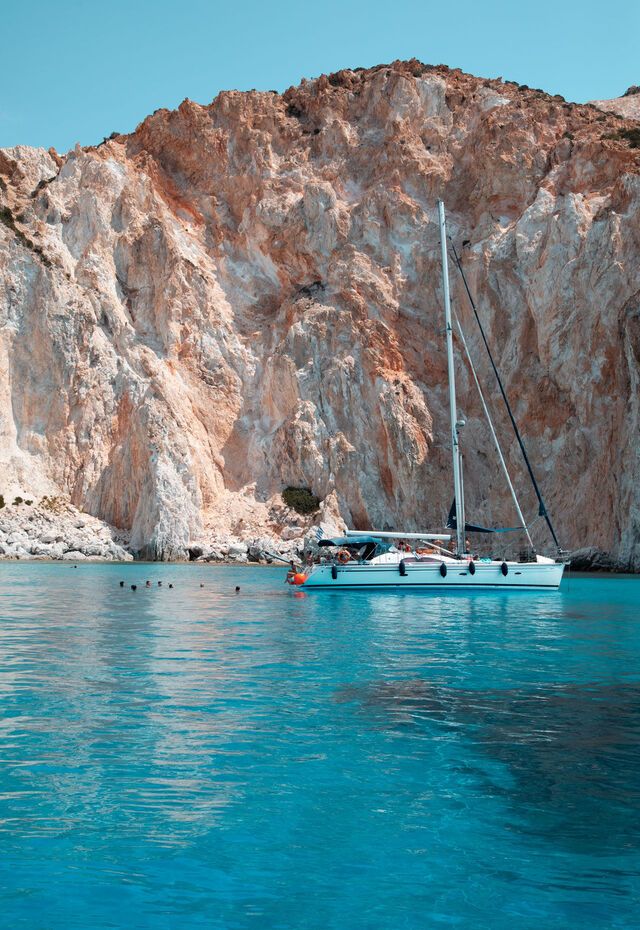 Duration
Half or full day
Season
May - October
OVERVIEW
Your instinct, as you complete the short crossing from Milos, will be to head straight to one of Polyegos' pristine beaches. And who could blame you? Especially after being greeted by the beautiful blue-green sea and remote bays?

But the beaches are only the start of what Polyegos has to offer. The largest uninhabited island in the Aegean is also a habitat for rare species of plants and animals, for which it has been made part of the Natura 2000 network of protected biotopes.

Reptiles, migratory birds (including the Eleonora Falcon) and wild goats (Polyegos means "many goats") are common. Less visible are the increasingly rare Mediterranean Monk Seals that dwell in the sea caves along the craggy shoreline.

So as well as sunbathing, put on a pair of trainers and get exploring. You'll find Polyegos wasn't always uninhabited.

DON'T MISS
Every excursion will be different, depending on whether you're on an organised trip or you've hired a boat (and some trips will include other stops around Milos and Kimolos) but highlights include:
Beaches
There are plenty to choose from, amongst them the sandy Pano and Kato (Upper and Lower) Mersini, on the southeastern shore, with Kato Mersini the larger of the two and bordering a wetland. Elsewhere, there are Chochlakia (or Blue Bay, as visitors have named it) and the equally aptly named Pisina (Swimming Pool) beach. And on the eastern side is Ammoura (or Faros), which has the bonus of a path leading up to a lighthouse with magical views. Just be prepared for the 20min hike. Finally, there's Panagia Beach, with a path to the nearby church of Kimissis Theotokou that has a great viewpoint.

Sea caves
The Fanara Cave is impressive not just because you can sail into it, but because its roof has collapsed, allowing the sun to give the water an amazing blue colour. And, to the north, are the tall and impressive Diamantospilia Caves, also big enough to fit a sailing boat. The name comes from the fine crystal quartz and other minerals in the rocks.
Kalogeri rocks
The impressive volcanic rocks rising from the water off the southern tip will give you an eerie feeling as your skipper navigates through them.
Book your trip
All your holiday planning needs in one place, letting you book direct and benefit from official online rates
Private
Private
Private
6 hours
Free cancellation
Not sure? You can cancel this reservation up to 48 hours in advance for a full refund
GET PLANNING
You can join a day trip as part of a group or hire a private boat and customise your journey.
Boats leave from Milos' two main ports, Adamas (Adamanta) and Pollonia.
Most boat excursions run from May to October.
Prices start from €60 per person for a kaiki (traditional fishing boat) and €120 per person for sailing boats and catamarans (for groups of 10-15).
Prices rise for larger boats.
All boat trips are dependent on weather conditions.
The best experience is in the quieter and cooler months of May-June and September-October.
Autumn
Spring
Summer
Winter
Half or full-day options exist, with day cruises starting at 9:30-11:00 and lasting around 6hrs.
If you've hired a private boat, you can agree your schedule with the skipper.
There are no facilities on Polyegos, so it's important you pack everything you need for a day in the sun: