EXPERIENCE
Landing on the lunar landscape of Sarakiniko beach
Feel like the star of your own photo shoot as you explore a unique setting of chalk-white rock and azure-blue sea on the northeastern coast of Milos, and prepare to fall in love … to the moon and back.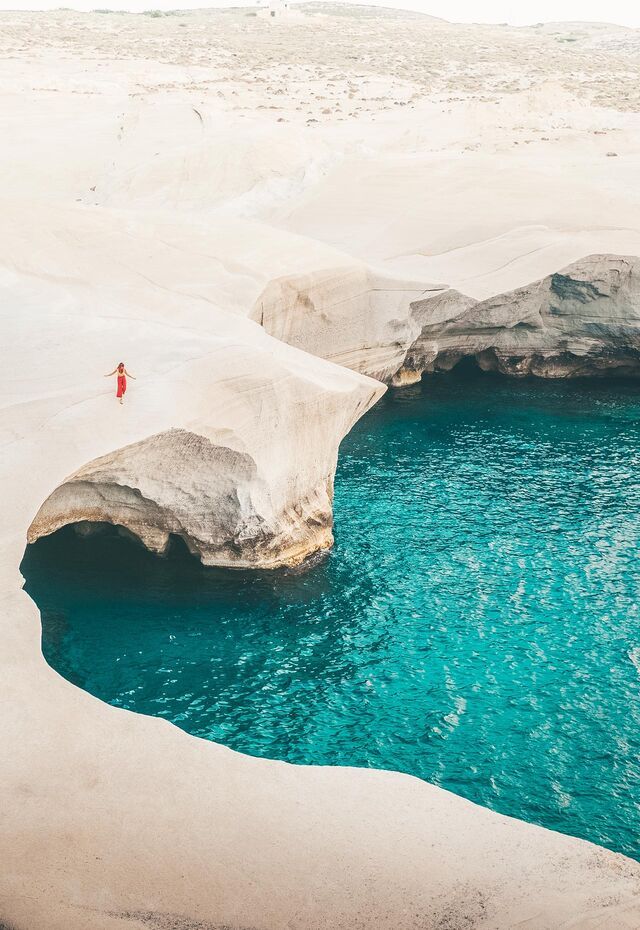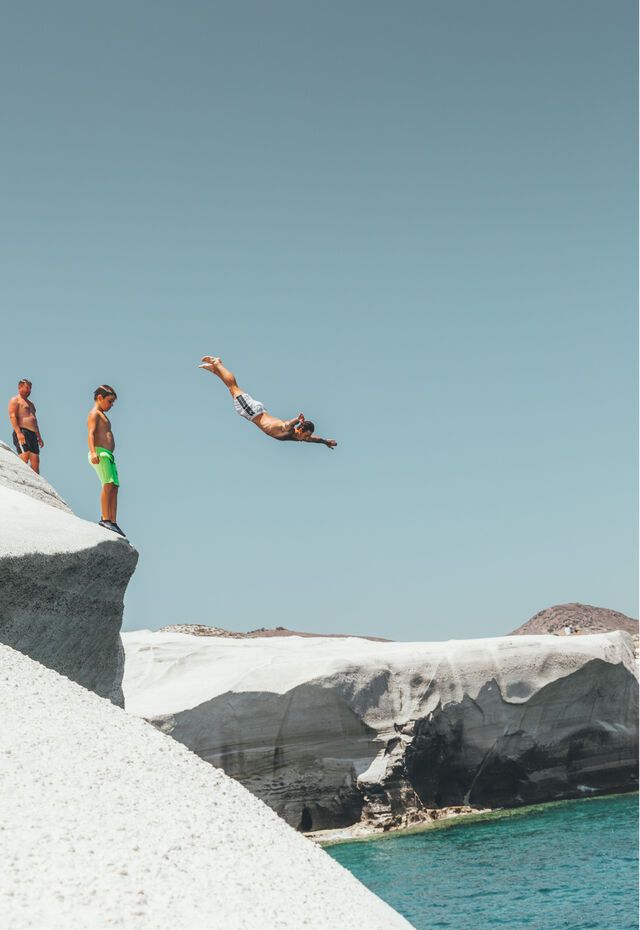 Duration
2 - 4 hrs
Season
May - October
OVERVIEW
For those of you who have always harboured a wish to travel to the moon (and maybe do a little sunbathing whilst you're there), your answer lies on the island of Milos. Sarakiniko is Greece's lunar landscape: an extraordinary scene of chalk-white rock, smoothed and shaped by time, and all the more dramatic for its contrast against the azure sea beyond.
Named after the Saracen pirates who once used it as a hideout, Sarakiniko Bay is coastline wilderness at its most alluring. There's even a partly-exposed shipwreck that you can explore, adding to the sense of drama.
There's a good chance you'll have seen Sarakiniko, even if you haven't yet visited. It's been the setting for countless new-season fashion photo shoots, with the contours and colours of the eroded volcanic ash, sandstone and pumice stone serving as a unique backdrop. So before settling down on the narrow, peninsula-sheltered sandy beach, it's worth exploring. There's even a network of abandoned mines and caves.
The more daring might opt for some cliff jumping off the rocks into the deep waters below (don't rule it out until you've watched others doing it). You could spend the rest of the afternoon lazing on the rocks.
A final tip is to stay till sunset and, if you get the opportunity, definitely visit at night when there's a full moon. The effect is otherworldly.
Book your trip
All your holiday planning needs in one place, letting you book direct and benefit from official online rates
Private
8 hours
Free cancellation
Not sure? You can cancel this reservation up to 48 hours in advance for a full refund
Private
Private
GET PLANNING
You'll arrive at a parking area at Sarakiniko, from which it's a 200m walk down to the beach.
To Sarakiniko
From Adamas (Adamanta) port
By car or taxi: 4km (10mins)
By bus: Seasonal timetable.
From airport to Adamas
By car or taxi 5km (10mins)
By bus: Regular service.
More information - Milos Buses
From Pollonia
By car or taxi: 10km (22mins)
From Plaka
By car or taxi: 5km (12mins)
You'll enjoy the beautiful scenery of Sarakiniko at any time of year, but swimming and sunbathing are best from May to October.
If you do visit in July-August, do so in the early morning or late afternoon when it's cooler and quieter.
It's recommended that you avoid visiting when there is a strong north wind blowing.
May-June and September-October are the best and quietest months to visit.
Autumn
Spring
Summer
Winter
There's a canteen by the parking area, but otherwise there are no facilities on Sarakiniko beach.
Make sure you have everything you need for a day in the sun: