Milos is an island full of Cycladic charm, with villages and seaside settlements that are postcard-pretty and filled with traditions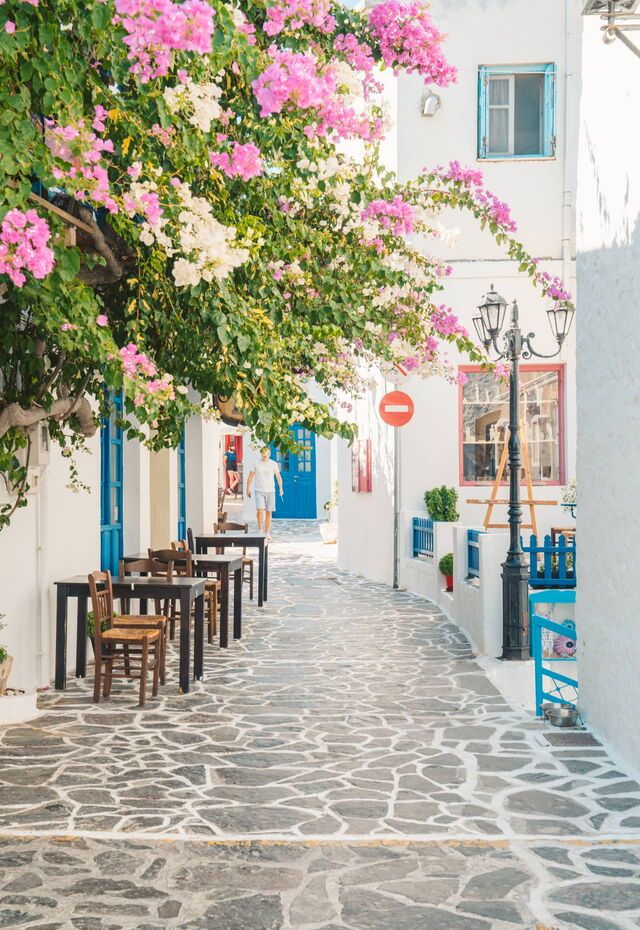 Duration
1-2 days
Season
All year round
OVERVIEW
The island of Milos has made a name for itself for its spectacular beaches and otherworldly landscapes (like Sarakiniko and Kleftiko) whose features have travelled the Instaverse and beyond. To these highlights, you can add traditional settlements and villages. Some come with a choice of tavernas, cafes and cultural sites and double as starting points for boat trips to neighbouring islands and hard-to-get-to beaches. And others are virtually abandoned (like those containing Milos' colourful boathouses, known as syrmata).
From Plaka (the Hora or main town of Milos) and Adamas (the main port) to beautiful little fishing villages, they all have a charm that only the Cyclades islands can provide. Holidays in Milos are full of whitewashed houses with multicoloured doorways and window frames and sunset spots with epic Aegean views. Once you've experienced one of Milos' villages, you'll want to uncover them all.

DON'T MISS
The settlements and villages of Milos
Plaka
Built on a hill overlooking the Aegean, Plaka is Milos' main settlement, so it's more than a village but still quaint enough to be considered one. Above all, it's a worthy advertisement for the traditional whitewashed houses and bougainvillea-filled courtyards of the Cyclades islands. Take your time to wander the cobblestone streets, popping into souvenir shops and passing family-run tavernas and scattered bars (look for ones with sea views, especially for sunset cocktails). In the Archaeological Museum, you'll find a copy of the Aphrodite of Milos statue (the original is in the Louvre). And you can visit Panagia Korfiatissa (Milos' main church, built in 1820 with debris from abandoned churches around the old town), famous for its mosaic courtyard and incredible view. But the best view of all is from the top of Profitis Ilias (the hill that Plaka is built on) where a solitary church stands sentinel over the entire island. It's a spectacular spot, especially at sunset.
Adamas
Adamas (or Adamantas) is Milos' main port and most developed settlement, but that hasn't stopped it from retaining a village feel. It lives up to its name (short for diamond, in Greek) through Cycladic architecture and selection of restaurants, cafes and bars, and comes with the benefit that it's only 10 minutes by car from Plaka. No visit to Milos is complete without spending an afternoon or evening in a taverna or bar along the Adamas waterfront. Exploring a little further, you'll discover a couple of museum gems that are musts for understanding this unique island – the Milos Mining Museum and Katafygio Adamas (Adamas Refuge), which is a WW2 air-raid shelter-turned-museum.
Pollonia
Pollonia is Milos' second harbour, from where you can hop over to neighbouring Kimolos or embark on a day trip to uninhabited Polyegos, a Natura 2000 habitat famous for its beaches and endemic wildlife.
But most people come to Pollonia for the freshly caught fish and seaside tavernas. There's also a sandy beach here, perfectly situated for a pre-lunch swim or for the kids to play on while you extend your lunch. Exploring Pollonia's alleyways, you'll find more whitewashed houses and tavernas and cafes to enjoy. And there's a special treat for scuba divers at the Milos Diving Center.
Trypiti
Amphitheatrically built on the ruins of ancient Klima, Trypiti gets its name from the soft, hole-ridden volcanic rock (tripa means hole in Greek) that the village is built on. It's a charming village, with tavernas and cafes and a couple of churches to visit (Agios Nikolaos and the smaller chapel of Panagia Faneromeni) along with a nearby Roman-era theatre. There are wonderful views down towards Klima but the standout attraction is the Catacombs of Milos, an extensive early-Christian burial site (1-5th century AD) made up of a labyrinth of grave-lined tunnels that you can explore with a guide. It is believed that only a fraction of the tunnels has been uncovered. The famed Aphrodite of Milos statue was found near Trypiti.
Klima
Right below Trypiti, the tiny seaside fishing village of Klima was made for the Instaverse. If you've searched for Milos, you've probably already been introduced to Klima's cute syrmata boathouses, literally built into the rock by the sea, with multicoloured doors and balconies that juxtapose like a dream against the sea. These two-storey houses were traditionally where fishermen stored their boats. Some have been converted into houses. Take as many photos as you want. Lunch awaits at the taverna on the nearby beach.
Bonus
Beyond Klima, Milos is home to more of these small seaside settlements famous for their syrmata boathouses, such as Mandrakia (which has a taverna), Firopotamos (and its namesake beach) and Schinopi.

Book your trip
All your holiday planning needs in one place, letting you book direct and benefit from official online rates
Private
Private
8 hours
Free cancellation
Not sure? You can cancel this reservation up to 48 hours in advance for a full refund
Private
GET PLANNING
How do you get to Milos island?
Milos has an airport with regular connections with Athens.
By boat, the quickest way to reach Milos is by fast ferry from Piraeus (the port of Athens), which takes around 3hr30min. Conventional ferries from Piraeus take around 6hr35min.
You can also reach Milos by boat from neighbouring islands in the Cyclades.
What is the best way to get around Milos?
The best way to get to know the villages of Milos is by renting a car (there's plenty of choice in Adamas).
If you spend the day exploring the settlements and villages of Milos, it's worth starting in Adamas. The shortest route is Adamas-Klima-Trypiti-Plaka-Pollonia-Adamas (around 30km). This will give you a taste of all of them but you won't savour the experience.
To get the best out of Milos' villages (and include some beach time), we suggest visiting Plaka, Klima and Trypiti on one day, and Adamas and Pollonia on another.

When is the best time to visit the villages of Milos?
You can visit Milos all year round but you'll find the villages at their liveliest in the summer months (May-October).
Peak summer months (July-August) are busy so if you are able to visit in May-June or September-October you will enjoy your holidays in Milos even more, whilst still being able to swim.
Museums and cultural sites
How much time should you dedicate to visiting the villages of Milos?
Anything from a few hours to a whole day will give you a taste of the villages of Milos. To really get to know them, you'll need a minimum of 2 days. Naturally, you can pick and choose your villages and get the best out of the experience that way.
Early summer (May-June) sees Milos host an International Theatre Festival, held in various theatres across the island.
Each settlement holds panygyria (or festivals) during the summer, which are an excellent way to experience local culture.