READING TIME
As long as it takes to eat a slice of watermelon
Part of the fabled Cyclades island chain, Milos is known for its volcanic geology and wild side, especially when it comes to the colours and landscape of its 80-plus beaches. So while there are endless things to do in Milos, starting with charming Apollonia and Adamas (Adamantas) and hidden gems that you have to experience once in your lifetime (can we tempt you with watermelon pie?), it's the pristine beauty of Milos' beaches that will stay longest in your memory. Some have featured in fashion photoshoots and others are accessible only by boat. So grab yourself a mojito (it's that sort of island) and let's go beach-hopping in Milos!
Sarakiniko beach
The pin-up of Milos' beaches, Sarakiniko (famous for its desolate moonscape) looks like it's jumped right out of a Dali painting – and has probably been photographed more. There is a small, sandy beach but the most famous part of Sarakiniko is the surrounding white volcanic rock that's been smoothed and shaped by the wind over eons. The fjord-like crags jut up and down, seemingly ebbing and flowing, with pools and caves having formed in the process. You can jump off the rocks (with care) into the turquoise waters or snorkel and explore the bizarre habitat. Or simply lay down your towel on the beach or the rock and work on your tan. What you'll struggle to find is shade, so don't forget the hat and sunscreen.
Kleftiko
While Kleftiko may technically not be a beach, it is nonetheless a spectacle not to be missed and one of the best swimming spots in Milos. A hideout for pirate ships back in the day, the rock formations and caves of Kleftiko (thieve's den) are popular with boat trips – and for good reason as you'll admire the turquoise waters and swim and snorkel within and around the caves (Sykias Cave is another curio that is likely to be on your boat trip). It is accessible only to boats and goats, so the isolated nature of this spot ensures that the waters stay clear and pure.
Amenities: None (drinks and food supplied on boat trips)
Access: By boat from Apollonia or Adamas
Papafragas beach
We dare you to keep your phone in your pocket for more than five minutes when you get to this beach. Then again, that's how long it'll probably take you to pick your jaw off the floor as you survey the otherworldly landscape before you. Papafragas is essentially an open-air swimming pool carved out of rock, with a thin strip of beach and a small cave opening up on one side, allowing access to the sea. As if that isn't enough, the ancient Neolithic site of Phylakopi and Papafragas are just a stone's throw away. Without doubt, one of the prettiest beaches in Milos.
Amenities: None
Access: By road and a short descent
Distance from Adamas: 7.4km
Tsigrado beach
Tsigrado's appeal is tied to its isolation as getting there requires negotiating a series of rickety ladders and ropes. That said, the short but abrupt descent rewards you with what is one of the most dazzling beaches in Milos. It's surrounded by wild, vertical cliff faces and sits in a cozy bay, with clear waters lapping the fine, golden sand. You can explore the nearby cοves and snorkel, or just grab your book and plant yourself there for your daily Vitamin D intake. In high season, Tsigrado is best experienced in the early morning or late afternoon.
Amenities: Parking
Access: By road
Distance from Adamas: 11.1km
Firiplaka beach
Rugged, wild and ideal for everyone (with green-blue, shallow waters), Firiplaka is as fun as it's pretty. Flanked by towering, red-coloured volcanic cliffs, it is long and thin, with fine sand giving way to pebbles in some stretches. You can busy yourself by exploring the nearby caves and natural rock formations on foot, or by kayak on an excursion. It is organised on one part and secluded on the other, if that's your preference. And nearby is Provata beach (10min by car) for a taverna lunch.
Amenities: Sunbeds & umbrellas, parking, beach bar, water Sports
Access: By road
Distance from Adamas: 11.1km
Find the certified water sports centers of Milos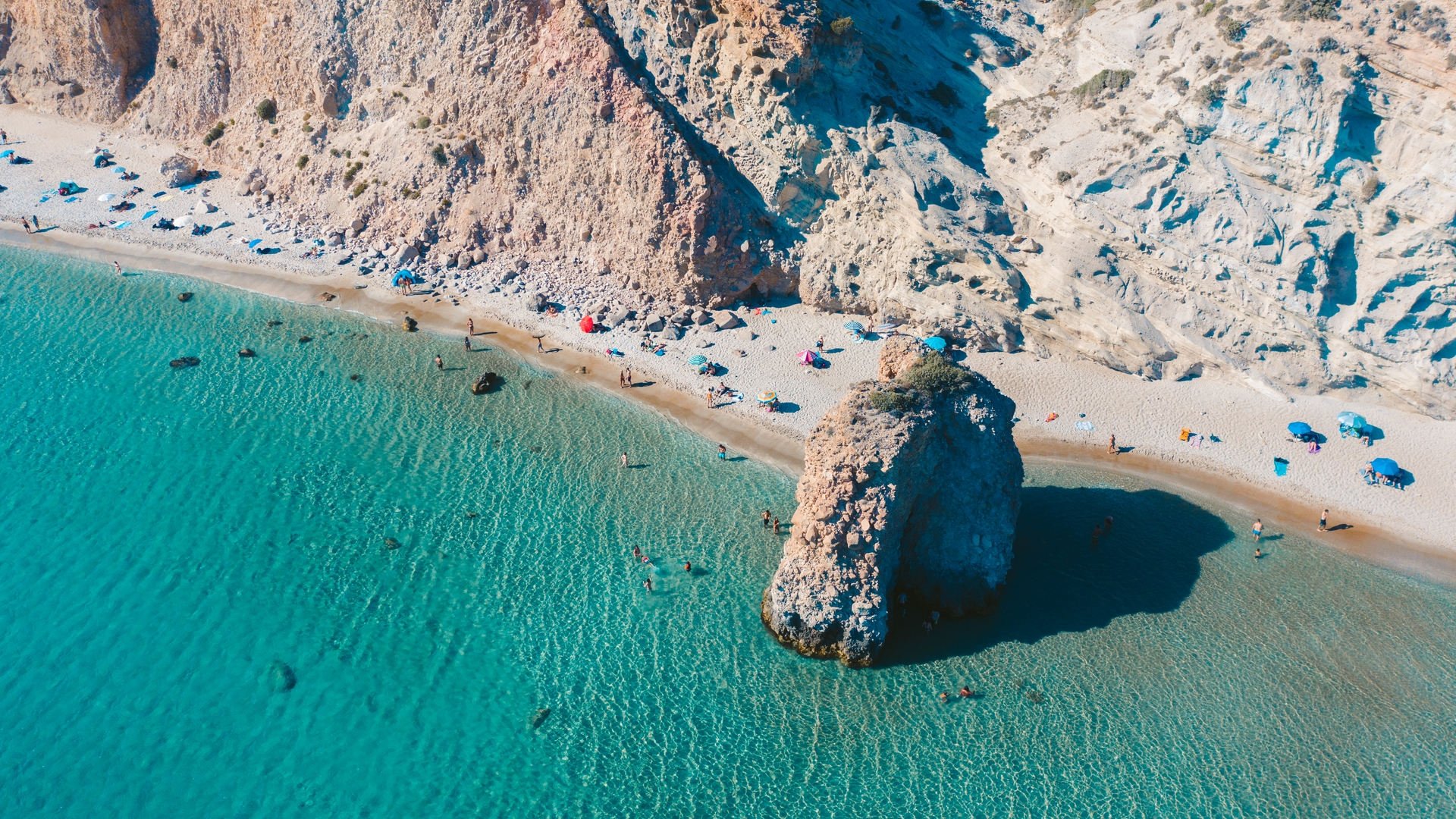 Plathiena beach
In pure Cycladic tradition, Plathiena is surrounded by an arid, rocky landscape that is punctuated by scattered tamarisk trees on the beach. Engulfed inside a small cove and protected from the meltemi winds that blow in these parts, it is ideal if tranquility – if that's what you're after on your holidays in Milos. And at the same time, you'll enjoy all the comforts of a beach bar. The calm, blue-green waters and golden sand guarantee you won't be going anywhere in a hurry.
Amenities: A few sunbeds & umbrellas, beach bar, parking
Access: By road
Distance from Adamas: 7.6km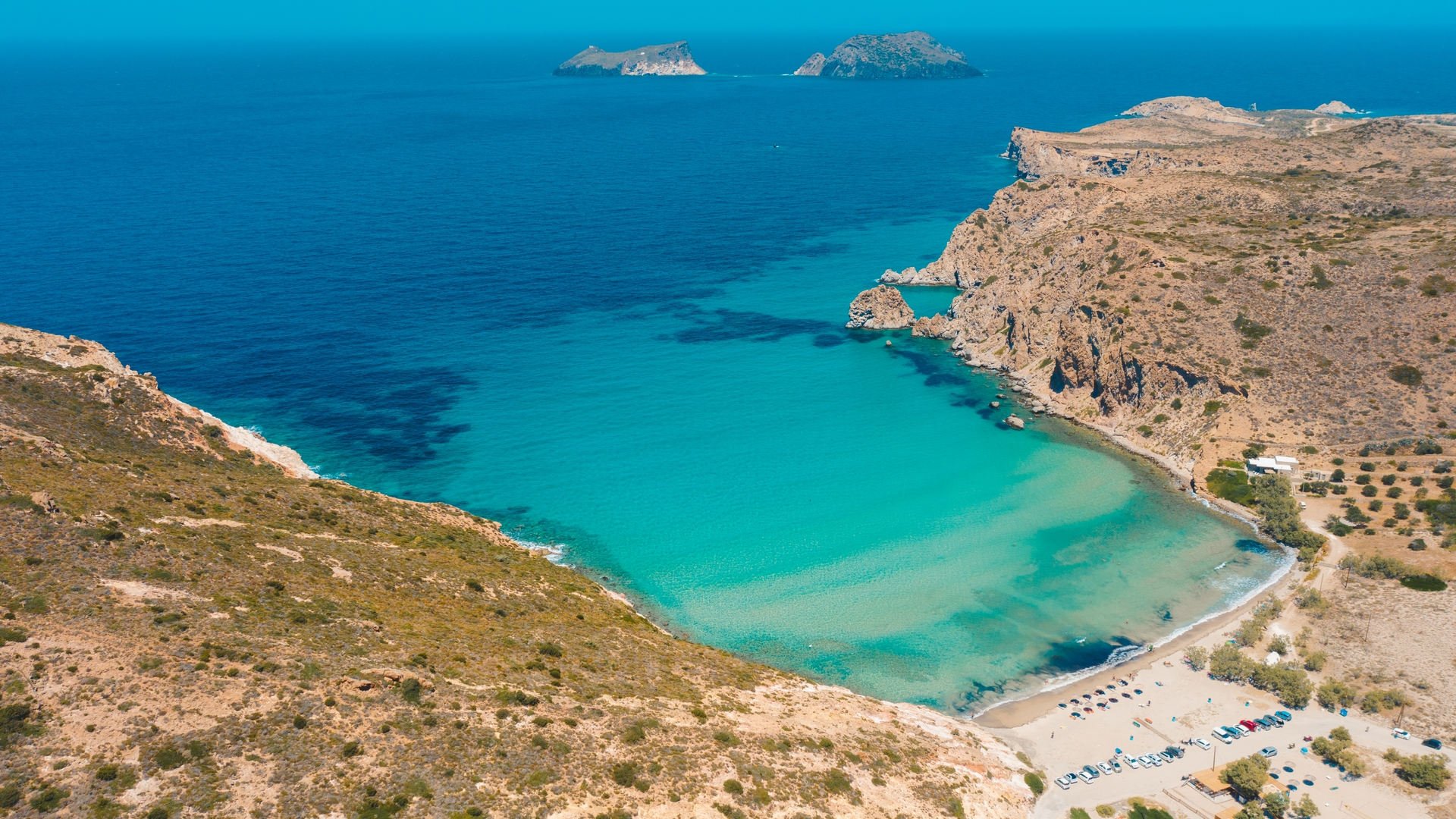 Thiorichia beach
The sulphur mines that once operated in Thiorichia (or Paleorema), in eastern Milos, are what stand out here, not least because of the hues of green and yellow splashed on the rock face and the shore. The rusty equipment and abandoned buildings of the mine above the beach lend it a bit of an eerie feel. But in reality, this is a one-of-a-kind beach that boasts fine yellow sand and incredible waters. Definitely one of the most Instagrammable beaches in Milos (and there's a lot of competition!). Road access is difficult (it's more than 5km on a bumpy path) so this beach is best visited on a boat trip.
Paleochori beach
Framed by a red-and-yellow shaded rock face, Paleochori offers a bit of everything to everyone. One of the most organised beaches in Milos, it offers a mix of water sports for the youngsters and cocktails and sea food for the adults in one of its restaurants and beach bars. The clear, green-blue waters are some of the best around the island and you'd be well advised to pack your mask and flippers. They say that swimming here is like being inside an aquarium tank. Nearby Tourlos beach, while smaller is worth your time (comes with a beach bar, too).

Amenities: Sunbeds & umbrellas, beach bar, tavernas, restaurants, water sports, parking
Access: By road
Distance from Adamas: 10km
Alogomandra beach
Small and charming, with tropical green waters and fine yellow sand, Alogomandra beach sits pretty. And you will, too, as the giant cave formation that extends well into the beach provides shade. Alogomandra is romantic and scenic and you may just fleetingly ponder that this is what a beach in heaven looks like. Avoid when the northerly winds pick up, as the waves gets choppy, and are known to go as far as the cave, and could lead to loss of property.

Amenities: None
Access: By road
Distance from Adamas: 6km

Agia Kyriaki beach
Agia Kyriaki is just what you need for a fun day at the beach, as it strikes the right balance of quiet and lively. It sits inside a cove, offering relative calm. The waters are emerald-green, the sand is white and pebbly and, while some shade is provided, there's a part of the beach with trees that offer protection from the sun. The real draw here is nearby Gerakas beach, accessible only by boat from Agia Kyriaki. It is a secluded piece of lunar awesomeness with incredibly clear water.
Amenities: Sunbeds & Umbrellas, taverna
Access: By road
Distance from Adamas: 9.5km
Firopotamos
Amphitheatrically built around a cascade of syrmata boathouses (they are fishermen's boat storage cubes carved out of the rock, that some convert to makeshift homes during the summer), Firopotamos is the definition of cute and scenic. The beach itself is composed of coarse sand and pebbles, with clear blue waters ideal for snorkelling. Family-friendly, lightly organised and small, it's a nifty little stop on your grand Milos beach-hopping tour.
Amenities: A few sunbeds & umbrellas, parking
Access: By road
Distance from Adamas: 5.9km
Pollonia
Pollonia's beach is just a peach. Organised and cosmopolitan but not too uppity (like Milos itself) it delivers oodles of effortless charisma. It's a fine slice of sanded gold that offers plenty of natural shade, curtesy of tamarisk trees, while the village itself (a must see while you're in Milos) is filled with all manner of delicious sea food eateries, ice cream parlours, cafes. And if you fancy exploring the island you can grab one of the boats and get a day tour from here. Family-friendly and full of Cycladic charm, Pollonia is a seamless fit.
Amenities: Tavernas, restaurants & parking
Access: By road
Distance from Adamas: 10km
12 of the best beaches in Milos
Milos lends credence to the saying that the best things in life are free. With beaches like these, the only thing you need to worry about is how many you can possibly fit into one holiday.
Book your trip
All your holiday planning needs in one place, letting you book direct and benefit from official online rates
Private
Private
Private
8 hours
Free cancellation
Not sure? You can cancel this reservation up to 48 hours in advance for a full refund