There's no better way to discover the beauty of an island of ever-changing colours and enchanting beaches than hopping on a boat and exploring a unique coastline.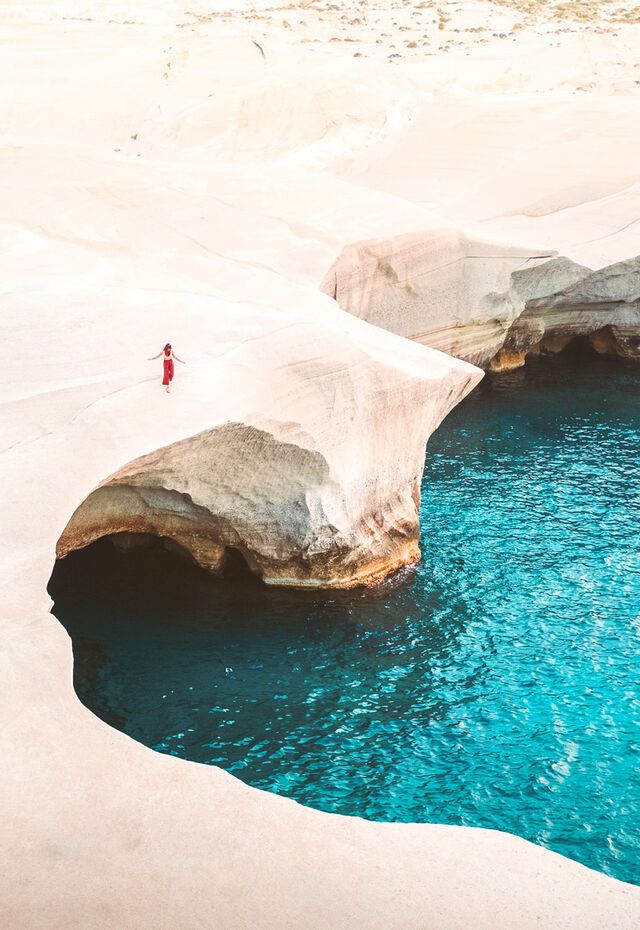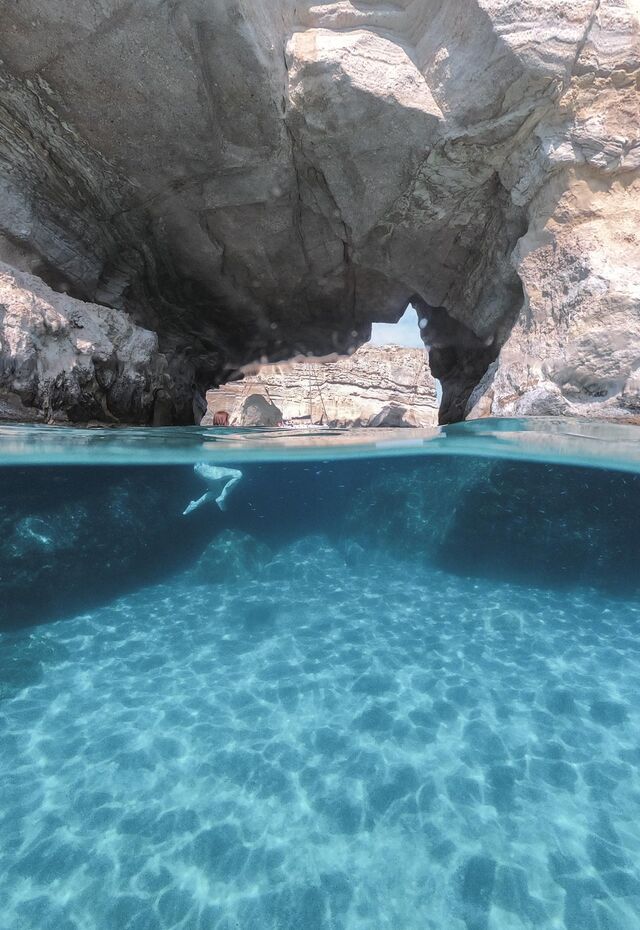 Duration
Full day
Season
May - October
OVERVIEW
Nowhere does dramatic landscape quite like Milos. The Cycladic island's volcanic past has gifted us a dazzling array of beaches and a spectacular vista of cliffs and rock formations, many taking on the colours of the mineral deposits they contain.

Exploring Milos by boat, you discover coves, creeks and caves, along with beaches that are either hard to reach or completely inaccessible by land. You'll pass sleepy fishing villages and spot the island's distinctive multi-coloured boat houses – sirmata, as they're known locally.

Snorkelling in the magically clear water will be a highlight, but you'll enjoy just sitting back and admiring all those rocks tinged with the colours of sulphur, perlite, copper, iron, amethyst or manganese. And obsidian, of course – or dragonglass as it's known to Game of Throne fans.

It doesn't matter what type of boat you choose (sailing or motor) and you can join a group or hire your own. The experience will stay with you forever.
DON'T MISS
Travelling anticlockwise around Milos:
Agathia
On the northwestern coast, a sandy beach with green-blue water and wild nature offers peace and serenity. A perfect spot to either begin or end your adventure.
Sykia Cave
Some time ago the roof of this spacious cave collapsed, creating a wonderful open-air chamber in which to swim or gaze up at the blue Mediterranean sky. Accessible only to small boats and inflatables, it's an Instagrammable hotspot. Part cave, part beach. Totally unique.
Kleftiko
An absolute must-see, Kleftiko was once a pirate hideout on the southwestern tip of the island. Today we can safely marvel at the steep white cliffs and turquoise waters. Get the snorkel, mask and flippers ready for this one (and you're camera too).
Gerontas
Moving onto the south coast, we have Gerontas, with white cliffs, dark sand and a distinctive archway you can swim through.

Tsigrado
Nestled beneath vertical cliffs, this small beach offers wonderful isolation and beautiful swimming. And the bonus of arriving by boat is that you don't have to climb down the ladder from the road entrance. There are also nearby creeks to discover.
Gerakas
You'll find white sand, clear blue water and the distinctive backdrop of a rockface sloping upwards from the beach, interspersed with "rivers" of sand tumbling down.
Thiorichia (or Paliorema)
On the eastern coast, you'll find one of the most unusual beaches in Greece because of the disused sulphur mine above it. The beach is Paliorema, although it's often called Thiorichia after the mine, which you walk around before swimming in the beautifully clear water. The rocks are coloured with sulphur and iron ore.
Agios Dimitrios
Another little gem offering isolation, with vegetation coming right down to the beach, beautiful blue water, shiny pebbles and the tiny chapel of Agios Dimitrios.
Organised tours will take you to a combination of the above, so if you want to be choose which ones to visit hire your own boat and skipper.
GET PLANNING
Boats leave from the ports of Adamas (Adamanta) and Pollonia.
Group trips depart at 9:00-10:00 and return at 19:00-20:00.
There are numerous private boats options for hire.
For sailing boats:
Berthing options include Pollonia and Voudia, which are opposite the neighbouring island of Kimolos.
Adamas boasts a modern marina, with excellent facilities.

Boat excursions run between April and October (with some starting in June).
Group prices range from €50-€120 per person (depending on boat, number of people and which beaches and bays are visited).
Private boat hire starts from €300.
All boat trips are dependent on weather conditions.
May-June and September-October are ideal months on Milos, when the more popular beaches have fewer people on them and the weather is cooler.
The length of your trip will depend on the number of places you visit and swimming time at each.
To complete a round-the-island trip you will need a full day.
Most beaches included here do not have facilities, so make sure you're fully equipped for a day in the sun. Especially if you hire your own boat, you'll need to be well stocked: