Located in the North Aegean, just opposite Kavala, Thassos is an island of tall, green mountains and quaint villages and is noted for its gorgeous coastline. The beaches of Thassos are mostly big and secluded, backed by greenery, offering relaxation or water sports depending on what you're after. Visitors are megnetised to Thassos' sandy beaches and emerald-green waters. Some even come with ancient ruins on the side. They are perfect for all visitors, especially families. If you're planning to take your holidays in Thassos, you'll want to start adding the beaches to your bucket list.
Giola beach
One of Thassos' landmarks, Giola isn't actually a beach. It's more a tear-shaped natural swimming pool carved into the rocks and bathing there is a purifying experience that borders on the mystical. Also known as Aphrodite's tear, it's one of the most photographed locations in Thassos. It sits right on the edge of the rocky shore on the southern edge of the island, with a back wall that rises to 8m, providing a handy diving board for the brave.
Getting to Giola Lagoon requires a 20min walk but once you set eyes on this gem, you won't care how far you've travelled. And should you feel the need for sand while you're here, the beaches of Kalami and Livadi are nearby.
Amenities: Snack bar & taverna (before the walk), parking
Access: By road & hike
Saliara beach
Saliara beach, (aka Marmara or Marble beach, after the nearby marble factory), is one of Thassos' most popular beaches for its exotic emerald waters and mixture of fine white sand and pebbles. It's in a small bay flanked by pine trees and has a beach bar that provides the basics. Its size and charm mean that it does get busy in the peak summer months and the last stretch of your journey is a dirt road that can be difficult to negotiate. So if you're not in a 4x4, there's a 20min walk to the beach, which is another reason to visit in the morning or afternoon or to take your holidays in Thassos in early or late summer. Another gem near Saliara beach (around 2.5km away on a dirt road) is Vathi beach. It's just as pretty and often half as crowded, with no amenities at all, save for a pine grove providing some natural shade.
Amenities: Sunbeds & umbrellas, beach bar
Access: By main road and dirt road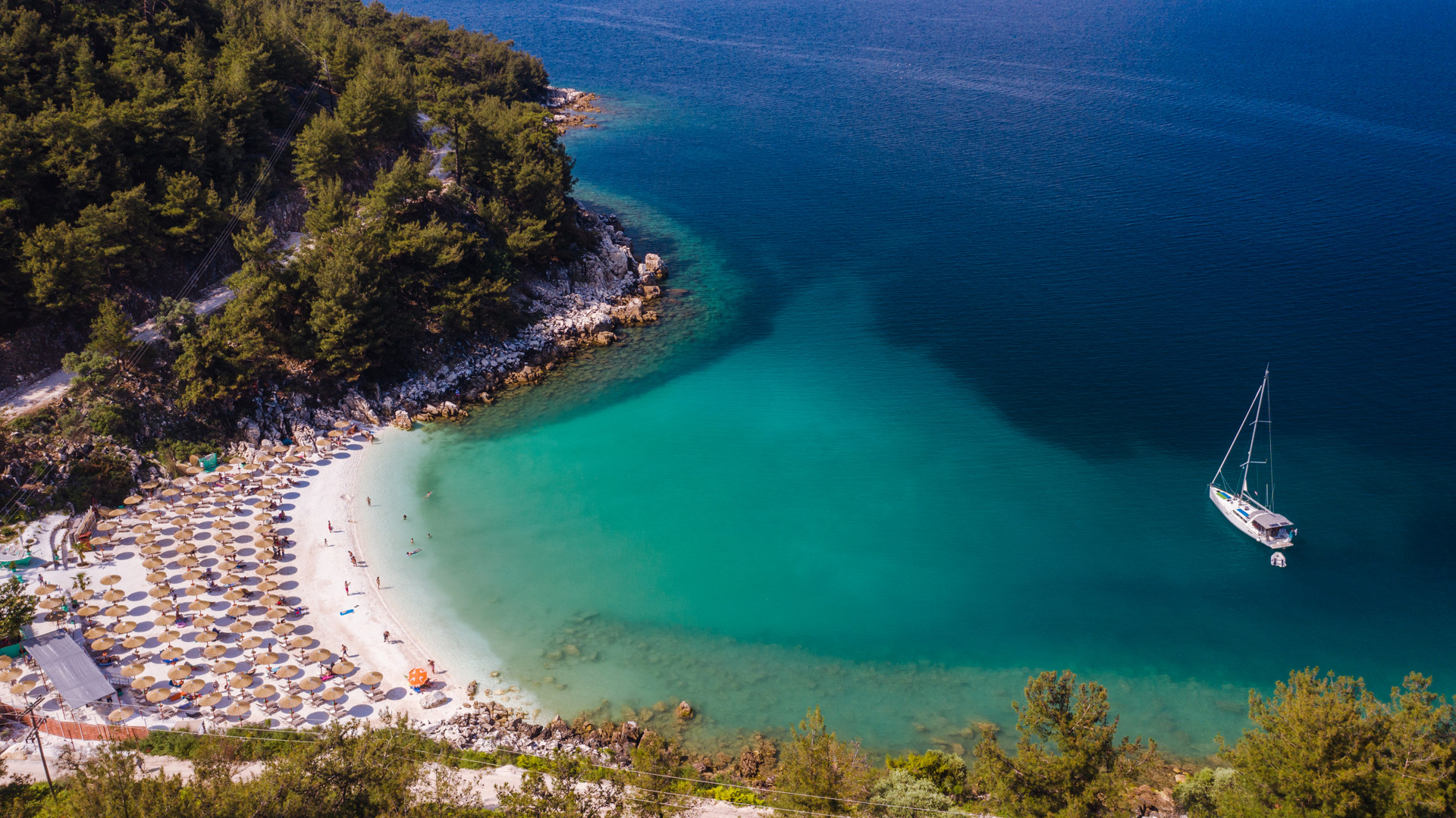 Arsanas beach
Getting to Arsanas beach requires you to negotiate a dirt road and a short walk, but once you're there you'll enjoy one of Thassos' finest beaches (or you can forgo the trek and reach it on a boat trip). It sits in a tranquil bay, bordered by lush pine groves. The water is green-blue (great for snorkelling) and there are a couple of underwater streams cooling the sea, making this a perfect option when it gets too hot. Fine sand and pebbles and a collection of sunbeds & umbrellas complete the scene, and when you get hungry you can head to the nearby taverna. There's also the chapel of the Archangel Michael to the east and, further along, to the west, you'll find Livadi beach with its wild, sprawling expanse of pebbly sand and tamarisk trees.
Amenities: A few sunbeds & umbrellas, taverna, parking
Access: By road & short hike, boat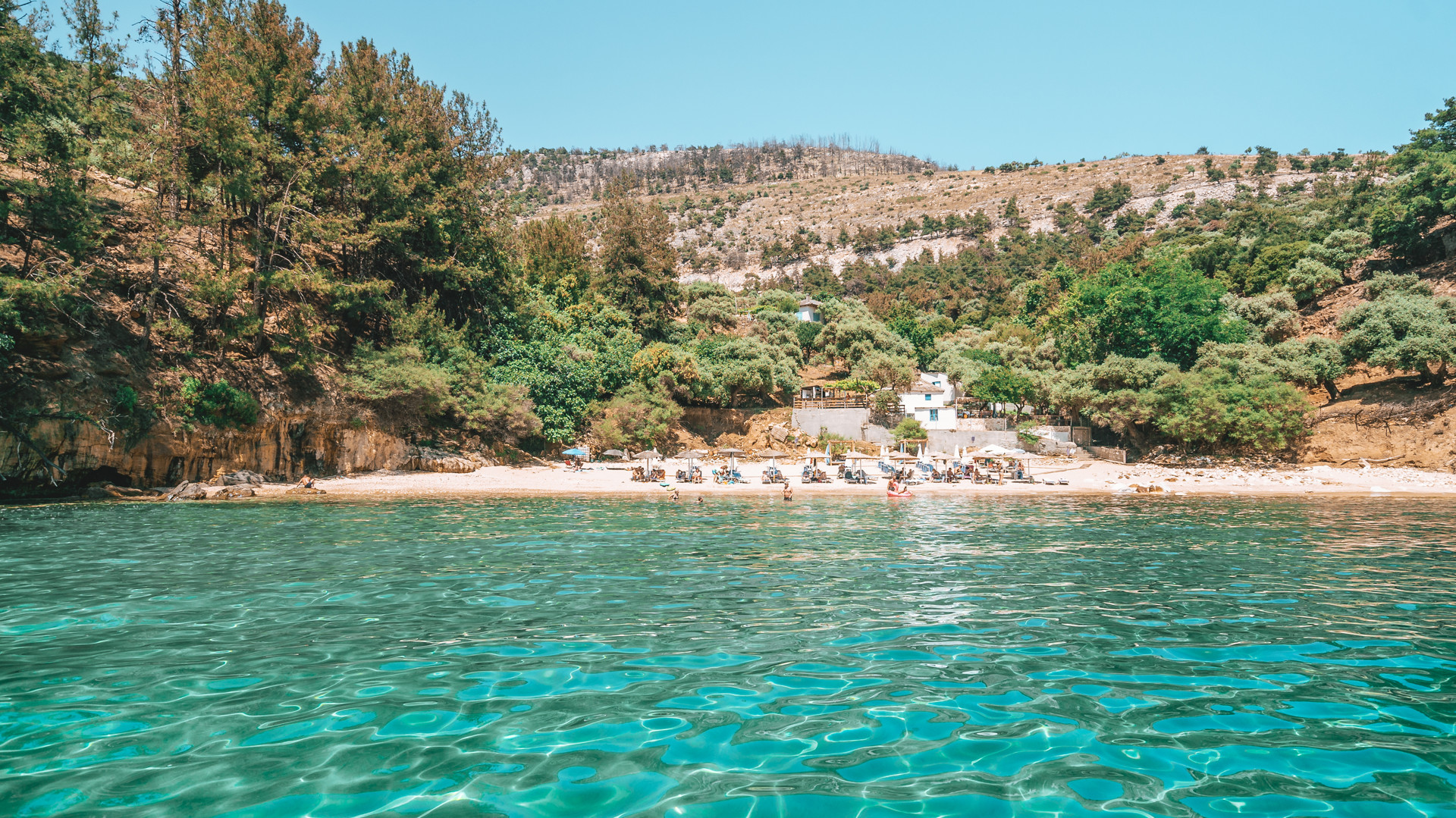 Aliki beach
The seaside village of Aliki that lies in the middle of a small anchor-shaped peninsula in south-eastern Thassos, and its twin beaches (both known as Aliki), are an ideal option for anyone wanting to get double the fun out of their holidays in Thassos. There is greenery all around it, with both the southern and northern beaches enjoying fine yellow sand and calm, green-blue waters. The southern beach is smaller but more organised, with tavernas and beach bars, while the northern one is bigger and more secluded and is only partly organised.
Metalia beach
The old metal-works factory to the side of Metalia beach gives it a captivating feel (and its name). It almost looks like an Aztec temple, as it is surrounded by dense foliage with the stone edifice within it. The fine yellow sand stands in stark contrast to the rust-coloured rocks and the intensely blue, shallow waters, making this one of Thassos' most singular beaches, as well as a family-favourite. Snorkelling is a must, so come prepared.
Paradise beach
Paradise beach lives up to its name, with fine golden sand and shallow, turquoise waters and thick vegetation all around it. It's easy to get to and, understandably, one of Thassos' more popular beaches, especially with families (although it can get wavy). There are sunbeds & umbrellas and a beach bar and when you get hungry, the nearby seaside village of Kinira comes highly recommended. Alternatively, just set your eyes on the small islet of Kiniriotiko across the bay and let the sun do its thing.
Amenities: Sunbeds & umbrellas, taverna, beach-bar
Access: By road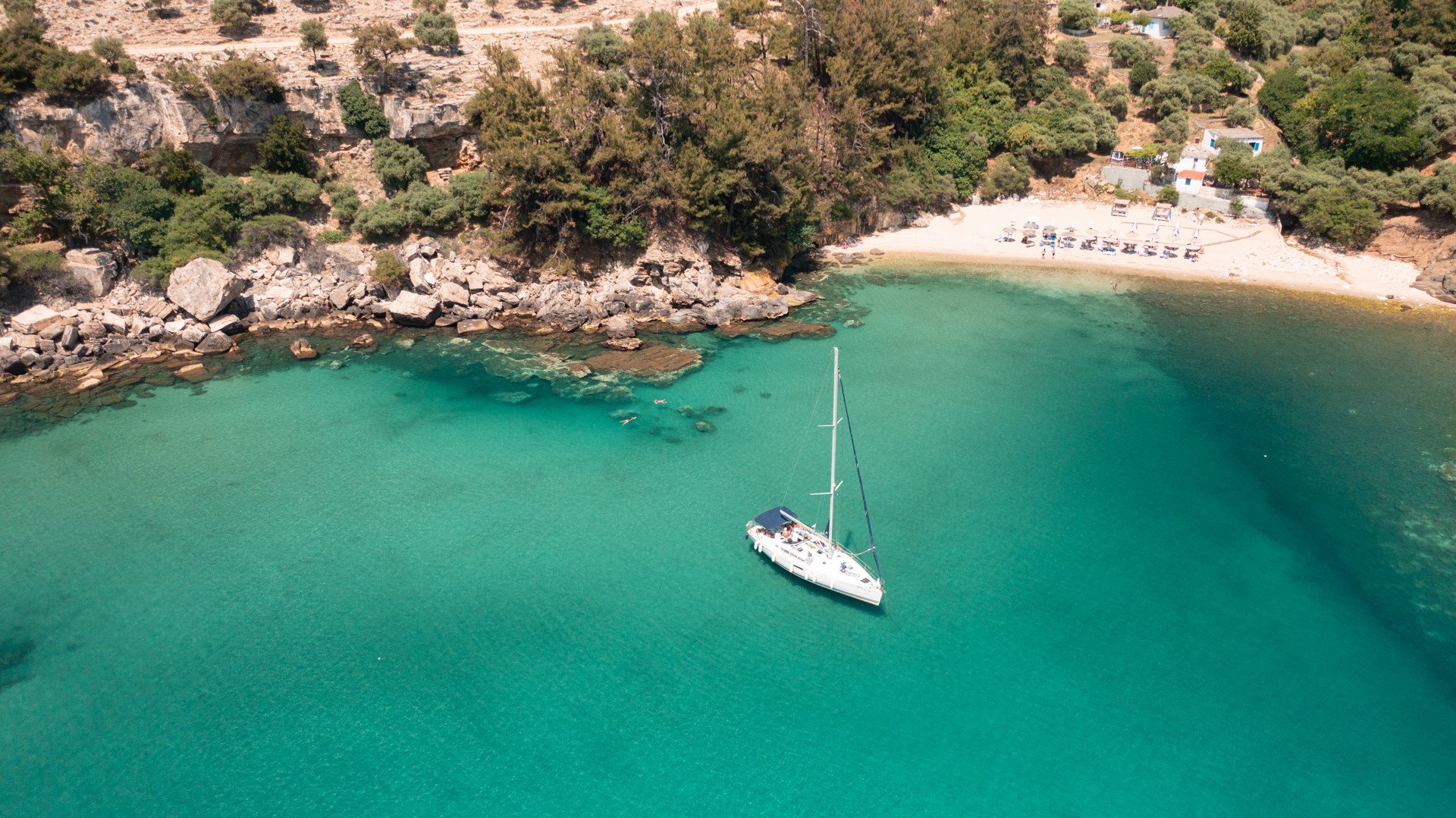 Golden beach
Golden beach (Chrysi Ammos) is another Thassos beach that lives up to its name – and then some! Golden beach is one of Thassos' finest and longest beaches, boasting fluffy, yellow sand and shallow, green-blue waters that cater to one and all (families especially). It is bordered by high, green mountains, adding a tropical tinge – so keep your camera handy. There are water sports and a scuba diving centre, and plenty of food & drink options, while nearby Panagia village is another gem if you decide on exploring. The little port of Skala Potamias is a short walk down the coast.
Amenities: Sunbeds & umbrellas, beach bars, tavernas, cafes
Access: By road
Tripiti beach
One of the biggest beaches in Thassos, Tripiti is ideal if you want to spend a carefree day in the sun. The coast is sandy white, the waters are green-blue and get deeper quickly (great for snorkelling along the rocks) and there are food & drink options available. It's located next to Limenaria, making it easily accessible if you're in south-western Thassos, and its size prevents it from getting too crowded. You can opt for the organised part of the beach or seek greater solitude near the pine forest. And if you explore a bit, you'll come across the rock formation eroded by the waves to create a natural cave (hence the name of the beach, from the Greek for hole). It's prime Insta-content, so make sure you're looking your best.
Amenities: Sunbeds & umbrellas, beach bar, restaurants
Access: By road

Psilli Ammos beach
Family-friendly Psilli Ammos beach should definitely be on your bucket list of Thassos beaches as it combines comforts and captivating vibes all in one. It's located at the southern part of the island and offers a mix of fine and fluffy yellow sand and pine trees that hug the coastline, not to mention the emerald-green waters with which you've become totally spoiled (shallow, so great for kids). If you want some quiet, there are several options around, too. Follow the road west and you get to Agia Anna and its wild, rocky beach, complete with a natural 'swimming pool' carved into the rocks, while further along is Notos, a tranquil beach with fine sanded and all the basics. Meanwhile, Astrida beach, to the east of Psilli Ammos, is a small, sandy enclave with some amenities and an easy disposition. Beach-hopping in Thassos! What a privilege.
Amenities: Sunbeds & umbrellas, beach bars, parking
Access: By road

Pachis beach
Like the vast majority of beaches in Thassos, Pachis has a combination of fine, yellow-white sand and green-blue waters, and is flanked by a dense canopy of pine trees that practically reach the sea. It is family-friendly (inviting all age-groups to its shores) and easy to access (7km from Limenas), with food & drink, water-sports facilities and an easy vibe. Nearby Glyfoneri beach offers the same set of features but nothing by way of amenities, if you feel like an even more relaxing alternative.
Amenities: Sunbeds & umbrellas, beach-bar, water sports
Access: By road
10 of the best beaches in Thassos
Verdant and unspoiled, with golden beaches, emerald-green waters and vibrant culture, Thassos is an island that should be on your radar. It combines authentic and wild settings in one brushstroke. Don't miss out on its mountain villages and delectable food, either.
Book your trip
All your holiday planning needs in one place, letting you book direct and benefit from official online rates