READING TIME
As long as it takes to eat a slice of watermelon
A fascinating city in northern Greece, Kavala can easily be reached by road from Thessaloniki and by air (it has its own domestic & international airport). It combines a lively city vibe, an Old Town with intriguing historical sites and – as you're about to find out – eye-catching sandy beaches filled with all the amenities and beautiful swimming conditions you could ask for. They are especially popular with families with young children.
So before you book that holiday to a Greek island, allow us to introduce you to the beaches around Kavala. Some are right by the city and others up to an hour's drive away. You won't be disappointed.
Paleo beach
The seaside resort of Paleo (aka Paleo Tsifliki) and its fine, yellow-sanded beach hit the spot every time. It's one of the longest beaches close to Kavala and the sea here is shallow (great for kids) and blue-green, so pack your snorkelling gear. Make sure you have plenty of phone battery, too, as the view (including the green hills behind the beach) is Insta-bligatory. You'll be sure to find a quiet patch on the beach if you prefer sand to a sunbed, and there are plenty of tavernas for when you get hungry. Alternatively, nearby Glastres beach offers a little more privacy.
Amenities: Sunbeds & umbrellas, beach bars, tavernas
Access: By road
Distance from Kavala: 9km
Nea Iraklitsa beach
A little further along the coastline, you reach the dainty village of Nea Iraklitsa and another golden-sanded beach, known as Alana and one of the best near Kavala if you're after a blend of fun and relaxation. The size of Alana beach means you can choose between sunbeds & umbrellas or a quiet bit of sand, and there are water sports too. The shallow, turquoise waters are a hit with kids and there are plenty of nearby tavernas. The combination of mountain and sea makes this a particularly beautiful stretch of coastline beyond Kavala.
Amenities: Sunbeds & umbrellas, beach bars, water sports, parking, tavernas
Access: By road
Distance from Kavala: 15km
Ammolofi beach
Ammolofi is another great beach option near Kavala. It's almost 3km long and divided into three sections, depending on what you're after. Pretty as it is, it can also be lively, with beach parties known to last well into the night. That said, it does cater to every taste, with water sports as well as quiet stretches. The scenery is full tropical, with the fine white sand giving way to blue-green water and lush hillside behind the beach. Don't believe us? Look for yourself!
Amenities: Sunbeds & umbrellas, beach bars, water sports, parking
Access: By road
Distance from Kavala: 22km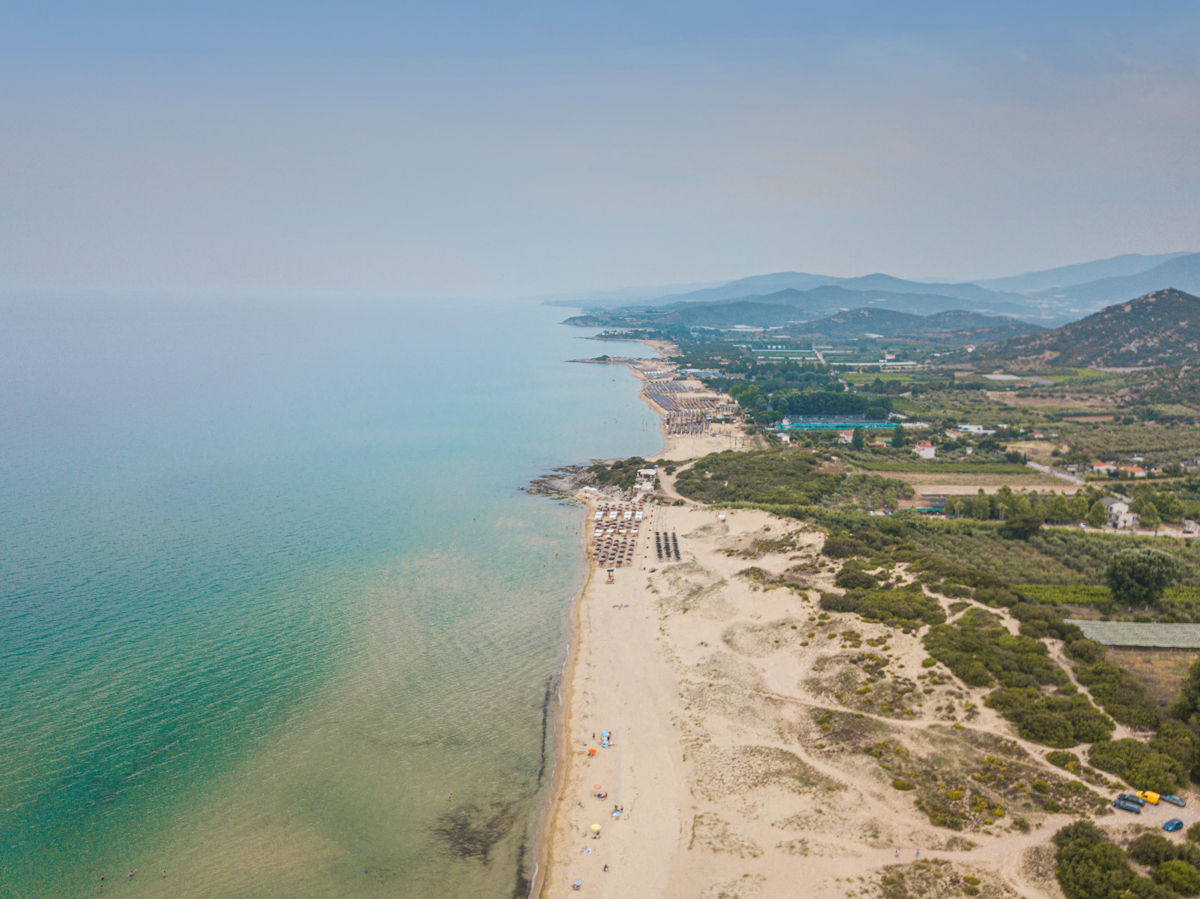 Nea Peramos beach
Like all the best beaches near Kavala, Nea Peramos is long, sandy and pretty. It enjoys shallow, green waters and has all the facilities you need for a day out at the beach, and is especially popular with families. It doesn't usually get that busy, but there are some nooks and crannies in which to hide if you choose. Nea Peramos is the name of the settlement here, nice for strolls and people-watching.

Vrasida beach
Tucked inside a tree-filled bay between Ammolofi and Nea Peramos, Vrasida is one of the most exotic beaches around Kavala. The turquoise water and fine yellow sand create a beautiful contrast to all the greenery around it – although that does make it popular so it's worth getting here early.
Amenities: snack bar, parking
Access: By road
Distance from Kavala: 23km
Getting to the beach is part of the experience, though, as a 3km dirt road takes you through a cedar grove.
Keramoti beach
You'll have understood by now that there are some beautiful beaches near Kavala, but Keramoti (aka Ammoglossa) might just be the pick. It protrudes from a cape like a sand-tongue (Ammoglossa means precisely that!), with part of it covered in cedar trees. The wide, fine-sanded expanse is picture-perfect, lapped by green-blue waters that are shallow enough for children to play in for hours. You can opt for the organised part of the beach and sip your cocktail or – if you're after something more secluded – go rogue within the trees. It's great for families and bohos alike and if you meander past the little harbour to one side, you'll find some tavernas.
Amenities: Sunbeds & umbrellas, beach bar, snack bar, parking, nearby tavernas
Access: By road
Distance from Kavala: 41km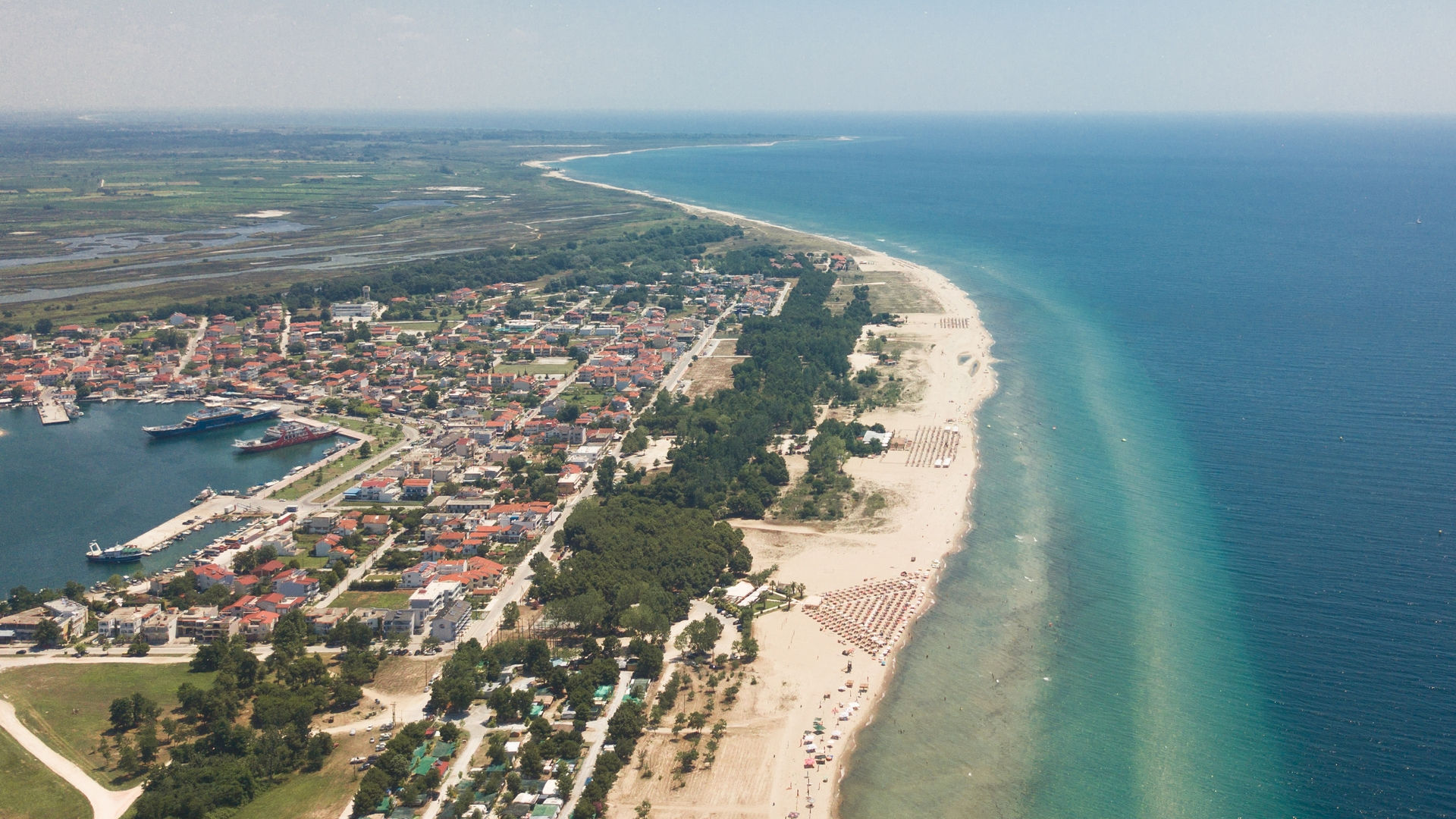 Kalamitsa beach
If you don't want to venture too far from Kavala, Kalamitsa beach is for you. It's just 4km from the city centre, sandy and enjoys some amenities, including umbrellas, and a motorised sea ramp for visitors with mobility difficulties. Alternatively, there's nearby Batis beach, awarded a Blue Flag for environmental cleanliness and with perks such as beach bars and restaurants.
Amenities: Umbrellas, taverna, parking, sea ramp
Access: By road
Distance from Kavala: 4.5km
In terms of access and all-round ease, Kalamistsa and Batis are two of the best beaches close to Kavala.
Apollonia beach
A large expanse of white sand with blue-green water, Apollonia beach will enchant you (especially the view of the medieval hilltop tower above the beach). It's worth stopping off at Apollonia Tower (the panoramic views are incredible) and descending the dirt road to the beach. Just be sure to have packed all your gear (including mask and flippers!) as there are no facilities on Apollonia beach and you'll be wanting to stay all day. It's one of the most picturesque beaches near Kavala.
Amenities: Parking
Access: By road
Distance from Kavala: 40km

8 of the best beaches in Kavala
There are so many reasons to visit Kavala: The incredible mix of eastern and western history, strolling through the Old Town, the architectural landmarks, the food and the easy access to Thassos, the northernmost Greek island. And now you can add beaches to that list.