A boat trip is the easiest way to sample a selection of Thassos' most famous beaches and max out on the legendary blue-green water of Greece's emerald isle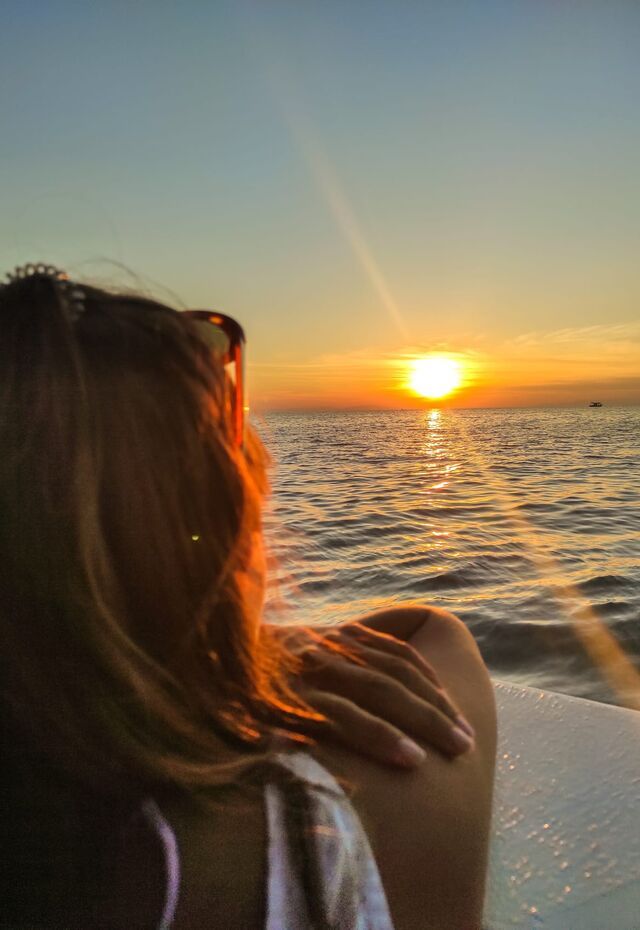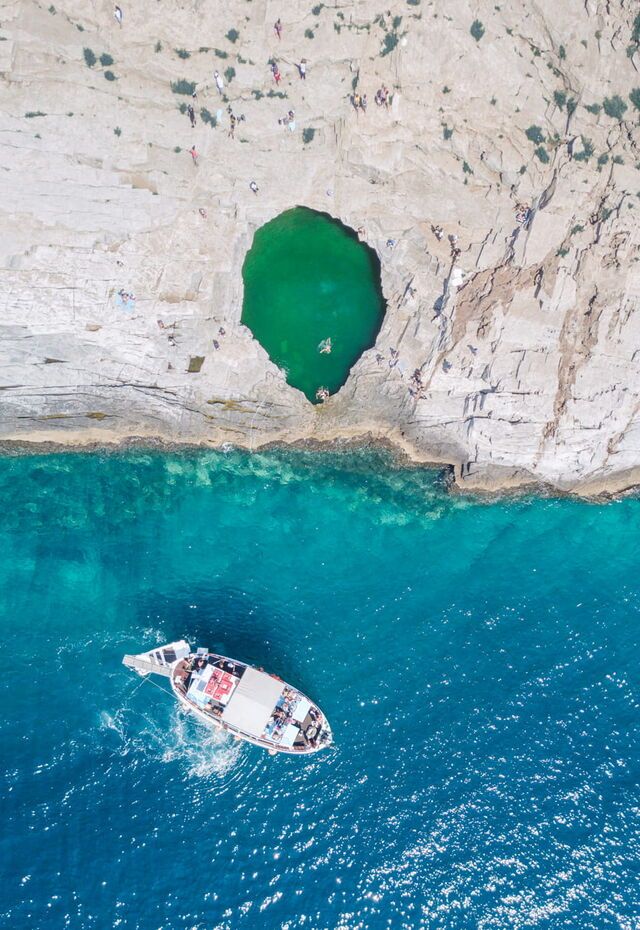 Duration
Half or Full Day
Season
May-October
OVERVIEW
Boat trip highlights in Thassos
The most northern island in the Aegean Sea has a way of wowing its visitors, with sandy beaches, impossibly clear water, a laid-back atmosphere and a lush-green interior. It's a combination made for a boat trip – unquestionably one of the most popular things to do on holidays in Thassos.
One look at all that dreamy coastline and the decision will be made for you. Boat trips in Thassos come in all styles, with the most popular being organised group trips from Limenaria along the south coast in converted traditional wooden fishing boats (known as a trehantiri). But there are also motor yachts and sailing boats that you can charter with a skipper (for that extra taste of luxury) from both Limenaria and Limenas (Thassos' main town, in the north).
The beaches trip off the tongue as you sail east of Limenaria, with many amongst the best beaches in Thassos: Psili Ammos and Salonikios, followed by Giola Lagoon (a tear-shaped rock pool rather than a beach but deservedly one of Thassos' best-known swimming spots), Arsanas (below the Monastery of the Archangel Michael) and the double-beach of Aliki.
Heading west, you're treated to Tripiti (with its emblematic rock with a hole through which you can swim) and Kefalas Bay, all the way up to Prinos beach in the northwest, past the settlements of Skala Kallirachis and Skala Sotiros.
Which beaches you visit may depend on the direction of the wind and the length and time of day of your boat trip, with sunset tours concentrating on the west coast. Excursions on a trehantiri often come with the bonus of lunch onboard.
Meanwhile, sailing boat and yacht trips from Limenas take you to yet more standout beaches on Thassos' east coast, like Golden Beach (or Chrysi Ammos) and Paradise beach (opposite the islet of Kirinia) as well as Saliara (or Marble beach - so called because small marble fragments give the sea an emerald colour), or west towards Prinos and beyond.
Whichever boat trip you choose, Thassos won't disappoint as you swim in blue-green bays and sea caves, with diving cormorants and gulls for company, and learn the easy way just why Thassos is famous for its beaches and Instagrammable vistas.

Book your trip
All your holiday planning needs in one place, letting you book direct and benefit from official online rates
GET PLANNING
What is the best way to reach Thassos in Greece?
There are regular ferries from Keramoti to Limenas (approx. 40mins, from €4 for passengers) and from Kavala to Prinos (approx. 1hr20min). More info here.
Keramoti port is 40km by car or bus from Kavala, which has an international airport and is also a fascinating addition to a holiday in Thassos.
Kavala is 171km (1hr50mins) from Thessaloniki (which has an airport for international and domestic flights).
Where do boat trips around Thassos start from?
Boat trips in Thassos start in Limenaria on the south coast or Limenas marina in the north.
Limenaria is 40km (40min by car) from Limenas.

When is the best time for a boat trip around Thassos?
Boat trips in Thassos operate from May-October.
The peak summer months are the busiest and hottest, so May-June and September-October are the ideal months for all the things to do on holidays in Thassos.
How much do boat trips in Thassos cost?
Organised group boat trips are €15-40 per person for half-day/full-day experiences.
Motor yacht and sailing/catamaran boat trips with a skipper will cost more, depending on the number of people and level of luxury.

How long do boat trips around Thassos last?
Half-day boat trips are around 3hrs while full-day excursions last around 7hrs.

Most organised group boat trips offer food and drink (depending on duration and time of day) but make sure to come prepared and don't forget:
Water and snacks
Hat, sunscreen, sunglasses
Swimwear (including change) and mask
Towel
Flip flops
Waterproof camera or water-resistant cover
Medical kit

This experience has been road-tested by Discover Greece, including sending international journalists to live the experience for themselves. Here are some of their highlights:
"A boat tour allows you to enjoy exclusive swimming pleasures. There are different vendors offering boat rides along the south coast that let you visit secluded beaches – just like we did with our captain to the small bay of Arsanas."
- Michael Fenstermacher, Rhein-Zeitung
"A boat tour should definitely be included in a trip to Thassos – It could be a simple boat, a higher-end motorboat with an experienced captain or even a pirate-style boat..."
- Jan Schafer, Siegener Zeitung
"The most beautiful bays and beaches are there to be discovered. The trehandiri (traditional wooden boat) of Captain Yannis has a bar and a lot of space to relax."
- Birte Lindlahr, GEOSAISON