EXPERIENCE
A day at mythical Giola Lagoon in Thassos
It takes just one glimpse of the natural rock pool known as Aphrodite's Tear to understand how Giola has assumed mythical status on the North Aegean island of Thassos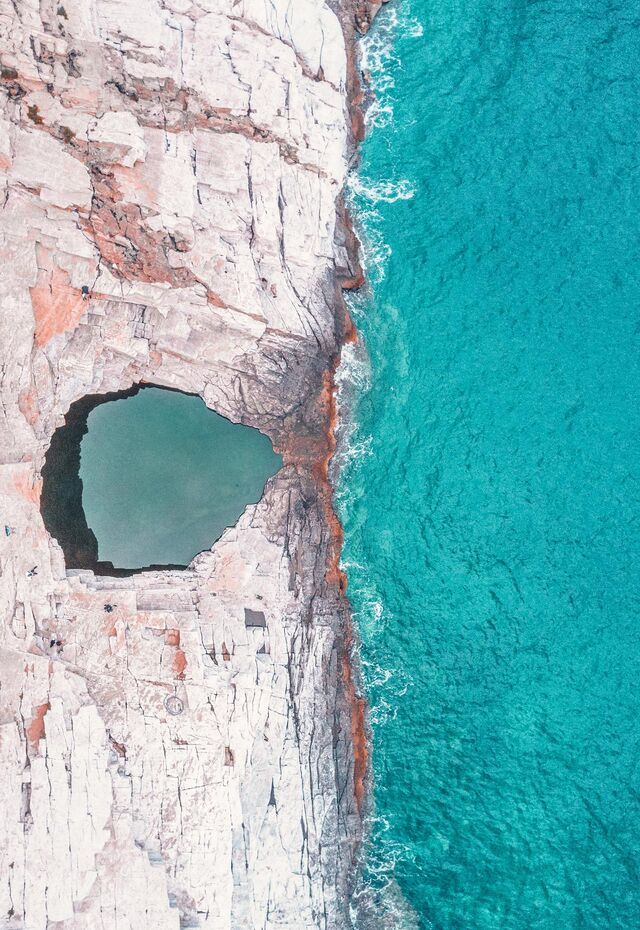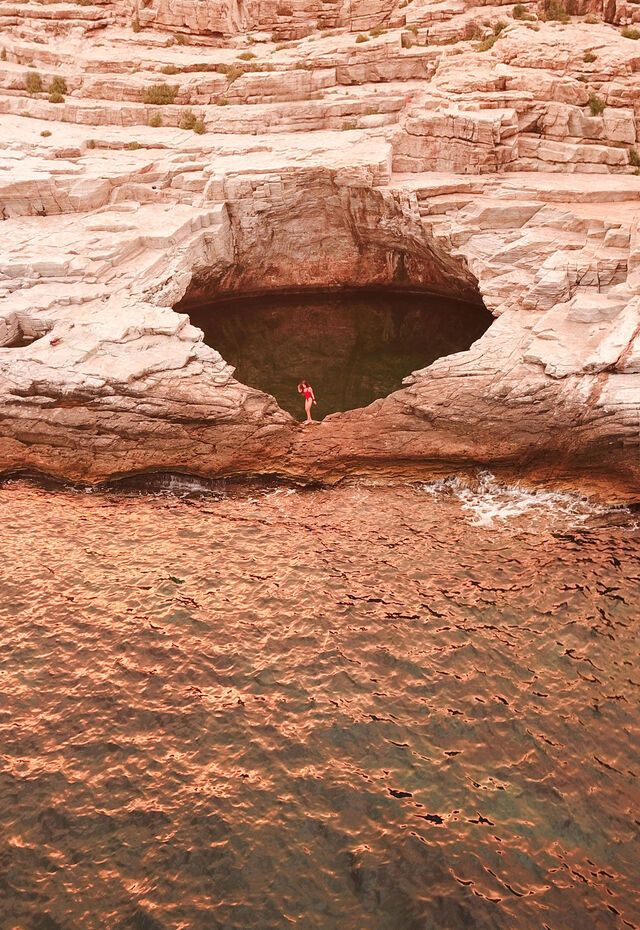 Duration
2 - 4 hrs
Season
May - October
OVERVIEW
Whether Giola was created by Zeus as a lagoon for his wife Aphrodite to bathe in or is the result of millions of years of waves splashing into a gently growing rock pool, the experience of visiting it will live long in your memory.

Aphrodite's Tear (as it's referred to locally, with another myth saying that Zeus created it as an eye through which to gaze upon his lover) is a natural rock pool on the south coast of Thassos. It has assumed legendary status on the island because of the experience of swimming in it and the mesmerising contrast of its water with the wild and rocky landscape around it.

Around 3m deep and 20mx15m in area, it is generous enough to bathe in but small enough to give a completely different experience to swimming in the Aegean, which replenishes it with each wave that breaks over the narrow lip between it and the sea. The water is warmer than the sea and the colours are a constantly shifting shade of blue and green.
When visitors aren't filling their Instagram feed with images of Giola, they laze on the rocks. And the braver ones dive or bomb off the taller back wall into the water.
The spectacle is complete with the view of the small, uninhabited island of Astiriotiko opposite (or Virgin Mary, as it's also known), said to be inhabited by Sirens. There are no prizes for guessing where they come for a dip when they get the urge for a swim.
GET PLANNING
From Limenas (the port and main town)
From Astrida (nearest village)
From Potos
The final stretch is a dirt road which ends at a parking area, from which a footpath leads to Giola. The scenery along the 10-15min walk is part of the experience.
There is a bus service to Giola during the summer months.
Or call: Tel +30 25930 22162

You'll enjoy the beautiful scenery of Giola at any time of year, but swimming and sunbathing are best from May to October.
Giola is popular during peak summer, so visiting in May-June and September-October are the best and quietest months to visit.
If you do visit in July-August, do so in the early morning or late afternoon when it's cooler and quieter.
Autumn
Spring
Summer
Winter
There are no facilities at Giola, so make sure you have everything you need for a day in the sun: