EXPERIENCE
Cycladic village hopping in Sifnos
Gaetano Cessati
Whitewashed splendour, masterpieces in clay, delicious food and all the wonder of the Cyclades islands await you in Sifnos' postcard-perfect villages.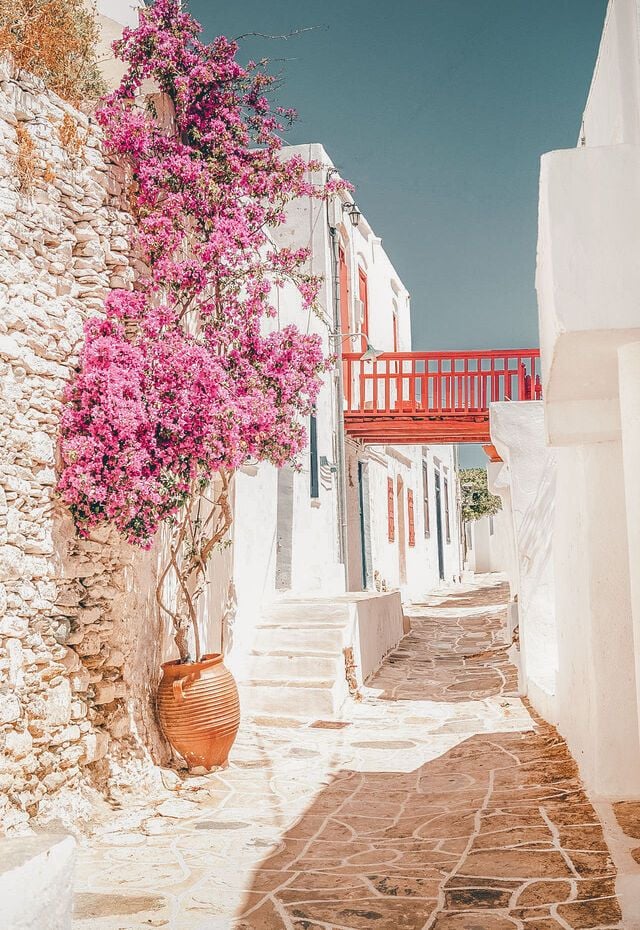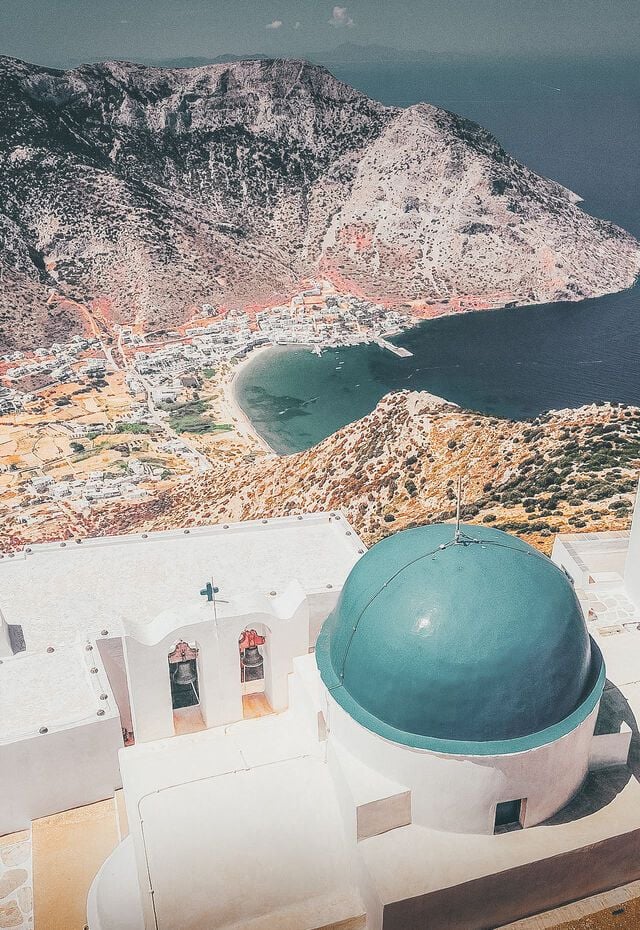 Duration
2 - 3 days
Season
All year round
OVERVIEW
There are 13 permanently inhabited villages on Sifnos, all within easy reach of one another. Each seems to beckon you with its own story of architecture, food, traditions, spirited locals and everything that makes this Cycladic island so wonderful.

The cobblestoned alleyways, alabaster-white houses, blue-domed churches and windmills are all out of a Cyclades island postcard. But so, too, are there touches special to this island – amongst them workshops where clay is shaped on pedal-powered pottery wheels into vases and chimneypots (flari), before being ornately decorated and baked in wood-fired kilns.

It's the small details you'll enjoy most (the cisterns of houses collecting precious rainwater and the dovecotes) and, this being Sifnos, the irresistible smell of food beckoning you into cosy tavernas. And let's not forget the welcome of locals whose warmth and hospitality are just as deep as the island's traditions.
DON'T MISS
You can start your village-hopping tour from anywhere on Sifnos, but the main town (Apollonia) or port (Kamaras) are obvious places to set out.
Kamares
It says everything about Sifnos that its main port is included amongst the villages to explore – large enough to greet ferries from Piraeus (2-3hrs by fast boat up to 5-6hrs by conventional ferry) and nearby islands, but small enough to have kept its Cycladic charm. It combines little alleyways with a waterfront of enticing fish tavernas. The stores here are a perfect introduction to Sifnos' ceramic culture and you can slip in a sneaky swim at one of the sandiest beaches in Sifnos (awarded a Blue Flag for cleanliness) right by the village. There are trails from here that take you to the Black Cave (Mavri Spilia), the Sanctuary of the Nymphs and other attractions.
Artemonas
Each hour of the day creates a different ambience on Artemonas – from serene and sleepy in the morning to alive with the giggles of children running around the main square in the evening. The houses have a Venetian or neoclassical air (particularly the old mansions) and are proudly looked after by the locals, with creative touches of colour and flower-potted patios. Be sure to stop for a coffee and handmade sweet (perhaps an almond, cinnamon and honey boureki).
Exambela
You're given a hint of the character of this quaint little settlement, just a few kilometres from Apollonia, by the 10 or so windmills that stand just outside the village. Exambela's agricultural heritage is strong (as are the winds that occasionally pass through). Also strong is its gastronomic identity as it is a village that is forever linked with Nikolaos Tselementes, the renowned chef who was born here at the end of the 20th century and whose cookbook became a culinary bible all around Greece. There's a good selection of restaurants, shops and accommodation and you'll enjoy visiting the 15th century Panagia Vryssiani monastery.
Kastro
Perhaps the best example of Venetian architecture on Sifnos awaits you in this clifftop village. It was the first capital of Sifnos and has an ancient citadel that was enhanced by Venetian walls. As you wander down from the citadel, through the narrow streets of the village, look out for the Venetian coats of arms on the houses. And if you manage to find it open, pop into the Archaeological Museum of Sifnos. Eventually, you reach the Chapel of the Seven Martyrs, built on a protruding rock with breathtaking views over the sea.
Faros
A traditional village on the eastern coast of Sifnos, Faros combines excellent (and reasonably priced) seafood with quaint Cycladic architecture. It also has the bonus of beautiful beaches, such as Fasolou and Glyfos, right by the village. Before leaving, make sure you complete the 20min walk to Panagia Chrysopigi. It's the Insta-star amongst Sifnos' churches. You can even combine your visit with a swim.
Vathi
Our final village is the fishing harbour of Vathi, with its assortment of beaches, shops, churches and other delights. But it's time to focus on the food – exceptional across the island but worth singling out here. Imagine yourself sitting at a taverna on a sandy beach, under the generous shade of tamarisk trees and with traditional Sifnian fare laid out before you: wood fire-baked chickpea soup, a casserole of succulent goat with local wine and dill, a dish of oregano-scented rabbit and an assortment of pies with handmade phyllo pastry. When you're finished, there are plenty of alleyways to explore. You'll find traditional pottery workshops, where you can admire the detail of Sifniot vases and chimneypots.
GET PLANNING
The first village highlighted here is Kamares, 5.5km (10mins by car) from Apollonia.
The route covering all the villages is approx. 40km (1hr15min) by car.
For lovers of walking, Exambela, Kastro, Faros and Panagia Chrysopigi are connected by footpaths.
Village hopping in Sifnos is an experience that can be enjoyed all year round, as all the villages are permanently inhabited.
You'll enjoy the villages at any time of year, but to feel their full authenticity and tranquillity, it's best to avoid July-August when the island is at its busiest.
Autumn
Spring
Summer
Winter
It is possible to combine all the villages, ideally sleeping overnight in the larger ones, over 2-3 days.