Whether you want to conquer the home of the gods or gently hike through divine nature, Mt Olympus stands ready to greet you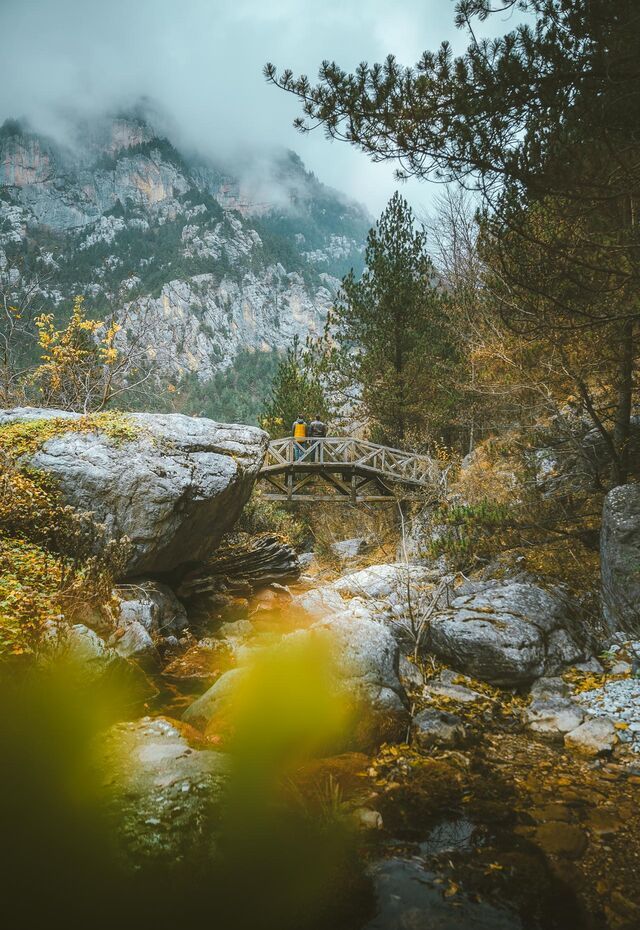 Duration
3 - 5 hrs
Season
May - October
OVERVIEW
It's not for nothing that the ancient Greeks chose Mt Olympus as the seat of the 12 gods. Greece's highest point has always attracted a sense of awe – as much for its rich wildlife as the mystery of its ravines, caves, plateaus and mist-covered peaks. Where better for Zeus to settle as lord of all the gods, demigods and humans?

And humans, in turn, were quick to show their reverence. Mt Olympus was made Greece's first National Park and has been incorporated into the E4 hiking path, allowing us all to enjoy the views from its many peaks and folds, along with some of the 1,700 types of plant and animal found on its slopes.
You certainly don't have to reach the full 2,917m to Mytikas, the legendary Throne of Zeus. There are various routes you can follow, either with a guide or on your own. And the most popular is the first stretch, along the beautiful Enipeas Valley, from the foot of the mountain to one of the refuges.
The terrain, climate and vegetation change as you ascend. From oaks and low-lying shrubs to deciduous trees and black pine and firs – including the rare robolo tree (or Bosnian pine) – until you rise above the treeline at 2,500m with low-lying vegetation and, in the spring, an expanse of wildflowers.
DON'T MISS
Enipeas River Valley
Hiking from Myli, just outside Litochoro (the closest town), to Prionia (the highest point reachable by car) is one of the most popular routes. Wooden bridges criss-cross the 10km path along the densely-forested valley, which is part of the E4 hiking trail, until you reach Prionia (1,100m altitude). Along the way, you'll enjoy:
Agios Dionysios Cave: Where Saint Dionysios lived as a hermit.
Agios Dionysios Monastery: Hidden within the pine forest, a 15th century monastery that was destroyed by the Germans during World War 2.
Enipeas Waterfalls: With a beautiful plunge pool you can swim in.
Spilios Agapitos Refuge
Prionia is also a popular starting point, with a carpark and other facilities. The path continues to the Spilios Agapitos Refuge at 2,100m (one of many refuges on the mountain). You pass between pine, beech and fir trees until you reach the refuge, within a plateau of impressive age-old robolo trees. If you're intending to climb to the top, you can sleep the night here.
Not one summit, but three!
Weather conditions, and whether you're willing to scramble the final stretch, will determine where your hike ends. The first peak is Skala (2,882m), after which you can cross a narrow ridge to the second summit, Skolio (2,911m). Or you could choose to scale Mytikas (a further 3hrs). But don't feel pressurised, especially if the weather isn't good. The last bit isn't easy.
Book your trip
All your holiday planning needs in one place, letting you book direct and benefit from official online rates
Group
8 hours
Free cancellation
Not sure? You can cancel this reservation up to 48 hours in advance for a full refund
Group
Group
GET PLANNING
The Mt Olympus hiking season is from mid-May to mid-October (winter being strictly off limits because of snow and high winds).
The paths can get busy during the peak summer months, especially on weekends.
The Olympus Marathon takes place at the end of June each year, including an incredible 44km run up and down the mountain paths.
Always check the weather because conditions can be changeable whatever the season, particularly towards the top.
The mountain is at its most beautiful in spring (with running water and trees and flowers in bloom) and is popular in summer, when temperatures and winds are at their best for climbing.
Autumn
Spring
Summer
Winter
Litochoro (Myli) to Prionia
Distance: 12km
Highest Point: 1,100m
Walking Time: 5hrs
Age/Difficulty (14+)
Litochoro or Prionia to Spilios Agapitos Refuge
Distance: 5.5km
Highest Point: 2,100m
Walking Time: 3-4hrs
Age/Difficulty (14+)
Litochoro has plenty of hotel and traditional restaurant options and the added bonus of being just 10mins from the sea, if you fancy a swim.
Mt Olympus is just 1hr from Thessaloniki, so perfect for a day trip.
Most of the climb towards the top of Mt Olympus isn't difficult or technical, but it does get steep.
The weather is changeable and the temperature drops by an average of half a degree Celsius for each 100m climb.
What to pack:
Make sure you have all the correct equipment before setting out: