EXPERIENCE
Discover the hiking paths of Folegandros
Crossing a wild and beautiful landscape of hills and farmland, and with clifftop views to the sea, the hiking paths of Folegandros are the ideal way to discover a deeply authentic island in the Cyclades.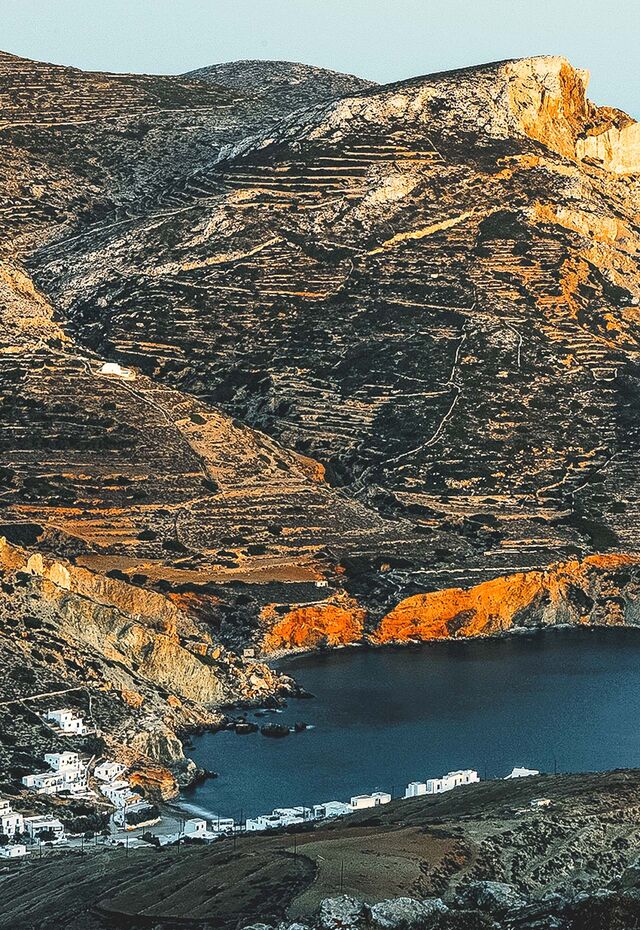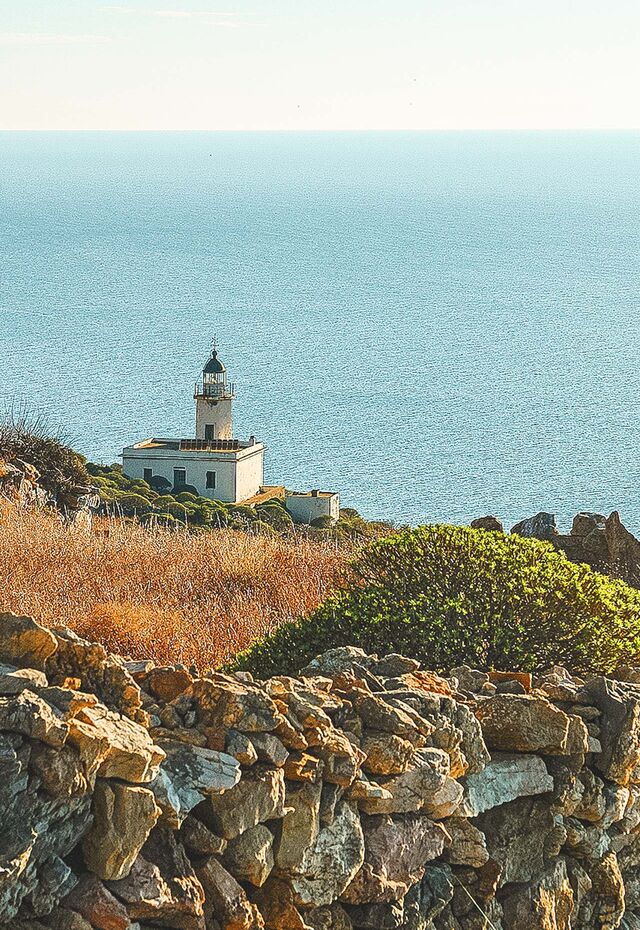 Duration
3 - 4 hrs
Season
All year round
OVERVIEW
It feels like Folegandros' extensive network of hiking trails was designed specifically for visitors to this quiet and unassumingly beautiful island – so close to Santorini, Milos and Ios that you'll feel you should have discovered it already, but sharing none of those better-known Cycladic islands' bustle and buzz.
The trails are some of Folegandros' original paths, once carrying shepherds and locals from one settlement to another. And there will be times when you're walking them that you'll feel like nothing has changed since those days.

Some of the hamlets along the way have been abandoned, but the small churches are still there and the landscape is much the same – with breathtaking Aegean views and beautiful remote beaches. It's possible to get to some of the same spots by car, but Folegandros is undoubtedly an island that is best discovered on foot.
DON'T MISS
There are plenty of paths to choose from, which are straightforward for all ages, but the one described here is a circular route from the little agricultural village of Ano Meria, to the northeast.
Ano Meria
It says everything about Folegandros that its second-largest settlement has only 350 residents. Ano Meria is true to its agricultural roots and, as you head out on the path south of the village's two windmills, you'll be introduced to the so-called Themonies (little clusters of dispersed houses used by animal breeders and other farmers). There's no better example of the island's simple, traditional way of life.
Agia Fotini
Around 30mins into your walk, you'll take a small diversion from the main path up a hill to the little church of Agia Fotini. It's a good spot for your first magical view of the landscape and sea beyond. You'll feel beautifully remote amongst the hills.
Aspropounta Lighthouse
It takes around another 30mins to reach the Aspropounta Lighthouse on the northwest coast, built in 1919 almost 60m up on a cliff. Take your time to enjoy the expansive Aegean view. You can head back to Ano Meria from here, but you'll probably be tempted to continue.
Livadaki Beach
North of the lighthouse, you'll descend to sea level in a gorgeous little protected bay where you will find a remote, pebbly beach. It's a perfect spot for a swim and to relax before continuing your journey.
Panagia Nisiotissa
From here, you'll continue your circular route back towards Ano Meria. The little chapel of Panagia Nisiotissa, on its own high up on the hill, will be your last stop (pop in to light a candle and have one final gorgeous view towards the sea) before continuing to the western edge of Ano Meria, by the little chapel of Taxiarhi. The main road east takes you back to the windmills.
Book your trip
All your holiday planning needs in one place, letting you book direct and benefit from official online rates
Private
GET PLANNING
From Hora
By car or taxi: 5km (10min)
From Karavostasi (port)
By car or taxi: 8km (14min)
From Angali
By car or taxi: 3km (6min)
By bus: There are regular buses from Hora during the summer months, which depart from behind the Town Hall.
You can hike in Folegandros all year round but the best periods are spring to autumn.
If you are visiting in the summer months, it's best to set out early in the morning and make the most of Livadaki Beach before returning to Ano Meria.
Alternatively, head out in the early afternoon and coincide your return with sunset views from Panagia Nisiotissa.
April-May and October are ideal, when the temperature is cooler and the island is calmer.
Autumn
Spring
Summer
Winter
Distance: 5.5km
Highest point: 250m
Walking time: 3-4hrs
Difficulty: Easy to medium
Make sure you have all the correct equipment before setting out: