With so many amazing climbing spots and jaw-dropping scenery, Kalymnos has become a landmark for climbing enthusiasts from all around the world.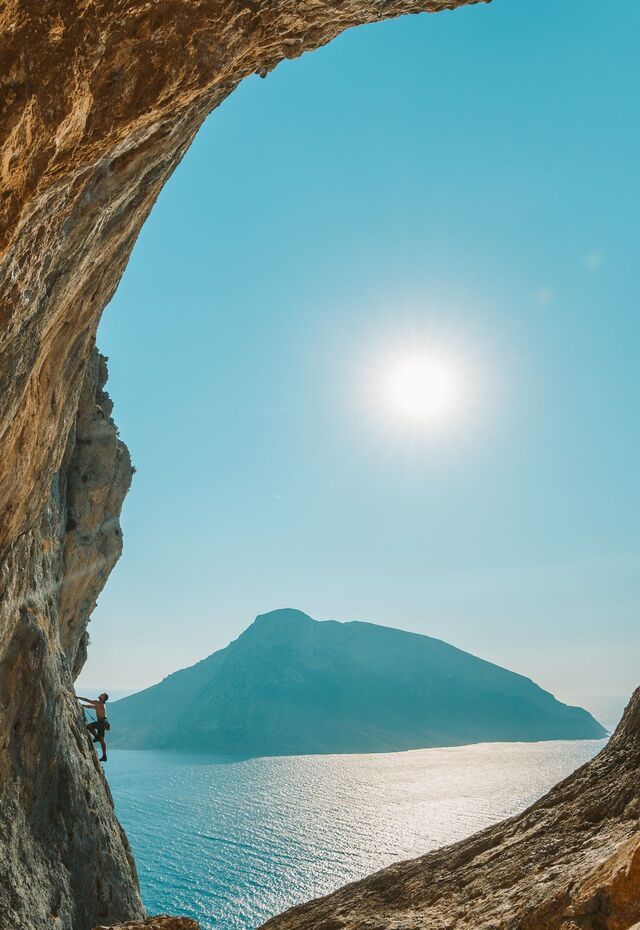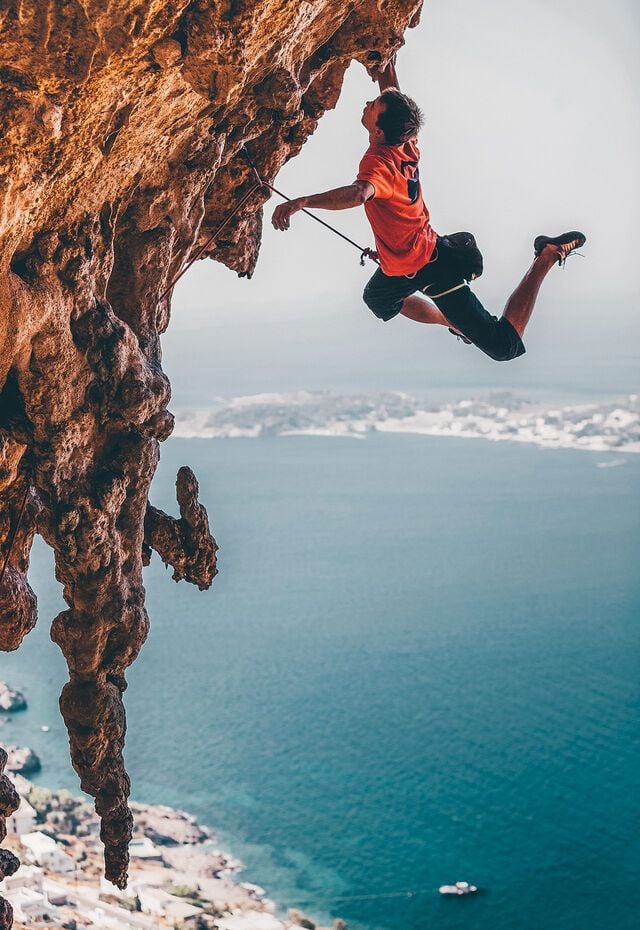 Duration
5-6 days
Season
Spring - Autumn
OVERVIEW
Few destinations have had such a steep rise in fame in the climbing world as Kalymnos. Thousands of routes for all levels, limestone cliffs and a seemingly endless gift of crags, caves and overhangs (all with incredible Aegean views) have combined to make the Dodecanese island one of the premier climbing destinations in the world – all within two short decades.
The variety and quality of its rocks are what Kalymnos has built its reputation on. You could be an absolute beginner or world champion and you'd find what you're looking for. Easy slabs to get you started or technical climb walls are amongst thousands of well-maintained routes, including single-pitch and multi-pitch options … along with instructors and equipment to hire. Everything you need so you can play hard and relax the rest of the time.
It's as if Kalymnos was created for climbers. The climate, the food … the fact that you can be inverted on an overhang with the incredible colours of the Aegean as a backdrop in the morning – and swimming in the sea in the afternoon.
There are climbing routes along the west and northwest coast, all within easy reach. But the climbing capital is the village of Massouri (the famous overhang photos of Grande Grotta are taken near here). And there is also a selection of fantastic hiking trails, if you want to experience more of the island's epic scenery on two feet.
Above all, you'll leave filled with the special energy Kalymnos radiates – nowhere more so than during the various climbing competitions held through the year. The Kalymnos Climbing Festival, in particular, has become a draw-card for enthusiasts from all over the world
GET PLANNING
The cliffs are 5-10mins drive or around 20mins walk from Pothia, the island's capital
The best climbing spots are around the village of Massouri, near the famous Grande Grotta overhang.
Kalymnos can be most easily reached by boat from neighbouring Kos. Once you've landed in Kos, take a taxi to the port at Mastihari and catch a boat to Kalymnos. The crossing takes approx. 45mins by ferry and 25mins by speedboat.
In summer, Kalymnos is also accessible by plane from Athens International Airport (approx. 1hr)
The best time to visit Kalymnos for climbing is during spring and autumn.
July and August are extremely hot but the sea wind is cooling and most cliffs are shaded at certain times of day, so you can balance your time between climbing and swimming.
Climbing is dependent on weather conditions.
A basic taster course for amateur climbing lasts a half-day.
If you have your own equipment (and the technical knowhow), you can dedicate as much time as you want to climbing as there are countless options, from organised climbing routes to virgin rockface. Experienced and pro climbers usually stay for 5-6 days.
There are more than 40 climbing spots and 2,000-plus routes (including 1,200 single-pitch of mostly 20-35m in height) and multi-pitch options in Kalymnos.
Many routes are pre-equipped with permanent drilled-in (and well-maintained) bolts and anchors.
You can bring or rent your climbing equipment from the many climbing clubs and shops.
Most routes are equipped and vary in level of difficulty from 4 (training) to 9 (experienced), with most being mid-range 6.
For more specific technical information, contact an experience provider.
There is a climbing rescue service on Kalymnos.
Make sure you have (or rent):
Helmet
Harness
Climbing Shoes
Chalk – chalk bag – climbing backpack
Windcheater