EXPERIENCE
A walking tour of Folegandros' simple yet sophisticated main town
Simple, stylish and still largely undiscovered by international visitors, Folegandros' Hora scores highly on both the authenticity and cosmopolitan meter.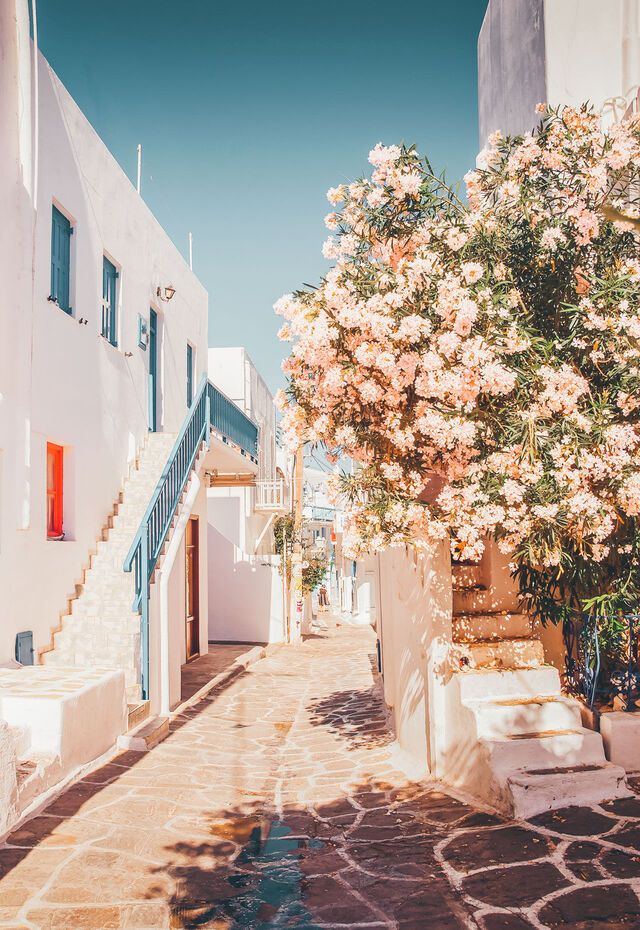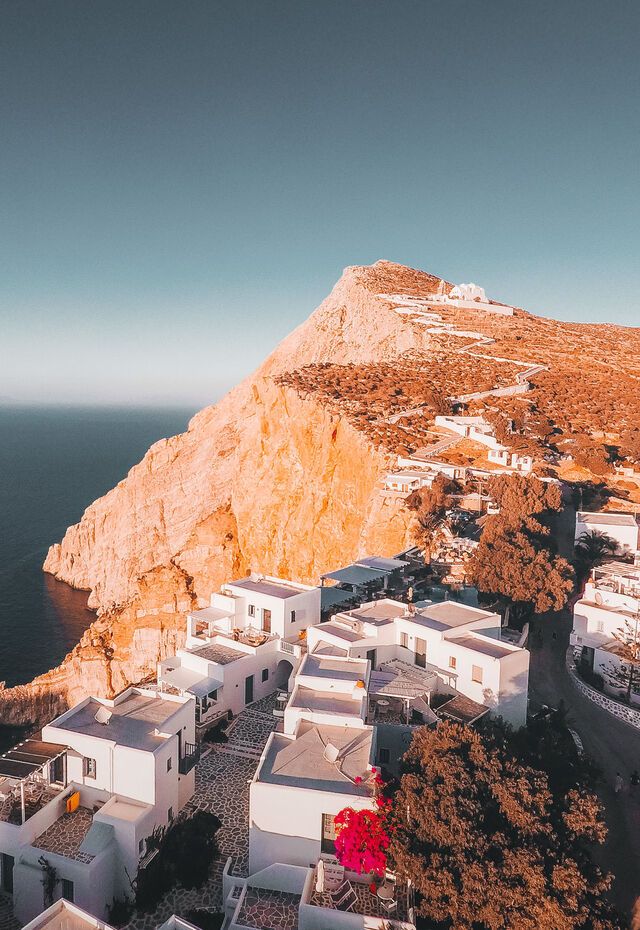 Duration
Full day
Season
May - October
OVERVIEW
Tucked away between Santorini, Milos and other better-known Cycladic islands, Folegandros has an unmistakable sense of discovery about it. And certainly, from more than 200m up in the main town – with the sparkling blue of the Aegean Sea ahead and the whitewashed houses behind you – you'll be asking yourself how it was never on your radar of Greek islands before.

Hora (as the main town is known) takes everything cosmopolitan and chic about the Cyclades and presents it with simplicity and untapped wonder – all the way up to its hill-top Venetian castle.

You'll be telling people about the island's beaches and food for sure, but its heartbeat is without doubt Hora, whose cobblestone streets, courtyards, churches and squares all compete for your attention. So take a stroll along its car-free streets and get to know its deeply authentic soul – one sugar-cubed house at a time.
DON'T MISS
Kastro
The Kastro isn't so much a medieval castle as a fortified district of Hora. Many of the tightly packed houses have been continuously inhabited since they were built, and are beautifully maintained with colourful balconies, doors and window frames. You'll immediately understand how their close proximity and thick walls offered a natural fortification to pirate raids. This is ice-cream-in-hand stroll territory, through the narrow streets towards the church of Panagia Pantanassa, from where there's a view all the way to the islands of Milos, Kimolos and Sifnos.
The squares
There's a square for every time of day on Folegandros… from breakfast-with-a-view in Pounta Square, to an afternoon coffee in shaded Dounavis and on to lively Piatsa Square for an evening cocktail or dinner (Dounavis and Piatsa squares are actually joined by the church of Agios Nikolaos). You could find yourself buying a handmade souvenir or sitting at a trendy bar, or in an ouzerie or taverna in any of the squares.
Take the opportunity to try something local – matsata (handmade tagliatelle-style pasta), kalasounes (cheese pies with strained cheese) or karpouzenia (watermelon, honey and sesame seed pie).
Panagia of Folegandros
If there's one Instagrammable image that shouts "Folegandros", it's of the iconic church of Panagia above Hora. You'll know it from its zigzagging path down to town. It takes about 15 minutes to reach the oldest church and the best view on the island. Dedicated to the Dormition of the Virgin Mary, it's believed to have been built on the site of an ancient temple.
Book your trip
All your holiday planning needs in one place, letting you book direct and benefit from official online rates
Private
6-7 hours
Free cancellation
Not sure? You can cancel this reservation up to 48 hours in advance for a full refund
GET PLANNING
From Karavostasis Port
By car or taxi: 3.4km (7 mins)
From Ano Meria
By car or taxi: 5km (10 mins)
From Agkali
By car or taxi: 4.6km (10 mins)
By bus: There are regular buses from Hora during the summer months, which depart from behind the Town Hall.
Folegandros can be visited at any time of year but you'll find most of the shops, restaurants and cultural sites open between May-October.
Easter celebrations are particularly enjoyable on Folegandros, with festivities and fireworks, and a procession of the icon of the Virgin Mary from the Panagia church around the island. Locals open their doors and treat people in the procession to wine, raki and sweets.
May-June and September-October are the best months to visit, when the island is at its most charming and quiet.
Autumn
Spring
Summer
Winter
The length of your walk is entirely up to you, but the attractions listed here can easily be done in one day.
You'll likely be visiting Hora a number of times during your stay, so try to find a different corner to explore each time and see how the time of day affects your experience. It's that kind of town.