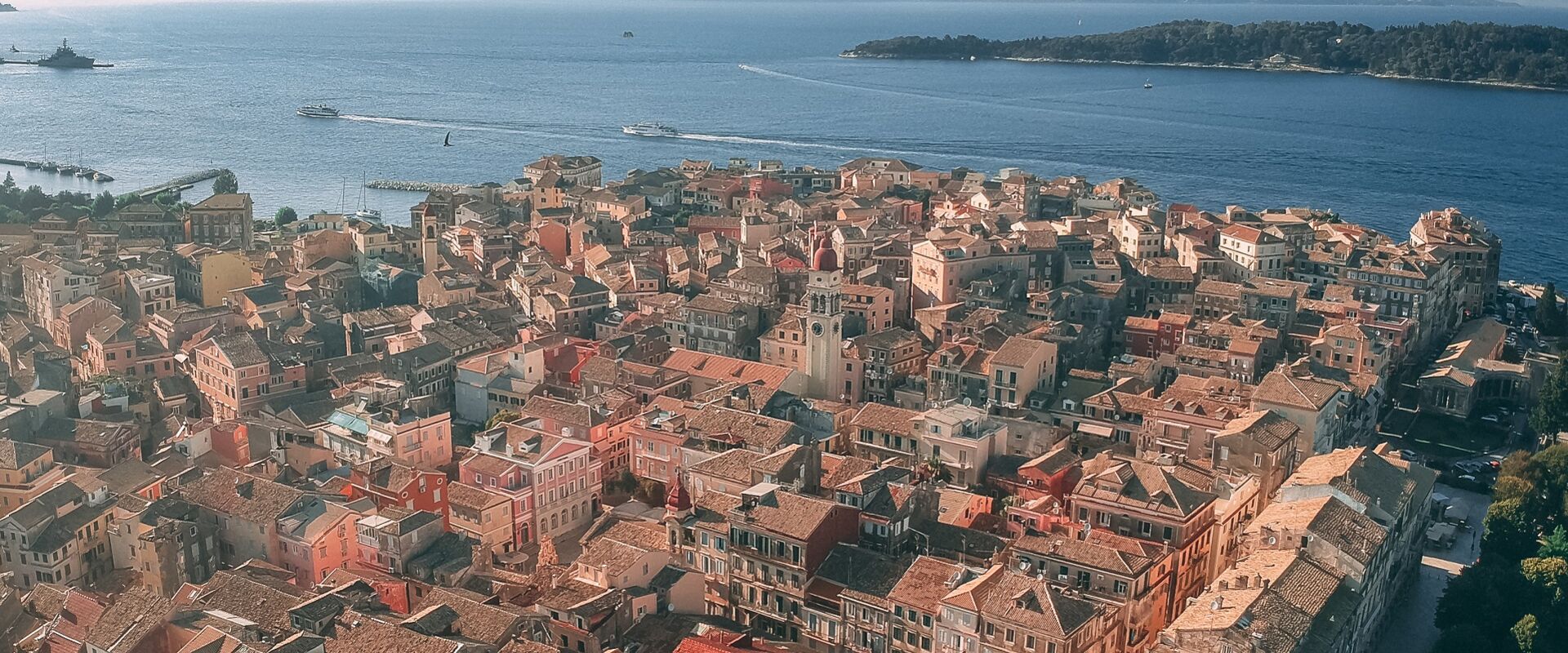 COVER STORY
The most instagrammable places to visit on Corfu
READING TIME
As long as it takes to eat a Greek salad
Those colours, those buildings, that sea… and, above all, that incredible light. There's so much about Corfu that simply has to be shared. So we're doing our bit to find out what we love most about the island… its beaches, its villages, bays and marinas, and of course its people… capturing Corfu at its Instagrammable best.
Beaches that steal the show
Every beach tells a story. Maybe… but on Corfu, the hundreds of beaches along the coastline – each with its own special character, colour and mood – go one step further. They tell your story. Take the long, wooden-planked pier on Apraos beach. Instantly, you're transported onto a summer catwalk. But instead of admiring spectators either side of you, you're flanked by the Ionian Sea. Or maybe you need a full 2km of sand to choose your spot? Well, then it's a panorama shot on Issos beach for you. For hidden coves that only reveal their full majesty from above (pine-forest greenery and turquoise waters), you'll be sending up a drone at Rovinia or Porto Timoni. And for that Insta-envy shot to stoke up jealousy back home, forget sand and sun loungers … just take a look at the rocks at La Grotto, in Palaiokastritsa! Sorry, not sorry!
An Old Town brimming with life
What grabs you most about Corfu is that it's so alive. Nature, culture… but, most of all, the Old Town itself. Venetian, French, English and of course Greek… the influences from days gone by are everywhere. But look at how vibrant it is. Everywhere you turn there's an Instagram story in the making. Take your time to wander through alleyways and past landmarks: The squares, Dimarchiou and Spianada (with the Town Hall dominating the former), the colourful markets and the stately Clock Tower (all the more memorable for the pedestrianised streets). Take it all in and be sure to swipe up… oh those balconies, full of the spirit of today's Corfu.
Insta-worthy boats everywhere you look
Corfu has a relationship with the sea that is long and very personal. Everywhere you turn… off the peninsula of Kouloura, or the beaches of Chouchouliou, Agios Stefanos and Palaiokastritsa, or by the old windmill in Garitsa Bay. If there's a dreamy little rock or bay, there's an Insta-worthy boat claiming it as its own. Or maybe it's an old fishing boat, resting on the shore, disused but still clinging tight to its maritime tales. And then there are the gleaming yachts in Gouvia Marina, the first private marina on the island, winking at you to come take a closer look.
A slice of village life
There's no way you're staying in town though. With so many villages dotted around the island, you're heading inland or up the coast… wherever your photographic instinct takes you. Those gorgeous ceramic-tiled, circular tables in the kafeneio up in Lakones, the courtyard overflowing with shock-purple bougainvillea in Chlomos, that homely little stone-built taverna in Palaia Peritheia, the paving stones of Afionas and the tropical greenery of Gastouri. Or perhaps it's the simple snapshot of a barman proudly preparing an afternoon tipple or the village elders calmly watching the world go by that catches your eye.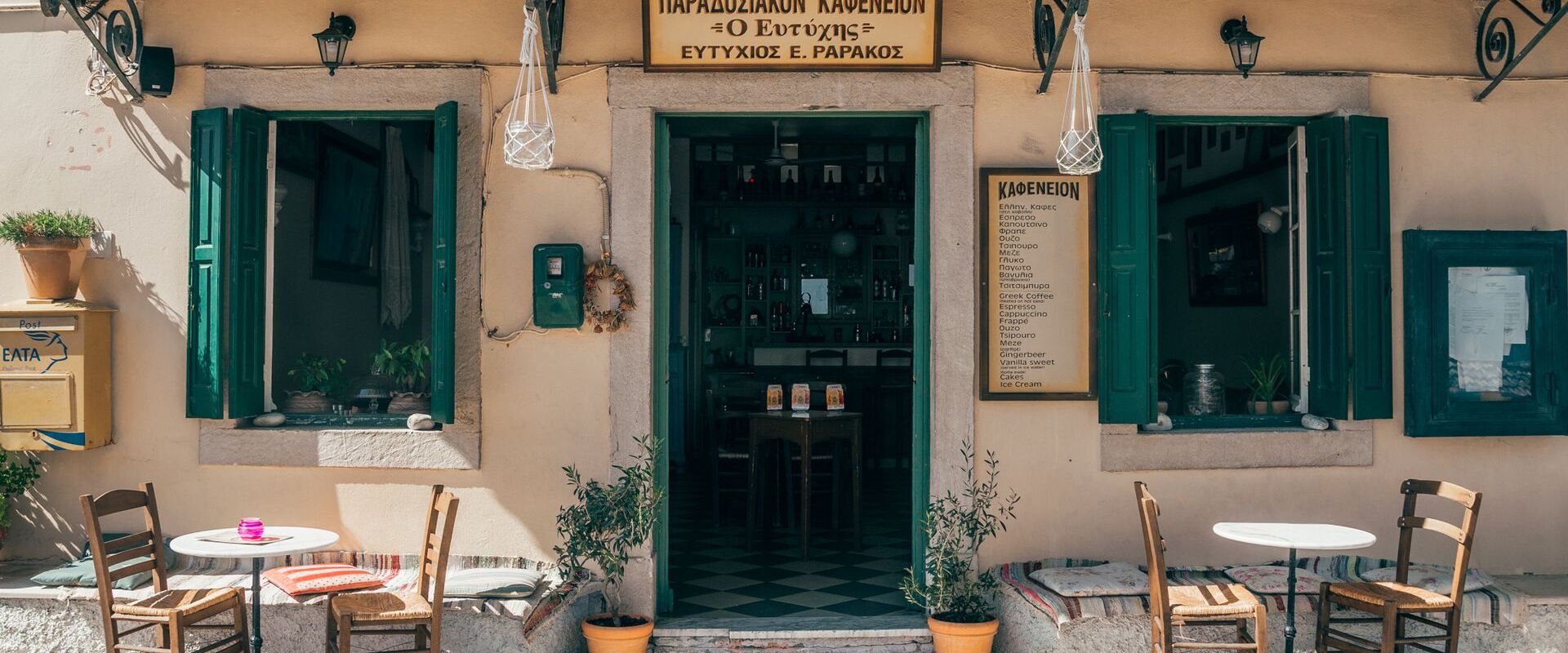 A sunset for everyone
It's time to leave, so you're looking for that lasting memory. The most Instagrammable sunset possible. But we won't pretend to know you, so you're going to have to decide for yourself. What's it going to be… the golden glow on mountain scenery from Pelekas? The long-shadows cast by the dipping sun as you stroll through the Old Town? A sundowner at a bar at Paramonas Beach? You and the kids taking selfies at the Kaisar Observatory? Or the whispered words on a bench made for two at Afionas, high up over the legendary Ionian Sea? Get your timelapse setting ready. This one's a keeper.
Corfu
Most Instagrammable places to visit on Corfu
You can picture your Instagram feed already… all those blues and greens of the Ionian Sea, the dreamy beaches you make your own, the villages and the people, and that chosen sunset spot you just know will make it into your Highlights.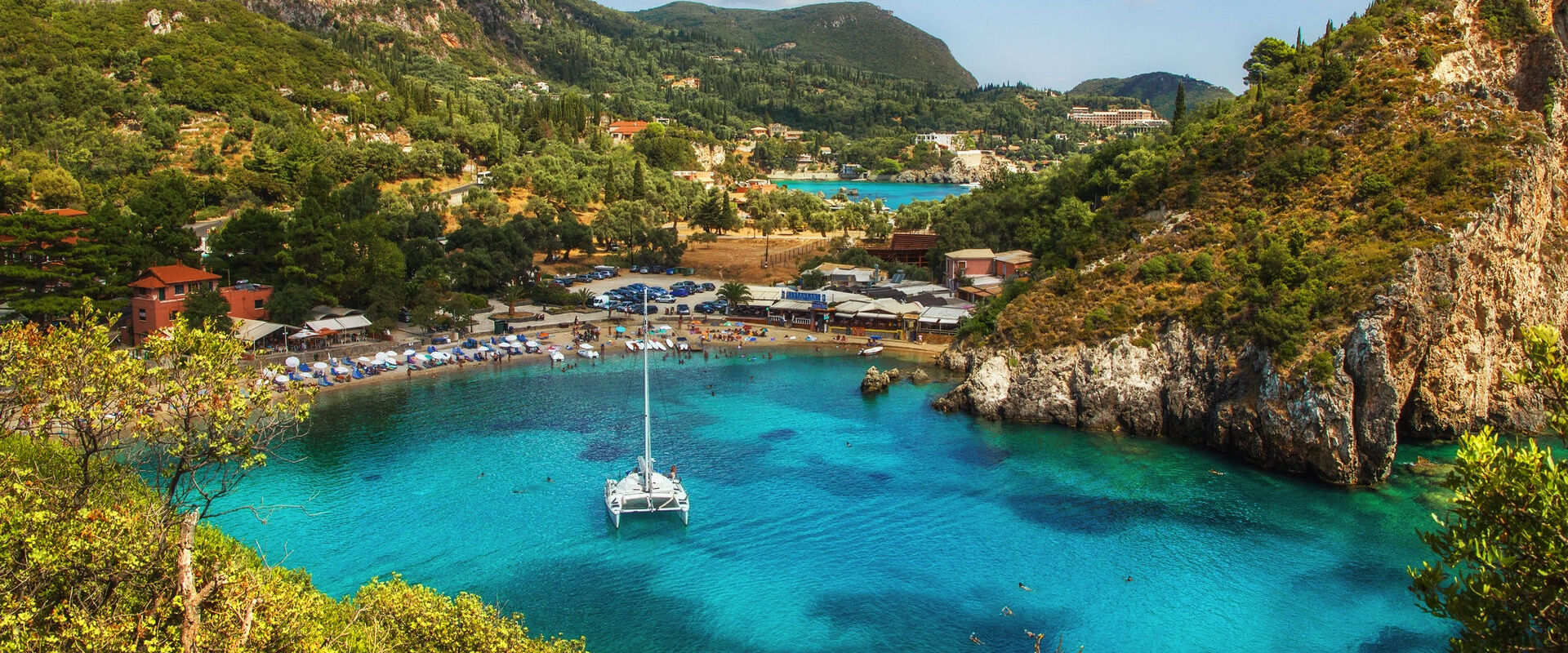 Plan your trip
Outdoor activities
Lefkada Ionian Islands
Nydri, Skorpios, Meganisi, Full Day tour is an extraordinary day-trip for those who seek to immerse themselves into the wonders of the Ionian Sea!