The villages of Corfu offer a window into so many enduring traditions, with centuries-old architecture and locals going about their daily lives. Visiting them will take you through olive groves and into the hilly interior, and introduce you to delicious local dishes and time-honoured crafts. There are so many villages in Corfu, so we've picked some highlights that can match a visit to a nearby beach or that can be combined with other nearby villages and nature activities beyond the summer months. Many date from the 13th or 14th century, with Venetian buildings (look for the ochre colours and shades of red, as well as arches and tiled roofs) and they all offer peace and quiet whenever you visit. It's an insight into Corfu at its most authentic.
🧭 NORTH CORFU VILLAGES
Lakones
Built on the green slopes above Paleokastritsa (one of Corfu's most cosmopolitan settlements and known for its awesome beaches), Lakones is home to many 18th and 19th century stone buildings (look for the ochre red) that create a vision of Corfu at its traditional best. It is said to be named after its first inhabitants, the Michala family from Itilo, in the Laconia peninsula of the Peloponnese. You can stop for a coffee in the shade of a plane tree in the village square, and maybe order some homemade sweets or a locally brewed beer with meze on the side. There are great views of Paleokastritsa as you approach the village and at viewpoints as you enter and leave, where you'll also find restaurants and sweet shops (try the Corfiot ice cream!). From Lakones, there are also views of neighbouring Liapades village and if you feel like a hike, there's a path that links Lakones with Paleokastritsa.
Distance from Corfu Old Town: 25km
Nearby villages: Liapades, Doukades, Gardelades, Makrades, Krini
Nearby beaches: Paleokastritsa's beaches, Liapades beach
Pelekas
Built at 220m above sea level, Pelekas is surrounded by greenery and known for its killer sunset and traditional feel. Walking around the village, you'll be introduced to the local architecture through the houses and churches of Agios Nikolaos and Panagia Odigitria. If you follow the main road, you'll end up at the Kaiser Observatory (named after Kaiser Wilhelm II, who enjoyed quiet contemplation there). Also known as Kaiser's Throne, it offers panoramic views of the valley, which unfolds like a green carpet below you. You can find cafes and breakfast pastries at the observatory and in the village square, but the best time to visit is in the evening for sunset cocktails.

And if you can time your holidays in Corfu with Pelekas' annual village festival on around August 22-23, celebrated by the church of Panagia Odigitria, so much the better. Pelekas is also close to some of Corfu's best-known swimming spots, Kontogialos beach and Glyfada beach (both with fine sand, shallow water and beach bars).
Distance from Corfu Old Town: 13km
Nearby villages: Sinarades, Varipatades, Kalafationes,
Nearby beaches: Kontogialos, Glyfada, Agios Gordios

Afionas
Afionas is one of the oldest villages in Corfu. It is built at 133m above sea level, overlooking Instagrammable Porto Timoni beach (there's a trail from the village), as well as the beaches of Agios Georgios Pagon and Arillas. You'll also be gifted a glimpse of the Diapontia isles. As you explore the village, past flower-filled courtyards, you'll note that the architecture here is a little different in Afionas, with whitewashed stone buildings. Grab your coffee and lunch in one of the tavernas overlooking the sea or head off for a swim… you're in for a treat.
Distance from Corfu Old Town: 36km
Nearby villages: Pagi
Nearby beaches: Porto Timoni, Agios Georgios, Arillas, Agios Stefanos

Sokraki
Sokraki is one of Corfu's hidden gem villages. It's located at an altitude of 440m, above the village of Ano (Upper) Korakiana (another quiet Corfu village worth stopping off at) and to get there you need to follow a road with many turns and a unique view towards Ipsos beach and Corfu town and the islands of Vido and Lazareto. As well as multicoloured houses, you'll discover churches dating to the 16th century and two quaint squares with traditional kafeneia that serve ouzo, meze and ginger beer (locally brewed, of course). There's also a pretty 4km trail from Ano Korakiana to Sokraki, with many twists and turns and impressive 19th-century stone walls, if you fancy a walk. And if you're around on August 15, don't miss out on the annual Sokraki panigiri, or festival.
Distance from Corfu Old Town: 24km
Nearby villages: Ano Korakiana, Skripero, Spartilas
Nearby beaches: Ipsos, Barbati
Palia Perithia
Situated 450m up Mt Pantokrator, Palia Perithia is a deserted Corfu village that has been classified as a historic settlement because of its Venetian past. It is 13km from Kassiopi (a fully developed seaside settlement on the northern part of the island) and is invisible from the sea. While most of the houses are derelict, a few have been restored for use as a taverna for visitors, offering traditional dishes such as sofrito (pan-fried beef in a parley and garlic sauce, sautéed with wine), pastitsada (beef or rooster casserole with pasta) and tsigareli (steamed greens). You can walk off your lunch by discovering some of the eight churches surrounding the village.
Distance from Corfu Old Town: 52km
Nearby villages: Kassiopi
Nearby beaches: Avlaki, Mpataria, Kogevina, Kerasia, Kalami

🧭 SOUTH CORFU VILLAGES
Chlomos
Founded in the 13th century, Chlomos is another quiet Corfu village with Venetian architecture, located in the southeastern part of the island, 250m above Boukari beach. It is built around a cute little square but before doing anything else, take a walk through the alleyways and enjoy the colourful houses and courtyards. There are wonderful views from the village towards both the east and west, all the way to Lake Korision, with many tavernas and cafes offering balcony vistas over the sea. Chlomos is the perfect choice if you want to combine your village day with beach time at Boukari (with the bonus of a seafood meal) or at Halikounas or Issos (famous for its sand dunes and cedar forest).
Distance from Corfu Old Town: 26km
Nearby villages: Argyrades, Agios Mattheos
Nearby beaches: Boukari, Halikounas, Issos, Marathias

Agios Mattheos
Another southern Corfu village with a Venetian past, Agios Mattheos is a little gem full of colourful houses, narrow alleys and courtyards with shops, tavernas and cafes. You'll adore visiting the olive press at Governor Olive Oil, where you'll learn everything there is to know about Corfu's Lianolia olive and its extra-virgin olive oil, through tours, workshops and tastings. The nearest beaches are Paramonas and Prasoudi.
Distance from Corfu Old Town: 23km
Nearby villages: Chlomos
Nearby beaches: Paramonas, Prasoudi, Agios Ioannis Peristeron, Halikounas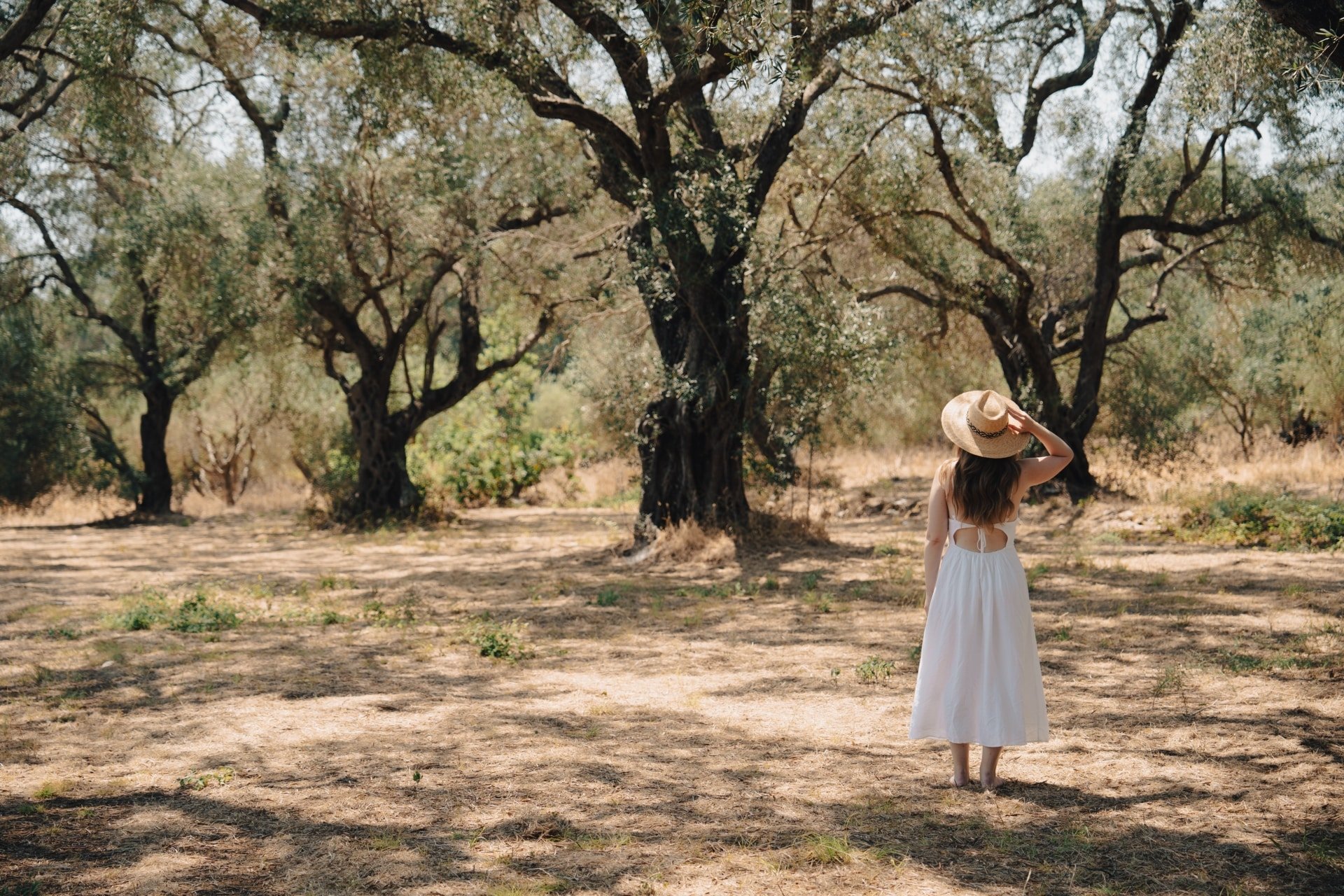 FAQs about the villages of Corfu
One of Greece's most popular holiday destinations, Corfu is in the Ionian Islands, the island chain off the west coast of mainland Greece in the Ionian Sea. It is the northern Ionian Sea.
Corfu's international airport has year-round connections with Athens, while in the summer months it also has direct flights to several European cities. From Athens or Thessaloniki, you can drive to the port of Igoumenitsa, in Epirus, and take the boat to Corfu town or Lefkimi, in southern Corfu.
The best way to visit Corfu's villages is by renting a car, as not all villages have bus services and distances between the villages can by large. A great idea is to combine your day at the beach with a village visit.
Holidays in Corfu are especially popular during summer months (July-August), so it's worth choosing May-June or September-October. But most Corfu villages are alive all year round, so they are worth visiting at any time of year. Easter in Corfu is a wonderful experience, as you'll get to live the unique traditions of the island and enjoy nature at its finest.
Book your trip
All your holiday planning needs in one place, letting you book direct and benefit from official online rates
Private
7.5 hours
Free cancellation
Not sure? You can cancel this reservation up to 3 days in advance for a full refund
Private
7.5 hours
Free cancellation
Not sure? You can cancel this reservation up to 3 days in advance for a full refund
Private
7.5 hours
Free cancellation
Not sure? You can cancel this reservation up to 7 days in advance for a full refund